Versace Casts Curve Models on the Runway For the First Time
Versace's Inclusion of Curve Models on the Runway Calls For a More Diverse Future
Versace's spring/summer 2021 runway included three curve models — Jill Kortleve, Alva Claire, and Precious Lee — three more than the fashion house has ever cast on the runway before, and one more than the number of curve models cast in fall 2020 shows in Milan last season. Yup, last Fashion Week, Milan saw a single pair of curve model castings, both at Fendi. Kortleve was one of them. In total, the fall 2020 curve model castings in all four cities — New York, London, Milan, and Paris — topped off at 46, whereas that number was 86 the season before.
But for spring 2021, Donatella Versace called for a refresh. Aside from the fact that her Versacepolis show — with a utopian underwater theme that invited us to escape into a "sub-surface fantasy" with its new rendition of the Gianni Versace 'trésor de la mer' seashell motifs from 1992 — was not staged typically, it also carried a more fervent message than collections past. Donatella's decision to host a socially distanced runway show came with a few caveats. In fact, the people in the audience were her own team, all of whom tested negatively for COVID-19 prior to the event. "I thought that this was the perfect chance for me to gift a beautiful experience to all the amazing people who worked so hard to make it happen," Donatella said of the front row, which is usually, under regular circumstances, filled with celebrities.
Donatella has always boasted a positive message of female empowerment. I still remember watching the fall 2017 runway show from behind my computer screen, with slogans like equality, unity, and courage booming from the speakers and echoed on clothing from start to finish. But surely, if we were supposed to be celebrating everyone, that should've been reflected by a diverse lineup of models with many different body types. I wish I had done more then to call that out.
Iconic fashion houses like Versace have been preparing for traditional shows for years, with sample sizes on the runway, because that is the ideal method for designers to be conservative with fabric before pieces go into production. And Versace's legendary shows have been cast with the world's top celebrity supermodels — heck, even J Lo in spring 2020, who paid homage to her memorable palm print red carpet dress — so it comes at no surprise that a) this season's runway was still physical, not digital, b) 76 of the 79 total looks were sample size, and c) longtime muses of the house like Irina Shayk and Joan Smalls made an appearance on the catwalk. But the notable growth for the brand came with the inclusion of Jill Kortleve, Alva Claire, and Precious Lee, and that should be celebrated.
Precious Lee, Alva Claire, and Jill Kortleve celebrated their historical moment walking in the spring 2021 show on Instagram, Lee thanking Donatella for raising the bar in her heartfelt post. "This is such a historical moment and I can't believe it actually happened. I'm still shaking. I'm so so so proud of us @alvaclaire @preciousleexoxo. It's so unbelievable to work for brands I always dreamt of working for. I hope that we open the doors for a new generation with the same dreams but who never saw themselves in the magazines or the commercials. Thank you for this iconic moment @pg_dmcasting @samuel_ellis @donatella_versace @versace," Kortleve captioned a video of herself strutting in a sporty candy-stripe crop top and low-slung midi skirt with a buckle and cutout at the hips.
"I know there have always been women like me who are magnetically drawn to the art and fantasy that is unique to high fashion. We've always been here adoring from the outside but never feeling seen. For so long we never saw ourselves reflected back in the images we loved. To walk for Versace to is to begin to open the door further and make space for these important waves of change. There is still so much to be done but I'm honored to play a part and help to build the momentum," Alva Claire told POPSUGAR.
"I hope that curve models are present in Versace campaigns, that extended sizes are consistently offered online, and that the Versace muse does continue to look like a strong, confident woman at any shape or size beyond one season's sub-surface fantasy."
Before the show, Donatella told Vogue that her mission was to give fashion meaning at this crucial moment in time. "The world has changed and we have changed. We have been repeating this almost as a mantra for months, but at the end of the day, for a designer this means to start all over again," she said, explaining that the future of Versace, post-pandemic, means to uphold its role as "an example of inclusion, of mutual support, and acceptance of what is different from us." So it's imperative that we continue to see that inclusion — people of different races, with different body types, who come from different backgrounds — if that's the customer Versace is speaking to.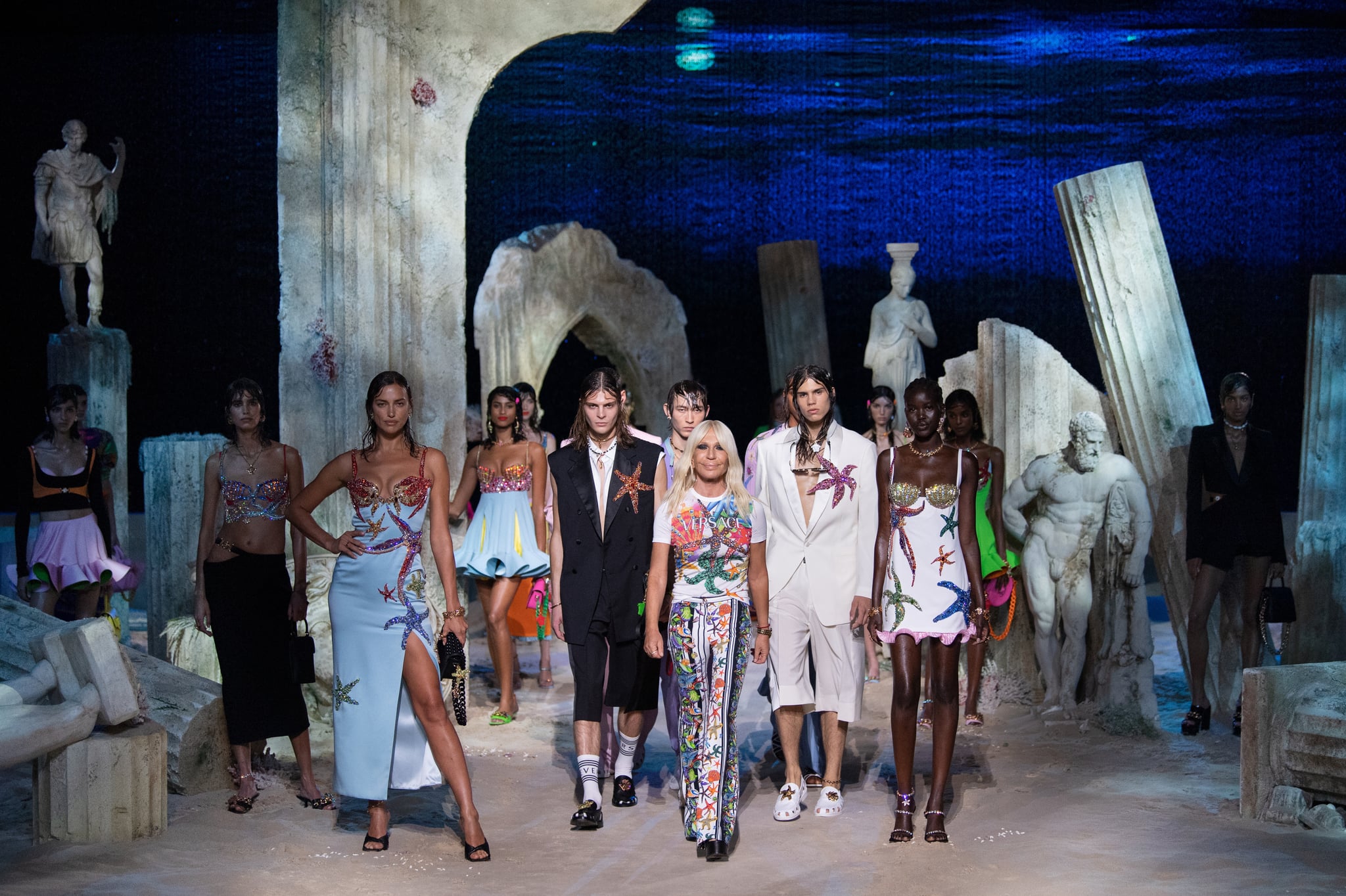 "Even if a designer has plus on the runway, reflected in the company's makeup and in the audience (another important consideration) — what happens after fashion week? Inclusivity is not a topic that should only be thought of two months out of the year," writer Gianluca Russo noted in his Fashionista report about diversity and size inclusivity for the fall 2020 fashion month season. He's right that we should not just get to see a glimpse of this during a 20-minute show. For that reason, I not only hope that we will see more than three curve models the next month out of the year that Donatella Versace chooses to present (likely February), but I hope that curve models are present in Versace campaigns, that extended sizes are consistently offered online, and that the Versace muse does continue to look like a strong, confident woman at any shape or size beyond one season's sub-surface fantasy.
Donatella famously dressed Lizzo for the 2020 Grammys back in January, marking the special moment on Instagram with a post on her personal account. "Such a #RedCarpet dream… Perfection!" she wrote. Like J Lo; like Lee, Claire, and Kortleve, Lizzo is certainly one star I can think of who is empowered to own her sex appeal like a true Versace muse.
We need to see more of that representation and inclusion among luxury fashion houses across the board — and not just on the runway or through the custom atelier pieces created for award shows. Ads make a statement, as Kortleve noted on Instagram, whether in the pages of a magazine or in the midst of our feed during our hourly scrolling on Instagram. And the availability of the runway clothing we see trickled down to stores at a wide range of sizes is of utmost importance. Because if fashion is for everyone, then shopping is too.
I think I can speak for the whole fashion community when I say that there is no better time than the present to start holding ourselves accountable. Though 2020 may be a pivotal moment for change, we've been waiting long enough to see size inclusivity carried out in ways that aren't just for show, encapsulated in a single, viral moment, but here for good.