POPSUGAR
/ presented by /
Coach
Coach Tabby Shoulder Bag 26 Review With Photos
I'm Convinced This Pastel Coach Bag Will Be Everywhere This Spring
Who Is the Coach Tabby Bag Best For?
This versatile bag is ideal for anyone looking to make a quality investment in their spring wardrobe. Unlike other trendy handbags, this style features a more classic silhouette that's timeless and sure to remain a staple in your closet for the long term. I appreciate its thoughtful design, which features a cool snap closure that helps conceal and protect any of your enclosed items — also making it a great bag to travel with or take on the go. The accessory is gorgeous for spring, but it can be worn in the fall or winter months over a chunky coat, too.
Where Is This Coach Tabby Bag Available?
This bag is available to shop at Coach.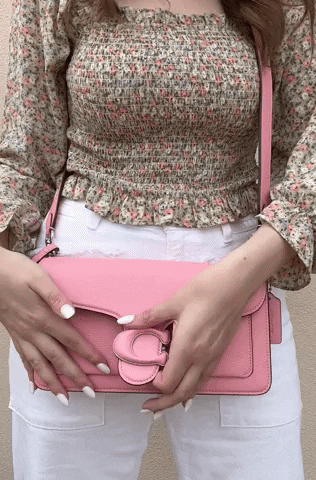 Additional Details
The Coach Tabby Shoulder Bag 26 is crafted from a polished, pebble leather material that looks as luxe as it feels.
The accessory features a snap closure design for added convenience, and also comes with two detachable straps for shoulder or crossbody wear.
This particular style is available to shop in three unique, seasonal colorways, including a flower pink (my shade of choice), yellow gold, and violet purple.
Rating: