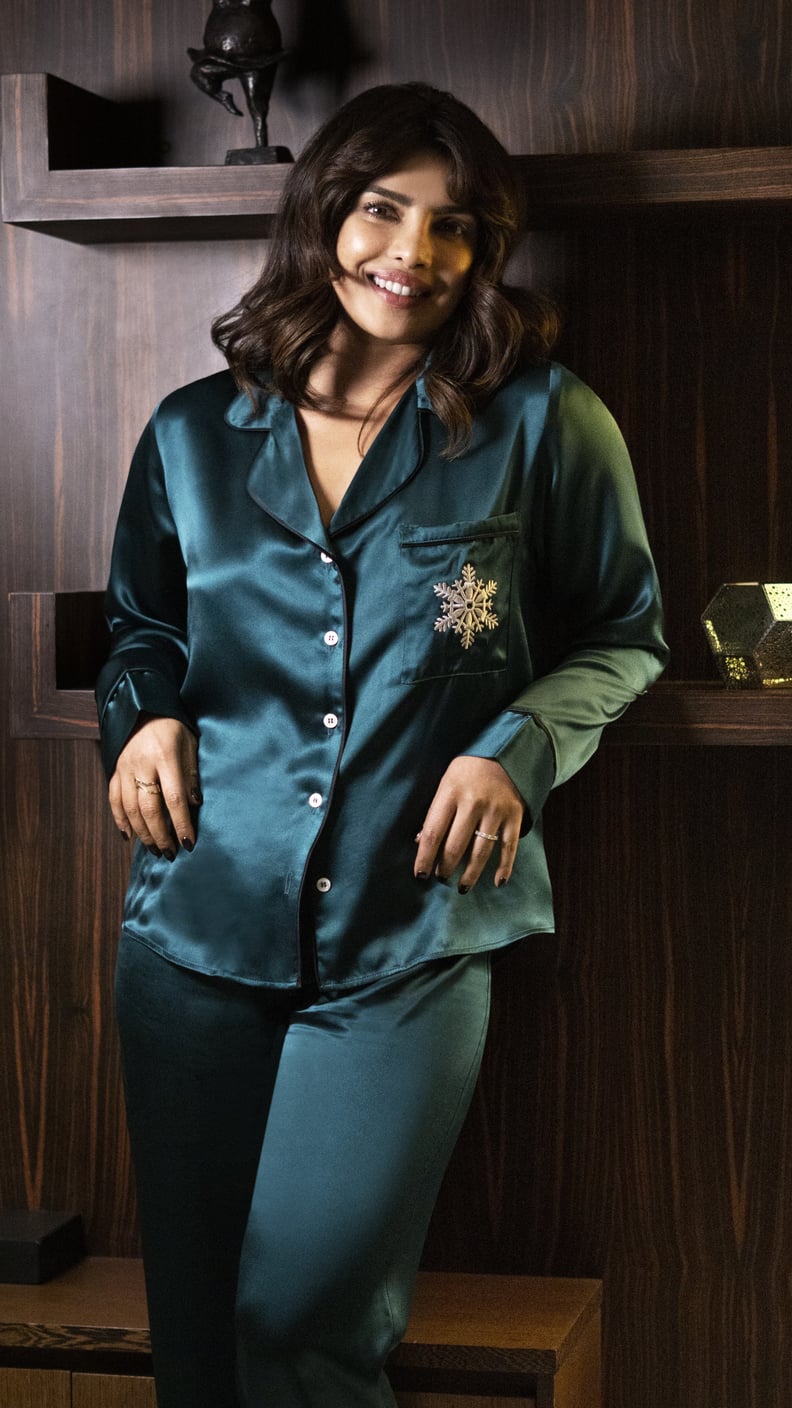 Bon & Viv Spiked Seltzer
Bon & Viv Spiked Seltzer
As I sat at my work-from-home setup waiting for Priyanka Chopra to enter our Zoom call, I thought about the last time I had spoken to the actress. I interviewed her back in 2017, right around the time Quantico was coming to an end. Obviously, a lot has changed for the actress as her career has blossomed in the US since then.
Priyanka was excited to chat about her new role as creative director for the sparkling seltzer brand BON V!V, but she also spoke openly about her style evolution, her favorite red carpet moments, and dressing cozy for the holiday season
While dressing up for the holiday season is most definitely different this year due to COVID, the actress also seems to be following what most of us have been doing, and that's staying cozy.
"My holiday season starts with Diwali, which happens in November. Then, we go into Thanksgiving, and the [Christmas] tree comes up right after. I'll be on set a lot, but I think that this year, fashion will have to be comfortable and elevated at the same time. That is one of the big reasons why my BON V!V x Priyanka Chopra Jonas Holiday Kit ($100) is super fun. It has this amazing, 100 percent silk pajama set, [designed] by Helena Quinn, a Los Angeles-based, female-owned brand. These pajamas are amazing! One is an emerald green color and the other one comes in champagne/rose gold, and they're so comfortable. They feel like pajamas, but at the same time, you can take a picture in them and feel like you're dressed up."
"[Being South Asian] is my identity . . . from the walk I walk, the talk I talk, the clothes I wear, and the legacy I leave behind."
Since brides still try to re-create Priyanka's wedding looks, for which she incorporated South Asian designers, I asked her to name more of her favorite labels. We discussed what being South Asian means to her, as she's one of the few Bollywood actors who have managed to pave their way in Hollywood. In a powerful statement, Priyanka said, "[Being South Asian] is my identity. It's who I am. It's where I came from. It leads into every single thing I do. It's everything that [I am], from the walk I walk, the talk I talk, the clothes I wear, and the legacy I leave behind. It's all going to come from my home, which is India."
Keep scrolling to read more about Priyanka's personal style.
Priyanka on Dressing For the Holidays
"I've gravitated towards sets like my cashmere pajamas. Also, pajamas with matching tops. That way, even if I'm sitting for a Zoom interview, I'm super comfortable, but I still feel like I made an effort — even though I didn't."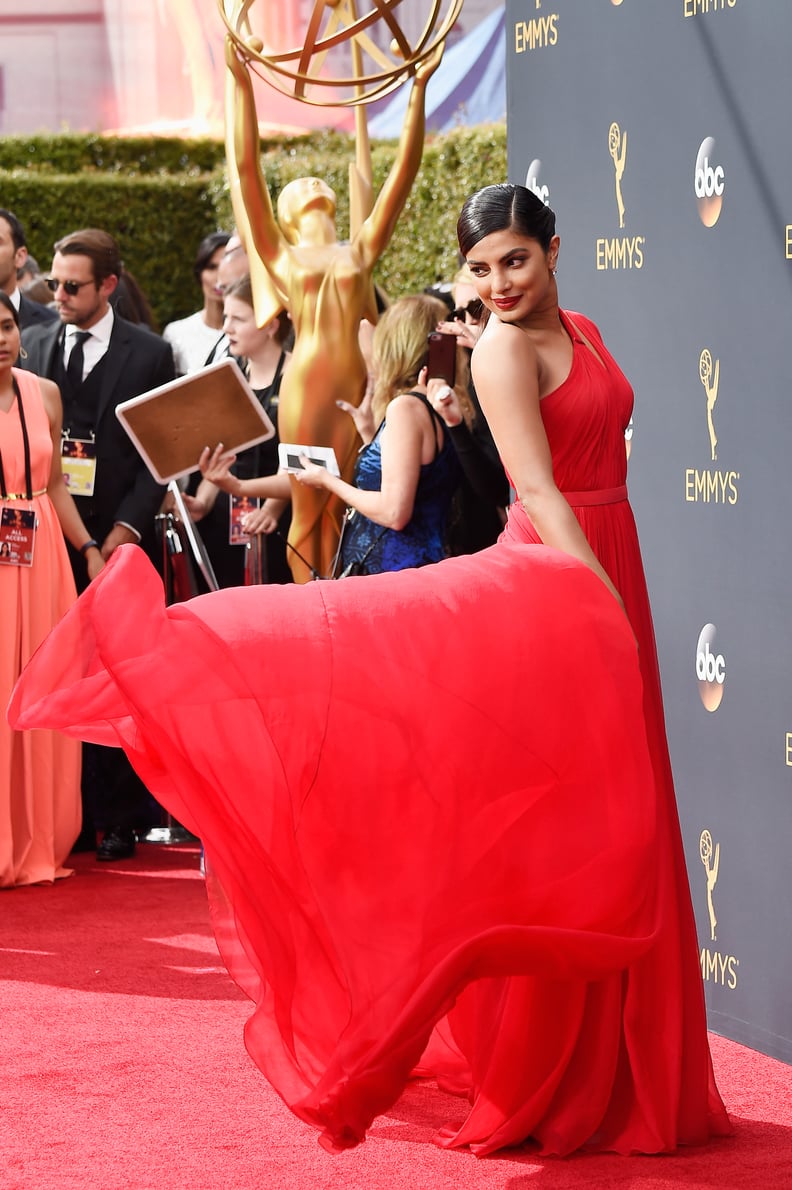 Priyanka on Her Favorite Red Carpet Moments
"That's a tough question; that's not fair! In 20 years, you want me to tell you my favorite one?" Priyanka said with a laugh. She continued: "I've felt really amazing in a lot of outfits. I wore this Ritu Kumar sari once to the Marrakesh Film Festival. It was black, all waist, and super sexy. I loved that one. I loved my first Met Gala look as well. I felt like I could conquer the world in that outfit. I felt so badass. I wore this beautiful red Jason Wu dress to the Emmys as well," she said, referencing the above look from 2016. "I was twirling all through the carpet, and I felt like a real-life dancing emoji. You know I felt good in that one."
Priyanka on Her Favorite South Asian Designers
"There are so many! I love Sabyasachi. I'm a big fan of Abu Jani Sandeep Khosla as well [worn above]. I think they do incredible work. Ritu Kumar is another [designer] that I really love wearing. I feel like her pieces are timeless. There's Manish Arora — he creates really amazing clothes as well. There are so many amazing South Asian designers, like Prabal Gurung, if you want to wear Western. We have South Asian designers for everything, but for saris, I usually gravitate towards Sabyasachi or Manish Malhotra."