62 South Asian Style Influencers on What Their Culture Means to Them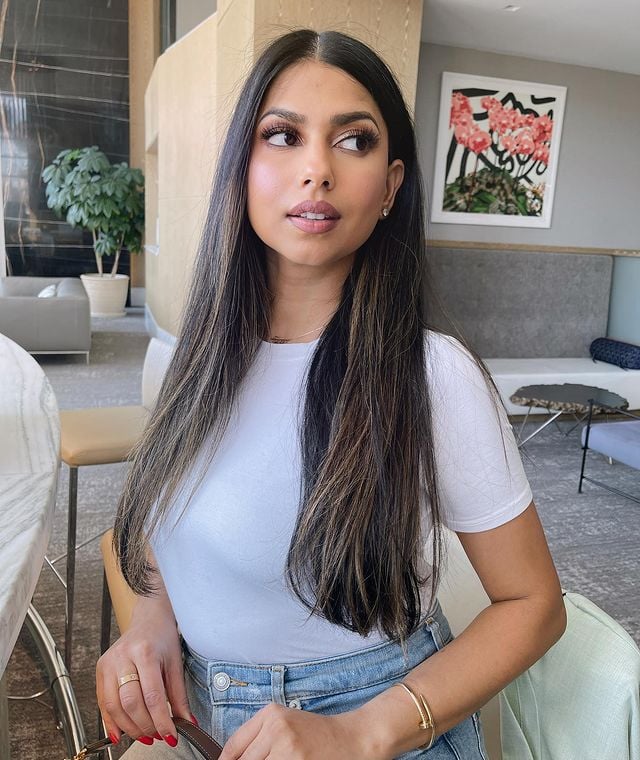 As an Indian woman in fashion, I've been excited to discover a diverse group of talented South Asian influencers who inspire me to embrace our culture even more. I know what it feels like to be "othered" in the media industry, so my mission has always been to shed some light on both my culture and its rich history in both fashion and beauty. I want people to feel like they can see a bit of themselves in an industry that hasn't always celebrated people who look like us.
Ahead, I spoke with several style influencers on what their culture means to them and how it impacts their personal style.
"I am excited to be seen. To feel represented."
One such influencer, Bangladeshi content creator and Zeba founder and CEO Nabela Noor, says she's looking for more size inclusivity in fashion. "I am looking forward to more access for plus bodies in the future," she tells POPSUGAR. "It still makes no sense to me why we are living in 2022 and the average size of a woman in America is 16/18, yet most brands do not even carry those sizes."
"I am excited to be seen, to feel represented," she added. "I am excited at the prospect of being able to explore trends and feel stylish as a plus-size woman. It's about time and I am so glad the industry is ready to see and hear us."
Keep reading to discover 62 South Asian influencers who should be on your radar. Learn what being South Asian means to them and how they define their style ahead.
01
Nabela Noor on What Style Means to Her
"Style means wearing what I [want], however I want. Style means confidently and unapologetically wearing whatever makes you feel the most beautiful and free. Style is freedom. My style is ever-evolving. I love super-romantic pieces and silhouettes some days and easy basics I can throw together on other days. I am also a creature of habit, so if I like something, I buy it in all the colors available and repeat the look in different ways."
02
Arshia Moorjani on What Style Means to Her
"Style to me [is] being comfortable in what you wear and owning your look fully. I would describe my overall style to be very minimal and classic. I am always drawn to pieces that are simple but can be worn multiple ways with other pieces in my closet. I am all about mixing and matching and making the most out of every piece of garment I own."
03
Diipa Khosla on What Style Means to Her
"To me, [style] means representation and supporting one another. I started the #desiinfluencer shout-out on Instagram where I've asked fellow Desi influencers to tag me so I can shout them out. When I first started out, there were so few Indian influencers on the [social media platform], it would have been nice to have someone to look up to. I want to make topics [like] sexual health and interracial relationships less taboo. When it comes to beauty or fashion, I like to share things that work on our body types and our skin tones. It's important to encourage people to enjoy fashion and beauty while still leaving a positive mark on the world."
04
Masoom Minawala on What Being South Asian Means to Her
"I feel lucky to have been one of the first few South Asian bloggers in the industry, but that also means I have goals that go beyond myself. It means realizing that every personal action I take will directly impact my audience. Up until a year ago, South Asian representation in mainstream media was marginal. Today, as diversity is being normalized on social media, we are seeing an influx of new voices every day. It makes me so happy to see our culture being exemplified by so many people."
05
Mishti Rahman on What Style Means to Her
"As the world constantly spins with new trends, true style to me is remaining yourself first, and what feels comfortable and natural to you. I've recently launched my own apparel line, Mishti University, which has encompassed my signature styles of tennis skirts and hoodies. This collection pays homage to my Bengali heritage and my love for varsity style clothing. True style to me surpasses more than just the clothes you wear. It's the way you carry yourself and interact with the world, and those around you."
06
Tania Shroff on What Being South Asian Means to Her
"Being South Asian in the fashion industry means a sense of freedom to combine the traditional with the modern, and not be put in a box. For example, a saree, traditional Indian attire, can be draped over 100 different ways. People constantly push the boundaries of how to wear a saree, holding onto the beautiful, cultural significance while making it current and stylish. I have always felt that my diverse background, being half Indian and half British, has empowered me to express [myself], find myself, and evolve through Indian fashion."
07
Ami Desai on What Being South Asian Means to Her
"Being a South Asian influencer in the beauty space allows me to represent a group that has historically been underrepresented in the industry. Growing up in the '80s, we did not have prominent figures like Mindy Kaling, Padma Lakshmi, or Priyanka Chopra to look up to. The collective 'WE' have a real opportunity to have a voice and to make an impact. I'm grateful and excited to have a platform as a brown woman approaching her 40s that allows me to positively influence a demographic that needs and wants to be heard."
08
Deepica Mutyala on What Being South Asian Means to Her
"I grew up in a place where I never saw South Asian women in media and definitely not in the beauty industry. I feel like I have a responsibility to change that narrative for myself, for other people who look like me, and really for anyone who hasn't seen themselves represented."
09
Rowi Singh on What Being South Asian Means to Her
"It's invigorating to thrive in a creative field as a South Asian woman. I'm able to represent and empower other people of color who share the same ambitions. A win for me is a win for all my other South Asian men and women. It means I'm able to blend both my culture and my love for abstract makeup to bring something totally new to the industry. I love that as a modern South Asian woman, I can be conceptual, forward thinking, exceptionally creative and proud of my heritage."
10
Aanam Chashmawala on What Being South Asian Means to Her
"Even though I was born and brought up in Mumbai, I rarely saw girls who were my shade of skin playing lead roles in ads or even in the movies. There was a constant need to 'brighten' and 'lighten' things up, and so at the beginning of my journey as a content creator, I was definitely a bit worried about comparisons. But I was met with a whole lot of warmth and relatability by other young girls. That only motivated me to do more in the space. Today, almost nine years in this industry, I continue to stand up for the things I believe in, beyond just products and services I might endorse. [And I continue to] create a community of people who have the same beliefs and value system as me, about the world of fashion, beauty, and beyond."
11
Raja Kumari on What Being South Asian Means to Her
"Growing up, I didn't see someone like me in the industry or a face like mine on TV or in magazines. I think that helps me love what I do that much more. I like to represent my culture through my jewelry and through the fabrics and clothing I wear. I think it's a beautiful thing to be able to experience my culture and share it with the people."
12
Zain Shah on What Style Means to Him
"My style comes from a personal journey of fighting gender stereotypes. It was through this struggle that I found my personal freedom. Today, I wear whatever speaks to that feeling of liberation. I like to play with different textures and fabrics, as well as masculine and feminine energies. I tend to go for bright colors and bold jewelry, which comes naturally due to my culture."
13
Hamel Patel on What Being South Asian Means to Her
"Being a South Asian in the beauty industry to me means a representation of various cultures, while also breaking the current standard of beauty. Growing up, we never saw inclusivity in the media, and even though we're going in the right direction, we still have a long way to go. I hope to see more diversity in the industry so that the generations to come will learn to love and accept themselves the way they are."
14
Stella Simona on What Being South Asian Means to Her
"Just because we are all South Asian doesn't mean we are going to be passionate about the same career paths. There's, unfortunately, a lot of pressure for many of us to follow a path that is more 'secure' or 'sophisticated' from our communities and families. At the end of the day, we all need to do what is right for us. Representation matters. Being a South Asian in the fashion and beauty space allows me to pave the path for those after me. It allows consumers to finally see products and campaigns that speak to them and their features."
15
Roopal Patel on What Being South Asian Means to Her
"This year has granted me time to appreciate the voice and heritage that being Indian has given me. I've been very reflective of my personal history, starting with my parents' upbringing in Kenya to them coming to the US for more opportunities [as well as] my journey in the fashion industry. I feel I have a responsibility to other Indians and people of color to support their dreams of being in fashion. It's important that I do everything I can to uplift future generations of designers and creatives to further their dreams."
16
Zahara Khan on What Being South Asian Means to Her
"I want South Asian girls to be able to see some of their favorite brands modeled and styled on me instead of a typical model, which is what keeps me so motivated to create new content. We might be a minority, but South Asians have a lot of buying power and I think brands are realizing that, especially beauty. I love watching the industry grow and evolve and our South Asian blogger community flourishing. I think there is more than enough room for each and every one of us and I'm beyond grateful to have taken the risk to be doing what I'm doing now!"
17
Mira Patel on What Style Means to Her
"Having style for me is having confidence, having the guts to step out in the super-crop top and sheer outfits. Coming from a Hindu family and a culture so embedded in the idea of measuring a woman's worth [and] dignity through how you choose to dress, [it] can be quite daunting to step out of the 'sanskari chokri' (meaning a well-cultured girl). I used to have to wonder what people would think or say about me and my family if I wore something revealing, but now I am stepping out in what I feel comfortable in and accepting that not everyone has the same level of comfort as I do with certain styles. Style is living in the moment, embracing what you've got, and just being happy because that's when you stand out."
18
Haya Abid on What Being South Asian Means to Her
"Being South Asian in the fashion and beauty industry means opening up your world to being constantly judged by the community for choosing a nontraditional route, wearing clothes aunties disapprove of, and still living your best life. It also means banging on the door of the industry and demanding they wake up from those god-awful stereotypes they've run with for too long, proving certain people wrong, and putting on for South Asian women who feel misunderstood and outcasted."
19
Milan Mathew on What Being South Asian Means to Her
"Growing up, I never saw anyone embracing Indian culture. It was almost like, 'Let's save our culture for events such as weddings,' when in reality it's a part of who I am and I shouldn't have to choose when to display it and when to not. Now, I am just happy the South Asian community's presence is growing online and the younger generation can embrace their culture wholeheartedly."
20
Maha Gondal on What Style Means to Her
"Having style right now means wearing your personality. During this pandemic, I feel that people are using their creativity to express their own styles through social media since we are so limited to the outer world. Style comes from within. Clothes can only do so much, but style is inherited in the wearer. I feel like right now it's giving people a unique way to identify themselves even though the world is going through some tough times. Style gives people complete control of themselves and makes them feel sane."
21
Aditya Madiraju on What Being South Asian Means to Him
"Being a gay South Asian man who enjoys beauty and fashion is empowering for me. Growing up with restrictions on how men should behave creates this empty space in life and longing for what we truly want to indulge in. Society is much more accepting now and definitely open to different standards of beauty and fashion. We haven't seen brown representation in the beauty industry until recently and there has been a demand to fill the gap. We now have women entrepreneurs launching skincare lines and men using them and supporting the business. This disruption of domains and hustle is what makes us much more progressive now than we were a few years ago. There is a long way to go to really have every single person of the society join the movement but for now, we at least have role models we can look up to."
22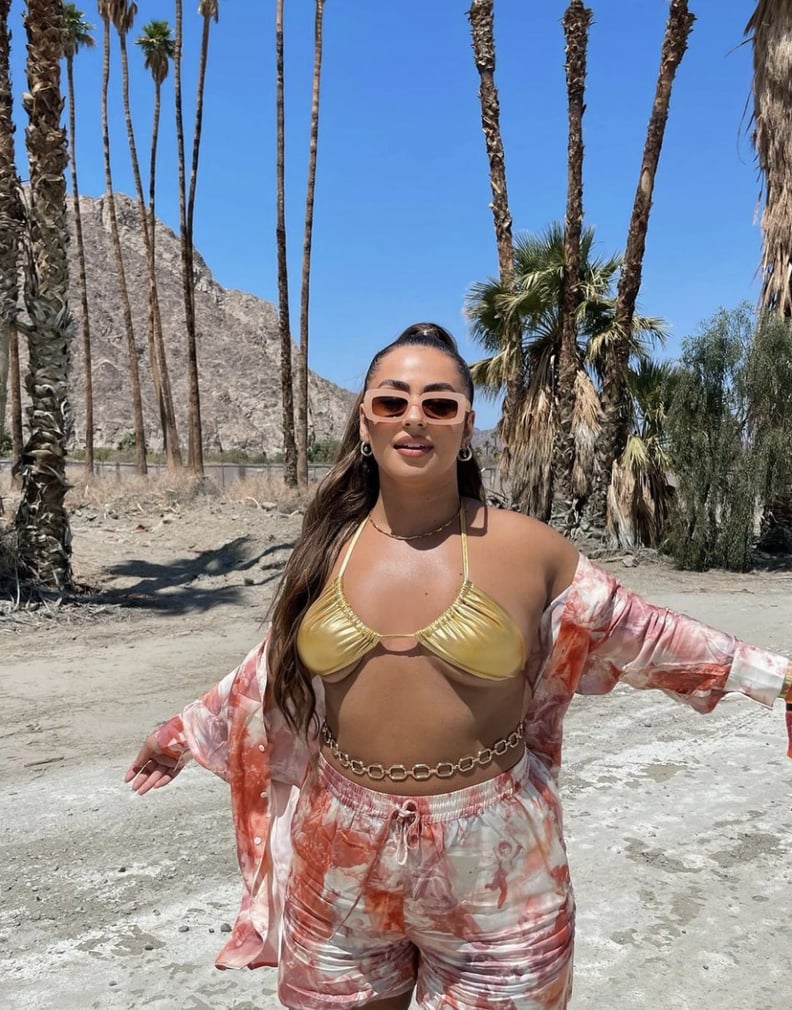 Ayesha Perry-Iqbal on What Being South Asian Means to Her
"Growing up, I felt so alienated. I didn't see one person in fashion or beauty that looked like me. It made me feel like I wasn't pretty and I had to do things to change myself to look like what the industry deemed as beautiful. Now in 2020, I am still the only Pakistani plus-size model signed in the United States. It is so important for me to pave the way for us because we deserve representation in every facet of the media and I know there are little girls out there who need to know they are beautiful just the way they are. Being in the industry for me means representation, growth, and breaking down barriers."
23
Jikaria Sisters on What Being South Asian Means to Them
"For us, fashion and beauty are inextricably related to love for dance and performing arts. In our dancing, we aim to merge our South Asian and American identities. We often dance to Bollywood and hip-hop fusion mixes that reflect our upbringing as members of the South Asian diaspora in the US. Our fashion and beauty choices are an extension of this amalgamation of our identities. As a part of the fashion industry right now, we feel responsible for breaking down barriers and encouraging others to fully embrace the various parts of their identities that make them whole."
24
Malvika Iyer on What Style Means to Her
"I lost both my hands in a bomb blast when I was 13 years old. With it, I lost a big part of my self-esteem. I was embarrassed to show my stumps in public so I started wearing cosmetic hands, begrudgingly as I used to live in a tropical place with high temperatures. Despite my best efforts, people would notice my artificial hands and stare and [make] insensitive comments.
Then, I went a step further in trying to be 'normal' like my peers and started wearing full-sleeve tops and dresses that would cover my prosthetics completely. Both my legs were disfigured in the accident, so I used to wear full-length bottoms to hide my gory scars.
Not being able to wear what I want [and] not being comfortable in my clothes was heartbreaking. I didn't [cultivate my own sense of] style. No matter how hard I tried, I could never come to love myself as I constantly felt like a stranger in my own body.
Ten years later, I became a motivational speaker, a disability activist, and an advocate for body positivity and shared my story [with] the world. I embraced who I was and accepted my body wholeheartedly and finally put an end to my old ways.
I received hundreds and thousands of messages from people around the world appreciating my courage and encouraging me for who I have become. I have a unique style now. From wearing a puff-sleeve blouse with [a] pleated skirt to an artisanal saree, I love wearing different kinds of outfits. With time, I have come to understand that having [personal] style is first and foremost about acceptance of one's true self. It's important to wear clothes that reflect our personality, clothes that fit our present mood, and clothes that make us feel happy and sexy. My motto: Be uniquely you. Be unstoppable."
25
Poonam and Priyanka Shah on What Style Means to Them
"To have style right now means wearing outfits that remind you that you are that boss b*tch. While everyone in the world is making Zoom calls and staying safe inside their houses, it's important to remember who you are, and wear outfits that make you feel beautiful and powerful. To the question if you wear a cute outfit and nobody's around to see it, did it even count? Yes it did, if it made you feel some type of way and if you felt good when you wore it."
26
Maria Thattil on What Being South Asian Means to Her
"The lack of representation I had growing up in not just fashion and beauty, but business, politics, media, and other spheres affected my self-perception and made me wonder what my prospects were beyond a 'safe and conventional' job. How could I dream of a creative career with a platform when I had limiting self-beliefs? If you don't see it, it is hard to believe it.
Interestingly, my journey in the industry started by sharing beauty tips for people of color on social media. I was so surprised to see the growth of a loyal, engaged community. I realized the hunger stemmed from our collective yearning to see ourselves make it. The platform I have in the fashion and beauty industry has allowed me to unlearn self-rejecting conditioning, reconcile seemingly disparate cultures — my Eastern roots and Western upbringing — and to proudly embrace my hybrid identity, and represent 'US' in a public sphere. I hope that has shown other South Asian people that they can do the same."
27
Meeka Hossain on What Style Means to Her
"Style to me has always been a form of self-expression [based on] my mood and what I'm inspired by. Colors, travel, movies, and culture have always inspired how I get dressed. Some days I'll dress like Sharon Stone in 'Basic Instinct,' and other days, I'll wear boyfriend jeans and a big T-shirt because I'm inspired by laidback California culture."
28
Nikita Charuza on What Being South Asian Means to Her
"Being someone who's been called both 'too Indian' and 'too American' my entire life, I understand the struggle and the effects that a lack of representation in media can have on a young person growing up. Working in fashion and media, I've grown to love and be proud of my culture even more so than I did as a child. While I find it utterly inspiring to see how far we've come in a few short years, we still have a heck of a lot more to do. I've made it my mission to do what I can to make both my generation and future ones feel like they see themselves in the work I do so that the feeling of being 'othered' is a one day a thing of the past."
29
Kirin Bhatty on What Style Means to Her
"For me, beauty means having the willingness to embrace what makes you feel good and owning it. Whether it be a bare face or the most colorful eye look you've ever seen, it's more about how you wear it and the confidence you exude vs. any actual trend that's happening right now. Confidence is timeless."
30
Seerat Saini on What Being South Asian Means to Her
"Growing up in the '00s, I saw fashion and beauty as a space I was not welcome in. From magazines to movies, the South Asian representation was few and far between. All these industries that defined fashion and beauty didn't include anyone who looked like me. I, therefore, saw myself as not beautiful. It seemed that South Asian women were not seen as desirable or aspirational. Being in the space today means decolonizing my mind and rejecting Eurocentric features as the standard of beauty. It means understanding the myths we grew up believing — and debunking them one by one. Most importantly, it means relearning that beauty is melanin; our skin literally absorbs light, and I think there couldn't be anything more beautiful than that."
31
Anthony Gomes on What Being South Asian Means to Him
"From the deep jewel tone sarees to the Banarasi silks, being a South Asian in the fashion and beauty industry gives me a voice to share my exuberant culture. It allows me to grow as an artist and fuels my creativity to push boundaries. I want to inspire fellow South Asian creatives who feel underrepresented in the industry."
32
Sruthi Jayadevan on What Being South Asian Means to Her
"Being in this space means bringing to the forefront the beauty and craftsmanship of traditional South Asian fashion and expressing myself with a modern, fresh take on everything. I often gravitate towards creating Indo-Western looks that are wearable daily. I think it's important to realize that South Asian fashion and beauty don't have to fit into one box, and we can choose to incorporate into our lives in many unique ways. I am so happy and honored to be able to encourage individuals to be proud of their culture and heritage through their expression in fashion and beauty."
33
Natasha Patel on What Being South Asian Means to Her
"We haven't seen enough global representation for South Asians. The paradigm shift is finally happening because of the power of social media and our voices and personalities are now being seen. I feel happier and more confident because there is a collective effort of people trying to overcome their obsession with fair skin. The beauty space has come so far (and still has a long way to go) in giving women of color a boost in the way they look, yet staying true to who they are and their roots. Same for the fashion space: when we see runways, brand campaign shots with similar features and faces as our own, it brings a sense of pride."
34
Maitri on What Style Means to Her
"I think everything goes right now. There is no one trend or look that's in or out. Style is about wearing things that make me happy and represent my overall personality. I also think that slowly the obsession with seasonal trends is fading away. Multiple trends can co-exist and get carried over season after season. Having style right now is easier than ever because you don't necessarily have to spend tons of money on big brands. You can use rental services and discover new small businesses and have a great personal style while being sustainable."
35
Misha Japanwala on What Style Means to Her
"Style is such a big part of our personal identities, and I think now, more than ever, style is a tool to support and highlight the political, social, and cultural issues that are important to us. Our presence and the things we put on our bodies have immense power, as does the money we inject into the fashion and beauty industries. Whether it's wearing a T-shirt with a slogan in solidarity with racial justice or buying a dress that has been made through ethical supply chains or with eco-friendly fabric, how we direct our spending towards the companies and systems that align with our values and how we use their products to physically move through this world has a larger impact than we realize. Style has never been more important in representing our values and what we stand for."
36
Farzana Ahmed on What Being South Asian Means to Her
"With social media opening the world up, we have seen a rise in badass South Asians online, both womxn and men who are creating amazing *lewks* and fire content for a global audience. It's so important to see people who look like you in these spaces. It's truly inspiring to see across the globe. I'm so happy to be part of this movement. As a South Asian woman, I choose to continue working towards reclaiming the South Asian identity and creating an informed and true representation of what the modern SA womxn looks like. Creating spaces and platforms where we can showcase and celebrate our individuality is a beautiful thing. It's a true blend of our traditions, with other facets of our style within the fashion and beauty industry. The versatility is unmatched. It's a real blessing."
37
Marikh Mathias on What Style Means to Her
"There's so much style content being thrown at us daily that it feels impossible to feel like you have a voice with yours anymore. I believe in being unique, whatever that may mean to you is what defines having style currently. Not being bound to a trend, but creating your own story through what you wear is a true expression in my eyes."
38
Sharifa Easmin on What Being South Asian Means to Her
"When I started my career in the fashion industry, there weren't many South Asian creators. I remember hesitating at first to post South Asian content because I didn't think people would be accepting. I feared it would limit my reach and brands wouldn't want to work with me because I didn't appeal to a broader audience. I know now how ridiculous that is. Being South Asian is only a plus. There is so much beauty in our culture that the inspiration is endless. I can do a full-on Bollywood-inspired, extra AF look one day, and then a minimal look the next. I thought I was limited, but really being South Asian just means my playground is bigger."
39
Rohma Siddiqui on What Style Means to Her
"Style right now feels more personal than ever before. A few months ago, we were all forced to halt travel and events, which heavily impacted the industry. We collectively learned a new way to survive and express ourselves while being confined to our homes. The entire narrative of fashion, beauty, and content creation changed suddenly. Adaptability has been a key factor in style this year."
40
Dr. Sophia Visanji on What Style Means to Her
"My style always tells a story. My outfits reflect my mood, the place I'm going, or the occasion I'm attending. Because of all the chaos of this year and the necessary safety measures — especially in my occupation as an eye doctor — my style has shifted to be more practical. I wear sneakers instead of heels, scrubs instead of dresses, and, of course, I always have on a coordinating mask. Although there aren't as many opportunities, I still find moments to express my true style when I'm at home or with friends doing socially distanced activities."
41
Nicole Mehta on What Being South Asian Means to Her
"When I set out, I never tried to define myself or my platform around being South Asian. However, it has always been a part of me and I've had a good time showcasing that aspect of my style with ethnic looks and Indian-inspired beauty skincare tips. With social media allowing you to connect with people from around the world, it has been fulfilling to see how you can embrace your cultural differences while still being mainstream."
42
Trisha Sakhuja-Walia on What Being South Asian Means to Her
"A decade ago, I wouldn't have imagined so many South Asian Americans pioneering a place for themselves in the fashion and beauty industry. From fashion designers Naeem Khan and Bibhu Mohapatra to beauty icons like Nabela shattering the status quo to Mindy Kaling rocking the bright colors we all need in our closets, it feels surreal, but the timing couldn't be better. We were once embarrassed by our moms wearing sarees to pick us up from school, but now fashion brands want to imitate our craft and designs."
43
Chhavi Verg on What Being South Asian Means to Her
"Being a South Asian in the fashion and beauty industry is a chance to break stereotypes and shatter preconceived notions about who we are and what we can do. Growing up, I never felt represented. In the media, South Asians are often portrayed as intelligent, but in an awkward or uncool way. The issue of colorism within the South Asian community made things worse. As a child, I never felt like I was beautiful. I am so grateful to be living in the time that we are in now and to see change taking place. With social media and the rise of South Asians in the beauty and fashion industries, we can show the world that we are so much more than how the media traditionally portrayed us and we share the beauty of our roots. More importantly, we can show the South Asian children who are watching us now that they should embrace and love who they are because they are beautifully and wonderfully made."
44
Riana Singh on What Being South Asian Means to Her
"Being South Asian in the fashion industry means owning the unique parts of who I am and prioritizing embracing the qualities that aren't always highlighted in mainstream media, but make me proud of my background like my thicker eyebrows or hyperpigmentation under my eyes. I have a responsibility as a young woman who aims to use her platform to create an impact on other South Asian women. I want to show the beauty of the intersections of my identity that form who I am, the content I share, and the type of person I aim to be, both online and offline."
45
Maryam Ishtiaq on What Style Means to Her
"I am a new mom and currently dealing with the pandemic. Having style gives me some sense of normalcy. With my body currently recovering from postpartum, it has been difficult to adjust to all of the changes that have happened. Being able to get up, dressing up, and keeping up with the trends gives me the ability to deal with the new changes in my life a little better. It also gives me this constant I get to hold on to regardless of all the changes. It's how I express myself on the days I feel low."
46
Anjali Chakra on What Being South Asian Means to Her
"While I don't necessarily consider myself specifically a fashion content creator, I do feel that fashion and personal style are important to the presence I have online. Being a South Asian in this industry means [finding] opportunities to draw attention to the work of South Asian and BIPOC sustainability activists and incorporate their teachings into my style while encouraging my audience to do the same. I think that I'm in a very unique position, where I can show my outfits to so many people, but also show them that it's cool to re-wear pieces in their closets, to borrow clothes from friends, and to shop secondhand before going back to the mall. Having the platform I do is a responsibility, and I am always trying to learn new things so I can use it well."
47
Anchal on What Being South Asian Means to Her
"My culture is so vibrant and colorful, and I love that I am a representation of that in such an impactful way online. It's apparent at times that those from the Asian culture are more of an afterthought, which is why I never shy away from incorporating my culture in my creative space across my Instagram and YouTube. It's visible in my tutorials, outfits, and even brand collaborations. I'm proud that I can bring that to the industry and incorporate it with western culture. I'm also pleased that there has been an increase in conversation around skin tone and shade range, forcing brands and companies to reevaluate the way they do things."
48
Rika on What Style Means to Her
"Fashion is all about how you individually express yourself. Being in an industry where you are what you portray yourself to be, fashion is a big part of that. Since I am of South Asian heritage, I love including that into my style and how I present myself. Wearing bindis and traditional jewelry while wearing western clothes makes me feel my most powerful. It helps me show my best and truest colors. I love the plethora of South Asian talent on social media right now who are expressing themselves in a similar, forward-thinking way."
49
Sabrina Molu on What Style Means to Her
"What I'm finding as I dive deeper into how I want to express myself through style is that we are so accustomed to looping people into categories. Are you Preppy? Luxe? Girly? Sophisticated? When in fact many women, like myself, find ourselves drawn to different styles. Feeling inspired and empowered to wear what makes you feel the most confident is having style to me. It's less about what you wear and how you wear it."
50
Reva Bhatt on What Style Means to Her
"Having style right now means to be unapologetically yourself. Style is reorienting our relationship to waste. Style is normalizing wearing the same pieces in different and interesting ways for Instagram. Style is being a good person and treating people with respect. Style is understanding how we as humans can coexist and thrive with the environment. Style is supporting your local, Black- and Indigenous-led, grassroots organizations with your money or time. Style is building spaces that affirm and empower marginalized communities."
51
Tanya Ravichandran on What Style Means to Her
"Being South Asian in a very Western-dominated fashion space, it's important to stay true to myself and authentic with my style, especially since I know it vastly influences the people who follow me. Recently, I've been combining a lot of Indian textiles with my everyday wardrobe, and it makes me feel like I'm authentically mixing my South Asian heritage with Western styles. The biggest thing for me is true personal style expression and the rejection of trends."
52
Silky on What Style Means to Her
"Coming from a Punjabi household and being born in Germany has always made me feel like [I'm] living the best of both worlds. As a South Asian content creator, I try to inspire others and show them how I combine both my lifestyles by sharing outfit pictures, comedy videos, and beauty content. But style isn't just fashion and looks for me. It's also how you present yourself to the world: how you speak, how you handle situations, and how you treat others. It's the whole package that makes you you and defines your style."
53
Shivani Bafna on What Style Means to Her
"Style is an authentic expression of you. It's much more than an article of clothing or jewelry; it's communicating how I feel based on my forever-changing phases of life, moods, experiences, etc. Whether it's mismatched loungewear or couture lenghas, we can embrace both with as much confidence and pride."
54
Tara Raani on What Style Means to Her
"We are in a really special time in history where there are enough South Asian Americans where we are starting to create a collective South Asian American aesthetic. At this moment, I'm still experimenting with what that means for my personal style, which errs on the side of masculine and punk. I have a few desi staples that I never take off: the mehndi-inspired tattoos all over my body (I drew them myself) and my family gold (my nath & jhumkas). These pieces make me feel deeply grounded. I've also always been drawn to the silhouette of lehengas and sari blouses. You will always find me in some combination of a small shirt and massive pants, not because it's trendy, but because it's an homage to my ancestors."
55
Aditi Mayer on What Style Means to Her
"As a South Asian sustainable fashion content creator, style for me is an avenue to explore and connect with our culture not just on an aesthetic level, but on a deeper level that honors regional artisan crafts to native textiles like khadi and jute. For me, fashion has been an avenue to connect with the land and labor behind the label.
In South Asian diaspora spaces, we often speak about 'decolonizing' our wardrobes, but to truly do that in practice, it needs to transcend beyond just the aesthetic of a more 'desi' look or accessories. We need to consider how the dominant fashion model (fast fashion) is colonial in nature; currently, the dominant fashion model is the source of severe exploitation and extraction in the Global South, especially in South Asia. However, sustainable fashion can be an avenue to reclaim a symbiotic relationship with people, planet, and culture."
56
Pragathi Guruprasad on What Style Means to Her
"Style is about embracing my dual identity as a South Indian American and finding more ways to incorporate the gorgeous textiles of South India into western fashion. For years, my Indian and American wardrobes stayed separate with the Indian outfits only making an appearance on special occasions. I now wear my anklets (golusu) every day, style my kolapuris with daily outfits, and find an excuse to wear jasmine flowers in my hair. Finding ways to weave Indian prints and accessories into my daily outfits excites me the most and I hope to continue to find new and creative ways to do so."
57
Megha Thakur on What Style Means to Her
"I often mimicked what the masses wore to not only blend in but disassociate from being South Asian. It wasn't until I embraced my true identity that I realized I could use my style to express all the unique facets of my personality and character - all the parts people ridiculed when I was young. That is why my style will always mean confidence, empowerment, and self-love."
58
Sandy Kaur Gill on What Style Means to Her
"Style to me is breaking free from norms and expressing your diversity through fashion. The Punjabi and Canadian cultures have influenced me as a person and I choose to exhibit that with what I wear. My personal style also includes using fashion to empower others and consume as responsibly as I can. I'm trying my best and encourage you to as well."
59
Megan Kothari on What Style Means to Her
"Some days I'm wearing my husband's oversize blazers and other days I'm wearing a softer piece. There's duality in all of us, and I find that I express that especially with jewelry; I love telling a story with the ancestral pieces I wear. Mixing my contemporary silhouettes with heirloom jewelry is a way I like to share my culture with others. When I wear these family pieces, I feel the energy of those that came before me."
60
Vineeta Maruri on What Style Means to Them
"Style is an extension of my body. It is a way for me to participate in the wildly curated gallery show that is living in New York. Even before I moved here, it has always been about painting a picture of how I'm feeling that day, week, or season. I've also used style as an opportunity to decolonize ideas of gender, race, sexuality, and culture. It's been an outlet for me to remind the world of what I think, to unpack a lot of facades and yell my truth. The subjectivity of style and the endless possibilities that it holds will forever be so inspiring to me. Style for me will also always be more important than fashion, trends, or the artists that release collections. Everyone expressing themselves in their truest, deepest, quirkiest, most individualistic way is what gets me excited about style and why I continue to dedicate time and energy to developing my own."
61
Nova on What Style Means to Them
"As a South Asian, what does style mean to me? That's an almost existential question when your culture conditions young girls to make themselves small and invisible in the name of modesty. I used to play it safe with plain, hyperfeminine clothes, but now I would describe my aesthetic as eclectic, psychedelic, and exuding soft power.
Your style speaks to who you are; mine altered once I leaned into my gender fluidity. Bengali aesthetics are vibrant, flamboyant, sensual, and textured: eye-catching point-blank. I had this epiphany that dressing up is like your soul materializing; it is a disservice to the world to show up as a watered-down version of yourself.
Most of my clothes are thrifted, or hand-me-downs from guy friends or pieces I have had for nearly a decade. Desi's been on the slow fashion wave. Shopping intentionally is a practice I am very proud of. The wonderful thing I've learned is that my pieces transcend gender and identity since I repurpose them time and time again to fit each version of me emerging through self-reflection and inner growth."
62
Alaviaa Jaaferi on on What Style Means to Her
"When someone asks me what my style is, I'm always stumped. As a South Asian, when dressing in ethnic clothes, I think people around me are willing to take more risks and try out more styles and aesthetics than with Western clothing. I grew up seeing that but applied that philosophy to Western dressing — my style is not restricted by an aesthetic. I always change my aesthetic based on my mood — one day you'll find me wearing a floral dress and the next a masculine suit."