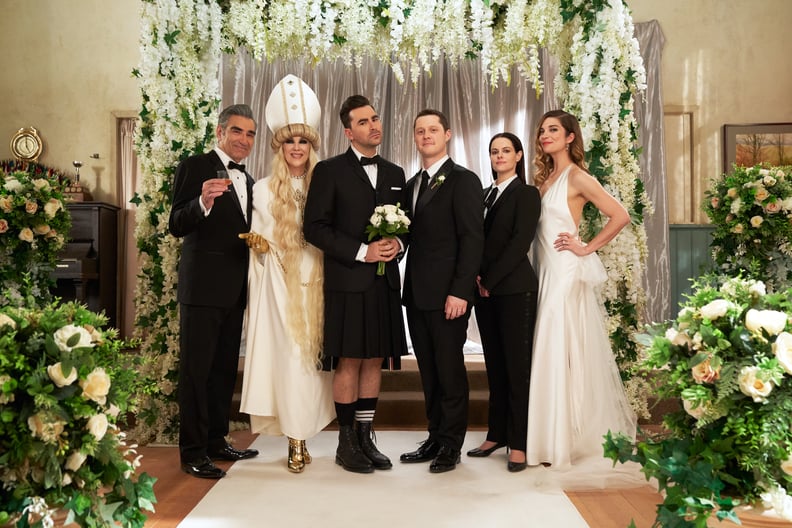 Pop TV
Ever since Patrick Brewer proposed to David Rose during season five of Schitt's Creek, we've been dreaming of the undoubtedly chic outfits everyone would wear to their wedding. Would David sport one of his signature sweaters in bridal white? What on earth would Moira Rose pull out of her extensive wardrobe next? Turns out, our expectations were blown out of the water while watching this week's series finale, as every member of the Rose family shows up to the town-hall ceremony in extremely on-brand ensembles.
David rocks a Thom Browne suit with a leg-baring kilt, one of his go-to pieces worn throughout the series. Meanwhile, Alexis chooses an all-white, floor-length gown to walk her brother down the aisle at his wedding, naturally. And, in true Moira fashion, the matriarch rocks an over-the-top pope-inspired getup to officiate the nuptials. I mean, did you expect anything less than iconic from this bunch?
Though we're certainly saddened to bid adieu to the Rose family and the rest of Schitt's Creek's quirky residents, their stylish sendoff makes the goodbye a bit more bearable. Ahead, take a closer look at and learn more about all the outfits worn at David and Patrick's delightfully eccentric wedding.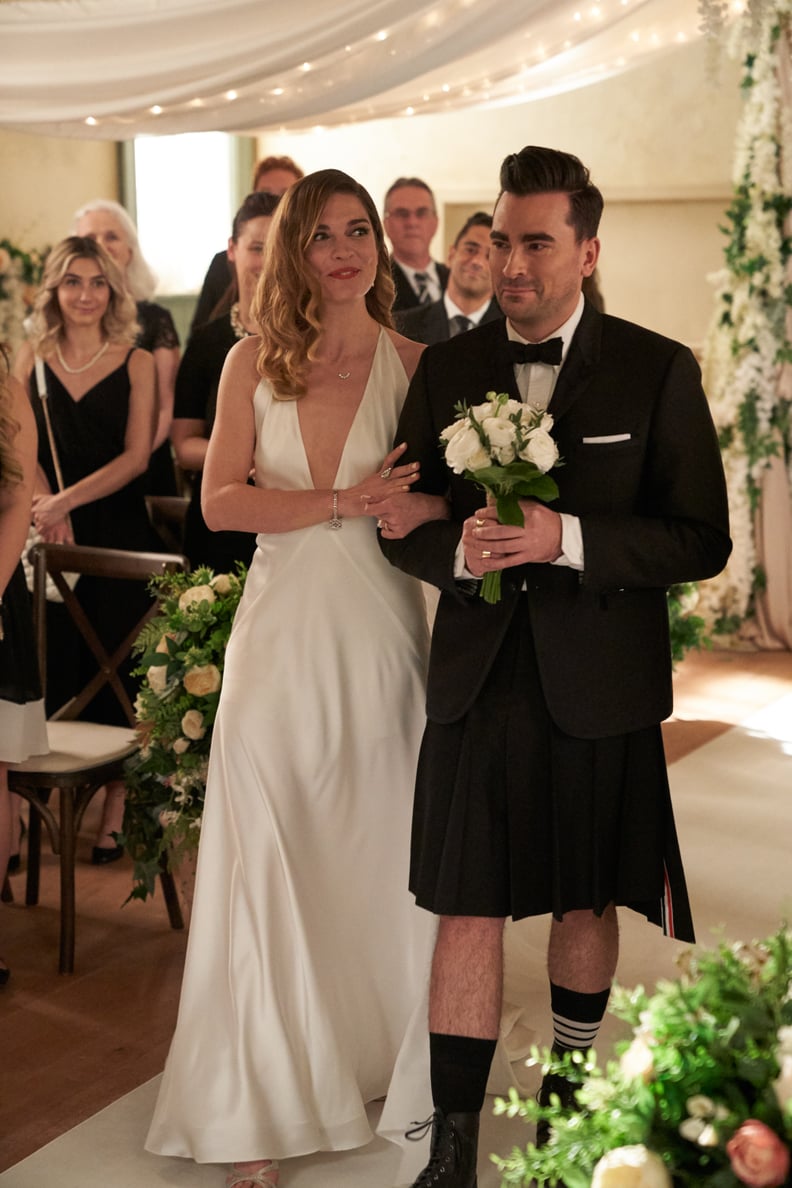 David Rose's Outfit at His Wedding on Schitt's Creek
While exchanging "I dos" with Patrick, David wears a Thom Browne suit featuring a pleated kilt. He styles the look with a bow tie, black combat boots, and mismatched socks — one is plain black, while the other has white stripes. It may not be the wedding-approved sweater we anticipated, but it is most definitely very David Rose.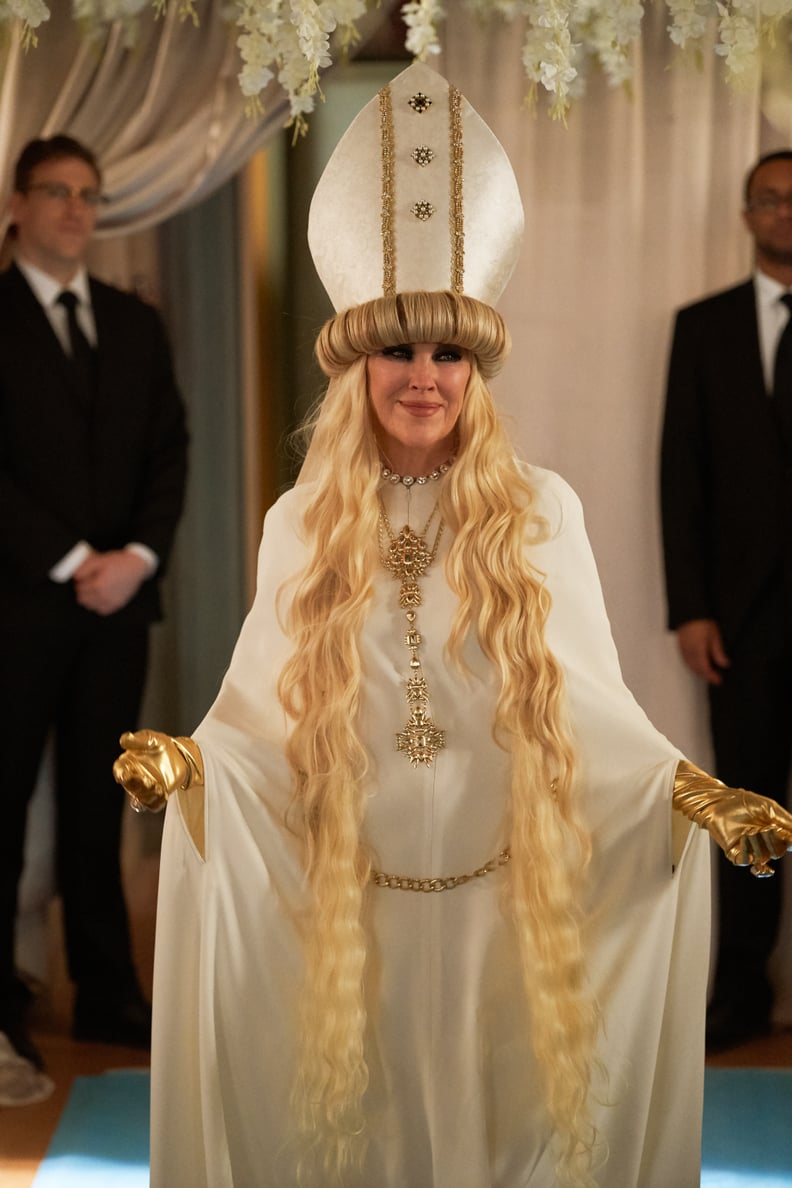 Moira Rose's Outfit at David's Wedding on Schitt's Creek
Oh Moira, how we love thee. As the mother of the groom, she styles a white Alexander McQueen gown with a chain belt, a statement necklace, shiny gloves, gold Tom Ford boots, and a towering papal headdress. The finishing touch? Her long, blond wig, which extends well past her hips — because why not?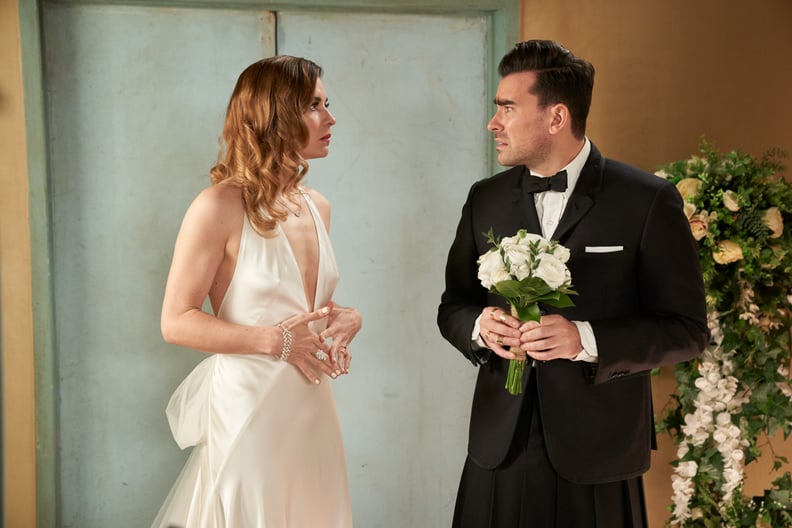 Alexis Rose's Dress at David's Wedding on Schitt's Creek
Alexis wearing a wedding dress to David's wedding is peak Alexis, wouldn't you agree? She looks elegant AF in a white satiny dress featuring a plunging neckline, low-cut back, and tulle bow. Luckily, she opts out of the veil — er, I mean, headdress made of white tulle.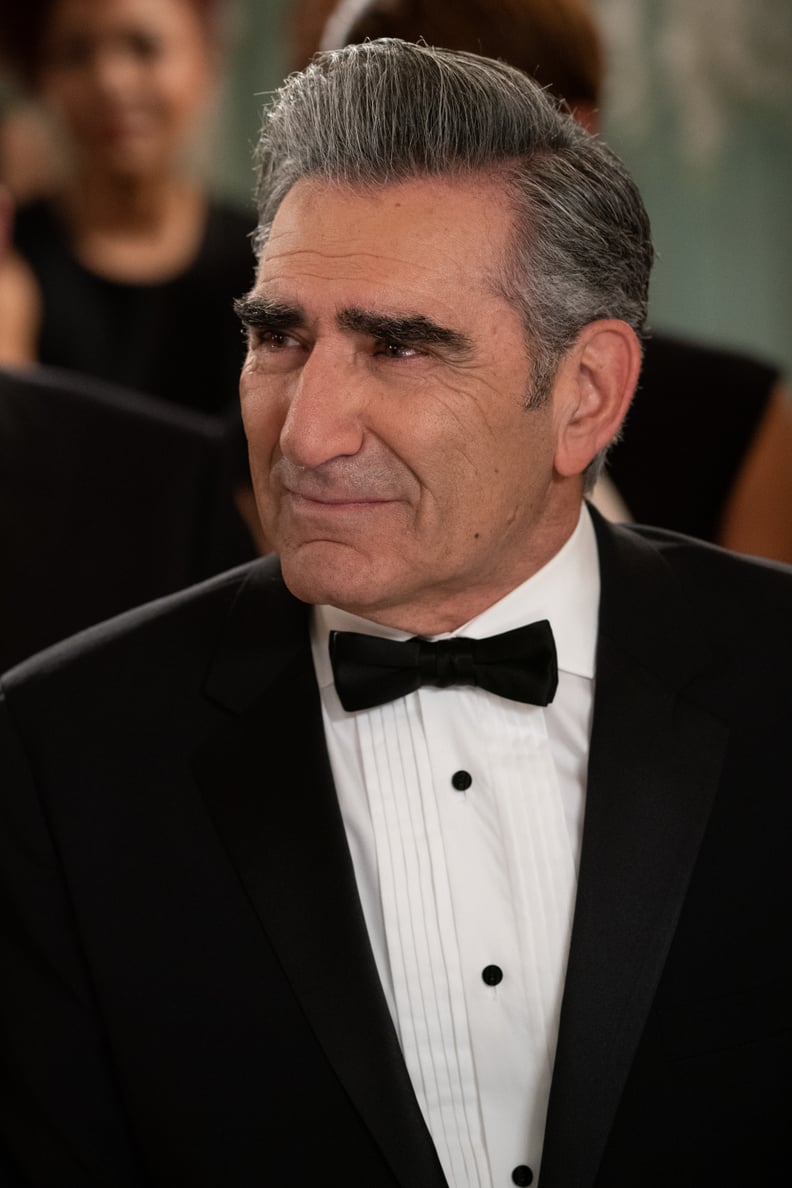 Johnny Rose's Outfit at David's Wedding on Schitt's Creek
The always-classy father of the groom fancies things up from his usual suits and chooses a crisp tuxedo for the occasion. Could he be any more adorable?!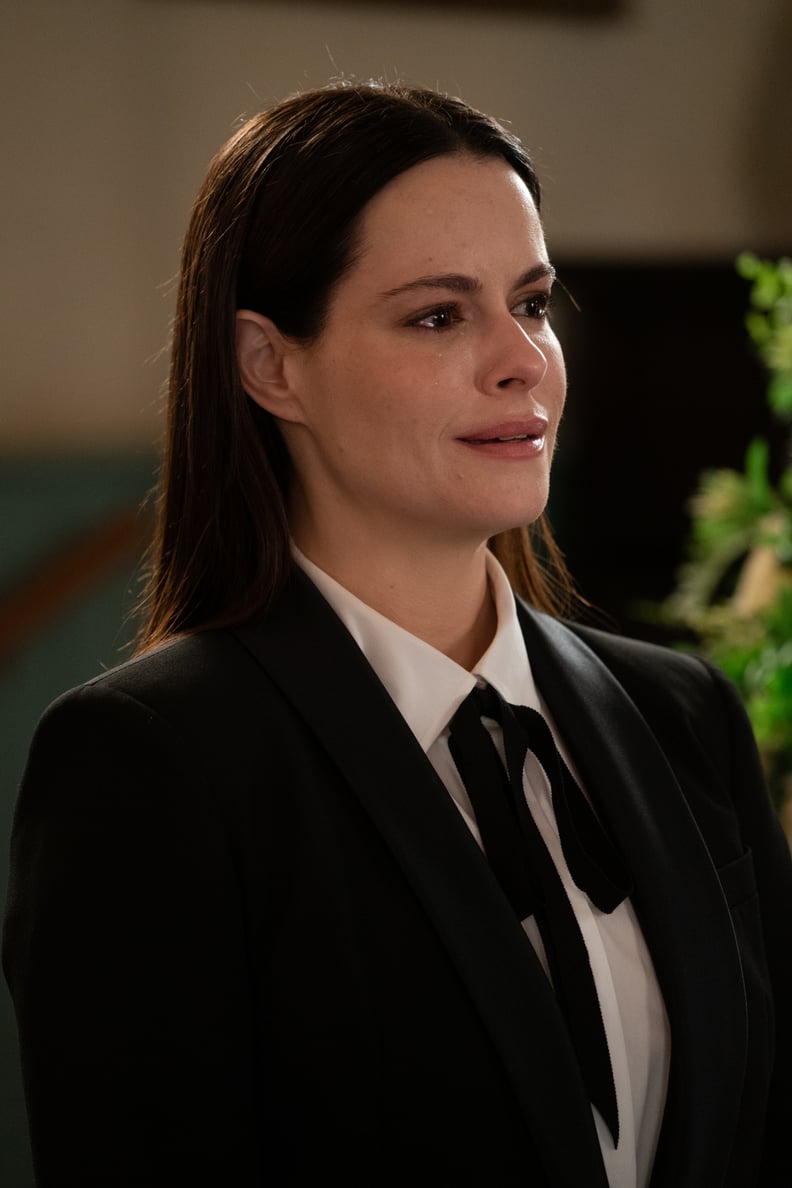 Stevie Budd's Outfit at David's Wedding on Schitt's Creek
Yep, that's THE Stevie Budd not wearing a flannel shirt. As David's sole bridesmaid, she chooses a black suit and styles it with a loosely tied bow around her neck.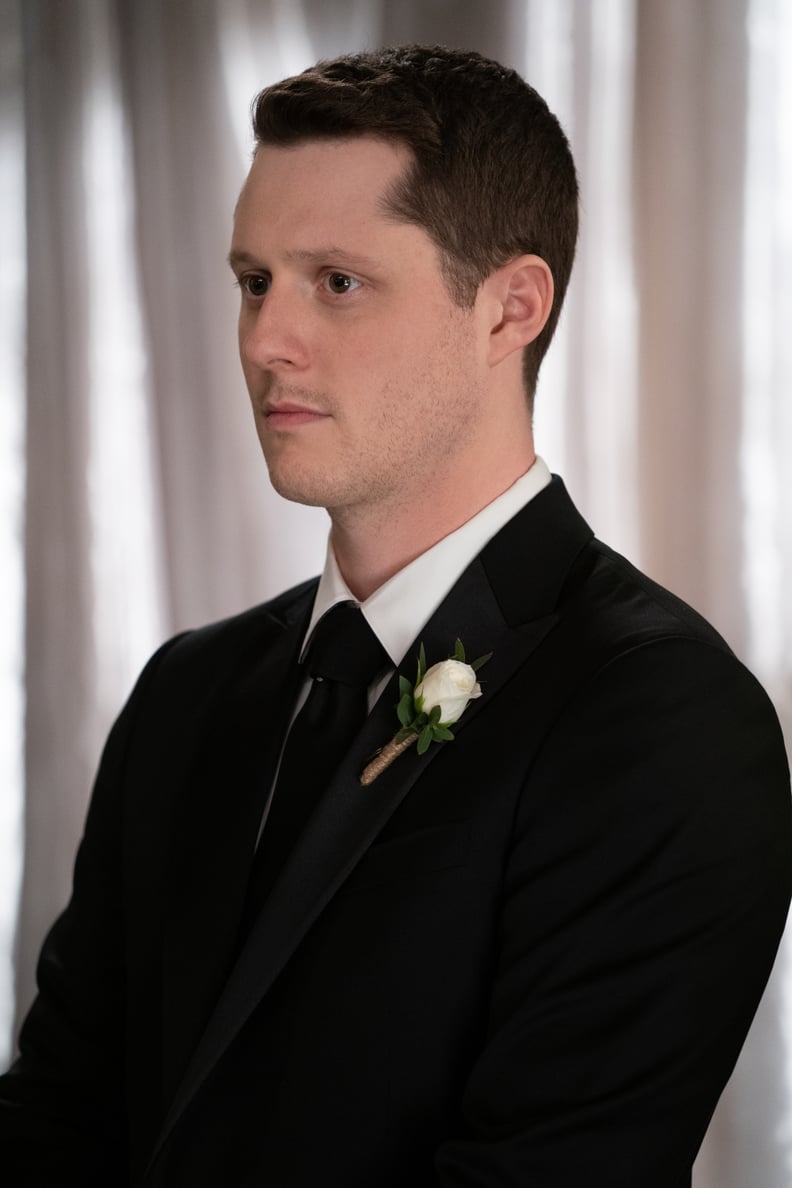 Patrick Brewer's Outfit at His Wedding on Schitt's Creek
Patrick knows better than to upstage David's outfit, so he goes the traditional route with a classic suit and white flower boutonnière.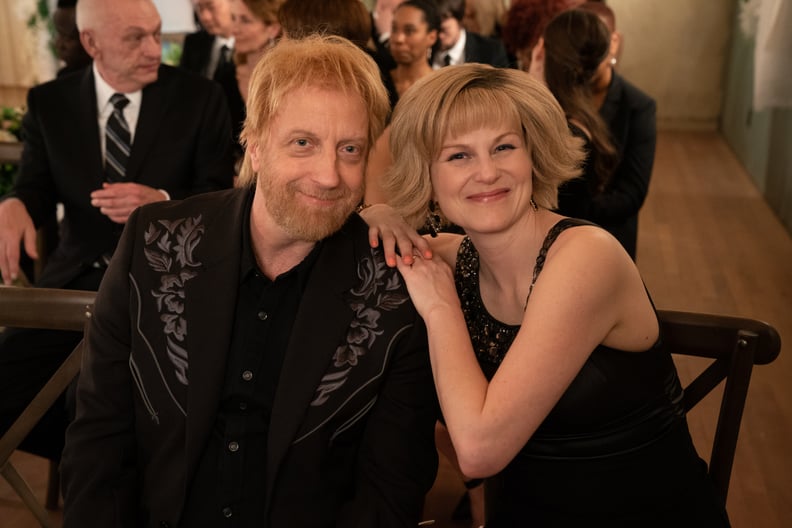 Roland and Jocelyn Schitt's Outfits at David's Wedding on Schitt's Creek
The Schitts sure do clean up nicely, don't they? Roland opts for an all-black suit with embroidered detailing, while Jocelyn matches in a black dress with an embellished neckline.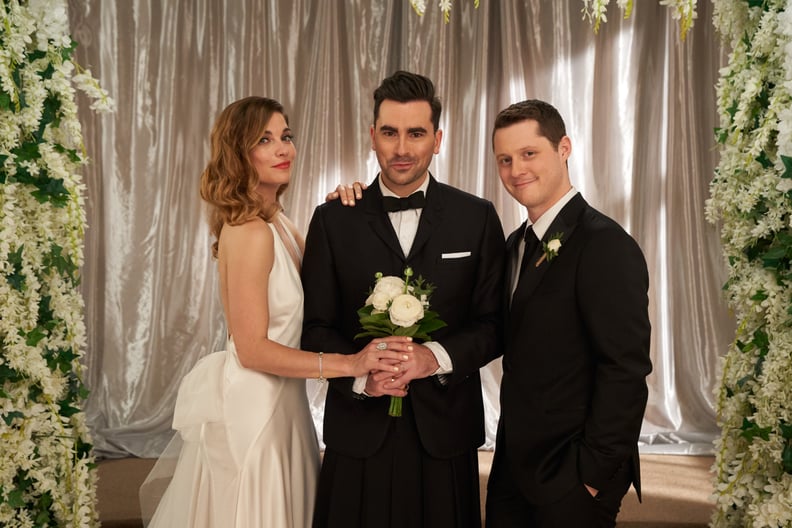 More Pictures of Patrick and David's Wedding on Schitt's Creek