POPSUGAR
/ paid content for /
Old Navy
Artist Shanée Benjamin on Her Collaboration With Old Navy
Illustrator Shanée Benjamin on Cultivating QBIPOC Community Through Food and Art
As POPSUGAR editors, we independently select and write about stuff we love and think you'll like too. If you buy a product we have recommended, we may receive affiliate commission, which in turn supports our work.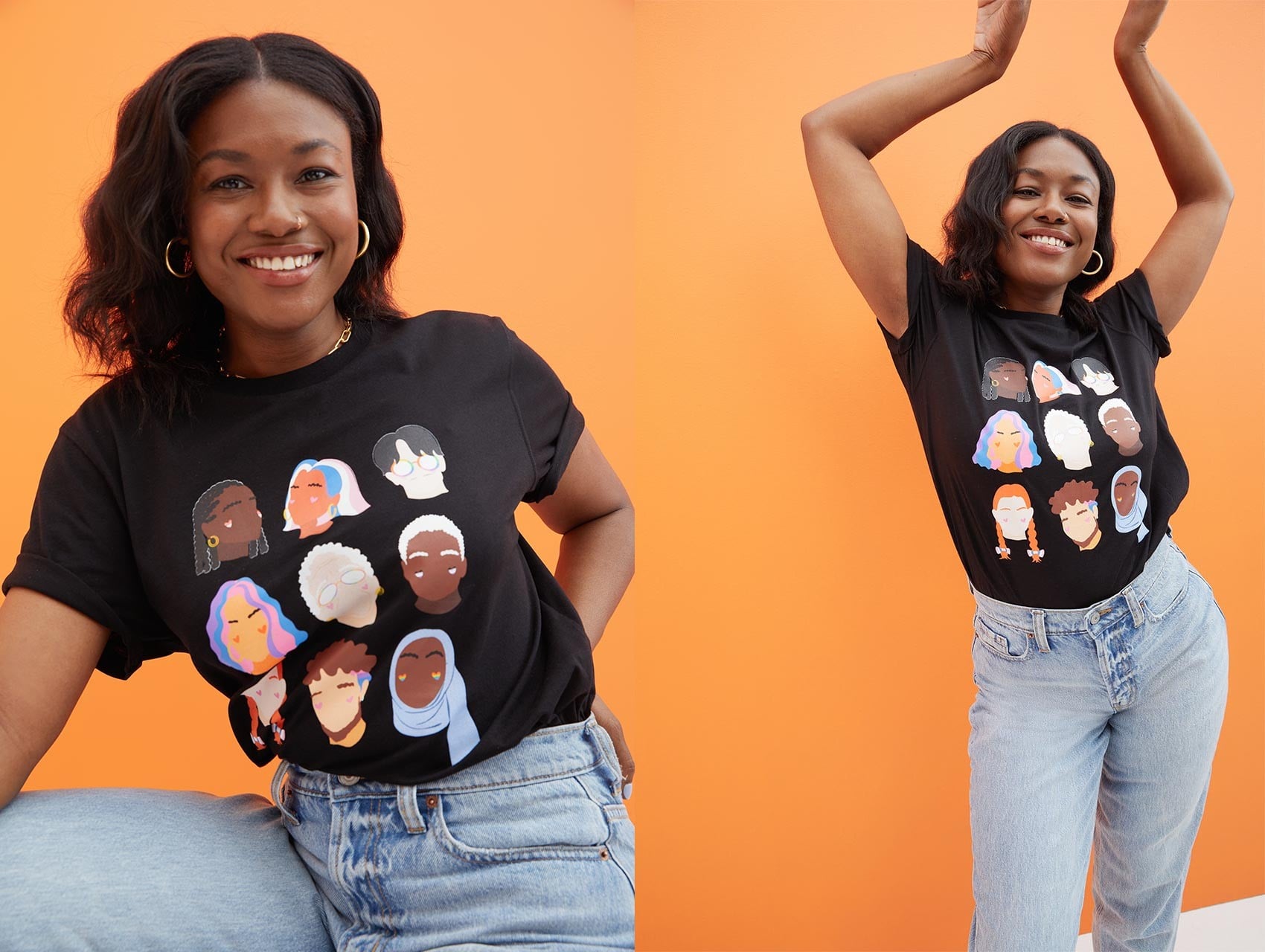 We all have those first shopping memories wherein our deepest brand loyalties formed. Old Navy is unquestionably one of those brands for many; who didn't try their hardest to own a pair of those iconic flip-flops in every color? When you grow up with a brand, it feels like a part of you. However, it's hard to imagine becoming someone the brand shines a light on to represent equality and diversity creatively. But for art director and illustrator Shanée Benjamin, that's been precisely the case through Old Navy's Project WE — an ongoing collaboration series created to provide a space for vibrant, diverse artists to gain visibility *and* the equity they deserve through graphic T-shirt designs.
As a color-loving, '70s-fashion-obsessed Brooklyn, NY, native, Benjamin has almost a decade of design experience after leaping into digital illustration. Her work is dynamic and cheerful while being rooted in celebrating Black joy. In addition, she's all about creating community and connection through food and art by passionately telling QBIPOC stories.
Old Navy is proud to collaborate with Benjamin on an exclusive tee in her color-loving style while continuing the brand's mission of uplifting diverse voices and communities. The retailer is also donating $500,000 to their partner Fifteen Percent Pledge in honor of the Project WE series. Ahead, get to know Benjamin, from her artistic inspirations to connecting with QBIPOC communities worldwide — but not before scooping up one of her tees on OldNavy.com.
POPSUGAR: Can you explain what a digital art director and illustrator does, as some may not be aware of the creative profession?
Shanée Benjamin: I love my job because I get the opportunity to be super creative when I work with brands. I create art that accompanies a story, whether it's working with books, editorial pieces, creating prints for fashion collaborations, etc. I also love sharing my personal art which depicts QWOC joy!
PS: Can you describe your artistic style? Would that be an accurate three words to summarize if you had to?
SB: I think my style is a mix of contemporary and pop art, with hints of surrealism. Colorblocking, patterns, vibrant colors, exaggerated lines, and cartoonish style features are a constant in my work. I'd describe my work as joyful, vibrant, and unapologetic.
PS: Can you describe your fashion style and how it influences your art?
SB: My fashion is a mixture. I'm a 4x Libra, so I'm very much a person of duality. I love '70s style — wide-sleeved crop tops, chunky wooden heels, gold hoops, and feathery hair. I'm also a '90s baby from Brooklyn, so an all-black 'fit with a slicked-back bun is very familiar to me. In my art, I like to pay little nods to my culture by incorporating accessories. I love including gold hoops, long nails, gold teeth, jelly sandals, durags, and braids on my characters.
PS: At what point did you feel an urge to begin advocating for queer, Black, and Brown communities, and what sparked that drive in you? Is there a singular moment that stands out?
SB: There is no singular moment per se, but I became frustrated seeing Black lesbians and femme lesbians being left out of the Pride narrative. The media can portray queerness in very heteronormative ways, but the community is way more diverse than that. I'm a femme woman that is attracted to other femme women, and truthfully, I did not see that narrative until I watched "The L Word" (Bette and Tina), but they were white/mixed identified. The intersectionalities of being Black, queer, femme, presenting loving other femme-presenting folks deserves space.
PS: How do you connect with other QBIPOC communities worldwide? Social media is obviously a huge way to connect with people you wouldn't otherwise meet, but at the same time, it can feel intimidating to slide into DMs or publicly comment. How do you cultivate community?
SB: I love cultivating community through food. I host a Dinner Party series for creative queer Black women, NB folks, and allies. I curate a menu, have a cocktail happy hour featuring oysters (my signature), serve wine from Black-owned businesses, and we all just connect and have a great time together. I've recently held one celebrating this collaboration with Old Navy. I'm totally not afraid to follow and send a DM to someone I think I'll vibe with — that's how I've gotten my guestlist for DP.
PS: What does it mean to you to collaborate with Old Navy?
SB: Collaborating with Old Navy is such an honor because I grew up shopping here. It's a super-surreal moment to see my art in stores and connect with my fans who've bought the shirt.
PS: Can you explain what you were thinking about when you created this design?
SB: I wanted to give visibility to all queer folks, all ages, all ethnicities and races, and all identities because we are a community.
PS: How do you hope QBIPOC people feel when wearing this tee? How do you feel wearing it?
SB: I hope people feel seen and joyful. I hope someone can recognize themselves in one of the characters and know that they are loved.