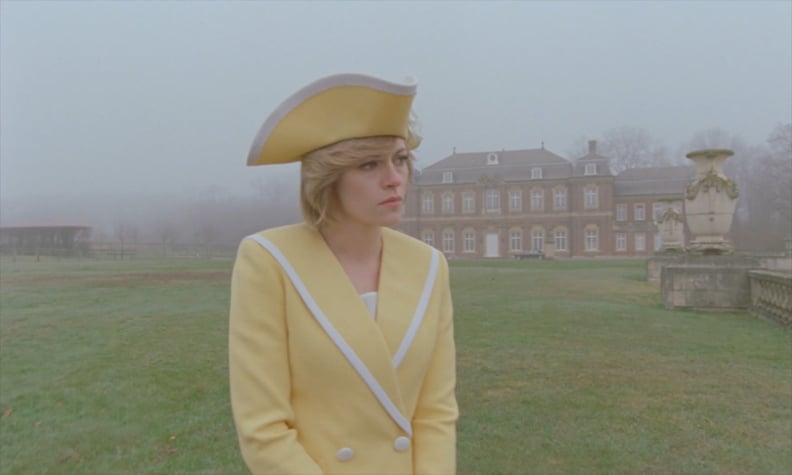 Courtesy of Neon | Topic Studios
Courtesy of Neon | Topic Studios
Kristen Stewart stars as Princess Diana in the much-anticipated Spencer, a film that offers a glimpse into Lady Di's life as she makes the decision to separate from Prince Charles and royal life. Yet Spencer is not a biopic — it labels itself "a fable from a true tragedy," imagining what a Christmas weekend for Diana might have looked like in the early '90s. In the same way the film is inspired by fact yet mostly fictionalized, the intricate costumes worn by Kristen reflect the same.
"You couldn't pinpoint anything and say, 'Oh, that's the costume that Diana wore when she was visiting X, Y, and Z in December '91."
Rather than sourcing and re-creating exact outfits Diana had worn, costume designer Jacqueline Durran simply wanted to capture the essence of her style through Kristen's looks. "You couldn't pinpoint anything and say, 'Oh, that's the costume that Diana wore when she was visiting X, Y, and Z in December '91," the Emmy Award-winning costumer told POPSUGAR. "Because that's the problem — every time you see a picture of her, you can more or less identify where she is and what she's doing, so it's not particularly useful in telling our story to have those facts pinpointed, which aren't the facts of the story we're telling."
Curating costumes for a character based on an existing icon may seem quite simple — especially when said icon has a famous wardrobe that's been replicated and referenced numerous times over the years — but those factors are what actually made the task more difficult. "It really helped not to be specific," Jacqueline said, making Spencer different from a project like The Crown, which tells a semi-documentary story. Her wardrobe choices were purposeful.
The costume designer, who's best known for her work on films like Pride & Prejudice, Little Women, and Beauty and the Beast, chatted with POPSUGAR about what it was like working with both Kristen and Chanel, how she sourced each and every piece, and, of course, everything you wanted to know about all those gorgeous coats.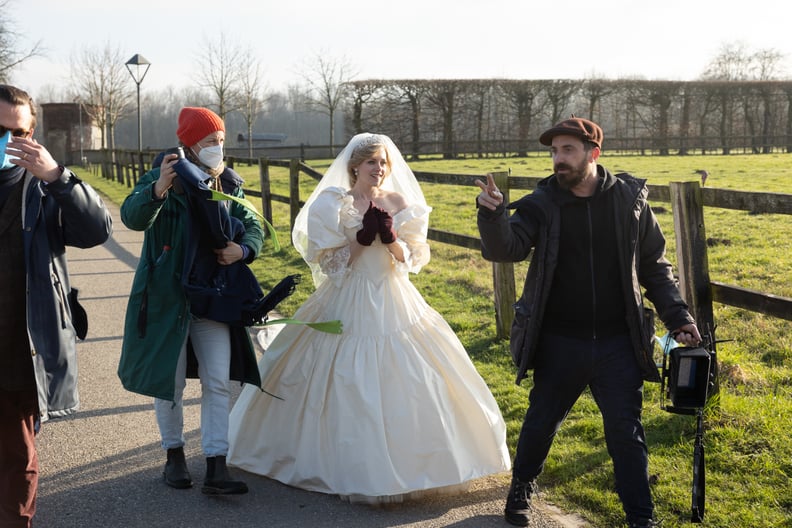 On getting involved in Spencer
When Jacqueline was approached with the opportunity to join the movie, she couldn't turn down the proposition. But it wasn't because she had been a longtime fan of Diana's style. While the costume designer technically grew up with the princess in the '80s, she wasn't interested in royal fashion. "It wasn't really the center of fashion at the time," she said. "I think, actually, [Diana] is almost more fashionable now than she was at the time because her style has been appropriated into mainstream fashion, in a much more interesting way than it was in the '80s where she was just representative of a kind of royal fashion."
On all the incredible coats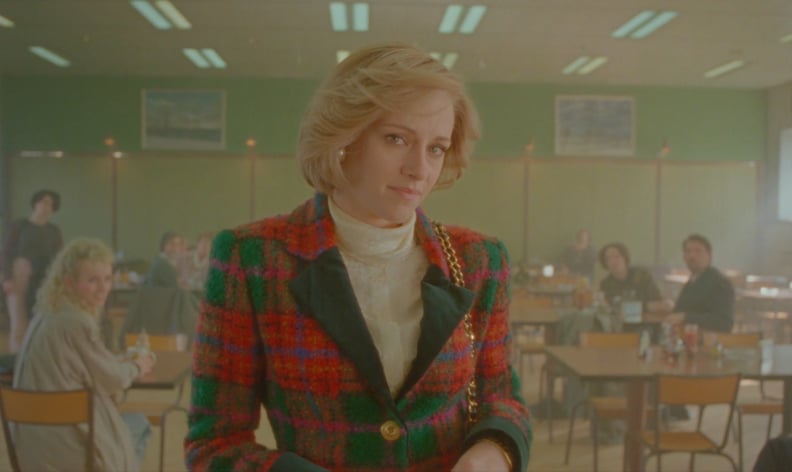 For anyone who's seen the film, it's hard not to notice every perfectly fitting coat — for both the scene and the actress. My first thought after leaving the theater was that I needed all the details on each coat. Luckily, Jacqueline offered that insight, and we learned every piece was either custom-made or vintage, with the exception of a red Chanel coat Diana wears to church. Some exceptionally notable ones include the green-and-red plaid we see in the opening scene (Jacqueline's favorite), the yellow sailor look that ends up on the scarecrow, and a favorite of Kristen's, the vintage blazer Diana dons in a beach scene.
"I think the plaid is my favorite because it was actually really hard to do," Jacqueline said. "It looks like it would be easy, but finding the fabric was really, really hard. We looked in America, we looked in London, we looked everywhere, and then in the end, I found this really small piece in Cyprus . . . I think the fact that we pulled it off and I really liked it — it was a challenge that I was pleased to have achieved."
On working with Chanel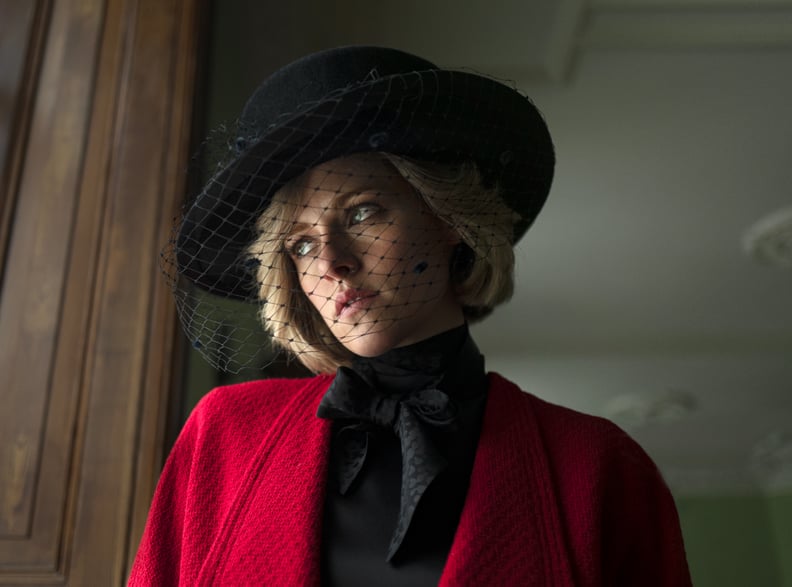 Kristen has been a longtime ambassador of the fashion house, so it was only fitting that the Spencer team would work with Chanel on the film. Jacqueline reached out to the archivist and showed them pieces Diana had worn in real life during the early '90s to see if they could source any similar ones, and she also looked through the brand's evening-dress options. "We pretty much did know what we wanted. But there's always a possibility of a fantastic surprise, a bit like the cream dress. The cream dress wasn't exactly the dress I was looking for, but it was just perfect in the end."
On the story behind that gorgeous Christmas dinner dress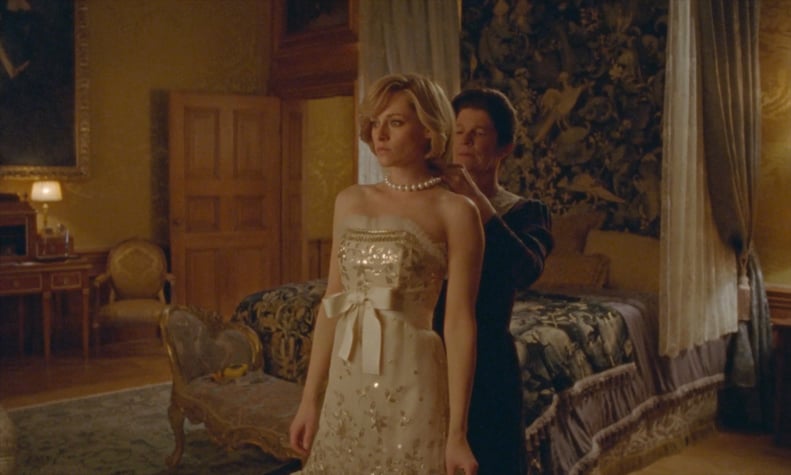 When it came to that stunning cream gown that graced the movie posters, Jacqueline had initially envisioned a light-colored dress with sleeves and a full skirt at the bottom that she'd pair with a coat. After going through several dark, mostly black dresses in the Chanel archives, she finally landed on one dress that was "almost perfect" — it just didn't have sleeves.
"But when Kristen put it on, it was just such a great dress that we all loved it," she said. "Then there was a new problem. It was too precious a dress for her to wear because of it being one of Karl's dresses from the '80s, and it was in the archive and it couldn't possibly go through all this. It couldn't be worn for days and days, especially outside, so they remade it in the couture workroom and made a perfect copy for her. It was an amazing opportunity to see the craftsmanship that Chanel had."
On collaborating with Kristen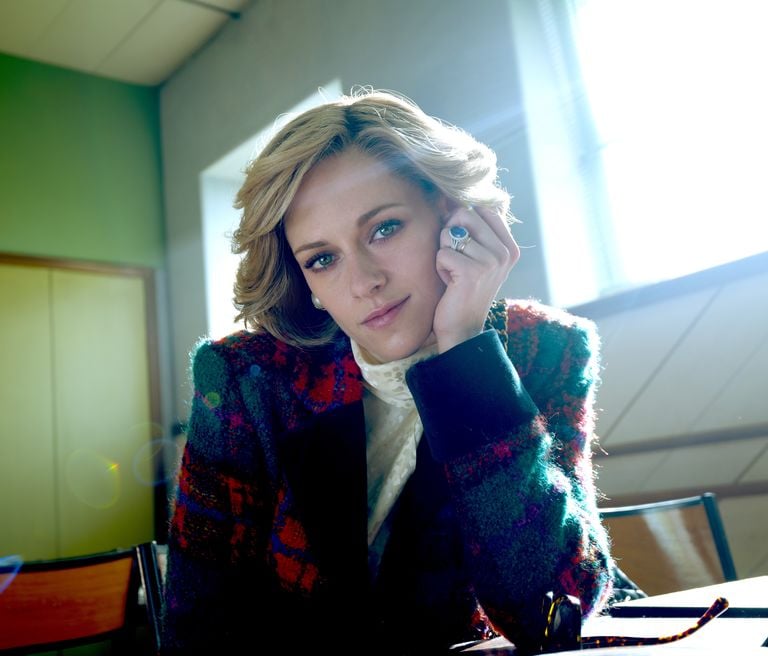 "We were pretty much in tune, to be honest," she said. Jacqueline initially plotted out potential costumes for every scene with director Pablo Larraín, and once Kristen arrived in London for her fitting, they were all in sync. "Because of her style, she just really knows how to work to make a look," Jacqueline said of Kristen. "So she just used her style, which is so different to Diana's. But she just understands clothes, and so she can just make the look. It was a real pleasure to work with her."
On Kristen's favorite piece
"She's kept a lot of the pieces, but I would say that the piece that she really liked was the jacket on the beach — the Mondi jacket," Jacqueline shared. "When she saw it, she couldn't believe it. She's definitely kept that one."
On sourcing each and every piece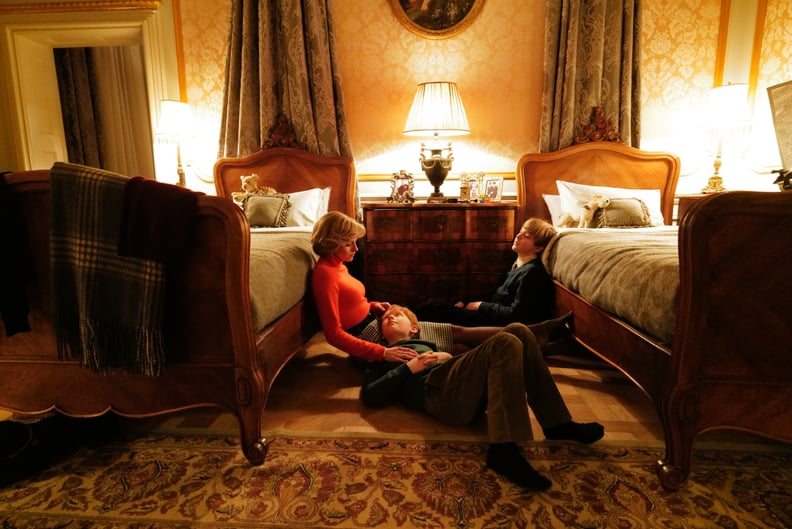 While some looks were custom and some, Chanel, the rest were existing pieces sourced from a combination of dealers in London, eBay, and Etsy. "I don't think we hired anything, it was all just purchases," Jacqueline said. Because of the added layer of shooting during the peak of coronavirus in England, the team didn't have access to people and fabrics in the same way, making the process even more difficult, she explained.
Spencer opens in theaters Nov. 5.