How Telfar Became So Popular
How Telfar Clemens Built a Brand For the People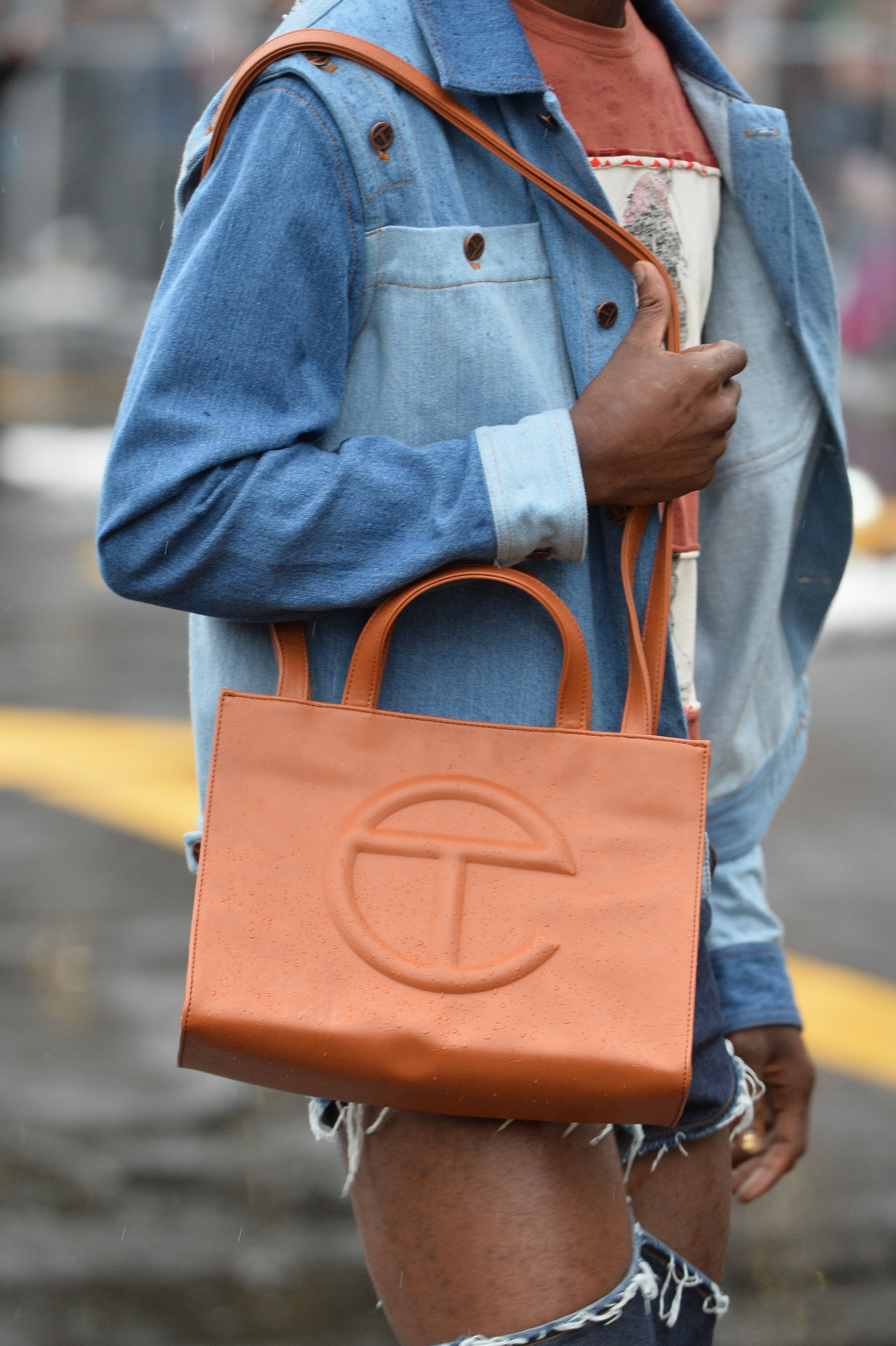 After two and a half years of waiting, I was finally able to order Telfar's large olive green shopping bag via the brand's 24-hour Security Bag Program. Hopeful owners, like me, who have long waited to own one of these hard-to-get handbags were given 24 hours to purchase as many bags, in as many colors, in any size that our hearts desired. I took advantage, walking away with the large olive green shopping bag, a medium yellow shopping bag, and two small shopping bags in orange and pool blue. I've never bought four luxury handbags in one sitting; in fact, I've never bought a luxury handbag because they are always impossibly expensive. That's what I love about Telfar bags, they're the perfect marriage of functionality, fashion, and price. And the amazing thing, all Telfar products — denim, hats, shoes, and jewelry — are affordable and for the people, which is why they are almost always sold out.
Although Telfar has been in the spotlight in recent years, make no mistake, the brand is not an overnight success. Telfar Clemens, the 35-year-old Liberian-American founder of Telfar, started his brand in 2005 with genderless clothing. He wanted to create a product that left the decision-making to the wearer.
The brand has always been about inclusivity and the designs reflect the brand's mission: "not for you, for everyone."
The brand has always been about inclusivity and the designs reflect the brand's mission: "not for you, for everyone." Since 2006, his runway shows have always included musicians, all genders, and all races. I think Telfar's work and energy is resonating with consumers because of the current social and political landscape. People want to shop Black and they want to support brands who walk the walk — not talk cheap talk.
Created in 2005, the brand was known in the industry and among the designer's close-knit friend groups, but it was the launch of the shopping bag — in sizes small, medium, and large — in 2014, and the help of his dear friend and artistic director, Babak Radboy, that finally put Telfar on the map. It really took off in the industry and with the wider population because previously there was "no genderless, accessibility price, Black-owned bag, period, and there was no one to wear it," Radboy told Dazed. In 2017, Clemens was awarded the CFDA/Vogue Fashion Fund award and received a prize of $400,000. It was the perfect amount of money to fund the production of the three sizes of shopping bags, modeled after the dimensions of Bloomingdale's shopping bags. Shortly after the bags were made, celebrities like, Solange, Selena Gomez, Bella Hadid, A$AP Ferg, and many more started sporting their bags and raising the brand to cult-favorite status. Last month, Rep. Alexandria Ocasio-Cortez was even spotted carrying the bag. Proud that she represents the 14th District of New York, where Clemens is from, she celebrated the success of the former LeFrak City, Queens, resident. On Instagram, AOC showed us all her items the bag houses, like her notebooks, binders, shawl, makeup, and iPad, proving the bag is perfect for everyday life.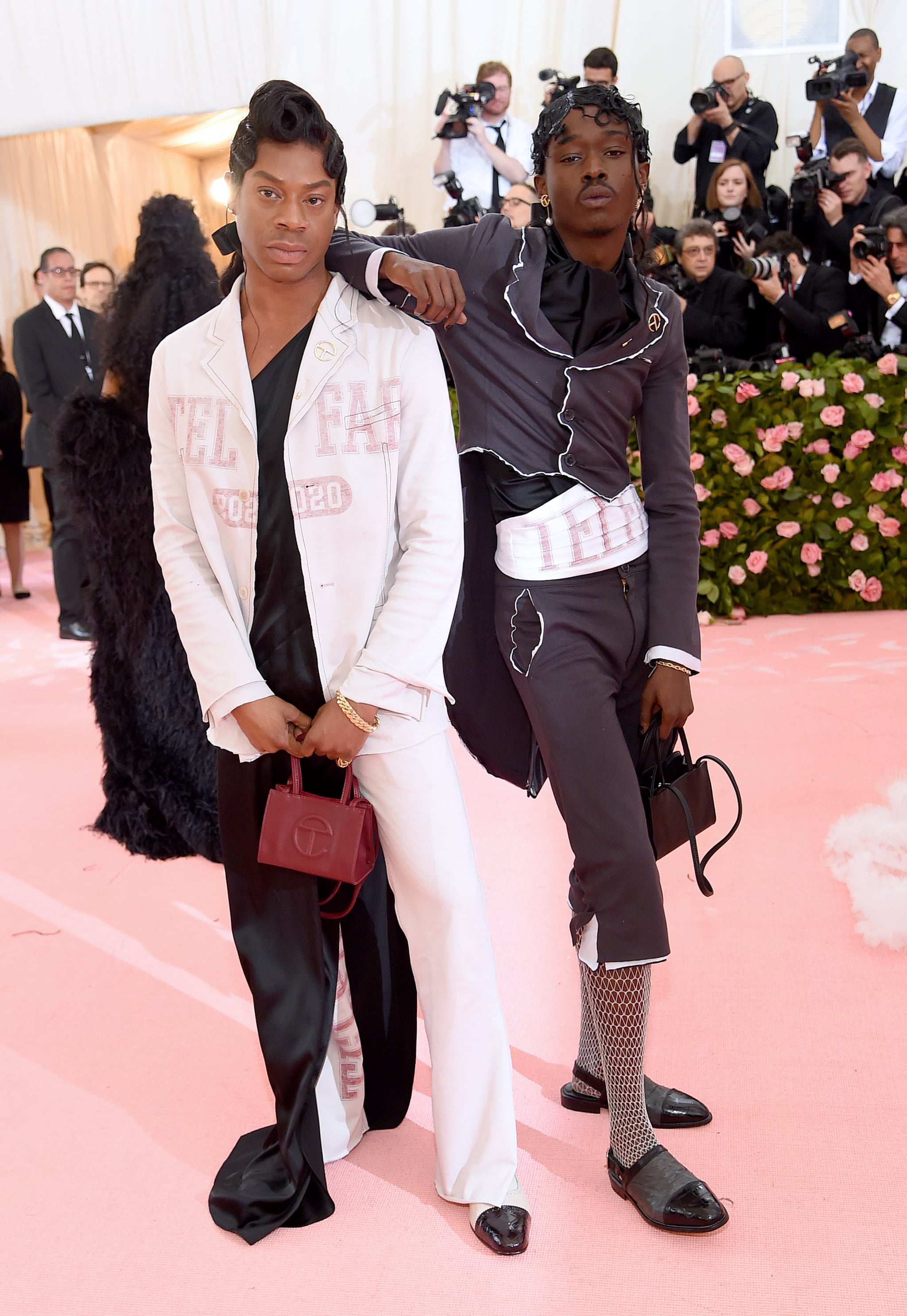 Telfar Clemens and Ashton Sanders at the 2019 Met Gala
I was first introduced to the Telfar brand in 2017, when I moved to New York. Prior to the pandemic, I lived in Bushwick (home of Telfar's studio) for three years and could barely go 10 blocks without seeing the iconic "TC" label. Brooklyn kids loved it so much that Xya Rachel coined the bag "the Bushwick Birkin." The bag is "a status symbol for people into fashion, especially in Brooklyn," they told The Cut — like a Birkin "but for those who don't have Hermès kinda coins."
Telfar Clemens is very passionate about creating a new type of industry standard, often quoted as being inspired by "himself."
It didn't take long for me to join the Telfar movement. Everything about the brand has consumers' best interests in mind. Growing up, Telfar loved girls' clothes but was never allowed to buy from the girls' section. "I remember being so pissed!" he told Document. "So when I started to make clothes, I decided I'd make clothes that had no assignment to them." All his clothes can be worn by any gender and any race. The brand also has our wallets in mind, offering all shopping bags for under $300 and most clothing for under $600. New shopping-bag colors are released the first Friday of every month, when "people don't have to worry about rent again for 25 days," Babak told The New Yorker. Telfar is very passionate about creating a new type of industry standard, often quoted as being inspired by "himself." Typically, streetwear brands like Supreme and other hype brands release a specific amount of product to a specific crowd to stir up the demand as they minimize the supply to maintain exclusivity. It's a tactic that has worked for years but one that Telfar does not want to replicate. In hearing concerned customers' frustrated remarks of drops selling out in minutes via bots, he looked for a solution to appease shoppers, and established the Telfar Security Program.
As a fan, I'm thrilled to see all the recent and past success of the brand, but with their Telfar Security Program, I also worry that the brand will become too mainstream. Similar to Taylor Swift's transition from country to rock or Soul Cycle's and Starbucks's desire to have a location on every corner, the excitement starts to wane. People still love these brands and frequent them, but the excitement is no longer there. It's become very normal and nonexclusive when you tell people you attended a Soul Cycle class or pick up your Venti latte at Starbucks. It's so commonplace that it has no weight or luxury to it anymore.
That said, as the world continues to support the Black Lives Matter movement and appreciation of well-designed and affordable luxury products, I think Telfar will always have a place.