3 Editors' Honest Takes on Kristin Cavallari's Jewelry Brand, Uncommon James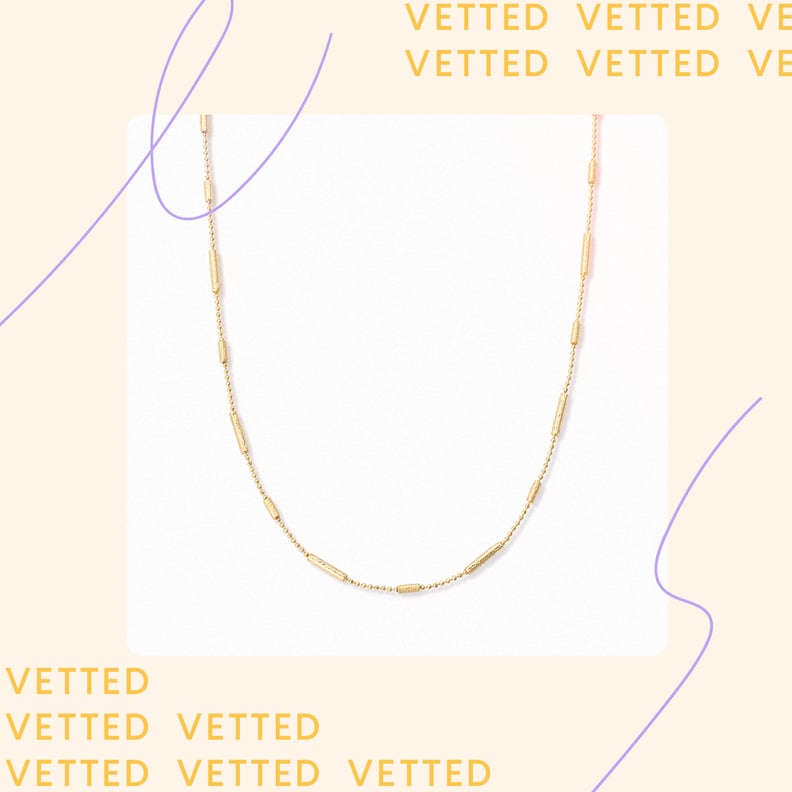 Uncommon James
Photo Illustration: Aly Lim
Uncommon James
Photo Illustration: Aly Lim
As POPSUGAR editors, we independently select and write about stuff we love and think you'll like too. If you buy a product we have recommended, we may receive affiliate commission, which in turn supports our work.
If you've watched "Laguna Beach," "The Hills," or better yet, "Very Cavallari," you probably know who Kristin Cavallari is. The mother of three is a former reality-TV star turned entrepreneur with an ultra-successful jewelry brand called Uncommon James that's received a ton of praise for its quality, affordability, and on-trend styles over the years. The brand's only been around since 2017, and yet, it embodies the ferocity of a brand that's been around for decades with its great reputation and timeless style. UJ pieces are described on its website as "feminine with an edge, classic yet trendy, and simple — with a pop of personality." Personally, I've been a fan of the brand ever since watching "Very Cavallari" in 2018 — a genius marketing tactic on Cavallari's part. But nevertheless, is Uncommon James worth the hype?
There's a difference between the hearsay praise of something versus actually trying it out for yourself. Rather than wondering if the approvals are true, we put our editor-backed knowledge to the test. Three shopping editors (who, mind you, try lots of jewelry) gave three Uncommon James bestsellers an examination to ensure the brand is worth your money. Lo and behold, it seems to hold up to its hype. From a modern necklace with bars that can layer easily or be worn on its own to a dainty necklace that shimmers and shines in the light and even an ear climber that gives the illusion of two linear stud earrings, these unique jewelry pieces can be worn from day to night. The brand's said to be a reflection of Cavallari's personal style, which might be why our editors love it so much. Keep reading to check out our honest reviews of Uncommon James ahead.
Haley
"It wasn't until recently that I got into wearing necklaces. For years, I stuck with earrings and rings to get me by, but lately, there's something about a necklace that I enjoy. The Ready to Mingle 2.0 ($66) in particular, because it's dainty enough where it doesn't stick out yet shiny enough where it still catches the light. I've layered it with other necklaces, and it makes the perfect accent: subtle yet chic.
The gold bar necklace is 15 inches long and has a two-inch extender in case you want it a bit longer. It's important to note that it's gold plated, which doesn't bother me, but if you're someone who likes to wear your jewelry in the shower, to the beach, in the pool, and wherever else life takes you, this necklace will tarnish when exposed to moisture. I wear it with sweatshirts, T-shirts, dresses, and more. I love how it doesn't look cheap or tacky but like a nice-quality piece of jewelry." — Haley Lyndes, assistant editor, Shop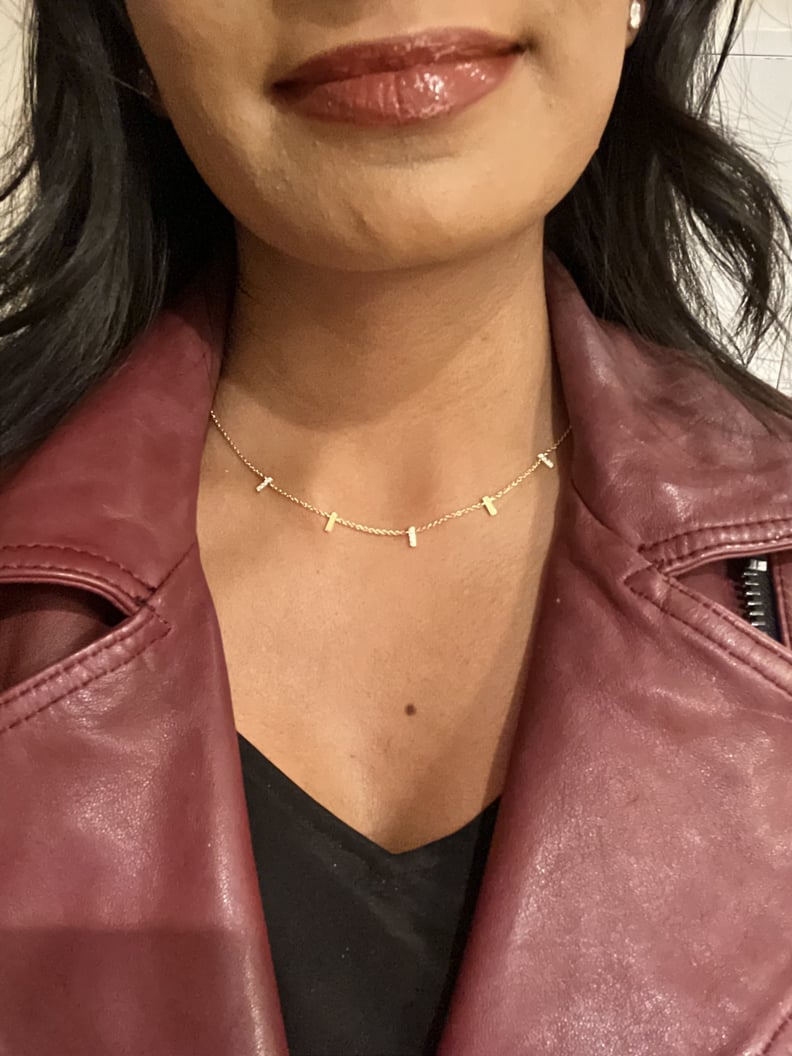 Anvita
"I have been wearing the Countess Necklace ($58) in gold almost every time I go out, day or night. I love that it's dainty with an edgy flair since it pretty much embodies my aesthetic. Whether it's jeans and a T-shirt, a flowy floral dress, a staple little black dress, or even a leather jacket, I can wear the necklace with almost every outfit and instantly feel elevated. It comes in both gold and silver tones in 14k-gold-plated brass and rhodium-plated brass, respectively. It's a unique, contemporary piece that stands out on its own just as much as it is layerable with other necklaces.
The design of the necklace combines my two loves, gold tones and the look of diamonds. The five small bars delicately rest on my chest with the two gold bars glistening in the sunlight and the three cubic zirconia bars adding a bit of sparkle. I also love that this necklace is adjustable, so you can wear it lower on your chest at 16 inches or higher near your neck at 14 inches. It's a staple piece that embodies both glamour and elegance." — Anvita Reddy, assistant editor, Shop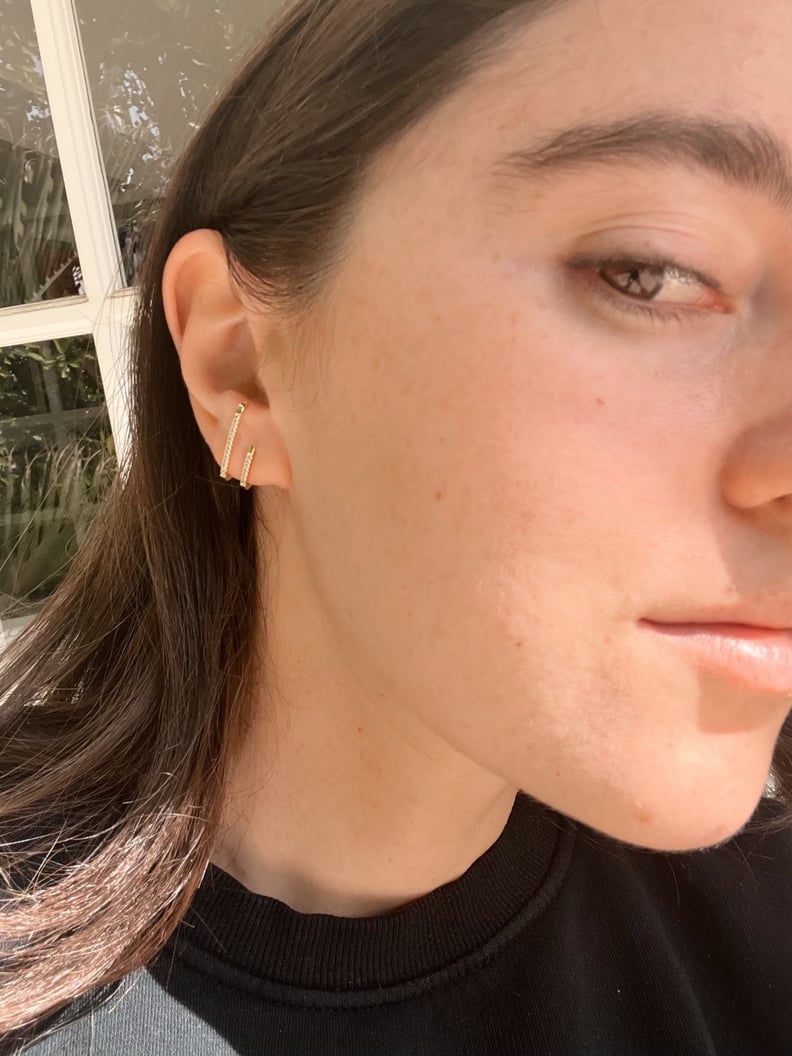 India
"I've always loved the look of an ear climber but found them to be uncomfortable for my particular ear shape. Enter the Uncommon James Double Vision Ear Climber ($52). It applies just like a regular stud and is comfortable enough to wear all day but gives me a little bit of the edge I'm looking for. It looks like you've got two different piercings when really it's just the one. Plus, at $52, the studs look like they should be quadruple the price. I wore these earrings this past weekend, and everyone wanted to know where I got them. They'll make for the cutest birthday or holiday gifts." — India Yaffe, associate editor, Shop