4 Editors Put Target's Fall Designer Collection to the Test
As POPSUGAR editors, we independently select and write about stuff we love and think you'll like too. If you buy a product we have recommended, we may receive affiliate commission, which in turn supports our work.
It's easy to ooh and ahh over Target when it's announcing top-of-the-line partnerships with designers and merchants we love and trust (re: Hearth & Hand With Magnolia by Joanna Gaines or Being Frensche by Ashely Tisdale). The retailer knows what we like, and for its second limited-edition Fall Designer collection, Target has partnered with three well-known designers, Kika Vargas, La Ligne, and Sergio Hudson, for one of its most-impressive fashion partnerships to date.
Available today, the limited-edition Fall Designer collection includes more than 100 apparel and accessories in sizes XXS through 4X, emphasizing modern layering while staying true to each designer's distinct style. It's an assemblage that looks well beyond its price tag, with all pieces costing under $100 and most costing as little as $40. From floral midlength dresses built for fall to fashionable wide-legged trousers and even a sultry one-shoulder jumpsuit for your next event, we POPSUGAR editors couldn't wait to get our hands on these pieces to try them out ourselves.
To give you an informed shopping experience, four editors selected items they liked to see if they were the real deal. We give our honest opinion on size, comfort, fit, quality, style, and everything else that goes into a good fashion piece. Hint: we love it all. From a striped fuzzy crewneck sweater that brings the coastal-grandma trend well into effect to a scallop-edge trench coat to add to your closet, each editor reviewed a different piece so that you can have an idea of what to shop for. Keep reading to see who got what and how it worked for them.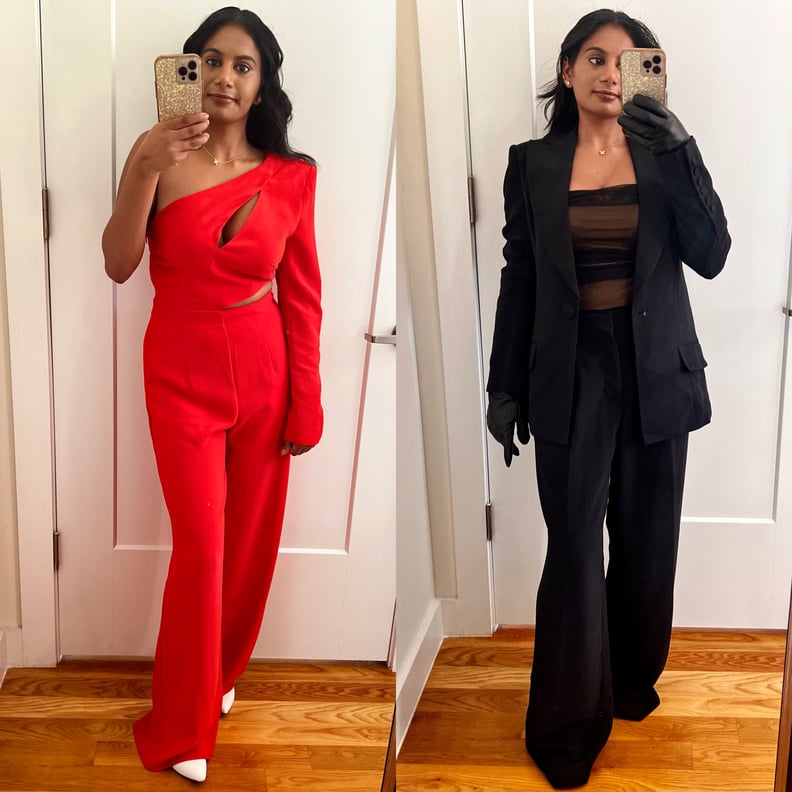 Anvita
"I was instantly drawn to Sergio Hudson's line. His tailored and refined pieces are exactly what I envision for my closet. What I loved about his collection was that the pieces flatter my body type and perfectly capture my vibe. I love a timeless, elevated look that's effortlessly glamorous. I want to look like I tried without really trying.
"When I saw the Sergio Hudson x Target Women's One Shoulder Cut-Out Jumpsuit in XS ($55), I immediately added it to my cart! I love jumpsuits, and this one is no exception. I felt so confident and chic in this, and all I had to do was put it on! Although the one-shoulder trend is huge right now, this jumpsuit surpasses trends altogether. It has a built-in shoulder pad, giving it a refined, sharp look. The cutouts add a sexy flair, but it's also not too revealing. This was so important to me since I am on the bustier side, although I do have to note that fashion tape is a must! I would wear the jumpsuit all year round, whether it's to a wedding, going out with friends, or even for a date.
"I paired the black Sergio Hudson x Target Women's High-Waist Wide Leg Tailored Trousers in Small ($45) with the Sergio Hudson x Target Women's Tailored Blazer in XS ($55) and the Sergio Hudson x Target Long Leather Gloves in XS/S ($35) for a tailored city-chic fall look. The Tailored Blazer is oversized on me, so I probably could have sized down for a more fitted look; however, I'm not opposed to a relaxed fit. The leather gloves gave it an edgier feel — I felt like I was channeling Kourtney Kardashian Barker. What I love most about the trousers and the blazer is that they are closet staples I can mix and match with so many other items in my wardrobe. The leather gloves are so stylish and functional for the upcoming chillier months. I can even use my iPhone with the gloves on!
"I'm 5'1" and on the petite side in general. I noticed that the leg and sleeve length for most of the items I got were a little too long for me, even while wearing heels. Sizing down isn't an option since it wouldn't fit around my body, but these pieces look so good on me that I don't mind getting them hemmed and altered to the proper length for a perfect fit. Wearing these pieces made me feel more confident without compromising on comfort. This collection lets me get creative with my fashion without breaking the bank. Each piece is made with quality materials that will last season after season." — Anvita Reddy, assistant editor, POPSUGAR Commerce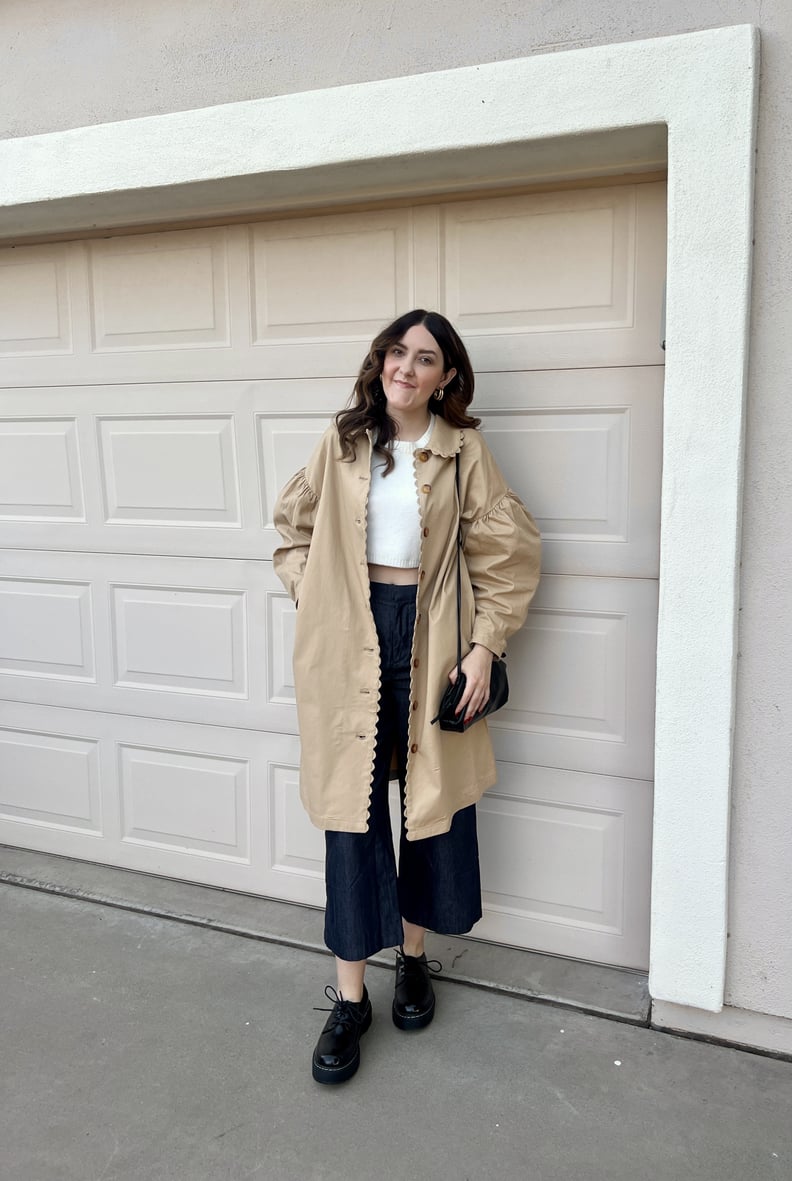 Kyley
"I've always defined my personal style as being a hybrid between grandma-chic and Kate Middleton on a budget. It's true — long before the coastal grandmother trend made its way into mainstream fashion, I was rocking conservative, scalloped styles that bordered between being classically nostalgic and something that felt like it was straight out of an 18th-century wardrobe. Naturally, when I saw the pieces in the Kika Vargas x Target capsule collection, I was immediately intrigued by the abundance of regal puff-sleeves and scallop-edge collars.
I decided to test out the Kika Vargas x Target Scallop Edge Trench Coat ($60) and Wide Leg Scallop Edge Cropped Pants ($40) in particular (because fall), and both pieces exceeded my expectations in the best way. The coat is lightweight yet flounced enough to provide ample coverage on those chilly fall mornings while still giving even the most basic outfit a layered and elevated look. Similarly, the cropped pants are so breezy and delicate, with a trouser-like flair that doubles as the perfect transitional style for those in-between seasons where the weather is just too unpredictable to gauge. I've already jokingly declared that if my life existed in a video game, this is the outfit my character would wear every day — no question." — Kyley Warren, assistant editor, POPSUGAR Commerce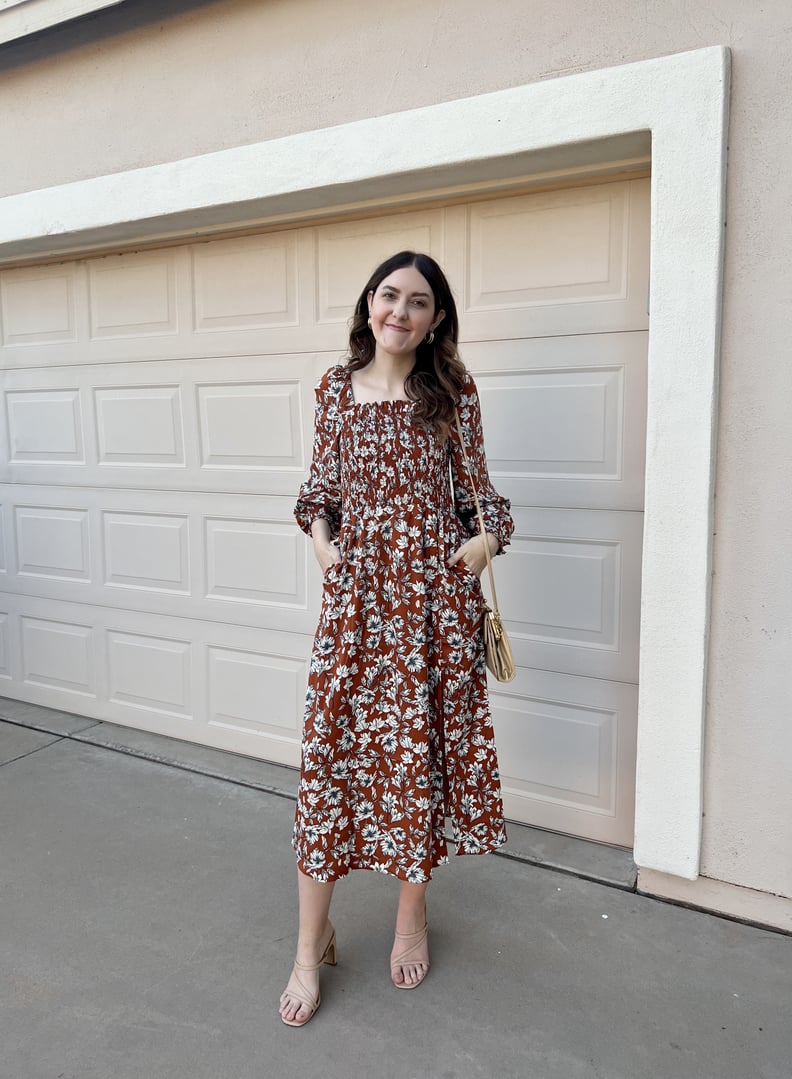 "While I love the London-girl inspired 'fit made possible by a few of the pieces in the Kika Vargas x Target capsule, the La Ligne x Target Floral Smocked Bodice Midi Dress ($45) offers a completely different style for fall that's so breezy, ethereal, and truly the most chic day-to-night ensemble. The smocked frock is wrapped in a floral design that just oozes an autumnal elegance — made all the more perfect for the season with its rich, crimson-hued base. The dress is incredibly lightweight, meaning that it's not only easy to move around in but also great for layering with pieces like a chunky cardigan or denim jacket on top. And as if I needed any reason to love this La Ligne style more than I already do, it also has pockets. Safe to say, this midi dress is a piece I'll be wearing on repeat all season long (and likely well into the spring, too!)." — KW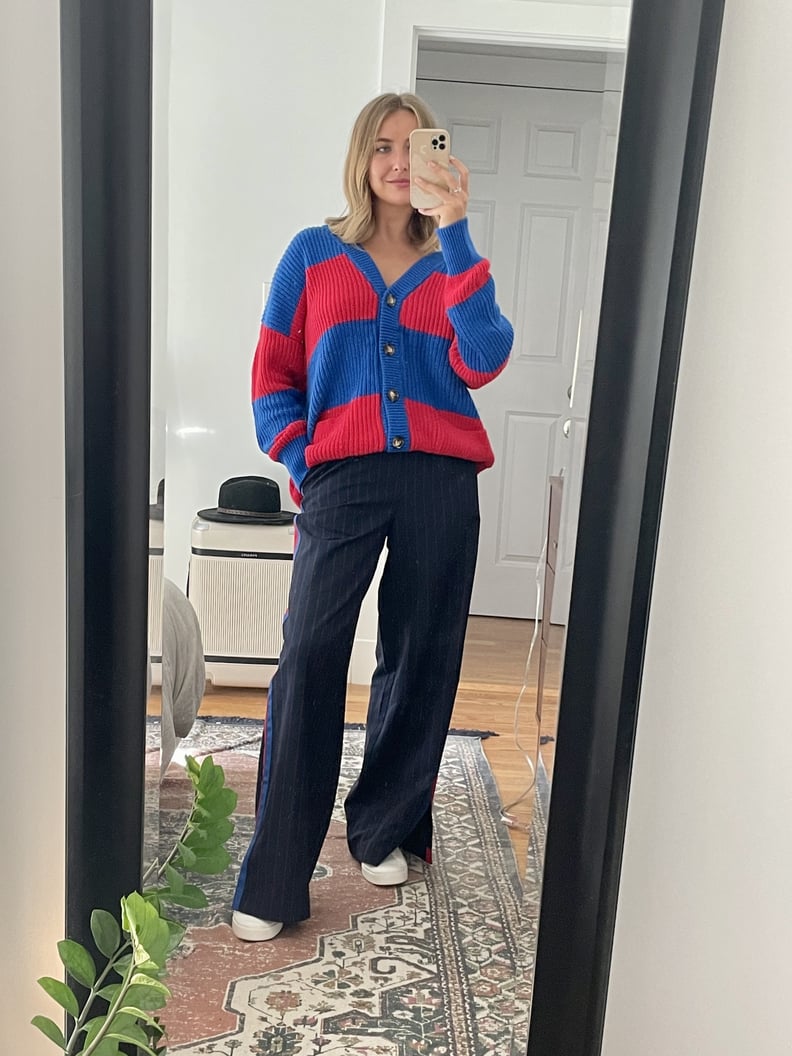 Haley
"The best way to describe my style? Relaxed. I don't like to wear items that are uncomfortable, and anything that's oversize and baggy is always a win in my book. Bold colors are my jam, so when I came across this oversize Women's Rugby Stripe Cardigan Sweater ($40) and these Women's Side Stripe Wide Leg Trousers ($40), it was a done deal. I knew each item's blue and red stripes would pair well together, plus, the outfit is perfect to wear all fall (and winter) long. The sweater is perfectly baggy and is made with a soft (not itchy!) fabric that's heavy and warm. I got a size small, and it fits exactly as I intended. I enjoy that I can wear this cardigan layered or on its own, and it even has pockets that I can stick my hands in on chilly days. As for the pants? They're ideal. The elastic waistband is so comfortable, the size small fits perfectly, and the length is actually long enough for my legs. For reference, I'm 5'7", and it seems no pair of pants can give me that floor-length look I desire. The La Ligne line is a clear hit for me, and I'm looking forward to wearing these pieces again and again." — Haley Lyndes, assistant editor, POPSUGAR Commerce
"I think the smile on my face says it all: this outfit is a winner. I'll admit it lies more on the preppy side for my taste, but it's giving me a coastal-grandma feel, and for that reason alone I'm OK with it. The Women's Fuzzy Yarn Striped Crewneck Sweater ($45) is yet again from Target's La Ligne line, and it's so comfortable. Oftentimes the word 'fuzzy' can be associated with itchy for a sweater, but for this one, that's not the case. It's made of a soft and cozy material that feels like a warm hug, and I love its versatility. Pair it with jeans, leggings, a skirt, or trousers . . . it doesn't matter, it goes with anything. I chose to style it with the Women's Scallop Edge Pocket Tapered Pants ($40) from designer Kiki Vargas, and I loved the look together. The pants impressed me because they're on the dressier side, yet still dressed down nicely. I'd imagine wearing them with a blazer and heels would be the perfect outfit. If you're wondering why they're called 'scallop,' it's because the pockets have scallop detailing on their edges. The pants are lightweight, too, and a size small fits me perfectly. These two pieces make a great everyday outfit, showing that you can mix and match designers in this collab and still get a superb result." — HL