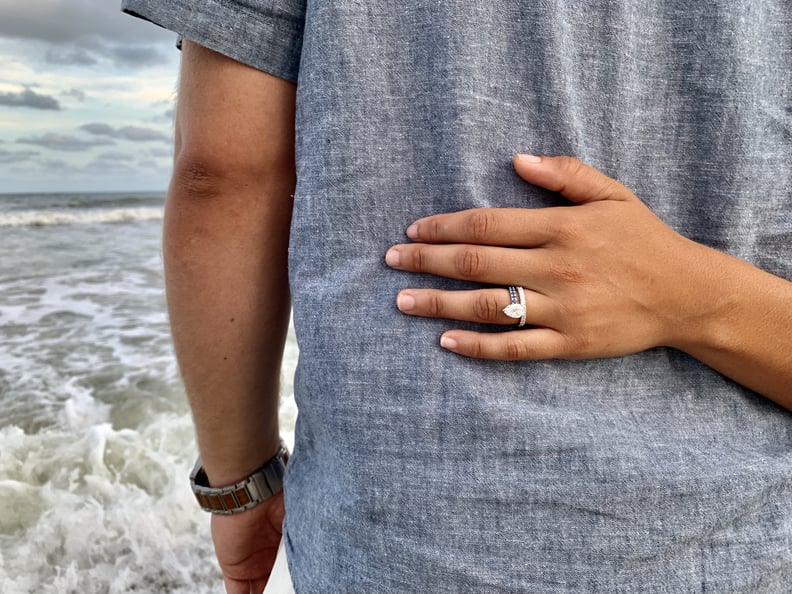 POPSUGAR Photography | Sarah Wasilak
POPSUGAR Photography | Sarah Wasilak
As a fashion person, you'd probably guess that I've been imagining my engagement ring since I graduated from Ring Pops in middle school, but that's actually not the case. I've always loved unique jewelry, but I wasn't so interested in classic diamonds and couldn't really picture one on my finger. As I got older, I was so excited for people I knew who got engaged, but it never even dawned on me to check out their sparklers after they broke the news — I guess engagement rings just weren't a hobby of mine. Fast forward to today, and I'm wearing a diamond I never could've dreamed up years ago. I'm also extremely interested in not just engagement rings, but the stories behind them.
Of course, it took me some time for me to get from point A to point B, but you can read my personal tale of obsession in just a sec. You see, I didn't want to share a bit about my design without asking some of my peers to share too. All of the women here have incredible jewels, some of which have been reset or reconfigured for momentous occasions or milestones in their lives. If you scroll through these slides quickly, you'll be impressed by stones and shapes that are pretty extraordinary, but if you slow down to read the text below each picture, you'll begin to understand why I eventually fell in love with engagement rings myself. It's not about the sparkle, it's about the thought and heart put into the details.
Sarah Wasilak, POPSUGAR Fashion Editor
"As soon as I discovered black pearls, I was interested in what I thought could potentially be an engagement ring. My fiancé had been my best friend for a very long time, so once we fell in love, it was easy for me to share with him my big plans for the ring early on. I was set on a black pearl surrounded by diamonds until I started following brands like Canturi and Stephanie Gottlieb on Instagram. These jewelers introduced me to the possibility of floating diamonds, mix-and-match shapes, and gemstones bursting with color. I loved Stephanie Gottlieb's band and a half, but Joey wanted to add his own personal touches. (He also had plans for a setting that he considered to be 'sturdy,' because he knows I'm a klutz and can be a little aggressive in my everyday movements. Sorry, OK?!) He worked with the same jeweler who crafted his mother and aunt's rings to customize a pearl elevated by a hidden halo and added sapphires because he knew they reminded me of the ocean, my favorite place to be."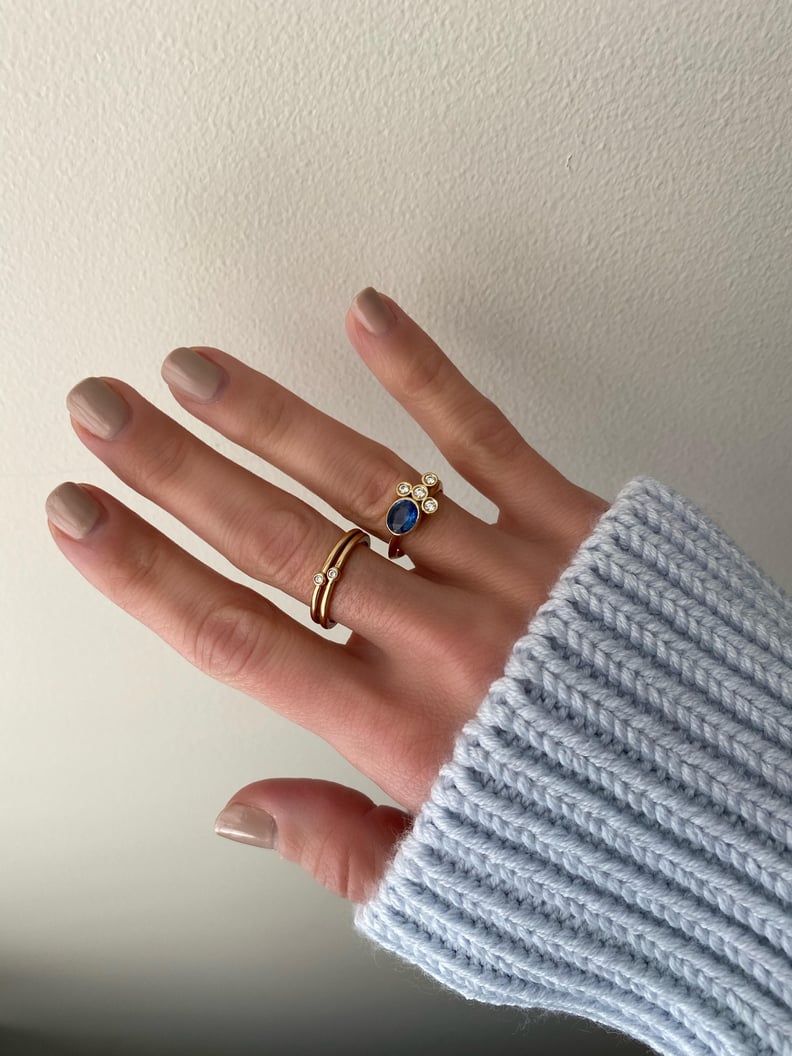 Dana Avidan Cohn, POPSUGAR Executive Style Director
"Dan has never understood my love of jewelry. He's just not materialistic. But I really like the stuff! He bought me a beautiful engagement ring and wedding band when we first got married. But over the last 10 years, whenever I'd drop a hint about jewelry, he'd ask if I liked it more than a trip or some other memorable experience. I couldn't help but see his point. Then out of nowhere, for our 10th wedding anniversary this past Summer — without any hints — he designed this special custom-made piece with the help of my two friends and Fitzgerald Jewelry in Williamsburg, BK. He sourced a deep blue sapphire that was the exact color he wanted and added four little diamonds, one for each of our three children and one for him. It's so unique and I never take it off and look at it every day. I think jewelry, when it's given to you by someone special, at a meaningful moment in your life, becomes an experience. And when that happens, it's worth it."
Sara Sheehy, Starworks Brand & Communications Director
"Adam proposed to me with this gorgeous custom ring when we were on vacation in St. Lucia. With designer Caitlin Mociun, he incorporated the diamond from his beloved late mother's ring with new diamonds, a special gesture that honors her in our future together. I think the ring is the perfect blend of modern and timeless. People didn't believe that I had no input on the design because it's so unique and so me! He did a good job."
Nicky Deam, Creative Consultant, Fashion Editor, and Stylist
"It's an emerald stone with tapered baguettes, which I love because it is timeless and modern at the same time. It really resonates with my more minimalist aesthetic. My husband proposed by hiding it in my anxiety pill bottle — definitely a mood elevator!"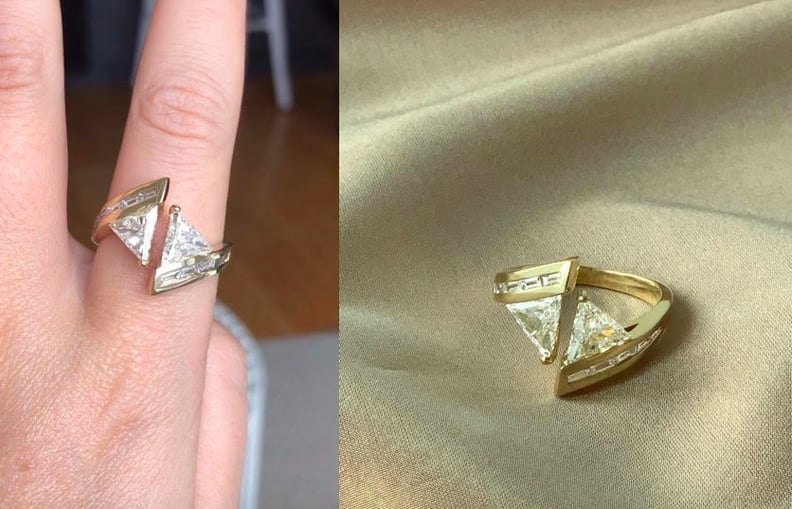 Amanda Jacobs, Senior Vice President of AZIONE PR
"My fiancé proposed in September while we were on vacation in Lake Como. I was blown away when I saw the ring. I had zero input, aside from telling him 'I don't want a basic ring.' The ring is so special because he picked it out all on his own, and worked with Kegan Fisher at Frank Darling to customize it to my style. My mom, sister, and childhood best friend all said, 'Oh, so you knew it was coming because you picked out the ring,' and the answer was no! I had no idea it was happening, but he knows me better than I know myself, and I couldn't have picked out a better ring if I tried. When I asked him how he ended up with something so different, he said he liked the two stones coming together, symbolizing us; and he had never seen a ring like this — making it special and unique, just like us."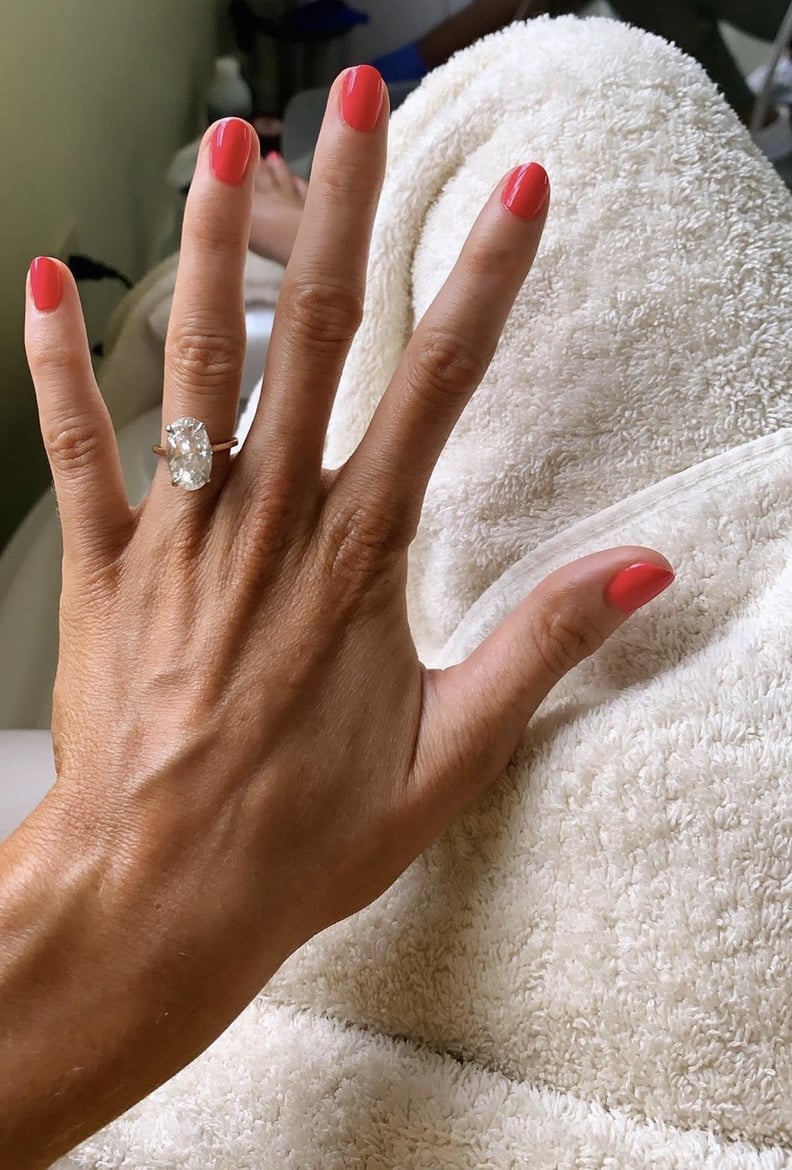 Bernadette Fahey, Branding Consultant
"When Alex and I started discussing marriage seriously, he suggested we take a visit uptown to all of the major jewelers to try on engagement rings, so he had an idea of what I wanted. This was probably the most helpful step — what I thought I wanted was completely different to what suited me! After a day of trying on rings, we both knew the oval cut was a winner for me. Promptly after, he contacted my friend Charlotte who works at jeweler Jessica Namdar Jewelry in NYC. Charlotte and Jessica were amazing, they helped Alex with the whole process from sourcing the diamond to designing the setting. Given that the oval diamond is so beautiful they decided to keep the setting simple — a thin gold band and a floating hidden halo of diamonds with platinum prongs. The proposal was amazing on my favorite beach in the Bahamas and coincided with my 30th birthday! Alex flew my mom in from Australia as a surprise, which made the whole thing all the more special."
Caitlin Mociun, Founder & Designer of Mociun
"I tried to find a unique cut — something I'd never seen before. My husband (Tammer Hijazi of Bower Studios) wanted to design the ring, but that proved challenging because the scale is so much smaller than he's used to and because I'm me! He found a photo of a building in France he thought was beautiful, and I used that as inspiration, along with a Man-Ray vibe. I designed the ring while he sat next to me. The end product itself wasn't so representative of our love. It was more about the design process and us nerding out over art and design, which was and always will be a commonality in our relationship."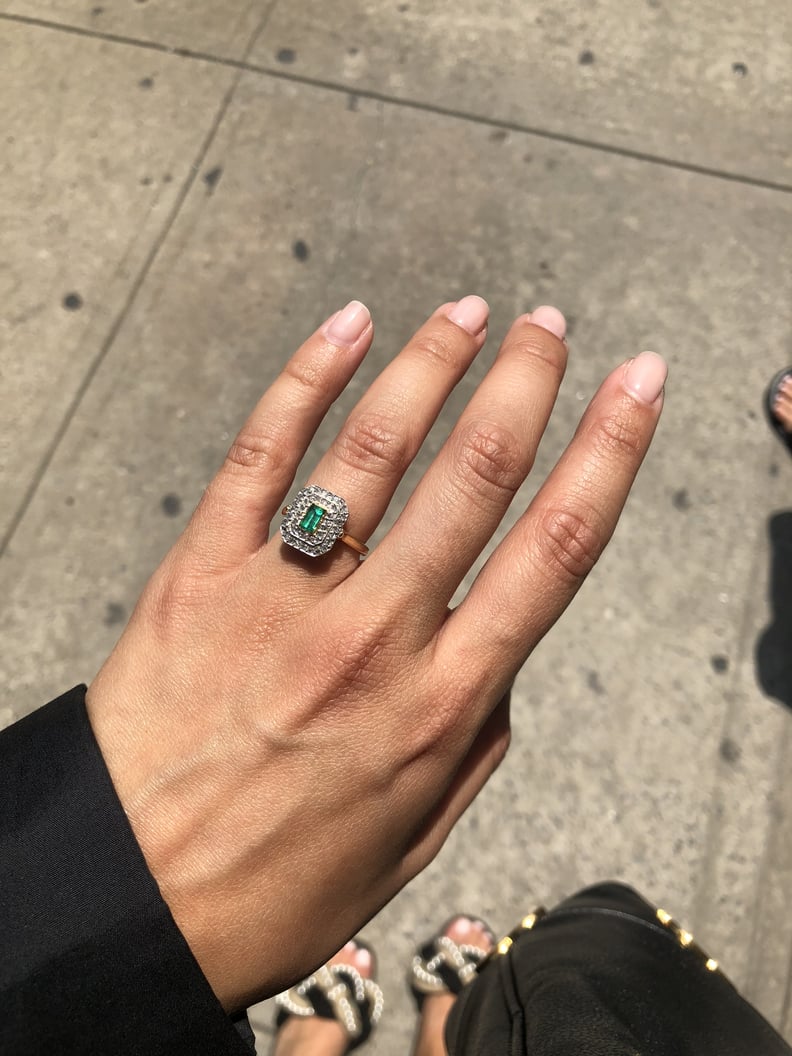 Allison Bouis, PR & Events Manager at Shopbop
"A few years ago I found a vintage ring that I had absolutely fallen in love with. No surprise, someone purchased it, and I couldn't seem to find anything similar to it. Six months or so before we got engaged, Jewels by Grace listed a vintage pin from the '30s with an almost identical setting. I sent it to my husband immediately, but within an hour someone had purchased it — I was so bummed! Not until we got engaged months later did I realize that it was actually him who bought it and had worked with my friend Michelle of Barbela Jewelry to have it set into a ring. I was so surprised and excited when I saw it that I actually forgot to say 'yes' when he proposed!"
Erica Chen, Head of Marketing & Ecommerce at Mociun
"I wanted to design my own engagement ring, which my partner understood and completely supported, and I'm so fortunate that Caitlin was open to working with me on a custom Mociun piece. A diamond solitaire felt right because my style is clean and minimal, so I was on the search for a standout, special diamond. I considered everything from oval brilliants to Ascher and carre cuts, but ultimately fell in love with this antique diamond's rhomboid shape and rectangular facets. To me, it's such a beautiful and unusual stone. We kept the rest of the design simple to allow the beauty of the stone to shine."
Sarah Senatore, Head of Production at Mociun
"This is a remake of my original engagement ring. My husband chose the stone and proposed with it in a basic solitaire setting. When a prong came loose on the ring about five years into our marriage, I was working at Mociun and thought, 'Let's make it a Mociun ring.' So I pulled together inspiration, Caitlin pulled some stones, I sourced some stones, and we sat down with my husband and put the design together. We rotated the center stone, which made it more unique, and added accent stones that made it more geometric with an Art Deco feel. I love that my husband went to great lengths to choose the center stone for me, but I also like that we worked together to make a thoughtfully designed ring that makes more of a statement. I love the idea that you can keep reinventing your engagement ring. You don't always have to have the same thing. I had a ring that I loved for five years, and now I have a slightly different ring that I also love. Who knows what will happen in the future?"