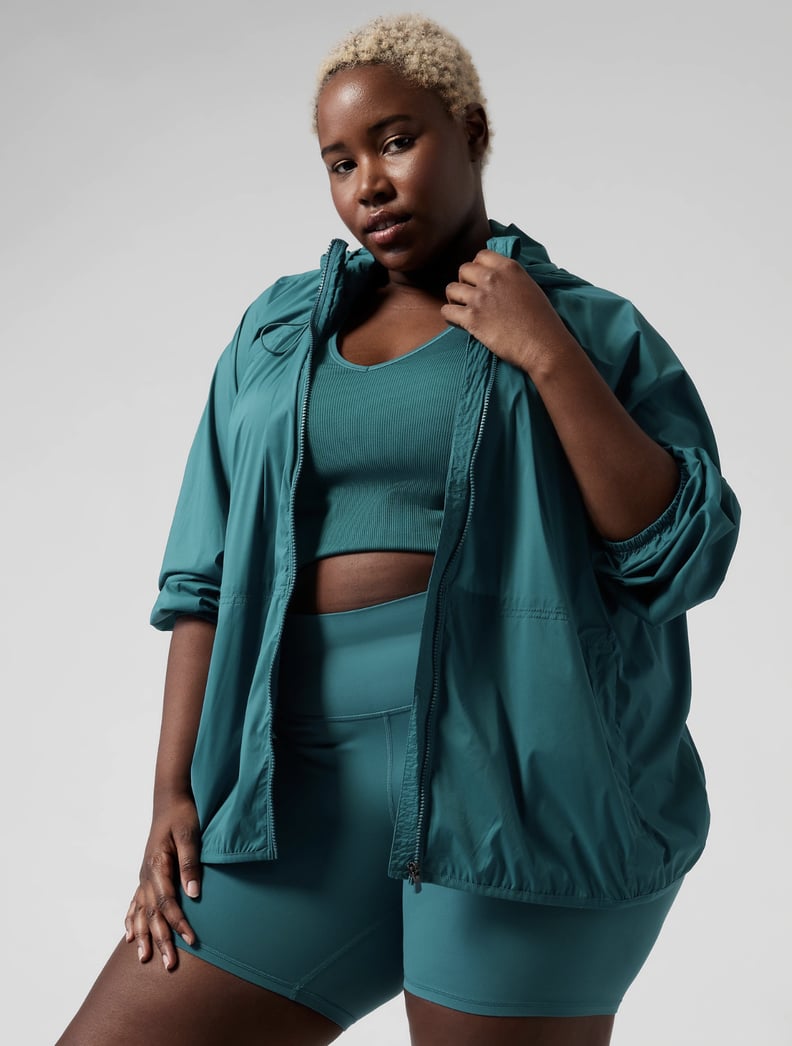 Athleta
Athleta
As POPSUGAR editors, we independently select and write about stuff we love and think you'll like too. If you buy a product we have recommended, we may receive affiliate commission, which in turn supports our work.
While they might not get the same credit or adoration as some of the more traditional jacket designs, we'd argue that few pieces are more versatile and worthy of a permanent spot in your closet than a classic windbreaker jacket. The water-proof style can do it all — provide ample coverage and protection in harsh weather conditions (namely winds), help you carry your life essentials on the go with deep pockets, and also act as the ideal "go anywhere" jacket thanks to its packable and lightweight nature. Even more — what other jacket is sporty and stylish enough to keep you looking (and feeling!) good while you're moving throughout your day, going from a morning hike to a brunch date, the airport, and beyond?
In short: if your closet is still lacking a good windbreaker jacket, this is your sign to finally invest in one — with the help of our shopping expertise, of course! We've scoured the internet in search of the best windbreaker jackets that are available to shop at every price point — regardless of your winter wardrobe budget. From packable windbreaker jackets and hooded styles to water-repellant pieces and lightweight windbreakers galore, there are so many different variations to shop and wear on repeat this season. Whether you're someone who loves an outdoor workout, live in an especially windy city, or just need something that's versatile enough to pack away and take on the go, there's a sporty, weather-proof jacket that's just right for you — and likely linked out below. Keep reading to shop our favorite windbreaker jackets!
Best Performance Windbreaker Jacket: Old Navy Water-Resistant Hooded Performance Zip Jacket
Windbreaker jackets are notoriously great outdoor styles. And if you're someone who likes to take your daily workout outdoors to a park, bike trail, or even walking path, you'll appreciate the durability of this Old Navy Water-Resistant Hooded Performance Zip Jacket ($54, originally $60). The style is crafted from a water-resistant nylon material, making it the perfect piece to wear in any weather — rain or shine!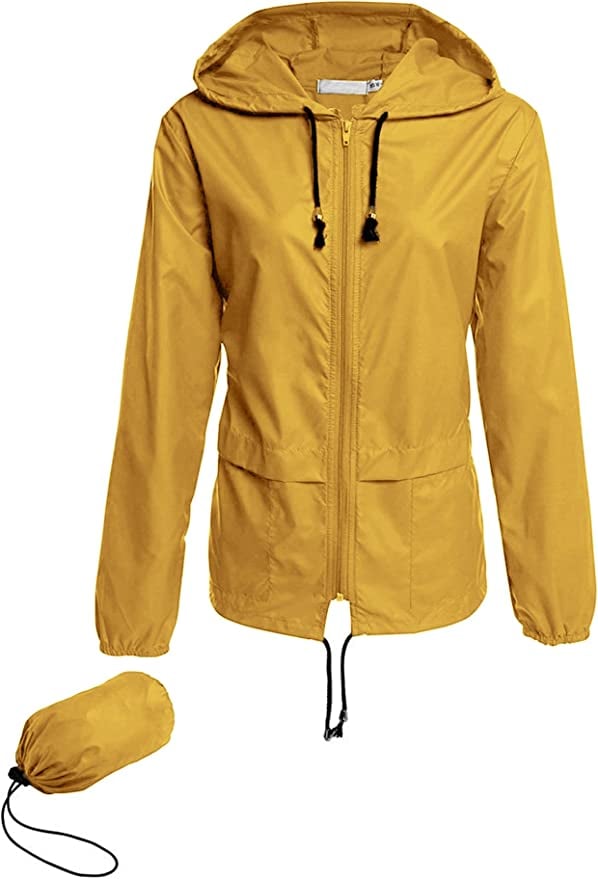 Best Packable Windbreaker Jacket: Avoogue Lightweight Packable Windbreaker
This sunny Avoogue Lightweight Packable Windbreaker ($24, originally $30) will give your fall wardrobe the golden pop of color it needs this season. The wind-proof style is both lightweight and packable, allowing users to easily take it with them on the go and in their bag. If the yellow isn't your vibe, it's also available to shop in over 10 different colorways.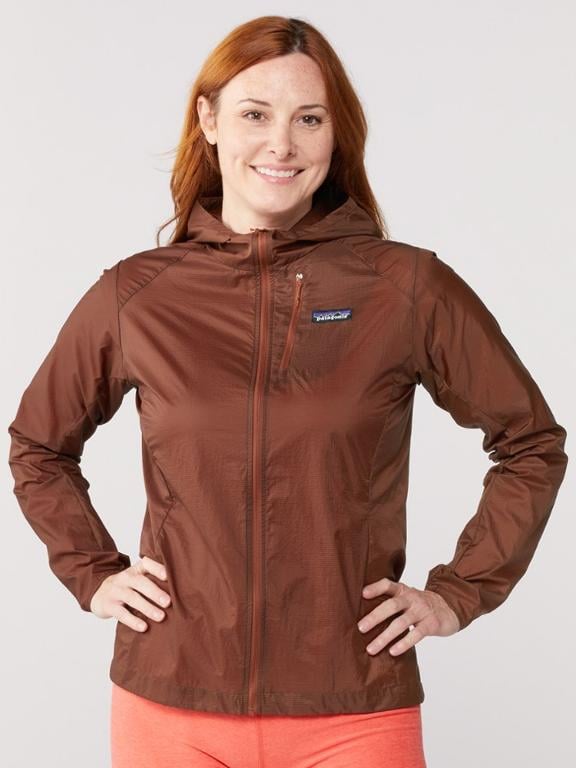 A Best-Selling Windbreaker Jacket: Patagonia Houdini Jacket
We can't talk about the best windbreaker jacket styles without mentioning the Patagonia Houdini Jacket ($109) — one of the most famously durable and long-lasting pieces that reviewers claim is well worth the investment. This Patagonia windbreaker jacket is wrapped in a water-repellant coating, and is ideal for wear through high-intensity outdoor activities.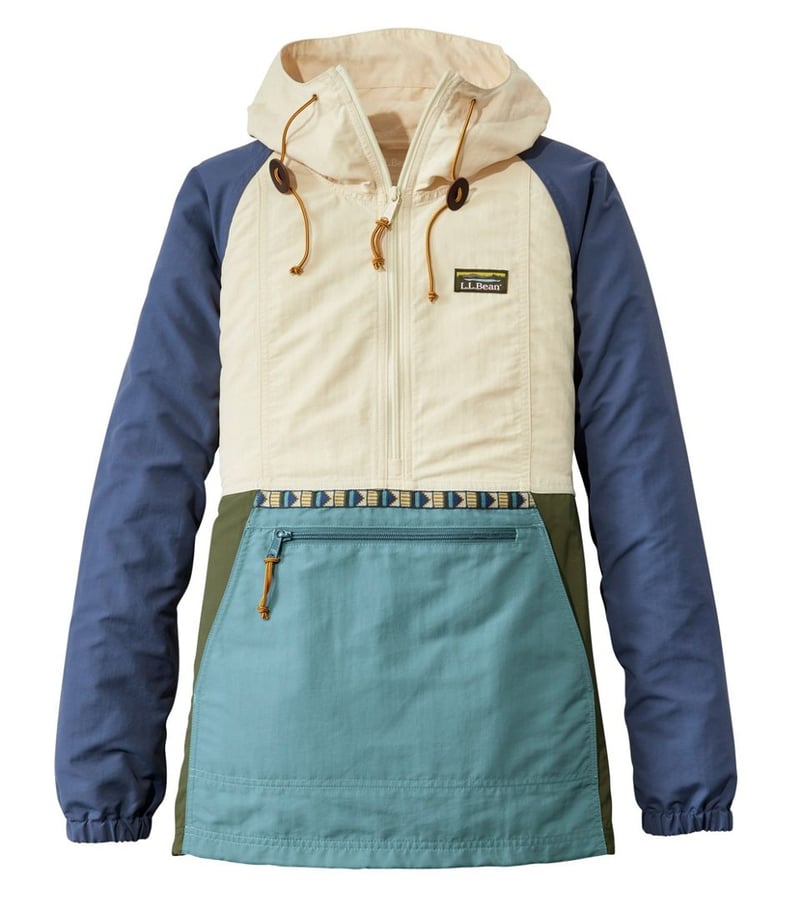 Best Vintage Windbreaker Jacket: L.L.Bean Mountain Classic Anorak
We can't help but love the look of a stylish, retro windbreaker jacket. And the L.L.Bean Mountain Classic Anorak ($59) is especially unique, as it has a colorblock design that features cozy, fall-friendly hues like teal blue, navy, green, and cream. Unlike other traditional windbreakers, it also boasts a more tailored fit.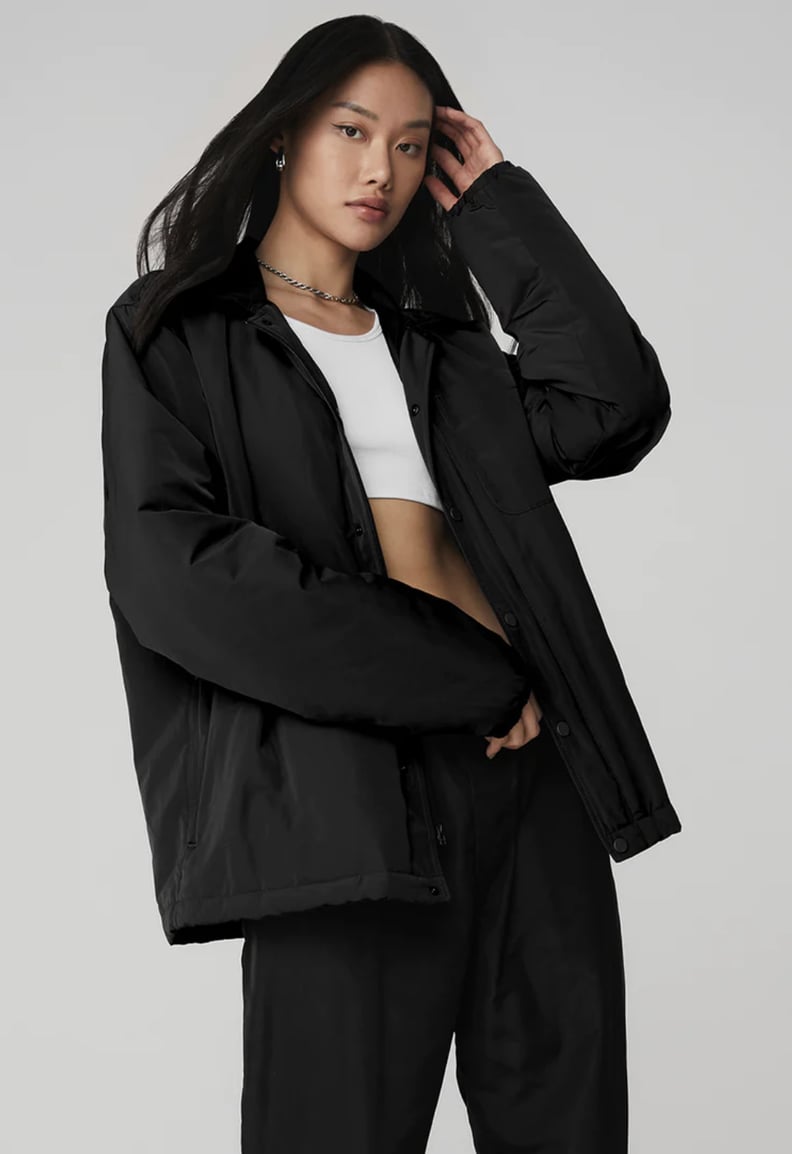 Best Windbreaker Jacket For Running: Alo Yoga Legend Jacket
This Alo Yoga Legend Jacket ($198) is perfect for runners or really anyone else who enjoys getting active outdoors. The sleek style is crafted in a unique, memory woven fabric that's breathable while still providing ample coverage and protection from intense winds. The collared detailing elevates the piece with a fresh, polished look, too.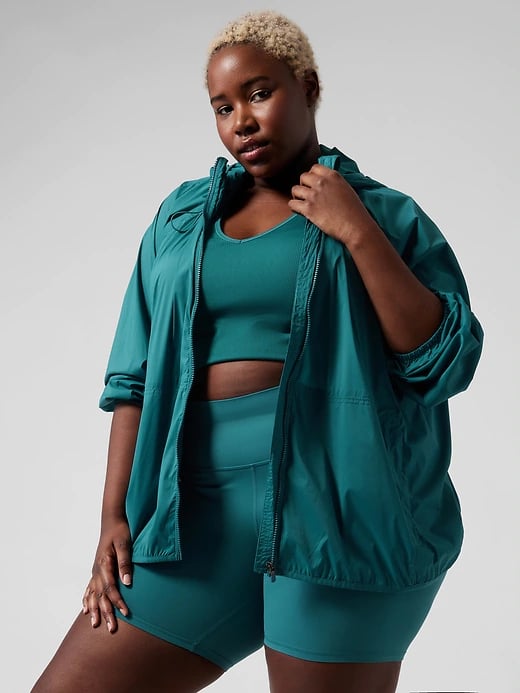 Best Lightweight Windbreaker Jacket: Athleta Superset Jacket
Looking for a windbreaker jacket that's fitted with a bit more mobility, so you can move as you like while on the go? Look no further than this deliciously colored Athleta Superset Jacket ($65, originally $129). The oversize fit of this jacket makes it all the more roomy, providing an added breathability and effortless, draped look across the body.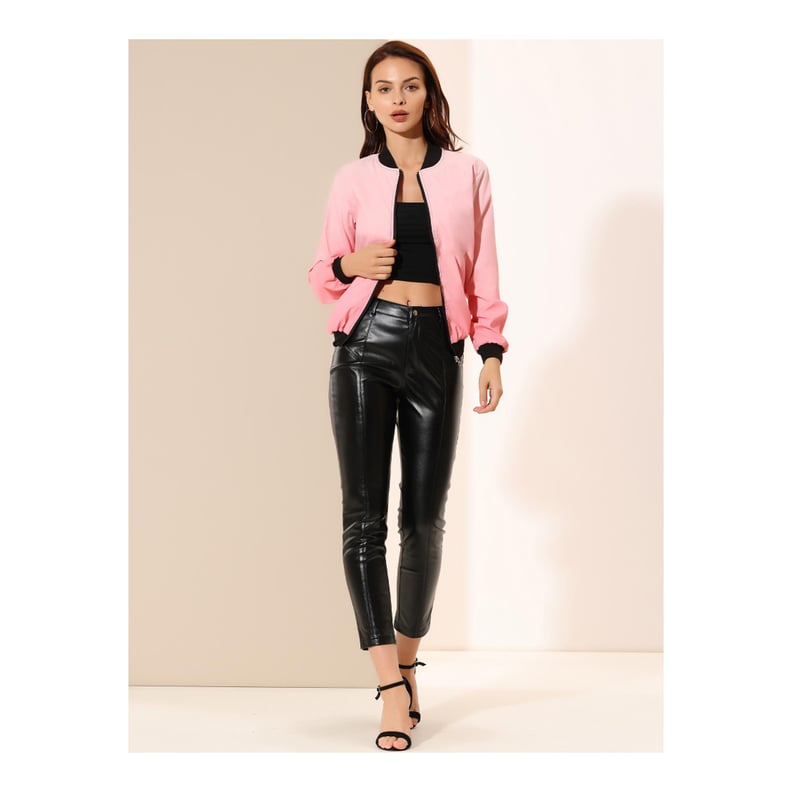 Best Stylish Windbreaker Jacket: Allegra K Windbreaker Bomber Jacket
Windbreakers might be regarded as an athleticwear style, but that doesn't mean they can't be super-stylish, too. Don't take our word for it — just look at this Allegra K Windbreaker Bomber Jacket ($39, originally $52) for further proof. The style is a hybrid between a windbreaker and a bomber jacket, and we're obsessed with the entire look of it.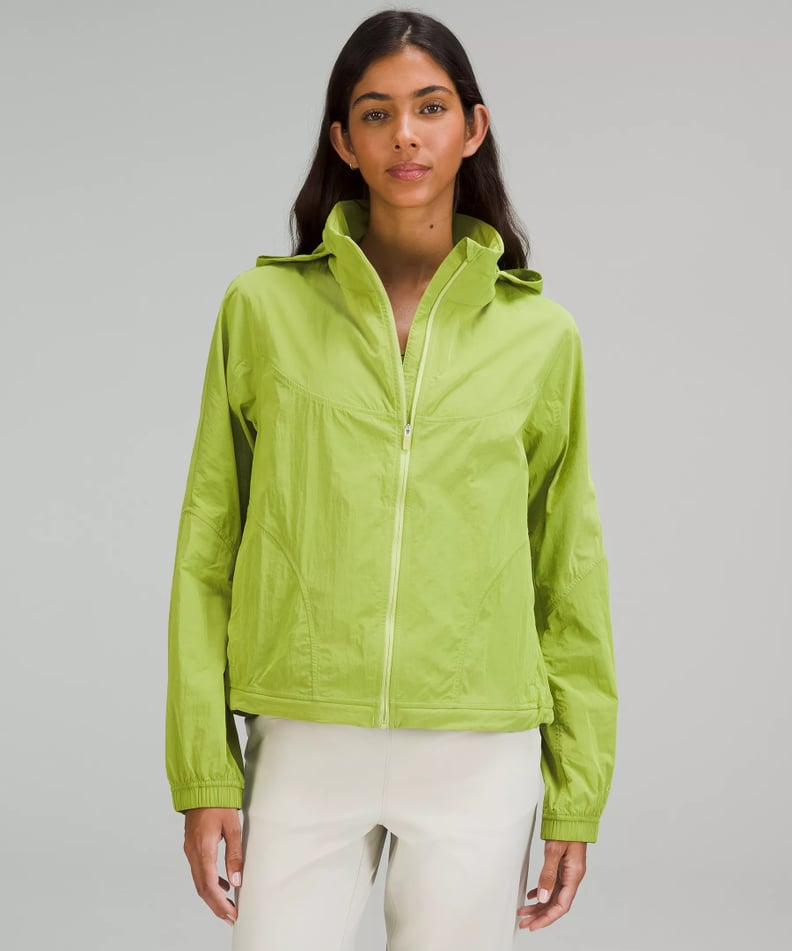 Most Colorful Windbreaker Jacket: Lululemon Lightweight Hooded Jacket
Whether you're hiking, enjoying a relaxed morning walk, or even running some of your weekly errands, you'll be sure to stand out in any environment with the help of the lime-colored Lululemon Lightweight Hooded Jacket ($128). The lightweight jacket comes with all of the right details — including a deep hood, water-repellant coating, and breezy fit.
Best Weather-Proof Windbreaker Jacket: Under Armour Stormproof Cloudstrike Shell Jacket
Get amped up for your next workout in style with this Under Armour Stormproof Cloudstrike Shell Jacket ($50, originally $100) in tow. You'll feel comfortable and supported in even the harshest weather conditions, thanks to this style's wind-proof construction. We're obsessed with that vibrant red coloring, too!
Best Hooded Windbreaker Jacket: The North Face Antora Jacket
A good windbreaker jacket will protect you from more than just strong wind conditions. That's why we have our eyes on this The North Face Antora Jacket ($62, originally $89) — which has a durable hooded accent that makes it ideal for wear in strong rainstorms or even hail.