There are few occasions one might wear a pearl thong — and it's certainly not doing any kind of cardio, if you ask Samantha Jones, or on a beach set for the span of a five-day shoot, if you ask Yvonne Orji. The actress, who plays the ever on-trend Molly Carter on Insecure, had a memorable few days shooting episode four, styled in a cutout black one-piece by the show's costume designer, Shiona Turini. "The look that Shiona and I probably fought on the most is [the one from] the beach scene," Yvonne told POPSUGAR. "Shiona is definitely one person, when she gets a vision, she's like, 'Allow me to do my job, I do it well.' She has something in her mind so when we, as her muses, if we ever have a question or we're not sure, she's just like, 'Trust me, like you have, you have to go with it. I see it, I know it, I promise you, it's going to be a moment.' And you know, we always fight her, and then of course, when the fans are like, 'Oh my God, this is amazing,' she's like, 'I told you.'" Yvonne elaborated when we spoke on the phone ahead of the episode.
The collaboration between Shiona and the cast has produced some major fashion moments — Telfar, new Bottega, Isabel Marant, and Monse are just a handful of the designer labels you'll catch Molly, Issa, Tiffany, and Kelli wearing throughout the series. And in the show's fifth and final season, the fashion deserves as much hype as the will-it-be-Nathan-or-Lawrence relationship drama. With Yvonne on the phone, our conversation quickly turned to the style behind the scenes; what happens when Shiona "gets a vision"; and the looks she'd like to steal from set (hint: it's not the pearl thong!).
POPSUGAR: What costume pushed you out of your comfort zone the most?
Yvonne Orji: I know [episode four] is coming up, [and] I had on a pearl thong bathing suit and it's like, you're at the beach, there's a pearl situation, they can't break, they're taped on the side, and I'm like . . . how am I going to go to the bathroom? The crazy part is that it would've been fine for a day, but that episode was shot over like five, six days. Shiona was like, "It's going to be a moment. You're going to look amazing." And I'm like, but I can't use the bathroom. It's so beautiful, and you know she is right, it looks gorgeous, but it's like, Shiona, are there no other bathing suit options? "No, this is a moment, Molly's trying to catch, this goes with her character. She has to look hot." Like, OK.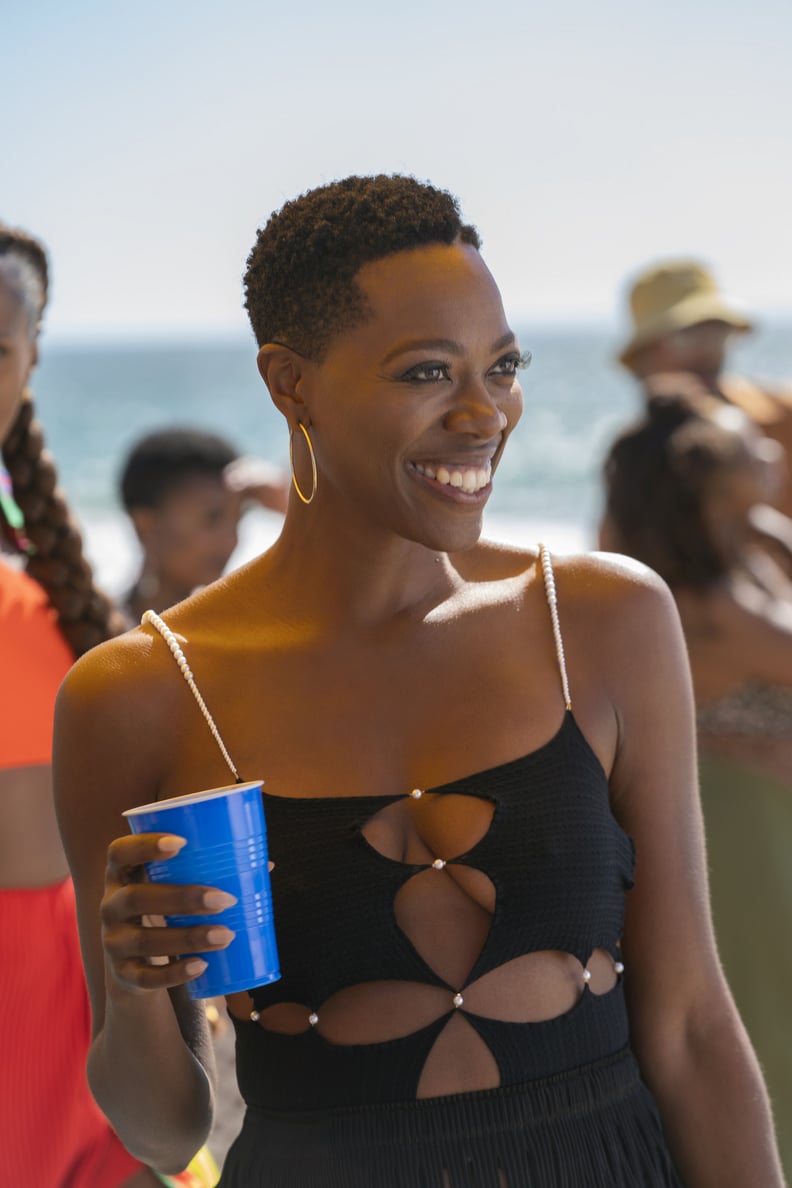 PS: Is there a version of Molly's style throughout the five seasons that you feel like you identify the most with personally?
YO: Molly has elevated my closet, I will say that much; but I love bold colors, and so when something like season four, when she and Andrew are about to argue before Issa and Nathan come in, and she has that monochromatic teal situation, or even episode two [season five] that just happened, that blue suit that Molly had, she loved a monochromatic moment. Also the Stanford episode [season five, episode one] when Molly has that all-peach-everything outfit. For me, personally, I love color. I love bold shoulders, I love structure, and those are the moments that I lean towards most — Molly's fashion and my fashion kind of blending.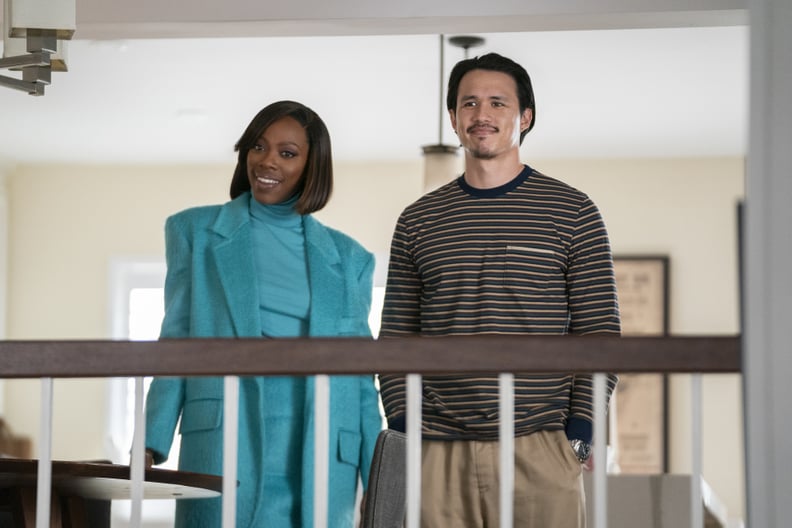 PS: Are there any designers that the show's introduced you to?
YO: What's funny is I always wait for after the episode for Shiona's post so I can be like, yeah, OK, that's who that was. 'Cause you know when you're on set, you're just kind of like clothes, clothes, clothes. OK. What scene? You're trying to figure out your line, you're trying to figure out, you know, whatever. I love the [Monse] jacket from the end of episode four, when Issa and Molly finally sit down and the camera pulls out and you don't know what was being said. It only dawned on me, at the start of season five, like what is this jacket? Where is this? 'Cause I love it. It's just like, "Ma'am, put that jacket back," and I was just so sad because I love this brand.
PS: Is there anything you've actually gotten to keep from shooting that you've loved?
YO: Therein lies the problem. I'm always like, how can I keep something? And I was like, I need to talk to Sarah Jessica Parker before this. That was my thing. I would've been like, "Hey Sarah, how you doing? How were you able to keep all these clothes?"
And that was the thing, too, because with COVID, you know, me and Issa [Rae] were both like, "Oh my gosh, I'll raid your closet, you raid mine." We'll raid each other's houses and you know, because of COVID protocols, it was different. So by the time we finished, it was like, wait, it's done? It's over? No, so we, we missed out.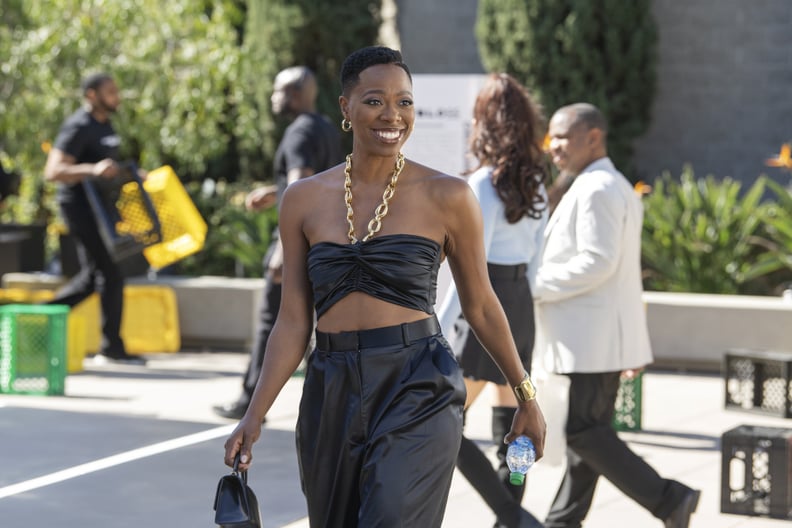 PS: Do you have a favorite look of all time — something Molly wore that you will always remember?
YO: Ooh, kind of like the, the tulle moment from Sarah Jessica Parker [in Sex and the City]. Molly's most iconic. Oh my gosh. Four seasons of fashion. Wow. I honestly think we, we went out the box this year. Everyone's been talking about Molly's outfit to the fashion show with the gold chain.