Zendaya Wears Beyoncé's First BET Awards Dress on the Red Carpet — Now That's Respect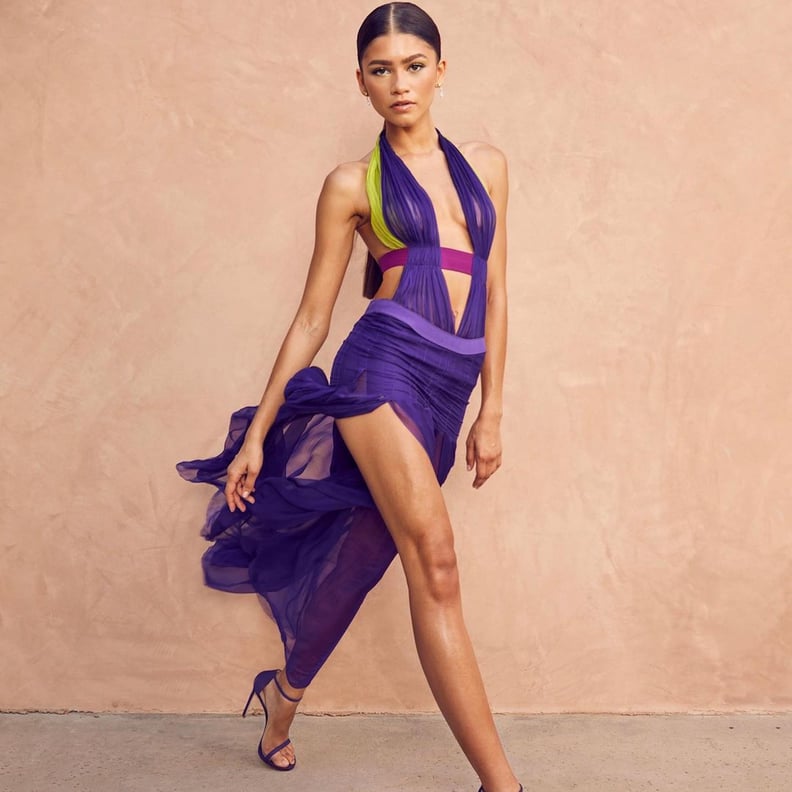 "Get you a stylist with a ARCHIVE!!!!" Image Architect Law Roach wrote proudly under a slow-motion video of Zendaya in her BET Awards dress, which was plucked from the spring/summer 2003 archives. But this isn't just any old vintage number. Beyoncé wore a shortened version of this exact design for her first-ever BET Awards performance of "Crazy in Love" in 2003 alongside JAY-Z. This moment was incredibly defining in Beyoncé's career, as it also marked her third time singing on stage at any award show.
The honor of rewearing Beyoncé's look is certainly a tremendous one, and Zendaya strutted her stuff for photography duo AB+DM, allowing her purple chiffon skirt with its hip-high leg slit to blow in the wind behind her. This gown comes with a flash of neon green material at the neckline, framing the halter silhouette and elastic band that wraps under the bust and around the back. Beyoncé wore the look with a chunky gemstone and diamond choker, but Zendaya kept her jewelry more minimal, opting for elegant Bulgari drop earrings and finishing her look with towering purple Stuart Weitzman sandals in order to keep the focus on the dress and, of course, alluding to its history.
Scroll to trace the Versace moment back to its origin. With comments from Lizzo's "Sheeeeeeesh" to Priyanka Chopra's "Damn!!! 😍" posted on Law's 'gram, it's safe to say this fashion salute will go down in history.
Zendaya Wearing Versace Spring/Summer 2003 at the 2021 BET Awards