Best Brooklyn Running Routes
This Is How and Why I Run South Brooklyn

Runners know their neighborhoods inside and out, so we've partnered with
Under Armour
to put you in their shoes.
When someone who doesn't run asks me what possesses me to wake up first thing on a weekend to run a race, or to run at all, it's like hearing myself in 2011. I get it. I really do. It's hard to explain the whole of my transformation from "I'll only run if chased" to someone who genuinely can't wait to lace up and hit the pavement. What I can share, though, is how it feels to get up close and personal with my adopted home of South Brooklyn, from Sunset Park to the far edge of Prospect Park, specifically the satisfaction of doing so on two determined feet, fueled by a good soundtrack, willpower, and the promise of physical, mental, and emotional rewards. Here's why I love every step.
My run begins inside Sunset Park, my neighborhood's 24.5-acre namesake and an unparalleled vantage point for views of the Manhattan skyline, New York Harbor, the Statue of Liberty, the Staten Island hills, and all the way to New Jersey. The park spans 41st Street to 44th Street north to south and 5th Avenue to 7th Avenue west to east. Oh and trust, it's at its most beautiful at sunrise, when local women perform tai chi and dance and the skyline is sometimes obscured by mist. These views inspire a steady but motley contingent of runners on the winding one-mile internal loop and one-mile park perimeter. Anything goes here, whether you're a jogging grandma in a parka, turning your Pomeranian's walk into a cardio session, or a small child miraculously holding a conversation with a friend while zipping up and down the hill. It's an inspirational spot to stretch, connect my MapMyRun app to my UA HOVR Sonic running shoes, and channel my inner hype woman. Let's do this.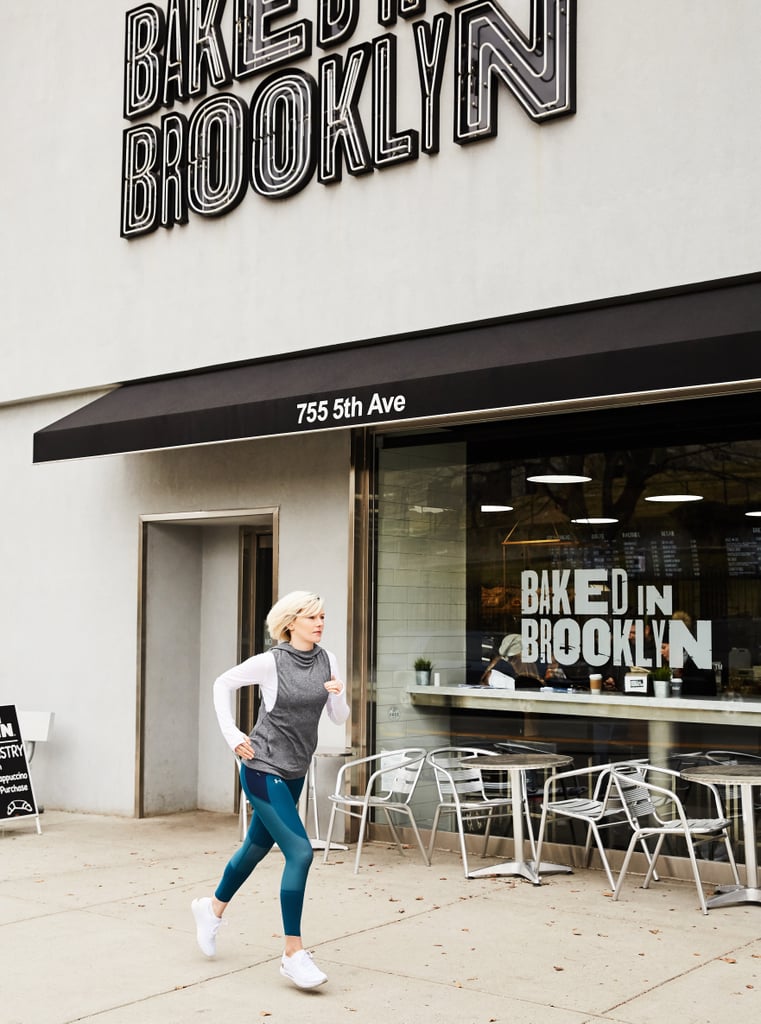 From Sunset Park to 5th Avenue, I take my second favorite of only two downhill stretches on my route and head north to Greenwood Cemetery. This 478-acre National Historic Landmark was built in 1883, at a time of rapid urbanization and overcrowding, and proved so popular that it inspired the city to invest in less-solemn parks for recreational use (so you can thank Greenwood Cemetery for Central Park). Among its most famous residents were artist Jean-Michel Basquiat, composer Leonard Bernstein, Civil War generals, and Louis Comfort Tiffany. In fact, The New York Times wrote in 1866, "It is the ambition of the New Yorker to live upon Fifth Avenue, to take his airings in Central Park, and to sleep with his fathers in Greenwood." Beyond the cemetery's significance, it looks magnificent on any given day. I meet it at the official border between Sunset Park and Greenwood Heights on 36th Street and stay on 5th Avenue. Running inside the 3.6-mile perimeter is not permitted, but you can still enjoy its beautiful mausoleums and landscaping — and major hills — from the other side. This stretch is counterintuitively life-affirming, especially the row of stunning trees by the lake, but it's the aroma of fresh-baked bread from Baked in Brooklyn, just past 26th Street, that gives me the endorphins I need for the next half mile. It's uphill from here.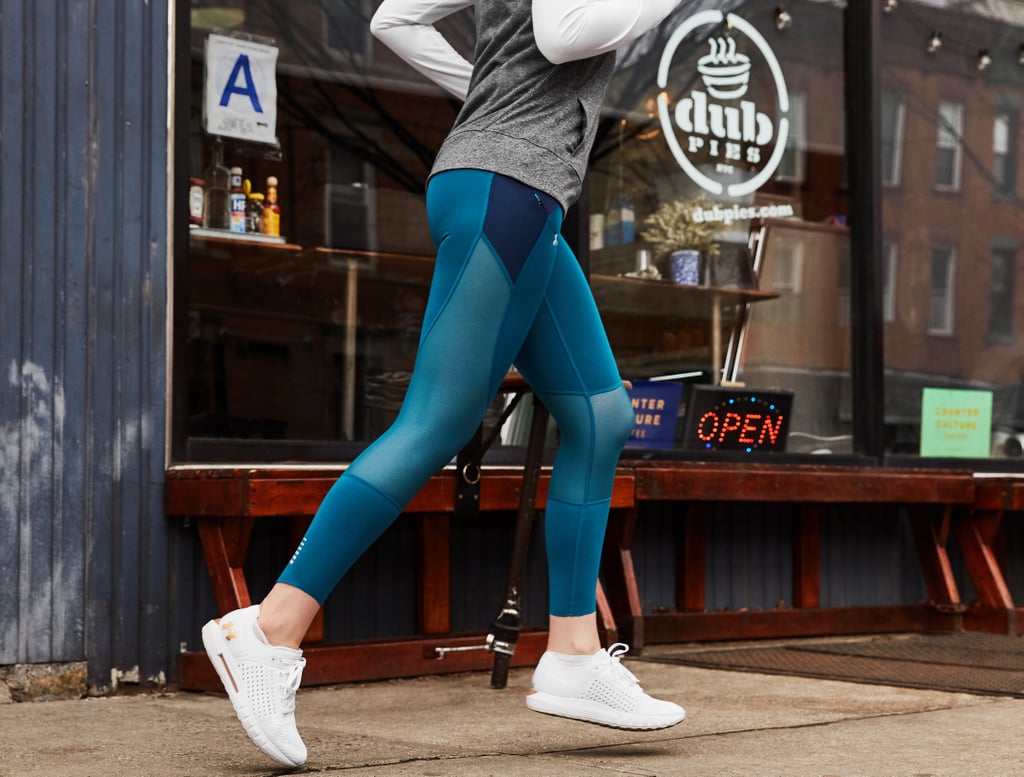 At 20th Street and 8th Avenue, a bridge over the BQE divides the Greenwood Heights and Windsor Terrace neighborhoods. The elevation change from 5th Avenue makes this the toughest stretch of my run, where I'm especially grateful for the UA HOVR Sonic's cushioning system — which incorporates "Energy Web" mesh fabric for increased responsiveness and energy return. In short: I still feel light on my feet and am able to dodge cracks in the pavement and zigzagging downhill runners with relative ease.
I frequently pass friends and ex-neighbors at this point, whom I breathlessly high-five while mouthing "I can't stop!" When there's no human encouragement around, I count the trees I pass on 23rd Street, turn my music up, and focus on how good flat ground is going to feel. And it does. The corridor from the bridge to the Prospect Park entrance feels like a victory lap, so much so that it's tempting to stop at one of my favorite post-Prospect Park race spots, DUB Pies. Here they serve the best flat white coffees and Australian-style savory pies, but the real temptation at this point? There's a bench outside.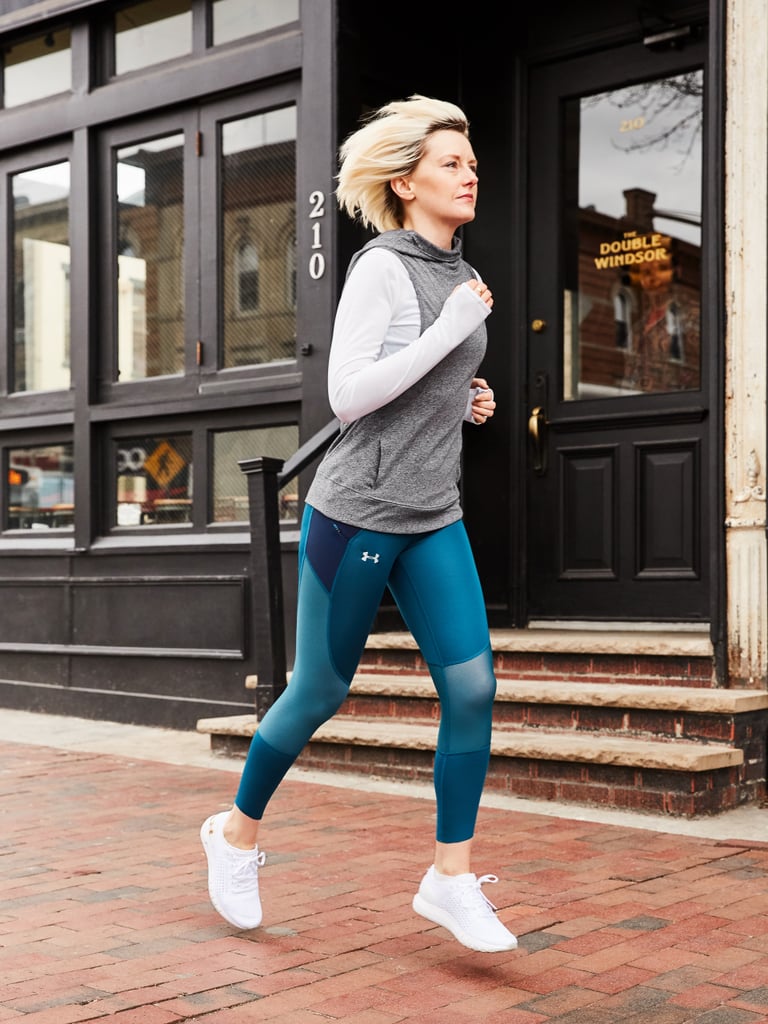 Opposite DUB Pies on 16th Street and Prospect Park West lies the closest bar to the park, and a neighborhood jewel since 2009: The Double Windsor. One of the best craft beer bars in Brooklyn, it features 14 weird and wonderful selections on tap at all times, accompanied by ever-changing seasonal menus, all served with a judgment-free attitude that makes running gear and red faces feel more than welcome. I've taken many postrace pics here as it's a cozy spot to recuperate after a Winter run, and in Summer, a stool by the open front window is the perfect perch for people-watching. In the case of runners who are about to enter the park, I raise my burger to them with a mix of encouragement and relief: "OK, it's your turn."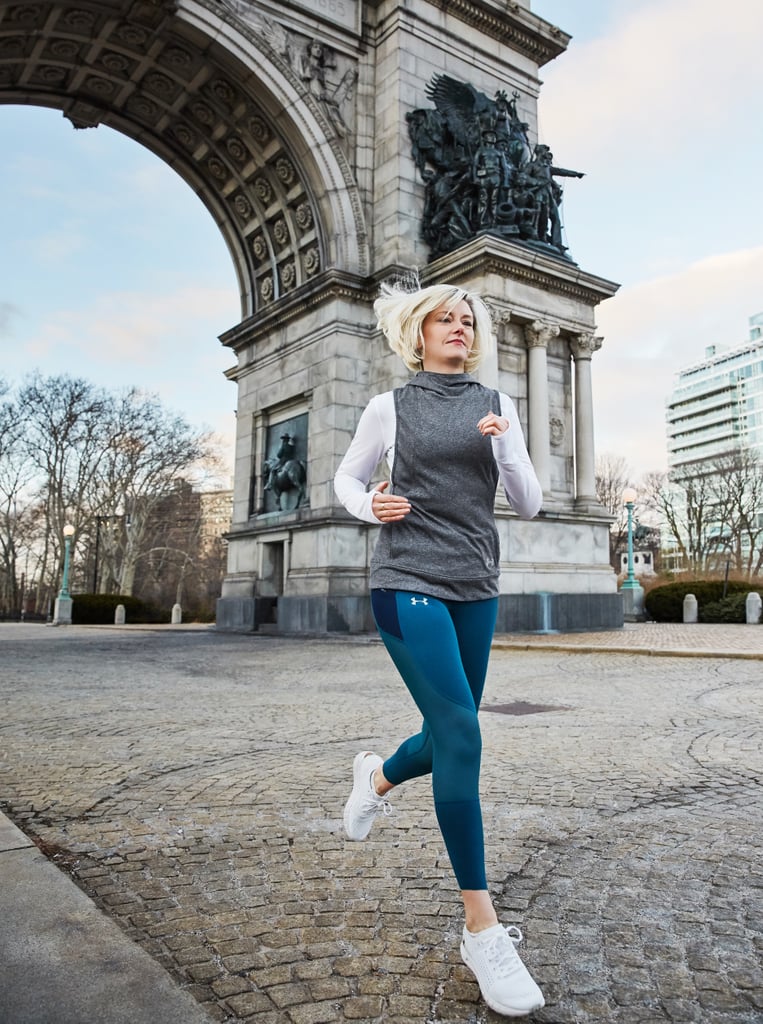 Prospect Park is one of my favorite places on earth, not least because it's where I caught the running bug. Weekend runs with friends here — some of which needed a lot of encouragement — convinced me to trade in the doldrums of the treadmill, and breathing stale gym air, for this 3.5-mile main loop, which takes in the park's greatest landscaping hits and never ceases to feel challenging and humbling. The story has it that landscape designer Frederick Law Olmsted considered this, not Central Park, his masterpiece. It feels wilder than its Manhattan counterpart, though it's much more compact, and I find that one of the biggest challenges of running here is resisting the urge to stop and snap the views. It really is that beautiful. I typically enter at Prospect Park West and 15th Street and run anti-clockwise, passing the lake to my left, and take a slight detour outside the park to the Grand Army Plaza Soldiers' and Sailors' Arch at the north end.

From Grand Army Plaza begins the home stretch to Park Slope, either doubling back on myself through the park or along the wide tree-lined sidewalk on Prospect Park West. However I get there, the reward is a well-earned downhill (this is my favorite) back to 5th Avenue and, if it hasn't arrived already, a serious shot of runner's high. This was the first neighborhood I lived in when I moved to New York in 2005, and it will always feel like home — no more so than when I've just retraced it.
There is one more thing that I like to explain about running — that I actually can explain about running — and that's how it feels to cross your personal finish line. Whether the run itself feels good, bad, or indifferent, it rewards your efforts immediately with a sense of accomplishment and belonging. It's in this postrun endorphin haze that I refuel with the beet-based "Antioxidant" at Stoop Juice, just past 15th Street on 5th Avenue. Owner Jose also serves up acai bowls and snacks, as well as excellent conversation about nutrition, fitness, and life in general (really, ask him anything). With my juice in hand, I reward myself with flowers from The Bad Wife bodega on 11th Street. It's decadent, yes, but clearly I'm a believer in incentives. Best of all, the bouquet's fragility is the perfect excuse to take a cab home — and rest up for next time.
Credits: Photography: Felix Wong; Art Direction: Shanna Greenberg; Design: Meg Konigsburg; Production: Cassie Doyle; HMU Art: Yuko Mizuno; Illustrations: Alessandra Olanow