The Best Salad Dressing Recipe Ever
The Best Effing Salad Dressing Ever — No, Seriously
I think we can all agree that we need better salad dressing recipes in our lives. If the thought of raw lettuce makes you shrivel, allow me to introduce this pomegranate vinaigrette recipe, a dressing that sugarcoats bitter leafy greens into straight-up candy. OK, that may be a slight exaggeration, but I can assure you your salad will be the first thing you'll wipe clean from your plate if the leaves are tossed in this sweet, tart dressing. It is the best effing salad dressing I have ever made. Do I have your attention yet?
I accidentally discovered this salad dressing when making this chickpea flour frittata. Sure, the ingredients for the dressing sounded and smelled awesome, but once that vinaigrette hit my mouth, it was as if my taste buds had been electrified. I suddenly felt compelled to binge on salad as if it were a box of Sour Patch Kids.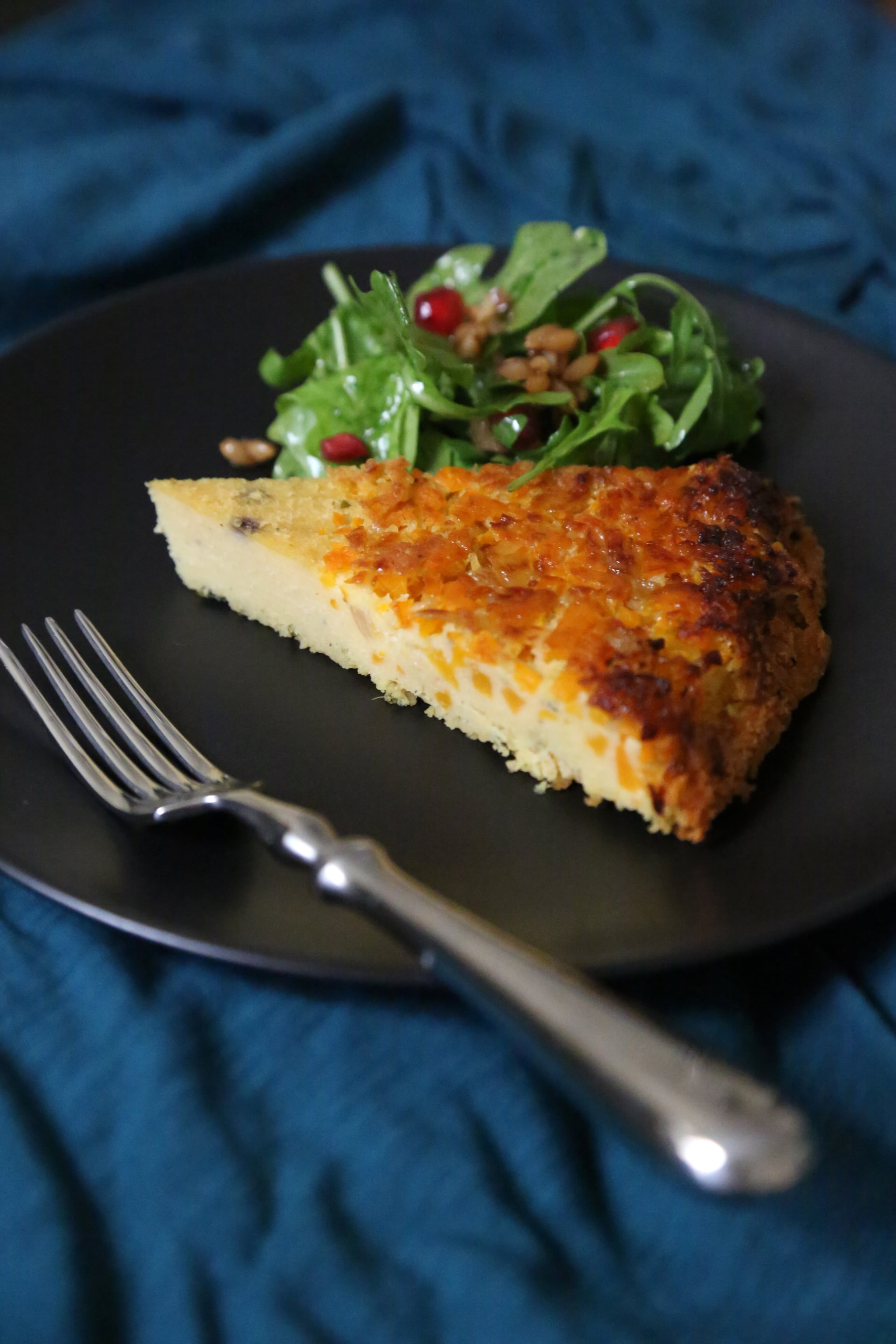 So what's in this recipe that makes it addicting? Pomegranate molasses! Found at Whole Foods or Middle Eastern grocery stores, this rich syrup adds a complex character to the dressing. Surprisingly, it's not so sweet in taste but rather offers fruitiness and tartness to anything it touches. Combine it with shallot, lemon, olive oil, mint, and parsley, and watch out! You may be tempted to slurp this dressing like soup.
Instead, I suggest you destine this salad dressing for blanched and shocked kale (my personal favorite), steamed quinoa, butter lettuce, arugula, any veggies that need more oomph, and so much more. The best part is that the dressing does keep for several days in the fridge. The oil may solidify, but just keep the container out on the cabinet and it should soften within 20 minutes or so. Now, if pomegranate molasses just isn't happening for you, I've tried this recipe with honey, and it's still very tasty (albeit much higher in sugar). I also tend to leave off the pomegranate seeds if it's not Winter season.
Pomegranate Vinaigrette
Slightly adapted from Crossroads by Tal Ronnen with Scot Jones (Artisan Books). Copyright © 2015.
Notes
**Pomegranate molasses is a thick, reduced syrup of pomegranate juice that has a tart and fruity flavor. A gorgeous deep reddish purple, the molasses is found in Mediterranean and Middle Eastern markets, and it keeps almost indefinitely in the refrigerator. If pomegranate molasses is not available, pour two cups pure pomegranate juice into a small pot, put over medium-low heat, and boil until the juice has reduced to 1/4 cup and is thick and syrupy, about 20 minutes. Let cool.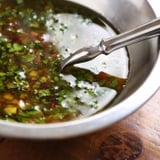 Ingredients
1/4 cup pomegranate molasses**
1/4 shallot, minced
Finely grated zest and juice of 1 lemon
Kosher salt and freshly ground black pepper
1/2 cup extra-virgin olive oil
1 tablespoon fresh mint, finely chopped
1 tablespoon fresh flat-leaf parsley, finely chopped
2 tablespoons pomegranate seeds
Directions
Whisk together the pomegranate molasses, shallot, and lemon zest and juice in a small bowl. Season with salt and pepper. Slowly whisk in the oil until emulsified. Stir in the mint, parsley, and pomegranate seeds. This sweet, tangy vinaigrette marries well with peppery greens like dandelion. Leftovers will keep for four days covered in the refrigerator.
Information
Category

Condiments/Sauces, Dressings

Cuisine

French

Yield

8 servings
Nutrition
Calories per serving

157 per two-tablespoon serving
Image Source: POPSUGAR Photography / Anna Monette Roberts