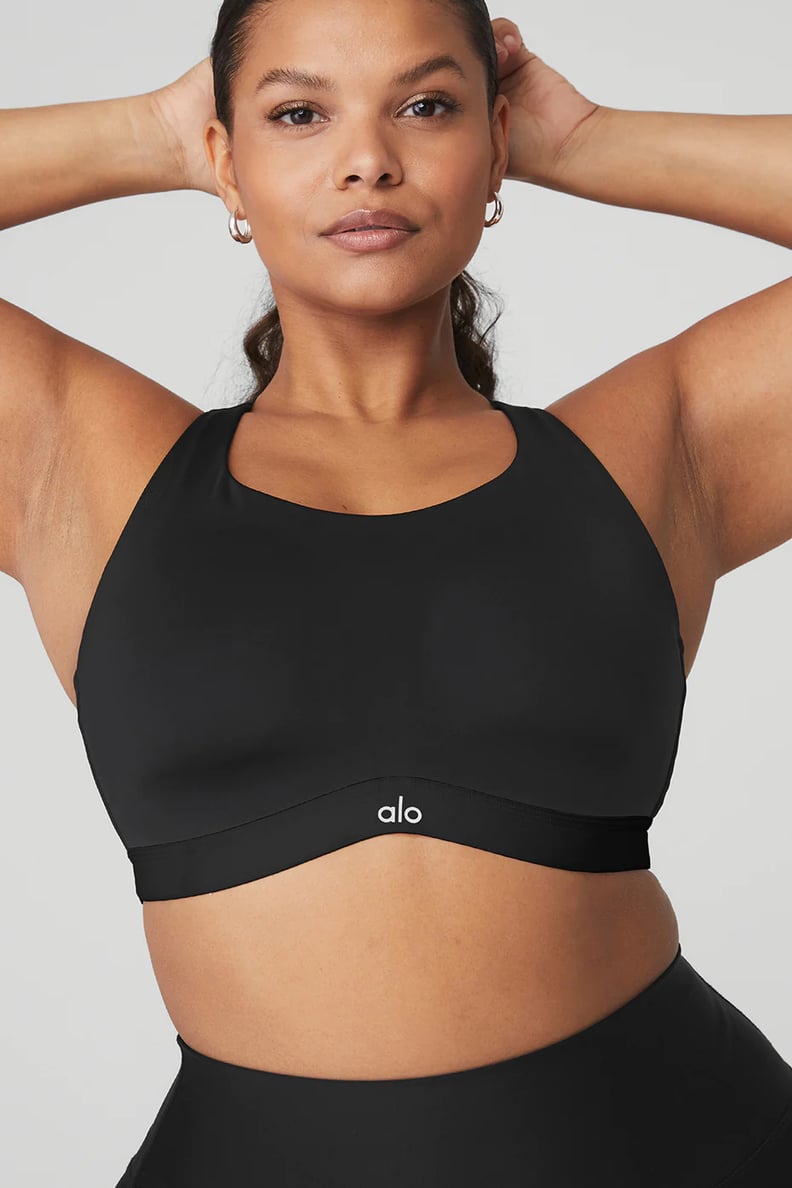 Alo Yoga
Alo Yoga
As POPSUGAR editors, we independently select and write about stuff we love and think you'll like too. If you buy a product we have recommended, we may receive affiliate commission, which in turn supports our work.
Workout clothes that are functional, are comfortable, and actually fit your aesthetic aren't the easiest to find. Sometimes the cutest (or cheapest) workout sets don't actually perform the best, and high-performance pieces don't always match your style. If you're a fan of that just-walked-out-of-the-yoga-studio look, Alo Yoga has you covered. For many years, the brand has been known primarily for its high-quality yoga apparel, but it has since expanded its collection and now has a wide selection of versatile activewear and athleisure that performs as well as it looks. It's even become a favorite of celebrities like Ariana Grande and Hailey Bieber.
If you're looking to splurge on some Alo Yoga workout clothes, though, it can be tough to choose what to spend your money on. The brand's leggings are always a safe choice, but with so many variations to choose from, it can be hard to determine which are best for you — or if maybe biker shorts might be a better option altogether. Alo also offers everything from sports bras and pullovers to skirts and bodysuits and even workout equipment (POPSUGAR editors love Alo's yoga mat).
To help you narrow down the many wonderful options, ahead, you'll find the top-rated workout clothes from Alo Yoga, according to customer reviews.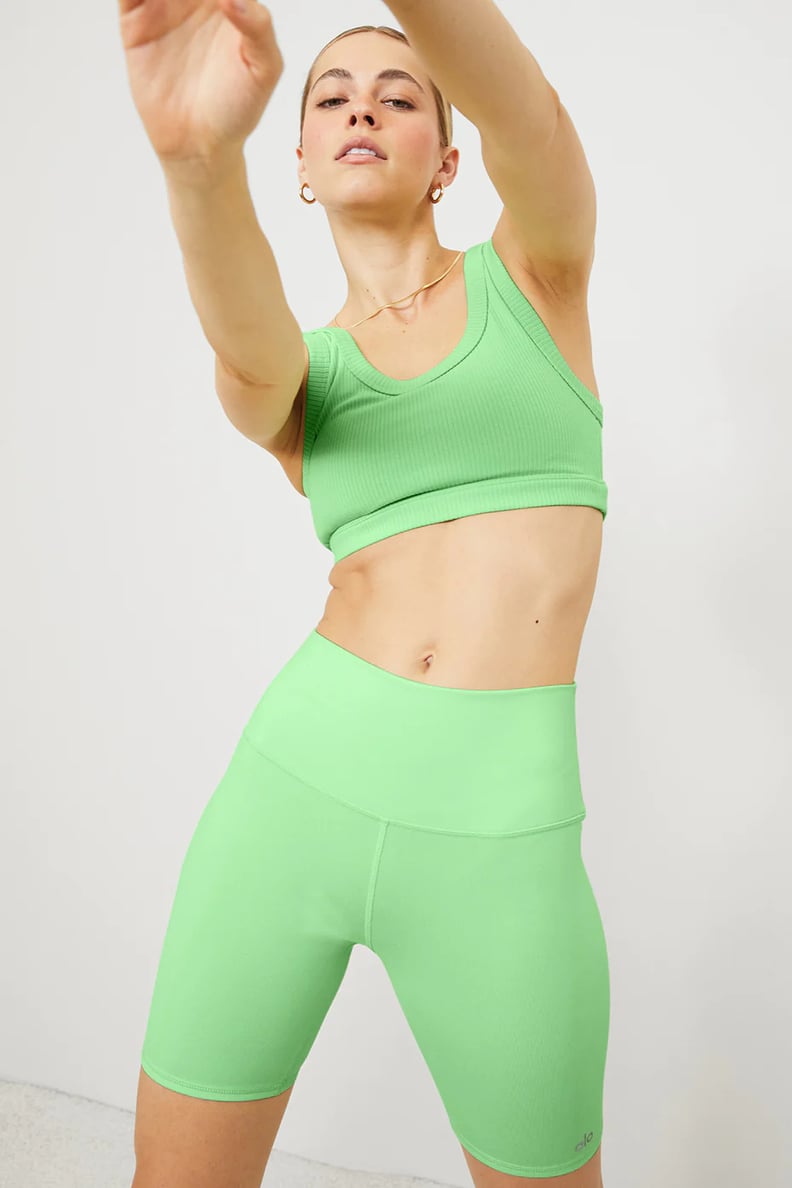 Best Alo Yoga Biker Shorts
Alo Yoga 7" High Waist Biker Short ($68)
When it's too hot for a pair of leggings but you still want to wear something formfitting, these Alo Yoga biker shorts are a must. They're constructed out of a material that resists odors and sweat and is equipped with four-way stretch to give you full range of motion while you work out.
Why we love it: Biker shorts can be see-through, but customers say the opposite is true for even the white and ivory versions of these biker shorts. One happy customer promises that they're "extraordinarily" comfortable, writing: "high-waist band doesn't fold down during spin class. Material is very soft yet supportive. When I took them out of the bag they looked too small, but they actually stretched to fit perfectly. Hands down the best bike shorts I've ever purchased."
What's worth noting: Alo Yoga recommends washing these bike shorts in a load all by themselves, which can be inconvenient. That said, many reviewers note washing them normally — or "in a laundry net so that it won't pill or stretch out in the long run" — with fine results.
Additional details: Sizes: XXS-L | Colorways: 8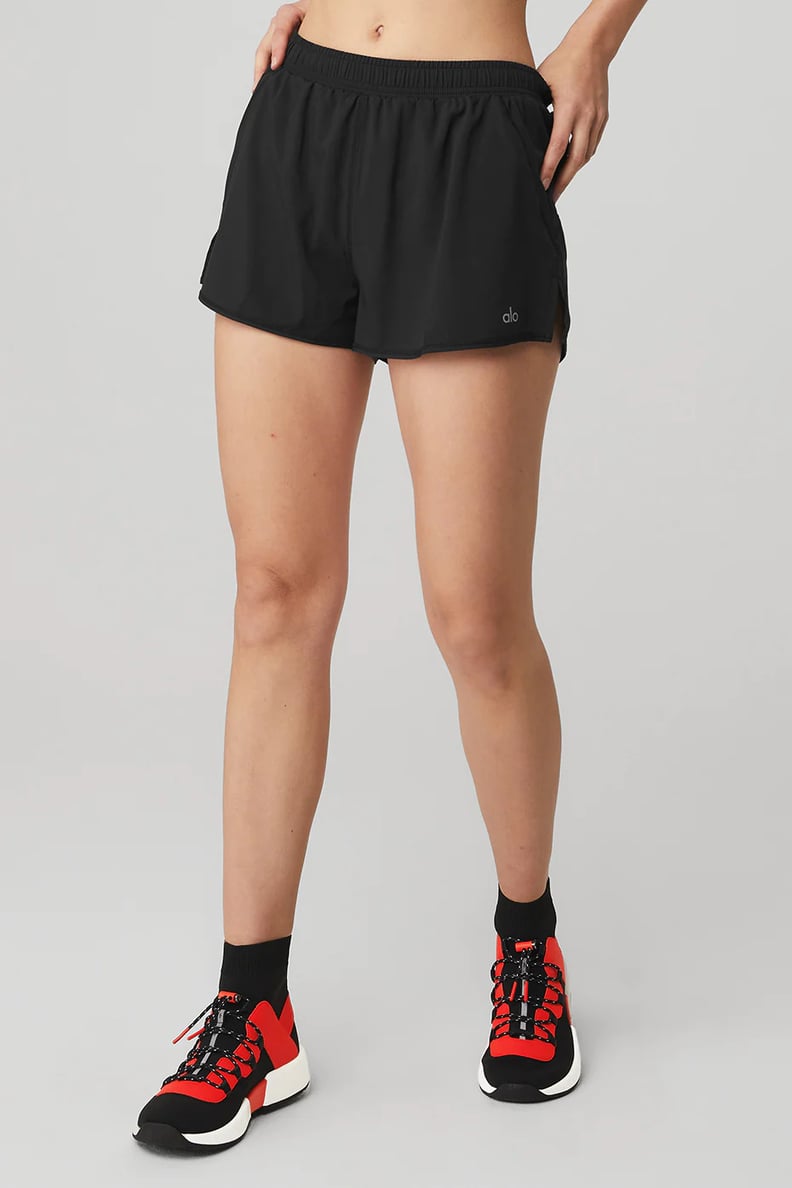 Best Alo Yoga Running Shorts
Alo Yoga Stride Short ($68)
Some people prefer biker shorts, but if you like running in something with airflow, these Alo Yoga shorts won't disappoint. They have a looser fit, a comfortable waistband, and even slits on the hem of each side for added roominess.
Why we love it: Unlike most running shorts, these also have a side pocket that zips closed. One reviewer calls these "the best athletic shorts I have ever purchased. They're high waisted and great for running, super lightweight, and really cute on. I already have 2, but I want 10 pairs."
What's worth noting: Some customers wish the built-in brief offered a little bit more coverage.
Additional details: Sizes: XXS-L | Colorways: 6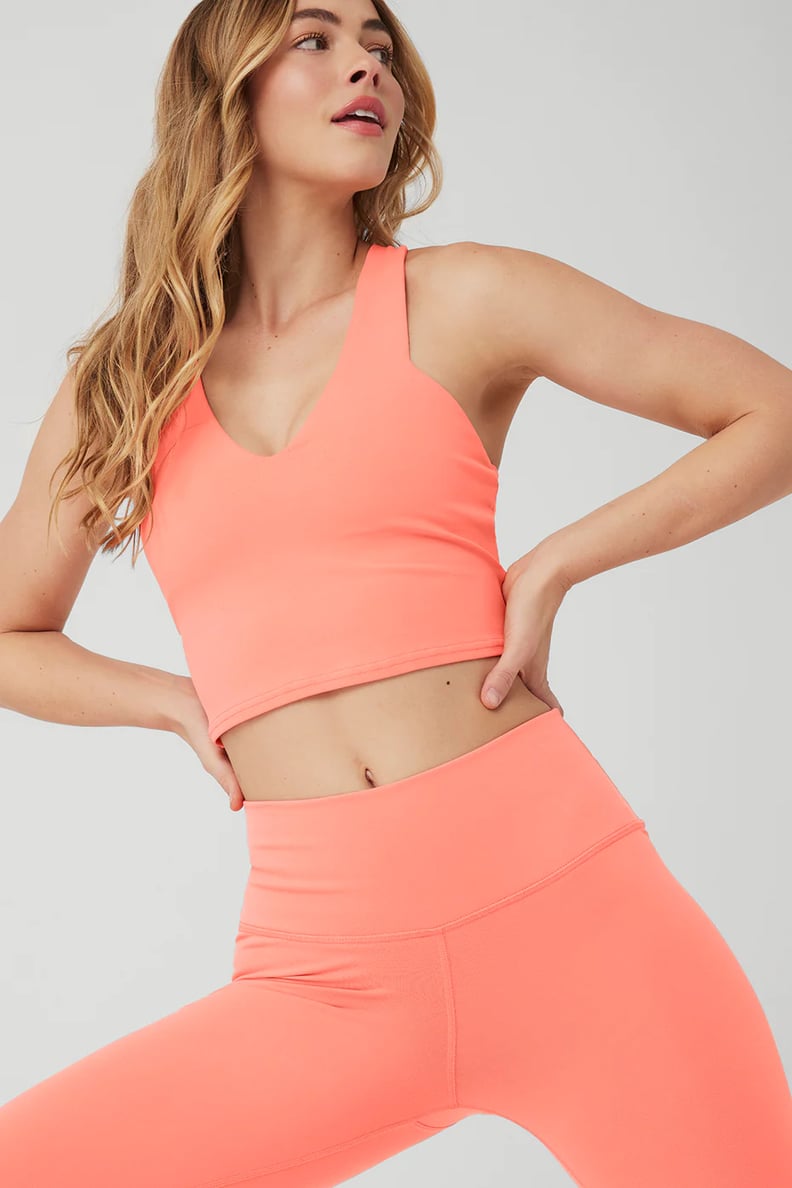 Best Alo Yoga Bra Tank Top
Alo Yoga Airbrush Real Bra Tank ($74)

This may look like any other tank top, but it's actually a supportive two-in-one bra. Made from moisture-wicking knit fabric with a cotton-like feel, this Alo Yoga tank top features a shelf bra with removable cups that's ideal for medium-impact workouts.
Why we love it: You can usually tell when a tank top has a built-in bra, but this Alo Yoga one has a seamless look and four-way stretch. One reviewer writes: "Somehow, this shirt fits perfectly. It's super soft, I love the color, and it hugs me in all the right places while still providing me with support. I worship at the altar of the Airbrush, and want one in every color."
What's worth noting: The fit can be a hit or miss since it goes by shirt size instead of cup size. Some customers say it runs bigger and looser, while others report the opposite.
Additional details: Sizes: XS-L | Colorways: 8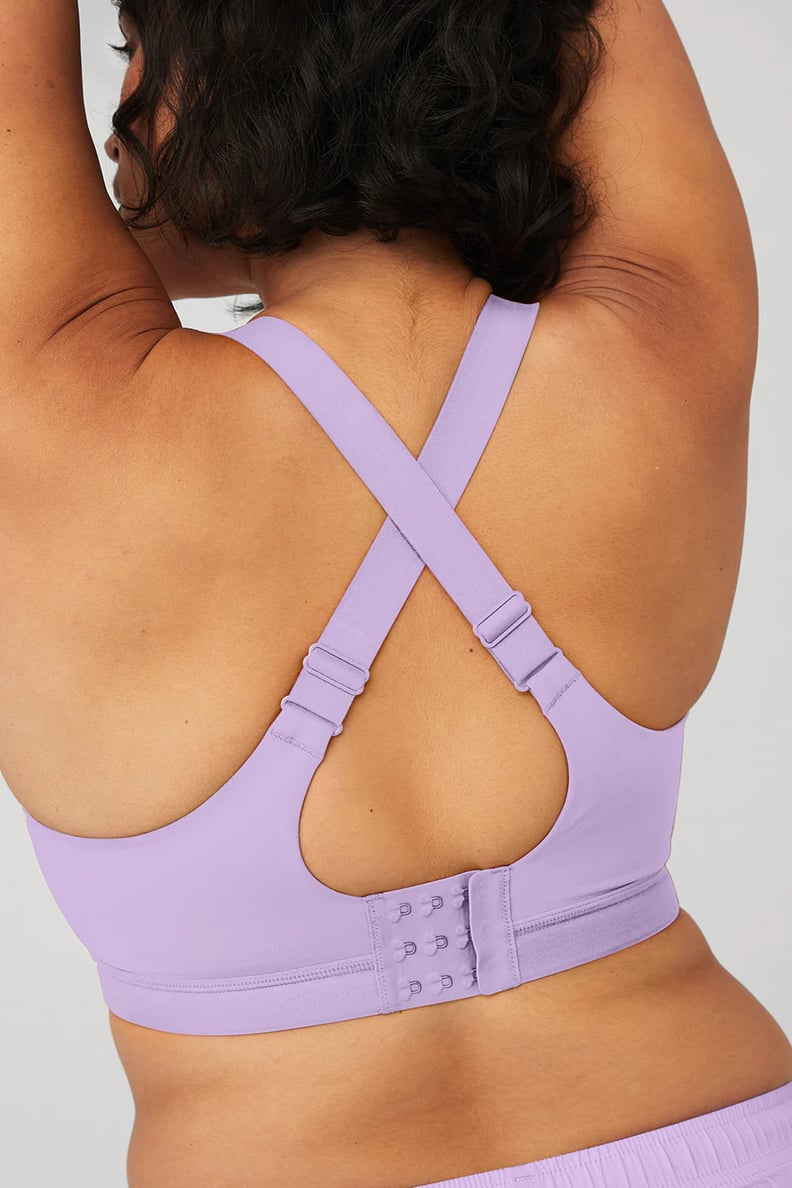 Best High-Impact Alo Yoga Sports Bra
Alo Yoga Alosoft Power Play High Impact Bra ($78)
You'll no longer have an excuse to skip those jumping jacks and burpees, because this Alo Yoga sports bra is designed specifically to hold everything up even during high-impact workouts. It has adjustable straps and a hook and eye closure on the back for maximum support, but it won't dig into your shoulders or ribcage.
Why we love it: The adjustable straps also crisscross in the back to provide extra support, and reviewers can confirm that it feels great: "Very comfortable wide straps and wide band. Cups were comfortable with perfect amount and placement of padding and held the girls in and hid any nipping. Support is 10/10 for sure!"
What's worth noting: The fabric is thick and not very stretchy, making it a struggle for some to put on and take off.
Additional details: Sizes: 32C-38DD | Colorways: 3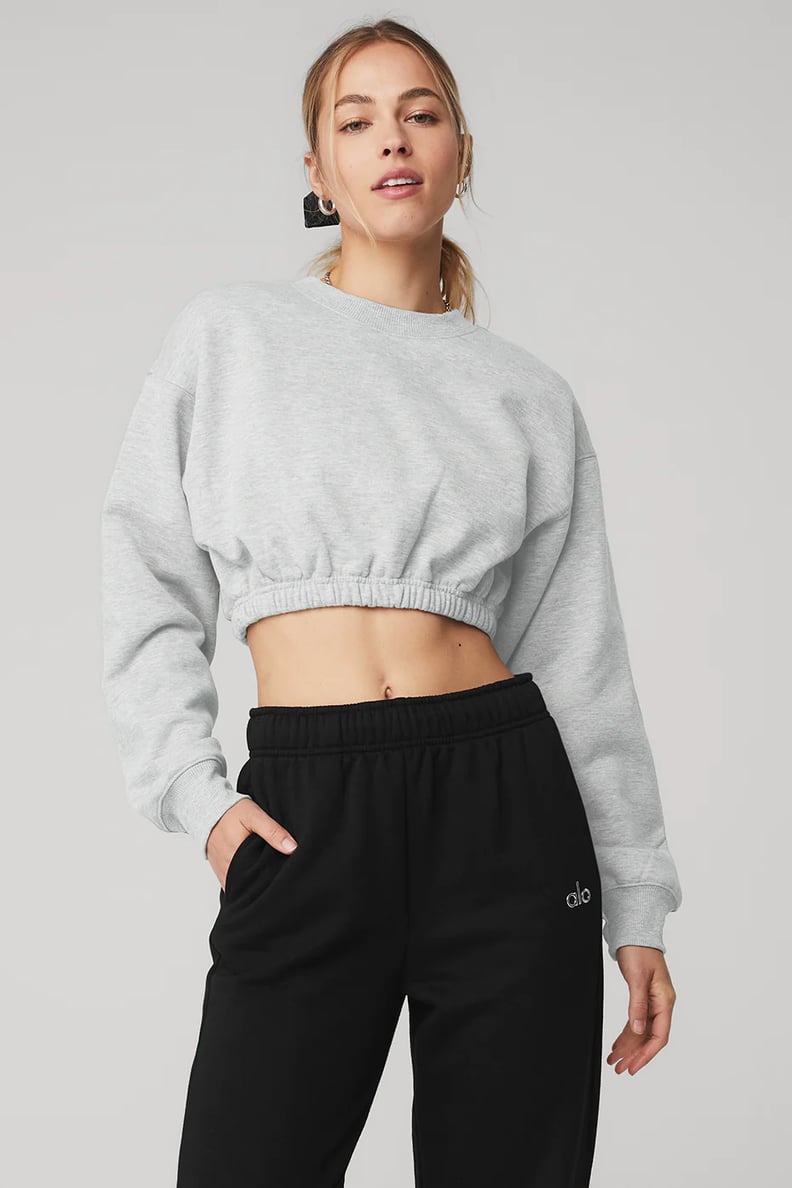 Best Alo Yoga Sweatshirt
Alo Yoga Devotion Crew Neck Pullover ($88)
If you want to warm up your muscles before a workout but don't want to be weighed down by a heavy sweater, make this Alo Yoga pullover your go-to. The cropped and relaxed fit ensures you still have a full range of motion, while the fleece traps in heat where you need it.
Why we love it: It's cinched at the bottom to give you a snatched look while still maintaining a loose fit. One reviewer writes: "I love this sweatshirt! I honestly wear it about 3 times a week, because it's become my favorite warm-up top for my workouts. It's cute and cozy and flattering. Also worth mentioning is that after washing it at least 5 times now (not drying though), it still looks brand new, with no color fading or pilling, and seems like it will really hold up over time."
What's worth noting: Although this sweater is on the lighter side, it doesn't have any moisture-wicking properties like some other Alo Yoga gear, so pull this off before you get too sweaty.
Additional details: Sizes: XS-L | Colorways: 3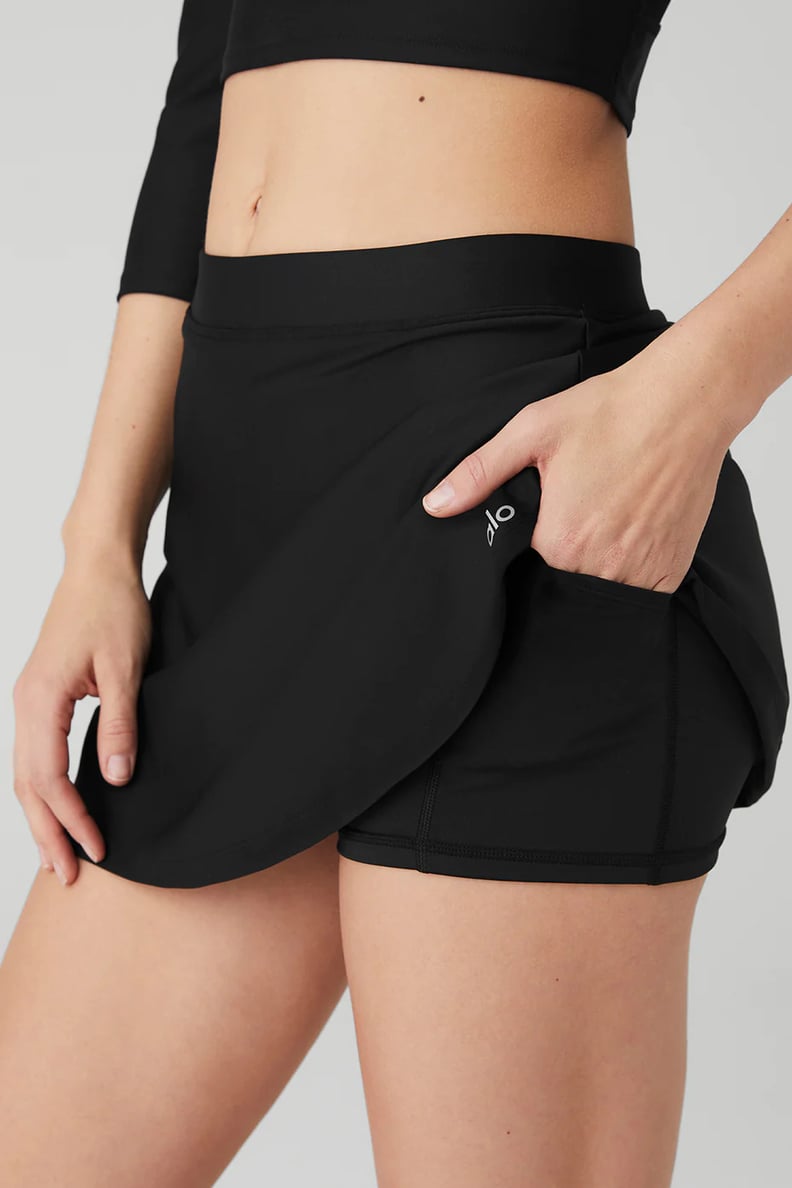 Best Alo Yoga Tennis Skirt
Alo Yoga Airlift Timeless Mini Skirt ($74)
Alo Yoga's sporty skirts and workout dresses are proof that you don't have to be a tennis or golf player in order to work out in a skirt. Designed with lightweight fabric and a layer of built-in shorts, this Alo Yoga skirt is not only stylish but also easy to move around in, making it a great alternative to traditional gym attire. The best part of all is it also has pockets. Need we say more?
Why we love it: Even though there are two layers of fabric, the skirt is still very breathable thanks to Alo Yoga's signature Airlift fabric. One customer writes that it's the "[p]erfect skirt to play golf in or do any other active activity in warm weather. I love the pocket to hold my phone or a golf ball."
What's worth noting: This skirt might be a bit revealing for some people's tastes, as it fits like a true miniskirt and has a lower waistband.
Additional details: Sizes: XXS-L | Colorways: 3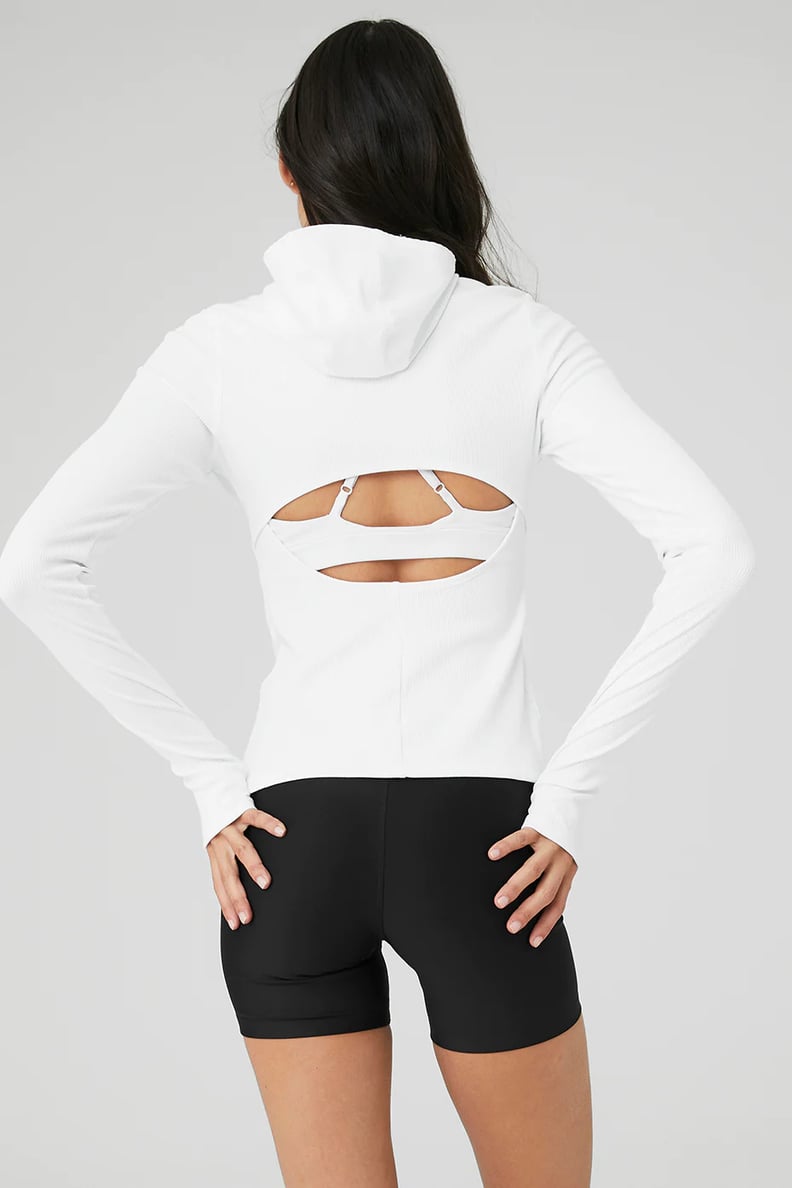 Best Alo Yoga Long Sleeve
Alosoft Ribbed Frontrunner Long Sleeve ($98)
Working out in a long-sleeved shirt always seems to end the same way: with a sweat stain on the back. If you're wearing this ventilated Alo Yoga long-sleeved shirt, however, you'll stay dry and comfortable throughout your workout because of the unique keyhole design on the back.
Why we love it: The size and placement of the back opening combined with the hood and ribbed material allow you to stay warm enough without fully overheating. It's also super compact. As one reviewer writes: "I am sooooo happy about this purchase, I live in Chicago and the weather is unpredictable, so having a long sleeve on hand that is compact enough to put in your purse/bag is key!"
What's worth noting: If you're not used to scuba-style hoods, this shirt may feel constricting around the neck, especially since it has a more snug fit overall.
Additional details: Sizes: XS-L | Colorways: 3
Best Alo Yoga Leggings
Alo Yoga 7/8 High-Waist Airlift Legging ($128)
Leggings that are designed to double as shapewear can be tight and restrictive, but when you wear these Alo Yoga leggings, you can still move about as freely as possible during your workouts. They're made with a special micro-performance double-knit material, so they're stretchy yet supportive.
Why we love it: Even though the fabric is very formfitting, it's strategically reinforced in the crotch area so you don't have to worry about camel toe. It's also cropped to hit just above the ankle, so you don't have excess fabric bunching up near your feet. One customer writes that these fit perfectly: "They are full length on me and there aren't any weird gaps or seams like with other pants designed for taller frames. Material quality is also excellent, not that rigid nylon compression stuff. I want these in every color!!" For more, read a POPSUGAR editor's full review of these Alo leggings.
What's worth noting: The material is fairly thick, which some customers love but others think is too hot despite the moisture-wicking fabric.
Additional details: Sizes: XXS-L | Colorways: 22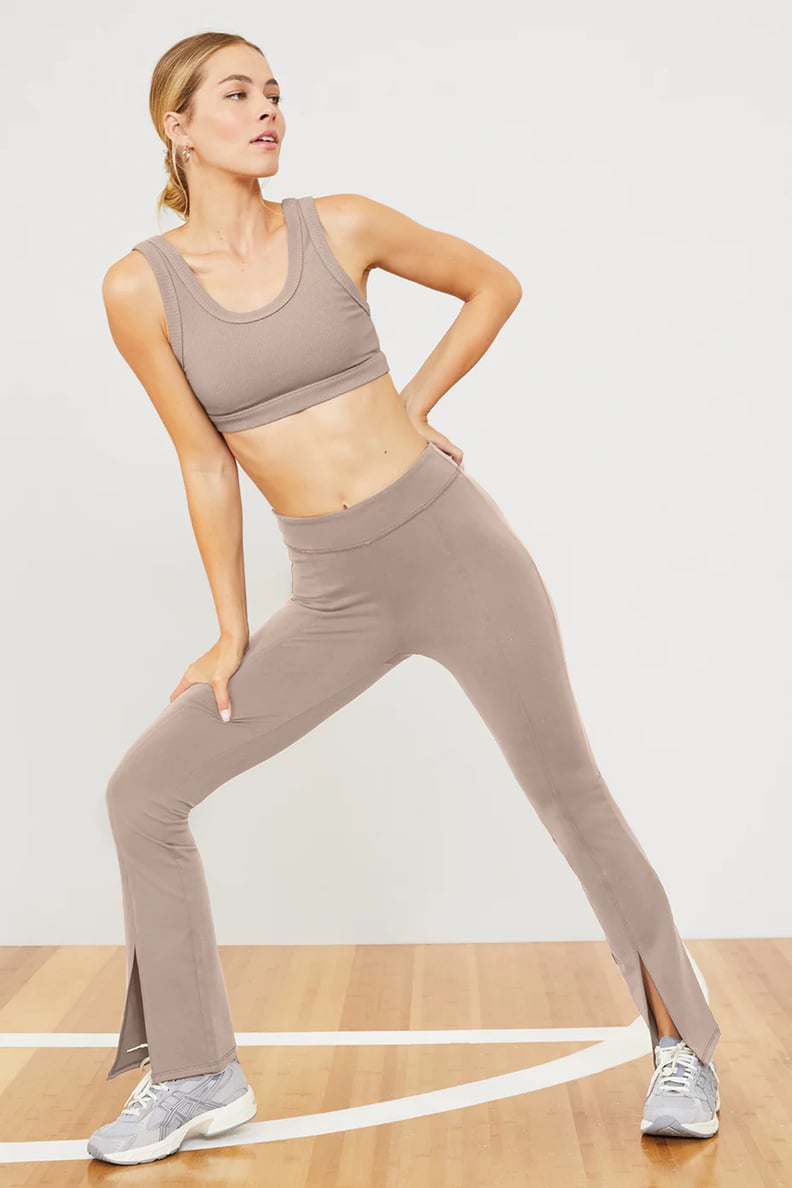 Best Alo Yoga Flared Leggings
Alo Yoga Airbrush High-Waist 7/8 Flutter Legging ($118)
These flared Alo Yoga leggings are perfect for yoga, Pilates, or any low-impact workouts. They're made with Airbrush fabric that gives you a flattering silhouette while preventing any unwanted slipping or bunching. They also have strategically placed slits for ventilation (OK, and style).
Why we love it: As functional as these leggings are, they're also very on trend, meaning you can easily wear them outside of the gym, too. One reviewer writes: "Just love the fabric, it has this amazing cushiony compression without any pinching, doesn't slide around during workouts. I don't feel myself pulling them up all the time, they stay put."
What's worth noting: The flared bottoms could easily get caught on a workout machine, so you don't want to wear these for activities like cycling.
Additional details: Sizes: XXS-L | Colorways: 4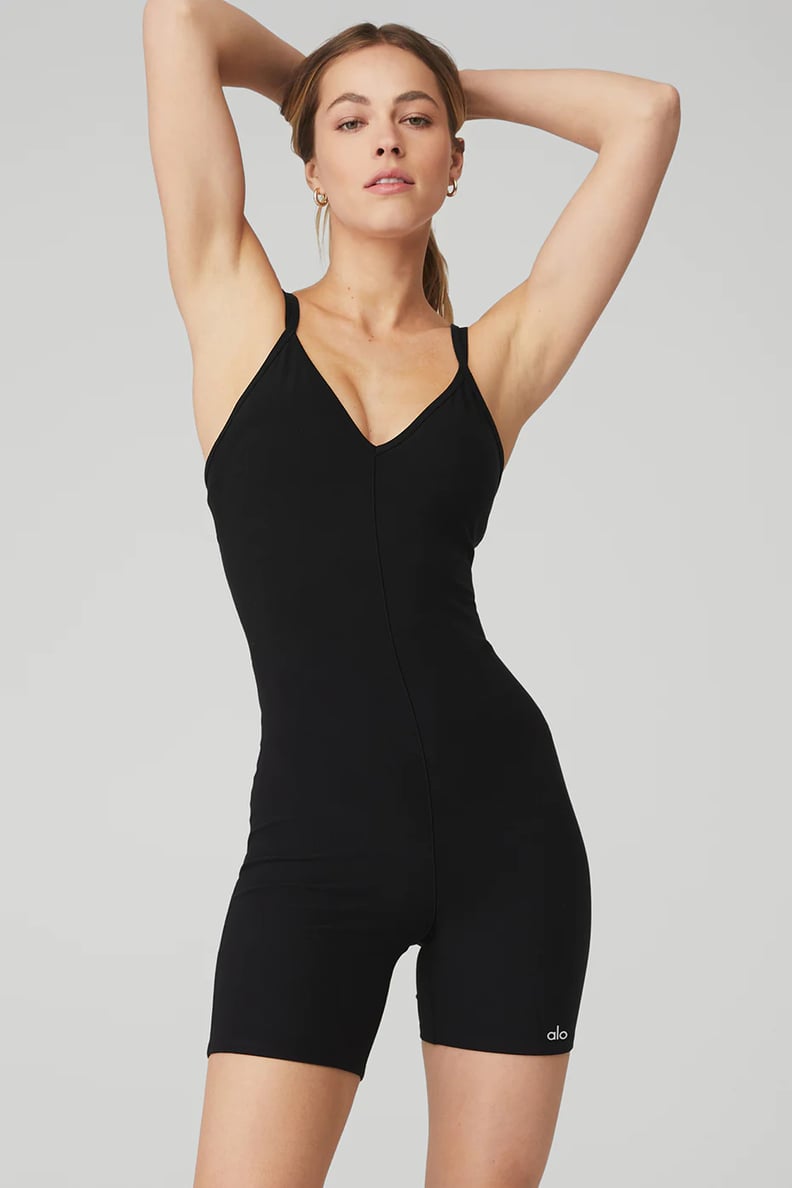 Best Alo Yoga Bodysuit
Alo Yoga Alosoft Suns Out Onesie ($128)
It's not too late to hop on the workout onesie train. Stash this Alo Yoga bodysuit in your closet for those days where you're too lazy to put together a cute gym fit, because it's biker shorts, a shelf bra, and a double-strap tank all in one. Not only does this bodysuit make you look cute while you work out, but it's also made with ultra-comfy Alosoft fabric.
Why we love it: The built-in bra element is made with removable cups so you can fine tune the fit to whatever is most comfortable. Reviewers promise that this onesie is "so flattering!" One customer notes: "I sized down to an extra small based on the size guide and it is perfect. The material is so soft and the padding is enough to provide support but not too much. The shorts don't roll up and I love the double straps as well!"
What's worth noting: The straps aren't adjustable, and some customers have complained that they're on the tighter side.
Additional details: Sizes: XXS-L | Colorways: 4