Breast Cancer Survivor Weight-Loss Story
Weight Watchers Literally Saved This Woman's Life and Helped Her Kick Cancer's Ass
Nicole Ferguson is a fighter. After joining Weight Watchers and finding success, she discovered a lump in her breast, only to find out it was cancerous. She worked with her doctors to keep herself as healthy as possible, but she said she couldn't have done it without her boyfriend. "When I first started losing my hair, I had to wear a scarf on my head. I always felt like people were staring at me. One day, we went out to eat, and I told him that I hated being stared at while I was eating. The next time we went out to eat, he put a scarf on his head and wore it with me. He said, 'Now they have to stare at the both of us.' He made me feel beautiful no matter what," she told POPSUGAR.
But aside from her medical team and her family and friends, Nicole, who is part of Project L.I.F.T a collaboration with the American Cancer Society aimed to inspire and guide cancer survivors struggling with weight gain post-treatment, said Weight Watchers was vital to her cancer recovery. "Having a support system saved my life, and that's why I truly value Weight Watchers. I want to get my voice out there and show women that they have someone that they can relate to. You are not alone," she said. Nicole's life continues to be a success — she's lost 69 pounds on Weight Watchers! — and she feels better than ever. Keep reading to hear more of her story.
Nicole before and after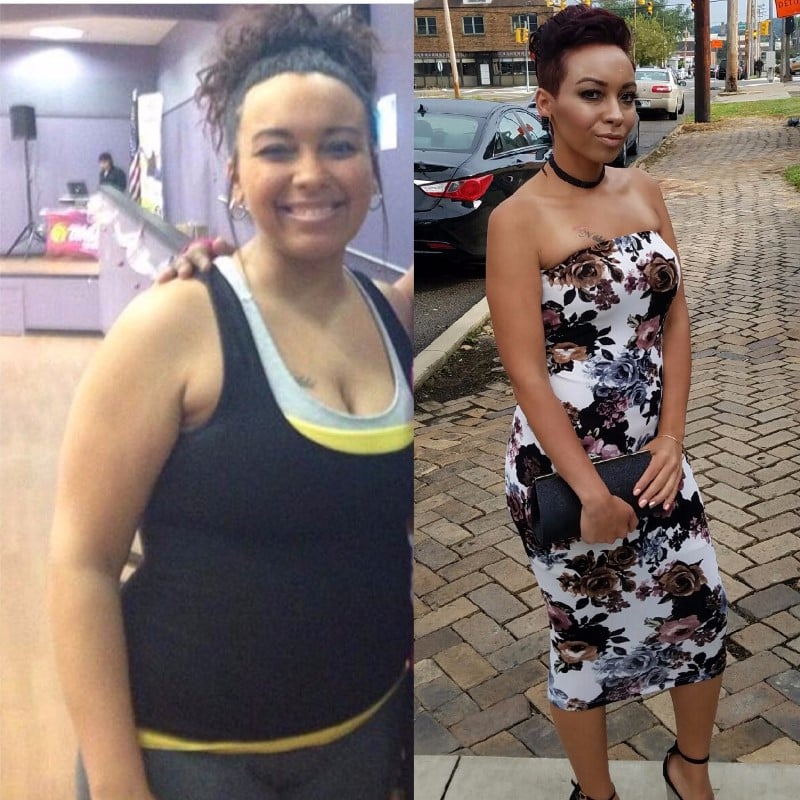 POPSUGAR: What was the moment or motive that made you decide to start your journey?
Nicole Ferguson: My Weight Watchers journey started after I had my daughter, when I was at my heaviest weight and found out that my family had a history of high blood pressure, diabetes, and heart disease. I knew it was necessary for me to get healthy and lose the weight so I could be more healthy and active for my daughter.
PS: What made you choose Weight Watchers?
NF: I actually didn't know where to begin and had tried losing weight on my own, and it wasn't working. I have a cousin who is a Weight Watchers receptionist at the meetings that I now attend. She lost weight on the program and introduced me to it — and here I am today!
PS: What's your favorite way to work out?
NF: One of the ways that I work out is by walking every day during my lunch break at work. I also like to do high intervals on the treadmill and incorporate strength training and Zumba. I like to mix it up a little!
PS: What's your weekly exercise schedule?
NF: I try my best to work out three to four days a week, but I walk daily. It's sometimes hard to get to the gym as a mom, so I try to move as much as possible throughout the day.
PS: How do you keep workouts exciting?
NF: I love to try new things! I'm always looking for the next big fitness routine. I do Zumba, HIIT, and strength training to target different muscle groups. I try to mix it up as much as I can to keep it fun, exciting, and so my body doesn't hit a plateau.
PS: How much weight have you lost?
NF: I have lost 69 pounds on Weight Watchers!
PS: What was the first big difference, other than the number on the scale, that really made you feel proud and excited?
NF: When I could finally wear a two-piece bathing suit — that was a big thing for me! I was always self-conscious and uncomfortable in my skin. For me to be able to wear a two-piece and feel good about it was one of my biggest nonscale victories. As a cancer patient, I had to meet with a nutritionist when I was setting up my treatment plan. Being that I was already on Weight Watchers and incorporating healthy eating habits, I didn't have to meet with a nutritionist. On the program, I was already incorporating low sugar and low fat into my diet, so I was simply able to maintain my lifestyle.
Nicole before and after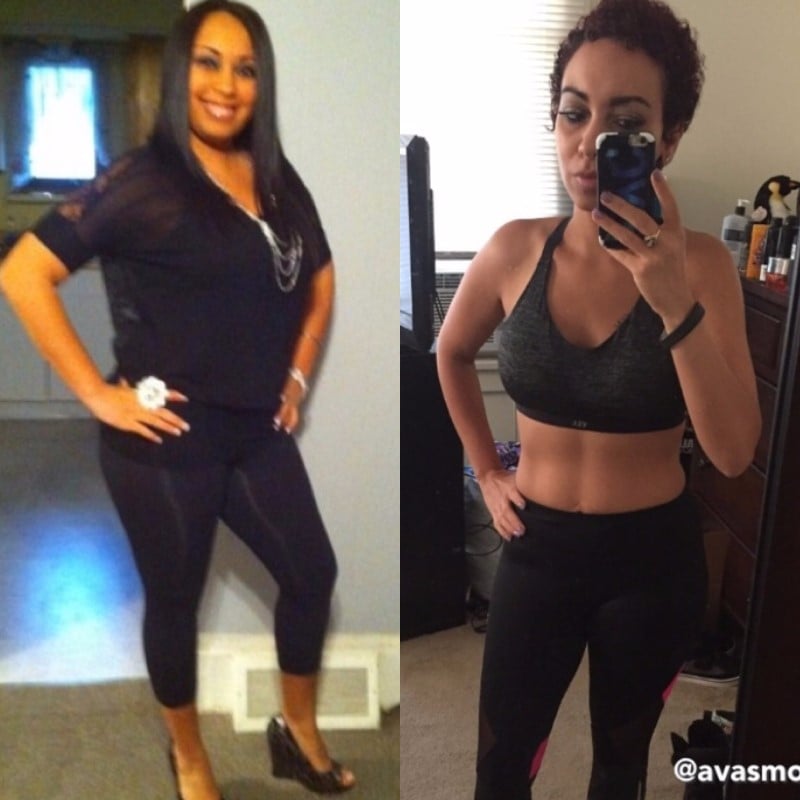 PS: How do you track your weight loss?
NF: I track on the Weight Watchers app. I'm also an active Connect user and love my Connect family! It's one of the best things about Weight Watchers for me because I have an outlet and support. I praise Connect because it helped me through my breast cancer journey and gave me a community that I was a part of.
PS: What's a typical day of meals and snacks?
NF: One thing I love about Weight Watchers is that you are never deprived and can constantly eat within your meals. I plan my meals and snacks each night. I like big breakfasts and try to have a small lunch followed by a big dinner. I love the Weight Watchers Mini Chocolate Pretzel Bars for a quick snack. I usually eat oatmeal with fruit or Greek yogurt every morning to start my day. I also love chicken and brown rice with a veggie — that's my go-to dinner. I like to incorporate one new meal or snack every week to help keep my metabolism going. During treatment, I found it helpful to eat a pickle to help neutralize the acid metal taste in your mouth that can come with treatment. It gave me my taste buds back for the foods that I enjoyed before treatment.
PS: Do you count anything other than SmartPoints? Why or why not?
NF: No, I just track my SmartPoints. I don't track anything else outside of my daily intake.
PS: What's the range of SmartPoints you eat per day?
NF: I typically eat 30 to 36 points per day on average.
PS: What are the healthy staples that are always in your fridge?
NF: I like to have Greek yogurt in my fridge, and I like to add two low-fat cinnamon graham crackers to my yogurt to get the crunchy taste.
Nicole before and after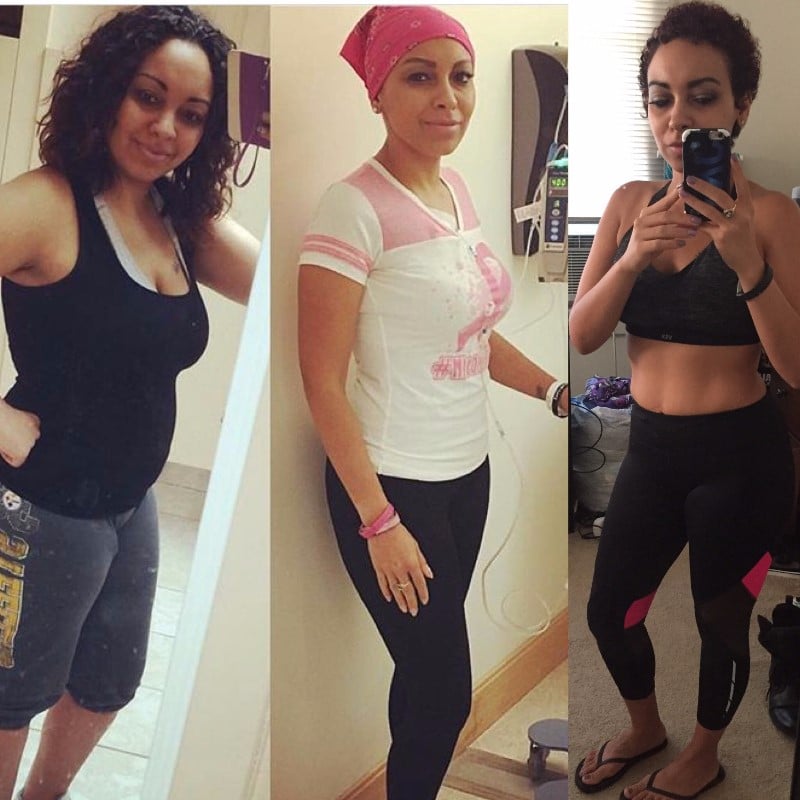 PS: How do you strategize when you eat meals out?
NF: I like to plan my points out in advance so I know what I can eat. If I know I'm going somewhere specific, I look at the menu ahead of time before I sit down. I enjoy big dinners, so I like to have those points allotted for that.
PS: Do you use a fitness tracker? Which one? Has it helped you?
NF: I use a Fitbit Alta and wear it daily. It helps me track and meet my activity points. I like to track active minutes and steps per day. I usually increase my goals after I meet them, so I am always striving to get to that next level.
PS: What role did Weight Watchers play in your journey? Would you recommend it?
NF: Weight Watchers has played a vital role in my breast cancer journey and survival. If I hadn't lost weight and still had all that extra weight on my body, I wouldn't have noticed the lump on my breast. I was able to catch it early, and proper nutrition was helpful. Project L.I.F.T. is a huge factor in helping women know that they can lose the weight. It might not come off as fast as you want, but it can happen. I am proof of that. I lost weight while on treatment, and Project L.I.F.T. gives survivors the encouragement they need to do that. You can have a life and feel beautiful after cancer.
PS: What advice do you have for anyone starting out on a weight-loss journey?
NF: Take it one day at a time. It's not going to happen overnight, and you have to stick with it. The Weight Watchers meetings were the most helpful in my journey because you get to see people that have gone through it and have made it to their goal, which is the most encouraging thing. It helps you get ideas from other people on what worked for them. Don't stop! Put yourself first and take that time for yourself.
Image Source: Nicole Ferguson