Cauliflower Grilled Cheese and Gazpacho
Cauli-Grilled Cheese and Gazpacho
Looking for a healthy twist on grilled cheese and tomato soup? Make this cauli-grilled cheese and gazpacho to satisfy your craving.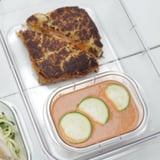 Ingredients
For the sandwich:
24 ounces riced cauliflower
1/2 cup water
2 egg yolks
Salt and pepper
2 slices cheddar cheese
For the gazpacho:
2 tomatoes
1/4 zucchini
3 tablespoons red wine vinegar
Juice of 1/2 lime
4 tablespoons olive oil
Salt and pepper
Directions
For the sandwich: In a large microwave safe bowl combine the riced cauliflower and the water, cover with plastic wrap and microwave on high until cooked - about 8 minutes. Drain the cauliflower and get it as dry as possible, using cheesecloth or paper towels. Get as much of the moisture out of the cauliflower and put it back in the large bowl. Add the egg yolk, salt and pepper, and mix them with the cauliflower until the mixture clumps easily in your hand. Separate the mixture into two parts. Line a tray with parchment paper and shape each part of the cauliflower mixture into a square resembling a piece of toast. Carefully flip the cauliflower "bread slice" onto your hand, and into a hot medium sized skillet. Repeat with the other "slice." Cook on both sides until lightly browned, flipping the cauliflower bread slices very carefully, about 3 minutes each side. Add the cheese slices onto one "slice" and add the second "bread slice" on top of the cheese. When the cheese starts to melt, flip the sandwich one more time and continue to cook until the cheese is completely melted, about 2 minutes.
Slice into 4 pieces and serve with gazpacho.
For the gazpacho: In a blender, combine all of the ingredients except the oil. While those blend, slowly add the oil in a thin stream.
Divide between 2 glasses and serve immediately.
Information
Category

Main Dishes

Cuisine

North American