Chocolate Avocado Truffle Recipe
Decadent 4-Ingredient Chocolate Avocado Truffles
The following post was originally featured on Eating Bird Food and written by Brittany Mullins, who is part of POPSUGAR Collective.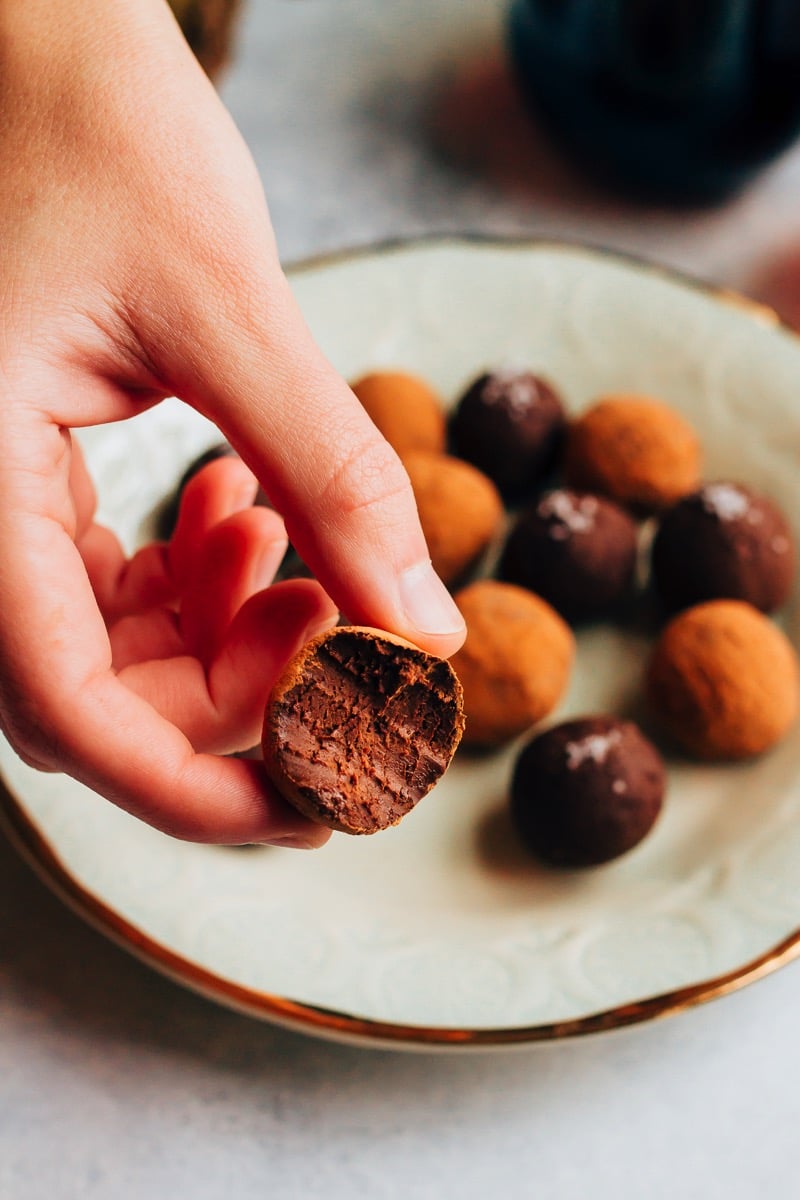 No one will never guess these decadent 4-ingredient chocolate avocado truffles are made with avocado instead of heavy cream. As long as you use dairy-free chocolate chips, these creamy truffles are gluten-free and vegan!
I hope you had a lovely holiday weekend! Isaac has been sick over the past few days so that's been a bummer, but we've made the most of it. We had Indian food for dinner on Friday night with friends, celebrated Christmas with my family on Christmas Eve, had a nice Christmas morning at home just the two of us, and then spent Sunday night celebrating Hanukkah with Isaac's family. It was perfect… just went by too fast.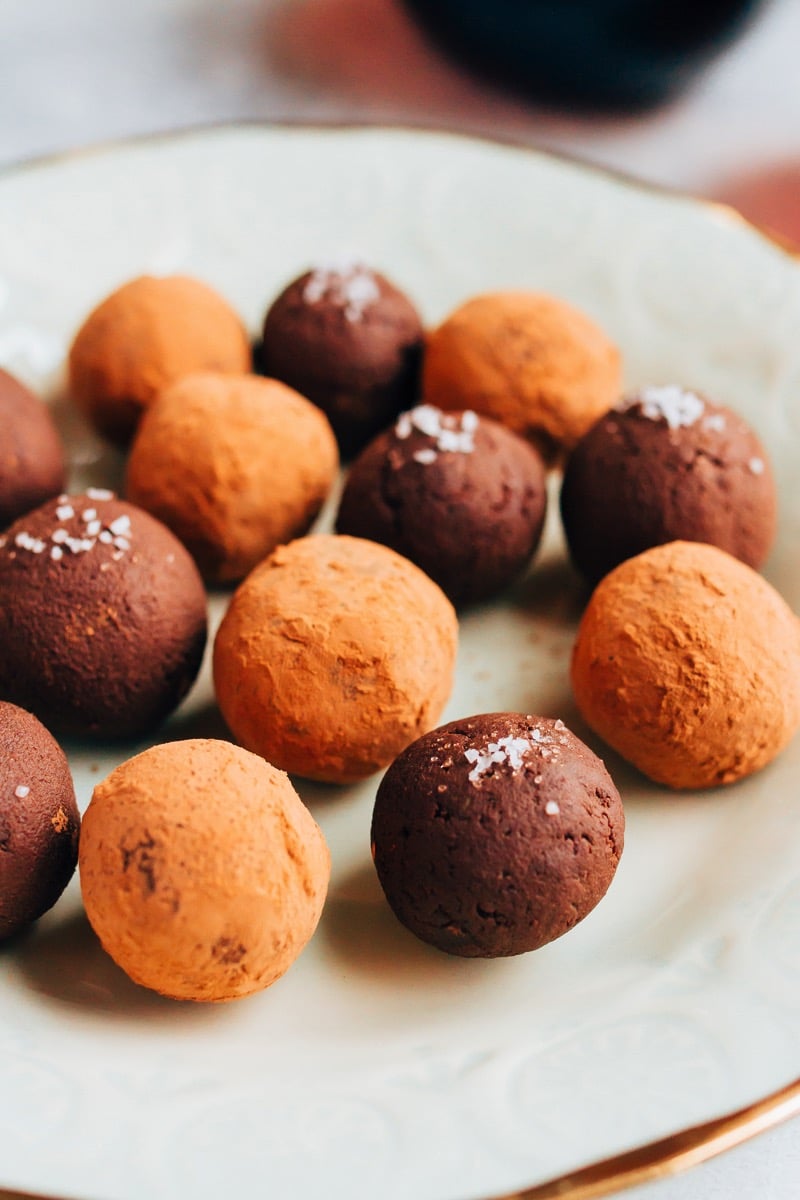 I am excited for this coming weekend — both the celebration and the excitement of a new year. 2016 was fine, but I'm ready for a fresh start. Plus, January is always a great month for Eating Bird Food. Everyone is jumping back into healthy habits and/or getting started with a brand new health-focused plan and I love being a resource for that.
The Healthy Holiday Challenge I ran this year has one week left and I've been thinking about starting a January healthy habit program for those that are interested. Through the holiday challenge I've realized that this sort of program, one that focuses on habits (i.e lifestyle changes) works so much better than the diet approach with strict rules about eating, a meal plan, etc. With this type of approach you're focusing on what you CAN DO rather than what you can't have. It's a mindset change that leads to positive lifestyle changes and it really works.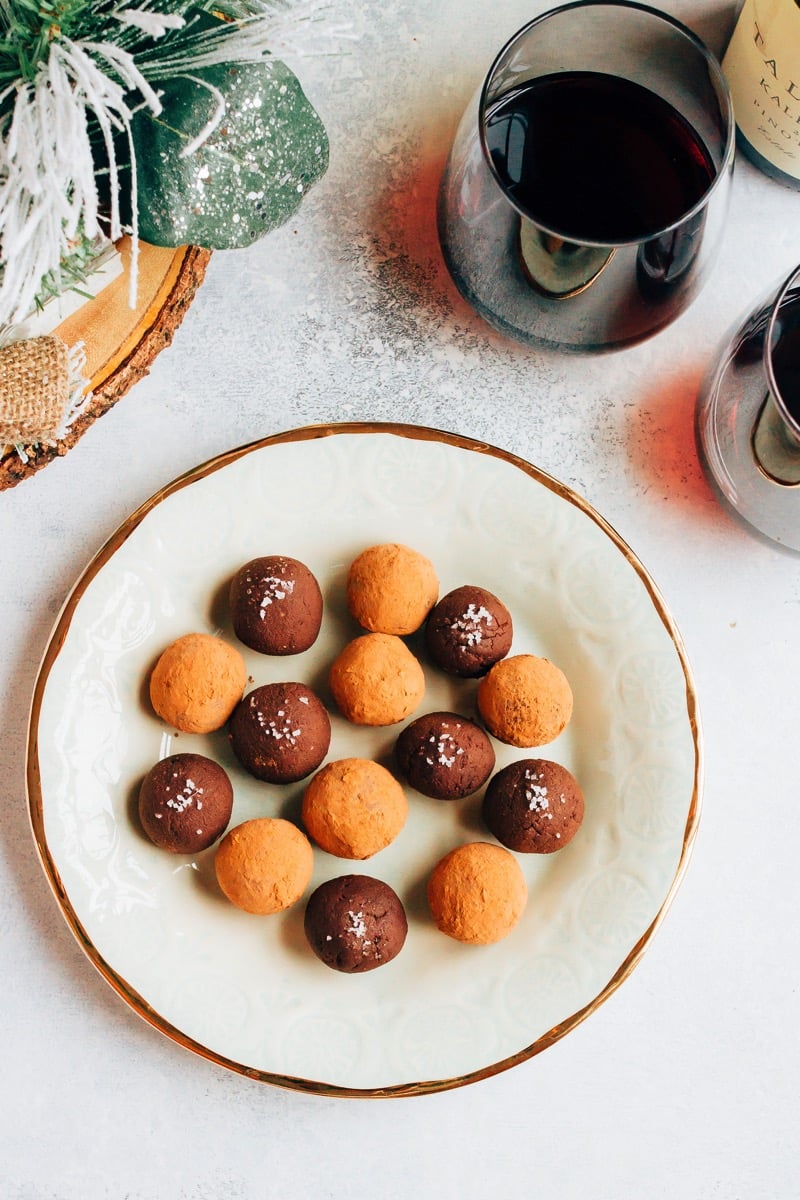 All that said, we're still in celebration mode over here and I have another dessert recipe to share — 4-ingredient chocolate avocado truffles! They're made with avocado instead of heavy cream, but you can't taste the avocado at all. All you taste is creamy deliciousness.
Maria and I created this recipe back in August, which feels like years ago at this point. But I wanted to take some time to test the recipe to make sure it was perfect and then decided to wait for the holidays to post it.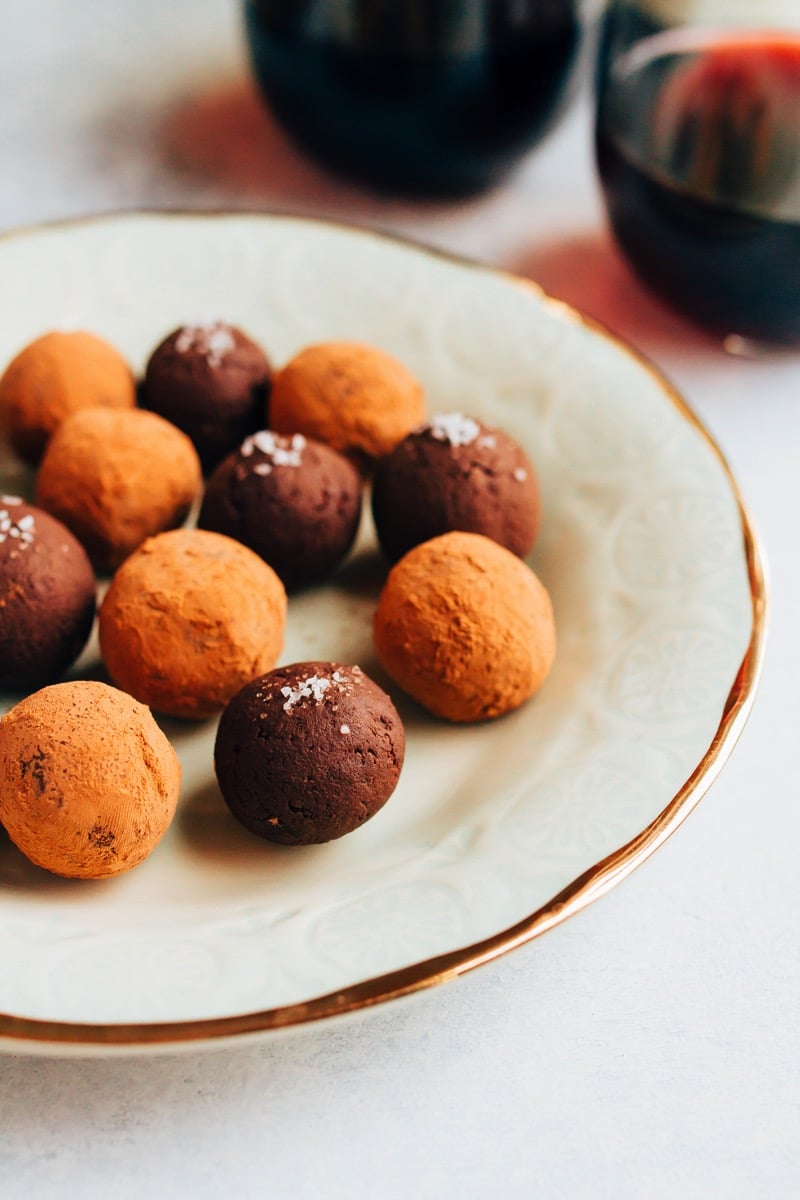 And I'm glad I waited because the chocolate avocado truffles have now been taste-tested by numerous people and everyone loves them. Plus, they're the perfect dessert for New Year's Eve parties or if you're planning ahead, they also make a great Valentine's Day treat.
You can either coat each truffle in cocoa powder or simply top them with coarse sea salt. We did a mixture and both are delicious!
Chocolate Avocado Truffles
Eating Bird Food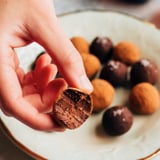 Ingredients
1/3 cup mashed avocado (about 1/2 an avocado)
1/2 cup dark chocolate chips (I used Enjoy Life)
Cocoa powder
Sea salt
Directions
Add avocado and a sprinkle of sea salt to a food processor and pulse a few times to combine.
Melt chocolate chips by placing them in a small microwave-safe bowl and microwaving for 30 seconds. Stir and microwave for another 20 seconds or until all the chocolate chips have melted. (You can also do this with a double boiler). Pour melted chocolate into food processor with the avocado and pulse until mixture is completely combined and avocado is no longer visible. If you don't have a food processor you can mash the avocado with a fork and combine with the chocolate until smooth and lump-free.
Place truffle mixture in the fridge to set for 30 minutes. Once the mixture has firmed up a bit, remove from fridge and make the truffles by rolling a tablespoon at a time into a 1-inch ball. You should get about 10 truffles. Fill a shallow bowl with cocoa powder and roll each truffle until coated. Place on parchment paper. If you're going the sea salt route, skip the cocoa powder and simply sprinkle a few sea salt flakes on each truffle. Store in the fridge until ready to serve.
Information
Category

Desserts, Chocolate

Cuisine

North American

Yield

10 truffles