Freya Sports Bra Review For Large Breasted Women
Gear Review: Freya Sports Bra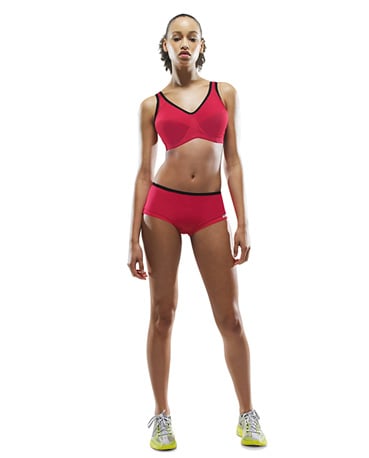 When you're heavy on top, finding a sports bra is downright frustrating. Most aren't made for women who are over a D cup — let alone DD-H. Even if you do manage to squeeze yourself into one, you end up with a very unattractive uniboob and barely there support. When Freya — one of my favorite bra companies — came out with an active line, I was overjoyed. (Without divulging too much, I have a small ribcage at 30 inches with an ample bosom.) Freya gets women with larger bust sizes. They even understand that some women have a large cup size but can still be small in the frame.
The look. The Freya Active 4002 underwire sports bra ($60) is not pretty, but most bras in my size aren't. More boob means I need more support, which means more fabric. The red version with the black trim is the most stylish and sporty of the bunch. But the rest of them (black, white, nude) have a sort of 1950s bullet bra pinup girl look to them that is kind of cool. If you don't need the full support of an underwire, they also offer a soft cup version for sizes 28-40, C-H.
The fit. Talk about support — nothing is moving in this bra. Both the bottom band and underwire provide amazing support without suffocating you. The wide straps have a slight padded feel to them, which is an added plus for comfort. But my favorite part is that it's an encapsulation bra. Most sports bras keep you in place by pressing your breasts firm against your chest. Encapsulation bras surround and support each breast individually instead. This is awesome because there is no uniboob — quite the opposite, in fact. You are lifted and the natural shape of your body is still apparent. I also like that there are four closure settings on the back. As the bra stretches out, you can move the hook a few times before having to buy a new one. It's also made from a thicker material than a normal bra, which adds to the comfort and durability of the bra. It's available in sizes 28-38, D-H.
Performance. This bra gets a solid A+ from me. Because of its CoolMax fabric, it wicks away sweat and also dries extremely fast. There're also mesh panels on the back of the bra that help keep you cool when wearing it. But what's most important is that I am totally and utterly supported when I wear my Freya sports bra. Whether I am bending over in a yoga pose, climbing, or jogging, my girls stay lifted. It's also built to last — the bras I bought a year ago still feel new and I haven't had to replace them yet.