Hasselback Chicken Recipe
All You Need is 1 Pan to Make This Paleo Chicken
Using Paleo-friendly ingredients, our friends at PaleoHacks created a savory, one-pan chicken recipe.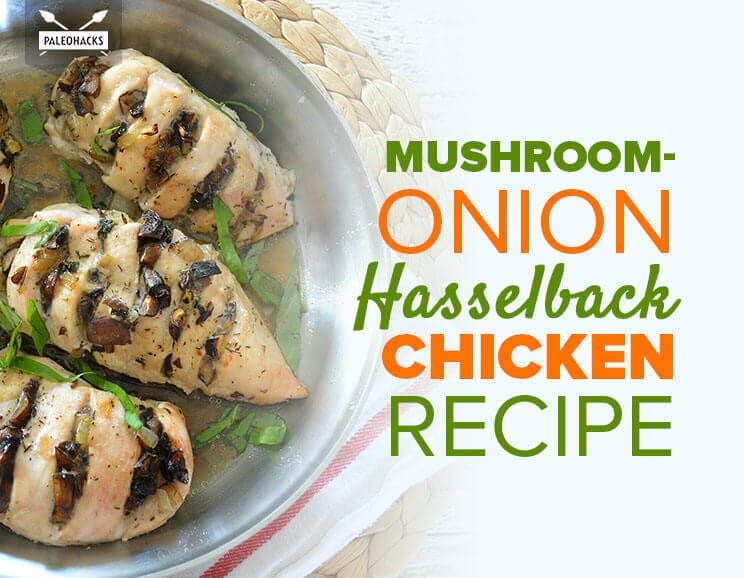 A savory hasselback chicken stuffed with mushrooms, onions, and herbs for an aromatic, one-pan dish that feeds a crowd.
The "hasselback" technique simply involves making small slices in anything from sweet potatoes to chicken and even apples. If it can be sliced, it can be hasselback'd! You then fill those slits with whatever your heart desires. The end result is a dish full of flavor and a beautiful presentation. This recipe takes plump chicken breasts and fills the nooks and crannies with tender mushrooms and sweet onions. The chicken soaks in the flavors of the mushrooms and onions, making for an especially savory dish.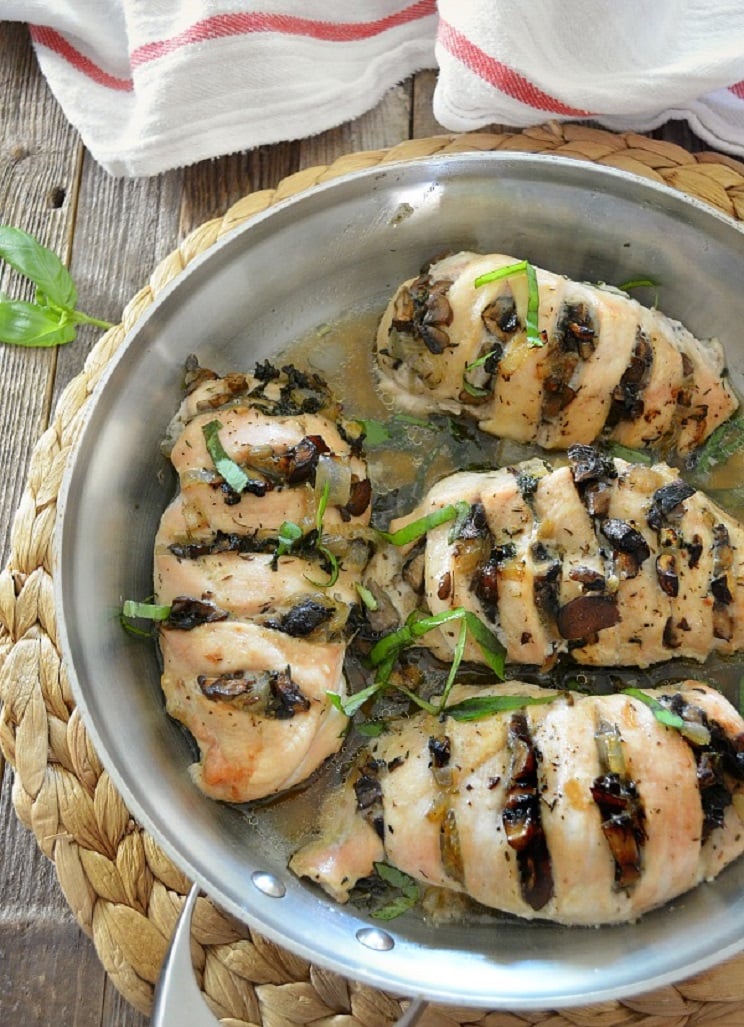 Mushroom-Onion Hasselback Chicken
PaleoHacks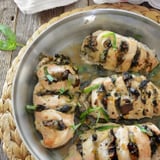 Ingredients
4 large chicken breasts
1 cup portobello mushrooms, finely chopped
1/2 cup sweet white onion, minced
1/2 cup basil, chopped
1 teaspoon garlic, minced
2 tablespoons grass-fed butter
1/2 cup chicken broth + 1/3 cup for oven
1 teaspoon dried thyme
1 teaspoon sea salt
1/4 teaspoon black pepper
Directions
Preheat oven to 400°F. Melt grass-fed butter in an oven-safe pan over medium heat. Add mushrooms, onions, and garlic. Cook until onions soften, about 7 minutes.
Add 1/2 cup chicken broth, basil, thyme, sea salt, and black pepper. Simmer for 5 minutes, stirring occasionally. Remove from heat and set pan aside.
Slice chicken breasts across about 1 inch apart, without cutting all the way through. Spoon mushroom and onion filling into each slice.
Place chicken breasts back into pan with any leftover mushroom and onion mixture. Add 1/3 cup chicken broth.
Place pan in oven on center rack. Bake 40 minutes. Garnish with additional chopped basil.
Information
Category

Main Dishes

Cuisine

North American

Yield

4 Servings

Total Time

1 hour, 1 minute, 59 seconds