How Jewel Rouge Used Fitness to Adapt to New York City
Here's How Fitness Helped This Veteran Transition to Civilian Life in NYC

The benefits of fitness go far beyond the physical, so we've partnered with
Under Armour
to give you the confidence to move.
Jewel Rouge is no stranger to stepping outside of her comfort zone. At just 19 she joined the military, and she served for four years and five months, doing daunting, emotional work in Iraq as a chaplain's assistant and bodyguard. Since leaving in 2011, she has pursued — and achieved — her goals to be a model and massage therapist and to live in New York City.
Throughout, Jewel's professional and personal relationship with fitness has carried her through. She works out a solid six days a week, wherever and whenever she can, and uses fitness as a way to physically expel the symptoms of anxiety, stress, and depression that she carries from the time she served. "Even though I excelled in the military, it wasn't a passion of mine," she says. "It was a very dark time in my life. I went on autopilot and let myself go because my job entailed other people's emotions and lives — I wasn't really required to have mine. Since leaving, I have been trying to get back to the roots of me."
We found out how she is working on that, day by day, and how fitness has helped her adjust to her new life.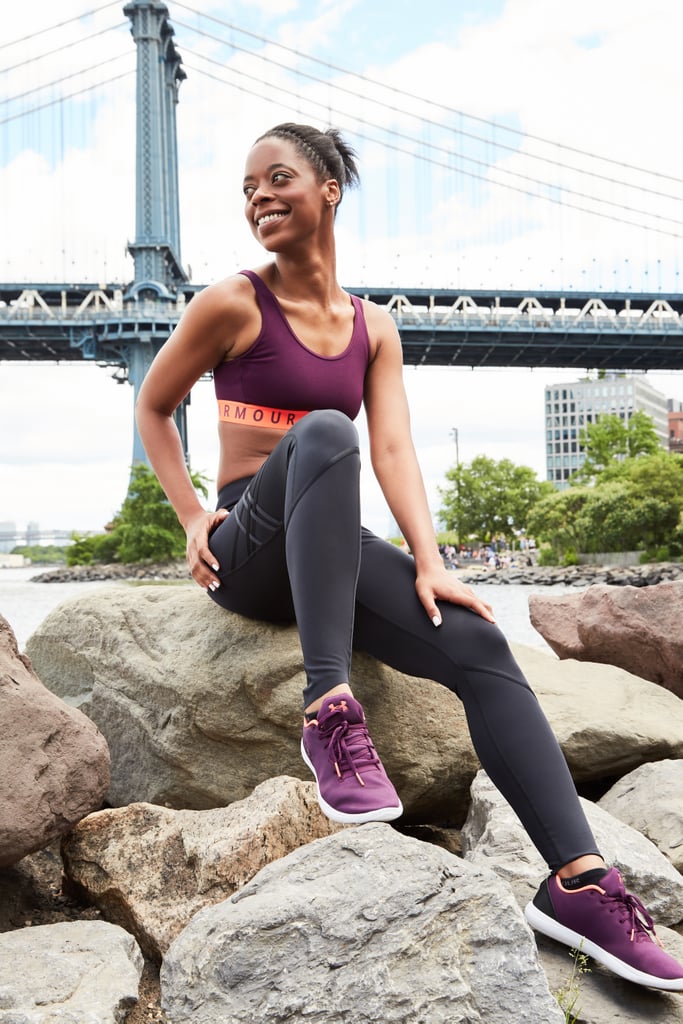 Jewel's family has a military background, which made her reconsider her first passion: dance. She lived with her sister and brother-in-law, who was stationed in Texas ("I'm more Texan than anything else!" she says), and competed in dance competitions all over the state. But a major disappointment made her reconsider her first love. "I tried out for a dance company in New York City, but I got cut at the very end," she says. "That discouraged me and compelled me to go into the military. But in retrospect, I felt that I should have stuck with dancing and pushed for the acting and modeling that I'm doing now."
While fitness was a professional requirement in the military, for Jewel it was also a form of therapy. "It kept me sane and kept my mind focused," she says. "Any time I felt stressed or if I was in a situation where I had to suppress my emotions, I'd take all of that and go into the gym and wear it off. That's pretty much what I do now as well."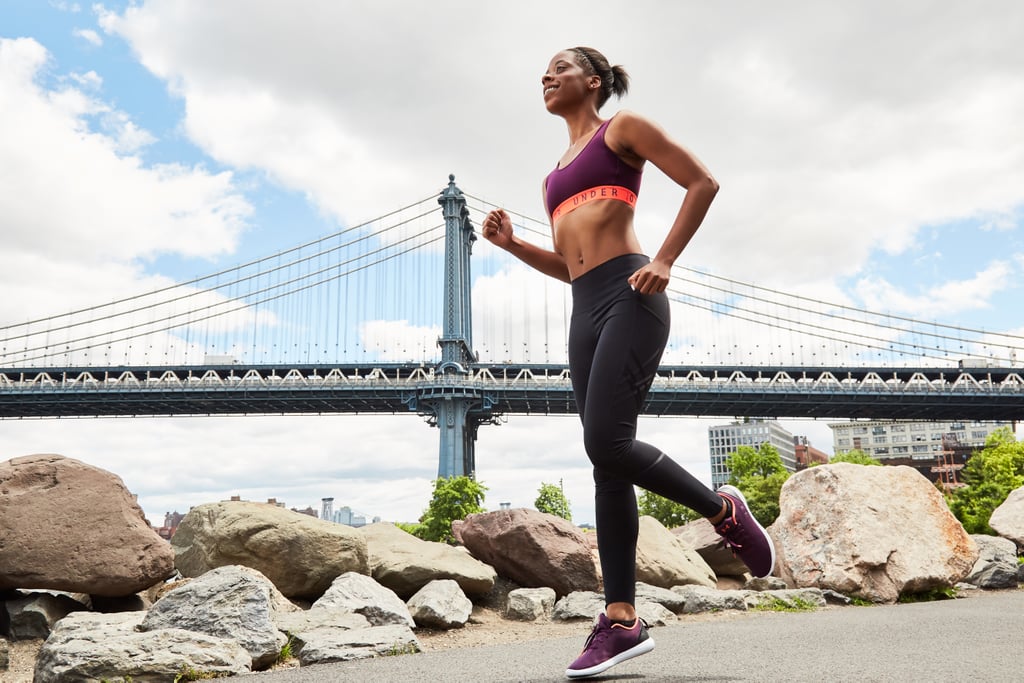 Jewel's fitness routine is anything but; her workout could involve hours of cardio or some simple meditation, strengthening, and elongation exercises. There is no predetermined routine, as she bases her workout on what her mind is telling her body. "Sometimes my stress will go into my back, and sometimes it will go into my shoulders, my neck, my thighs," she says. "When it goes into my thighs, it makes me feel very heavy, so I have to do a lot of running. I can feel all of that stress go away, and it brings clarity to me. I feel like I'm rejuvenating myself and bringing myself back to my normal state."
The one constant is Under Armour gear, which puts her in the right mindset to leave it all on the mat, treadmill, or hotel floor. "If my attire is loose, I don't feel secure," she says. "I like body conscious — I like my gear to be close to my skin. When I feel that, I can give my all. Under Armour makes me feel like I have nothing on, which is perfect. It makes me feel like a fish in water."
Jewel was last stationed at West Point Academy in upstate New York, which was the push she needed to try NYC again. Not only was she returning to civilian life, but she also decided to make up for lost time by pursuing acting, modeling, and massage therapy at the same time with Summer stints in South Africa to build up her modeling book. "I'm very ambitious!" she says.
Adjusting to living in the Bronx was tough. "It was very scary," she says. "Everyone, everything . . . America just felt very foreign. I felt like I didn't relate to a lot of people. I felt alert in a way that most people weren't. I felt like a sore thumb rather than trying to fit in. It was uncomfortable."
But still she persisted, and she succeeded. She graduated from college and became a licensed massage therapist while continuing to focus on her burgeoning modeling and acting career. "I felt like I was making up for lost time."
Jewel's transformation is far from over, and she continues to navigate old and new stressors every day. But she has zero regrets. "I lost a part of myself in the military, for good reason," she says. "If I had been as emotional as I am, I wouldn't have been effective. There were a lot of things that happened on my watch that I just wouldn't have been able to handle."
Best of all, the outlook for recovering the person who she was before 2007 — as well as a whole new side of herself — is bright. "I'm a lot more outgoing; I'm able to talk about myself more easily," she says. "I'm managing my stress levels. There's been a drastic change. I'm not 100 percent yet, of course, but I'm getting there. I'm happier." This is the power of fitness.
Credits: Photography: Diggy Lloyd; Art Direction: Colleen Lloyd; Production: Cassie Doyle; Talent: Jewel Rouge