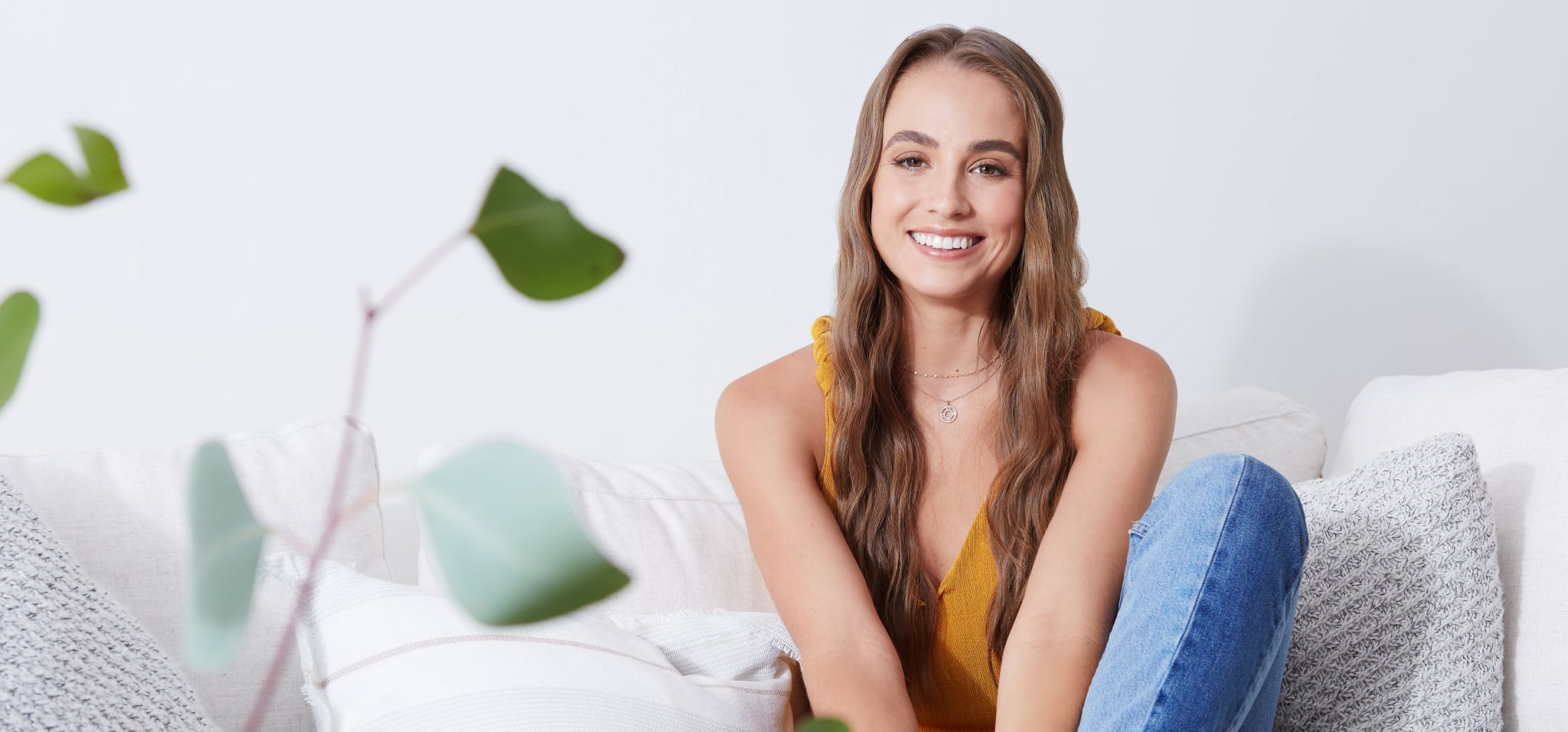 Image Source: POPSUGAR Photography / Hannah Heinrich

We've partnered with
Pronamel®
to share social media star and NBA 2KTV host Rachel DeMita's advice about fitness, self care, and turning your passions into a career.
Rachel DeMita gives a whole new meaning to the phrase "do what you love." Even after the former Division I basketball player left the court, DeMita found a way to turn her passion for the sport into a career — first with her YouTube vlog, then later as the host of NBA2KTV.
DeMita's passion for the sport has allowed her to rack up quite the social following: she has a whopping 1.4 million followers on Instagram, 305,000 followers on Twitter, and 232,000 subscribers on YouTube. Do some digging and you'll find a few dozen fan accounts, as well. Essentially, Rachel DeMita has made a career out of being herself — and business is booming. We caught up with the social media sensation to hear about her basketball background, fitness routine, and how she stays mentally and physically healthy when she's on the go.
None of this would have been possible if DeMita hadn't fallen in love with basketball as a teenager. She received a scholarship to college to play the sport, although she ended up leaving the team during her freshman season to focus on academics. Years later, DeMita picked up a ball again, and realized she'd never stopped loving the game.
Though her basketball IQ definitely comes in handy as the host of NBA2KTV, DeMita said that the sport's biggest impact has actually been on her work ethic. "Basketball taught me so many things that translate to my work life today, like the power of hard work, importance of being on time, and how to be mentally and physically tough," DeMita said. Plus, she still has the skills of a former athlete: DeMita recently competed in both the 2017 and 2018 NBA All-Star Celebrity Games alongside professional athletes and Hollywood A-listers.
Saving Time For Self-Care
As much as DeMita enjoys her job, she admits that the constant travel and neverending hustle can be exhausting. "If I didn't love my work, I couldn't keep up with my hectic schedule," DeMita said. "Being excited to go to work is so important, and that alone can push me through the days I'm feeling tired."
DeMita also makes self-care a priority — if she's not in tip-top shape, she knows her performance will suffer. "A healthy diet, regular exercise, and as much sleep as I can get is also super important to keep me going," she explained. Even when her schedule feels out of control, DeMita makes time to eat balanced meals, wash off all her makeup, apply night cream before bed, and get at least eight hours of sleep each night.
She also keeps her smile pearly white by brushing with a whitening toothpaste that strengthens and protects enamel, like Pronamel® Strong & Bright Enamel. "I brush my teeth at minimum three times a day," DeMita said. "I've had braces twice and am obsessed with keeping them healthy and white."
Even though she has accomplished so much already, DeMita always has her sights set on the next goal. Next on her list: continuing to grow her YouTube channel and trying her hand at producing movies or TV shows. She's always thinking about her next vlog, social media post, or hosting gig to keep her competitive edge. On the rare occasions when she really unplugs, DeMita unwinds by watching TV shows and viral videos with her cat Daisy.
DeMita's drive also extends to her fitness routine. "Deep down, I will always be an athlete and I love training like one," DeMita said. "My confidence is at its highest when I am physically in my best shape."
Like so many pieces of DeMita's career, her determination goes back to her time on the court. Just take her personal motto: "Work hard, grow tough skin, and be kind." That's a phrase that is just as applicable in her work today as it was in her athletic career.
Credits: Photography: Hannah Heinrich; Art Direction: Emily Baker; Styling: Anna Schilling; Makeup: Carly Fisher; Hair: Sara; Production: Sasha Bar-Tur, Bryan Carroll; Talent: Rachel DeMita