Stylish Workout Shoes For Every Day
Fitness and Fashion Enthusiasts, Rejoice — This Shoe Will Easily Take You From Workout to Weekend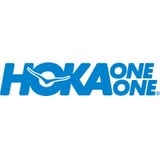 It's not often you find a fitness shoe that doubles as a stylish lifestyle shoe. Teaming up with
HOKA ONE ONE
, we're proving that the dynamic Cavu shoe is not only ideal for workouts and runs, but is also a must-have street style option.
Whether you're a fitness fanatic or still finding your groove, you probably know that first and foremost, a workout shoe should be comfortable and performance-driven. But prioritizing one thing often means letting something else slide. From ensuring ample grip and mobility to fully supporting the entire foot, it's no wonder the look and design of a workout shoe can sometimes feel overlooked.
In a perfect world, your favorite training shoe could also double as your favorite lifestyle sneaker, seamlessly marrying efficiency and fashion while saving space in your gym bag. With HOKA ONE ONE, that world already exists — and the CAVU 2 shoe is at the center of it.
Effortlessly taking you from your conditioning class to your BFF's birthday bash — no shoe swap required — see how we're styling the shoes for Summer below.
As a responsive and light everyday flyer shoe, your options are limitless with the CAVU 2. Not only is it ideal for indoor and outdoor runs — after all, that's what it was created for — it also serves as a fierce everyday shoe that looks just as fantastic with a sundress as it does with your running tights. How's that for innovative?
For an easy-breezy Summer brunch look, slip into an airy midi dress and let your footwear do the talking with a bold pop of color — perfect for brightening up an otherwise neutral look. Elevate your ensemble with a chic top-handle bag and elegant hoop earrings. As for comfort, have no fear — the CAVU 2's PROFLY™ cushioned midsole will keep you supported and lifted long after your run has ended.
Dynamic in the gym and versatile in your closet, the CAVU 2 allows you to confidently shatter your impossible, no matter what the day has in store. Armed with lightweight mesh, the shoes offer a comfortable fit with optimal breathability, ensuring they won't weigh you down during sprint intervals — or a night out.
In purple ombre, the CAVU 2 makes a style statement worthy of rooftop views. Dress them up with an edgy LBD and standout accessories such as cat-eye sunglasses and a bright lip. We love that these shoes are infinitely more comfortable than heels but deliver just as much of an impact. The best part? You won't skip a beat after your morning workout!
An x-shape design and siping provides traction for the CAVU 2, which are essential features during high-energy workouts but also necessary in everyday life. Functional and stylish, it's easy to see why these kicks are a no-brainer.
Stashing a change of shoes in your gym bag not only takes up precious space, but also adds extra bulkiness and weight. The CAVU 2 ensures that once class has ended, all you have to do is throw on a refined shirtdress and you're good to go. This pair has a playful and unexpected splash of color but is still neutral enough to go with just about anything. For added polish, a colorful bag and bold jewelry will have you feeling uberstylish for everything from a friend meetup to running errands.
Even during your most intense workouts, the CAVU 2 helps you stay agile with responsive cushioning. Out of the studio, the sleek design and unique colorways help you stay fashion-forward even when comfort is your top priority.

Important for when you're on your feet all day, the shoe provides soft-ground contact — perfect for an outdoor festival or concert. In black, the CAVU 2 looks especially chic and up for anything. Combine with billowy shorts and a tee for a weekend-ready look that's equal parts sporty and on trend.