US Olympic Speed Skater Erin Jackson Interview February 2018
How Olympian Erin Jackson Went From Novice to History-Maker in 1 Month's Time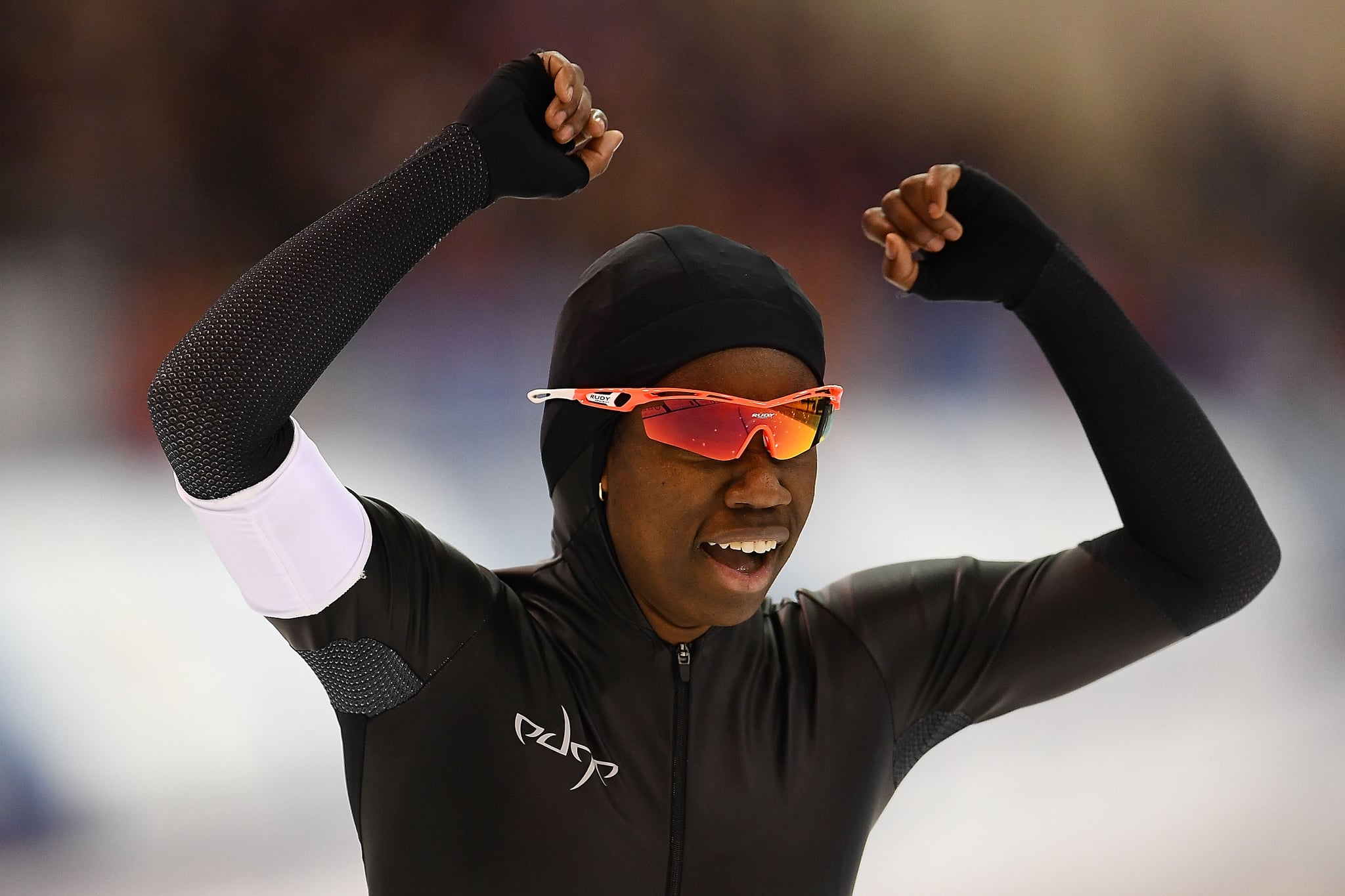 By now, you've surely heard Erin Jackson's name. If you're like me, you've probably already got your own #IceIceBaybee tee, but in case you've missed the headlines, allow me to catch you up. Jackson is headed to Pyeongchang, South Korea, as the first-ever African-American woman to make the Olympic long-track speed skating team. Oh, and to top it off, she's been training for just four short months.
I know.
Jackson happens to be friend of mine from high school — and the only reason I survived AP Statistics — and we had a chance to catch up shortly after the trials. As the self-proclaimed "slowest and laziest person" (her words, not mine — I don't buy it, either), Jackson's Olympic achievements are as shocking and exciting to her as they have been to the athletic community at large. After all, most other athletes on this year's team have been training for years; Jackson hadn't even touched the ice until 2016. But physical accomplishments, unrivaled humility, and an ability to break away from the pack both literally and figuratively are, unlike speed skating, nothing new for the 25-year-old. And while the ice may have been uncharted territory until recently, Jackson's skating career has been anything but short.
At age 9, Jackson began roller figure-skating, also known as artistic roller skating. Think all the spins and leaps of figure skating, just off the ice. That passion morphed into an inline-skating obsession around the time she turned 10. Coached by Renee Hildebrand, who also coached Olympians like Brittany Bowe and Joey Mantia during their inline days, Jackson began raking in medals in her teen years, taking home five at the 2008-09 Junior World Championship alone, including a gold on the 500m Track.
But this massive early success never went to Jackson's head. She may have snagged the title of "world champion" before becoming a legal adult, but if you asked her to drive three hours in the pouring rain to accompany you to a lacrosse game, she'd still be on the muddy sidelines cheering you on (as the friend who asked her to tag along for that lacrosse game, I can personally attest to that fact).
Not long after graduating high school at the top of her class and heading to the University of Florida to study Materials Science and Engineering, Jackson decided to add another sport on wheels to her already packed schedule. In 2012, she began playing roller derby and quickly fell in love with the contact game. Unsurprisingly, she was a natural. After a rookie year playing with the Ocala Cannibals, Jackson joined the WFDTA-ranked New Jax City Rollers as a jammer in 2013 and snagged the Tournament MVP Award at the 2014 Division 1 Playoffs the next year.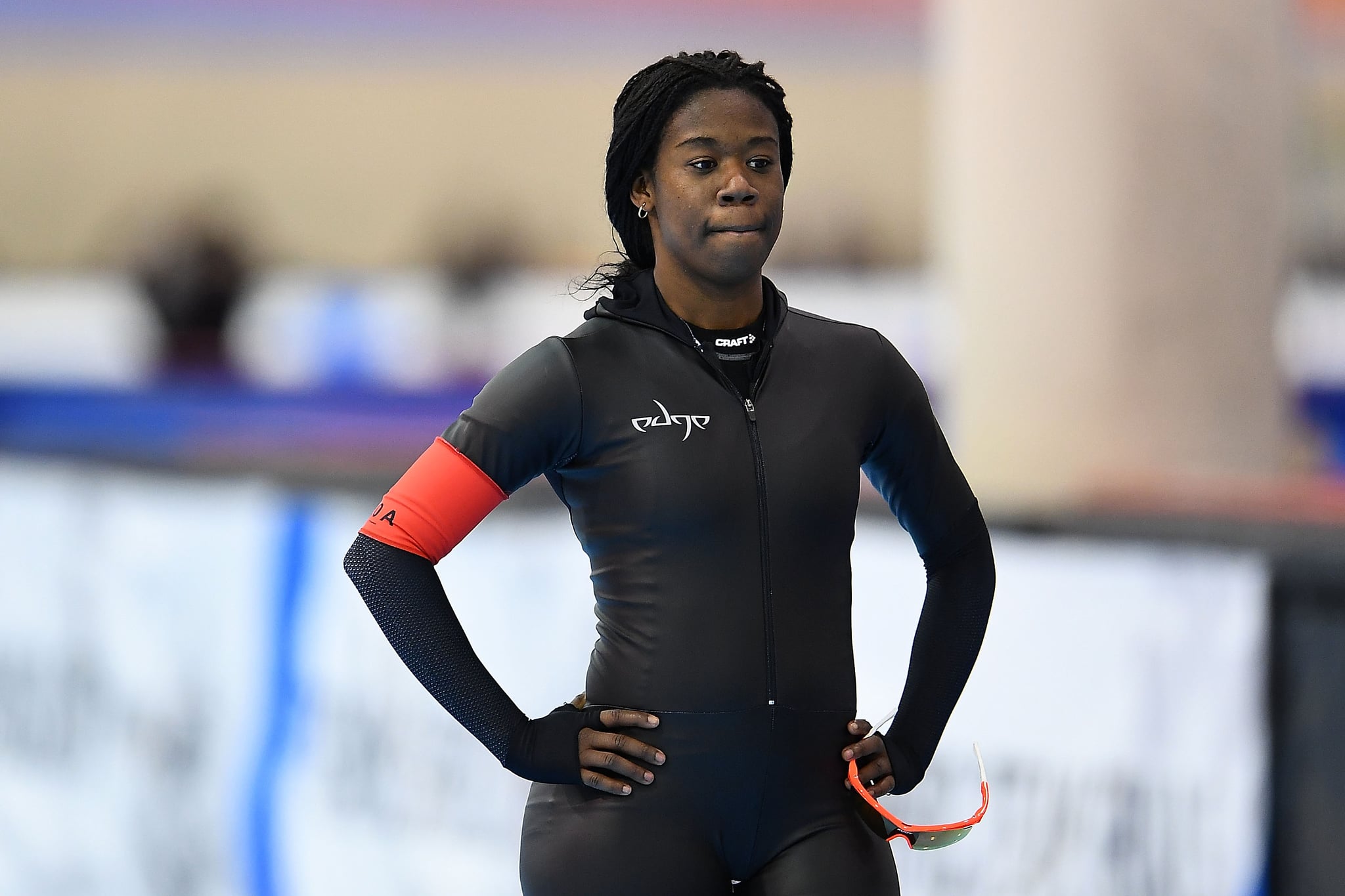 With two roller sports on her plate and an engineering degree in hand, the question, of course, is what inspired Jackson to trade her inlines for ice skates.
"It had been something that I'd thought about since 2005, really, when a lot of my [inline] teammates and friends started switching over to ice," Jackson explained. "But I knew I wanted to get my degree first, and . . . well, the joke is . . . I didn't go to the ice because I didn't like being cold."
Despite her attachment to inlines and Florida sunshine, however, Jackson planned a trip out to Utah at the start of 2017 to give the ice a go.
"[Being on the ice] was pretty weird, but I knew I'd beat myself up if I didn't give it a shot," she said. "I was like, 'I'm just going to go out there for a month, say I did it, and then keep going about my life.'"
Then she qualified for the Olympic trials, just one month after taking to the ice. This is about the amount of time it took me to master "tapping it back" in Spin class; it's fine. Even then, it wasn't until September of 2017 that Jackson fully committed to speed skating and moved to Utah to train with Coach Ryan Shimabukuro. Fast-forward to Jan. 5, and — as we all know — Jackson made history when she landed a spot on the Olympic speed skating team.
"I'm super excited for the opening ceremonies, to walk out with my country," she said. "And obviously I'm super excited to get out there for my race. It's all really exciting."
In addition to Jackson's wunderkind athleticism, she's also breaking records as one of the only women of color to be competing on Team USA. It's a responsibility she doesn't take lightly.
"Being an African-American, and being a woman, it's a unique situation for the Winter Olympics especially," Jackson explained. "I'm sure there are a lot of young people and women of color . . . who might watch events at the Winter Games and think, 'Wow, that looks like a really cool sport, but I don't see anyone like me out there,' and that might deter them from ever giving it a shot. So I'm just looking forward to being one of the people they can see and really relate to."
That said, her plans for the future stretch beyond Olympic dreams. Once the dust has settled and the closing ceremonies are complete, Jackson's hoping to head to grad school to continue studying engineering — another space in which women of color are largely underrepresented — and potentially pursue a career in bio-med. But for now, it's head down and skates on until her race in Pyeongchang. If you're interested, you can help Jackson get her dad to South Korea to watch her compete by making a donation or purchasing that #IceIceBaybee t-shirt here.