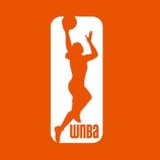 Figuring out what you want is a journey, so we've partnered with the
WNBA
to show you some inspiring paths.
"There are two constants in my life. Basketball and my family," says Washington Mystics star Elena Delle Donne (EDD). And she's done an amazing job prioritizing both.
EDD, 28, grew up in Delaware and played for the University of Delaware before joining the WNBA's Chicago Sky. Basketball helped EDD become comfortable with her height and identity, although at times she struggled and even took some time away from the game to find herself. Through family, perseverance, and, ultimately, a love of the game, she made her way back to basketball. And it's all come together, with EDD suiting up for her second season with the Washington Mystics. "I'm finally closer to home," she explains. "And being around my family is happiness for me."
Things weren't always so clear for EDD. Following high school, she committed to play for UConn, the women's basketball powerhouse. But after the first week on campus, EDD decided she wanted to be closer to home — and left her dorm in the middle of the night. She eventually enrolled at the University of Delaware and tried her hand at volleyball as a walk-on player.
"I always felt I was was kind of following the path everybody told me to go on," she told ESPN Magazine. She took a step back and asked herself: "What do I want to do?" EDD says she eventually realized that basketball was the path that she had chosen, and she decided to play hoops at the University of Delaware. But EDD also started to see new sides to her identity. "Stepping away from it helped me realize there's so much more to me than basketball," she told me. Though she joined the WNBA's Chicago Sky as the second overall draft pick in 2013, she says, "I stopped defining myself as only a basketball player."
Years later, the Washington Mystics small forward still pursues her own dreams, both on and off the court. "If the passion is there, you can attain anything," EDD believes. And she's the perfect example of that. In addition to winning the WNBA Rookie of the Year in 2013 and the WNBA MVP Award in 2015, EDD has found success as a children's book author. She writes the series Hoops, which features a young, very tall girl, Elle, who is learning how to become comfortable with her height.
It's something she knows about. By eighth grade, EDD was already six feet tall and today she is six-five. "When I was the middle school age, I so badly wanted to fit in," she admits. "I was so embarrassed about my height at times." Now, at 28 years old, EDD likes being different. "The different people in the world are the ones who achieve the most," she says.
On her own journey toward self-acceptance, EDD has had the support of her loved ones. EDD shares a special connection with her sister Lizzie, who is blind, deaf, autistic, and has cerebral palsy. "She's done more with her god-given abilities than anyone ever thought she could do," EDD says of Lizzie. "Spending time with my sister, really helps my focus and that helps my game," she says.
She also has the support of her wife. In 2017, EDD married her girlfriend Amanda Clifton, and the two remain close to EDD's family. Their wedding was the first same-sex couple to be part of The Knot's Dream Wedding. And the engagement was announced in Vogue. Together, they work on the Elena Delle Donne Charitable Foundation, which supports special needs research and victims of Lyme disease. The basketball player has a personal connection to both causes, since her sister was born with disabilities, and EDD herself contracted Lyme Disease in 2008. Another challenge she has faced with focus and determination.
When it comes to basketball, EDD believes her home-body tendencies actually make her a better player. Now that she's closer to home, she says: "I feel like I can now truly compete at the highest level and be me." She's pushing to win a championship this year — the perfect homecoming prize.