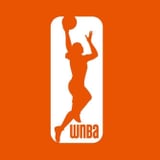 Smashing goals is not about luck, so we've partnered with the
WNBA
to show how far hard work can take you.
If the first thing that comes to your mind when you hear the name Skylar Diggins-Smith is hoops star, you're right. The 5-foot-9, two-time WNBA All-Star and Dallas Wings point guard is one of the most talked about professional women's basketball players today. And as the 2018 WNBA season tips off, Skylar is already being touted as a potential MVP.
But it is easy to be blinded by her on-the court statistics and not actually see the woman behind them. She's the woman who appears on the pages of glossy fashion magazines and swimsuit editions of sports magazines. She's the woman who founded Shoot 4 The Sky Basketball Camps to not only teach kids how to play basketball, but how important nutrition is for their overall well-being. And she's the woman who was just nominated for the 2018 BET Award for Sportswoman of the Year.
Sure, competition comes naturally to Skylar, but that's not mutually exclusive of some good old traditional girl time. "A lot of times they don't talk about women athletes — they don't show us having both," she told ESPN Magazine. "But you can have both. You can be a feminine woman and a beast on the court. You don't have to choose." It's a message Skylar is living, not only reciting. Just take a look at her Instagram page where more than 1 million followers see how she blends her femininity with her athletic prowess on a daily basis.
"Growing up in Indiana, you knew the game of basketball, that's what you knew," the South Bend native explains. The daughter of a basketball coach, Skylar grew up in basketball country, so her obsession with the game wasn't really that much of a surprise. In first grade, she walked through the doors of the Boys & Girls Club of St. Joseph County in South Bend and they couldn't get her to leave. "I remember telling my mom, 'Just a few more minutes, just a few more minutes,' and her having to drag me off the court like every day," Skylar recalled when she was inducted into the Boys & Girls Club Alumni Hall of Fame in 2017.
Her loyalty to the Boys & Girls Club continues today, having recently taken kids from her new hometown of Dallas's club to a private screening of Black Panther. "A lot of the core values and things that I've learned stem from the Boys and Girls Club of America," she said. "I really developed my passion for not only basketball, but for community and giving back. That was a direct reflection of the people there."
If it sounds like Skylar never takes a break, that's because she doesn't. "I've always been hard on myself," she told Excelle Sports earlier this year. After a celebrated high school career, Skylar headed down the road to Notre Dame University where she twice led the Fighting Irish to the NCAA finals and finished her career as the school's all-time leading scorer. "I don't know that we'll ever have another player like her," her college coach, Muffet McGraw, told Notre Dame Magazine.
Picked third overall in the 2013 WNBA draft by the Tulsa Shock, Skylar was named to the All-Rookie Team that year. She returned for her second season even stronger than before, starting all 34 games that season and leading her team in scoring, assists, steals, and minutes, earning her a WNBA All-Star title, as well as the 2014 WNBA Most Improved Player Award.
The 2015 season was poised to be her best ever, but instead
Skylar
saw her world come crashing down. About halfway through the 2015 season, during a season-high 31-point performance, she collapsed on the court with 44 seconds left in the game. What was thought to be a sprained knee was actually a torn ACL, immediately putting an end to her third WNBA season and setting her up for immediate surgery and a year of recovery. Surgery and rehab were grueling, taking longer than she would have liked. "My rehab was tough,"
Skylar
shared. "It took me about 13, 14 months. It made me appreciate the game more." But having something to focus on got her through the process: "My only focus was getting back on the court to play my game, with my team."
The unwavering support of her team also helped push her to the finish line. "Skylar first and foremost is probably the hardest working athlete I've ever seen," Dallas GM Greg Bibb told WNBA.com. "She is the quintessential 'first in the gym, last out of the gym.'" And she's certainly not just hanging out while she's there. Skylar's routine includes four hour workouts that combine battle ropes, squats, box jumps, and kettle bells, not to mention on-the-court drills.

Now, with a full year of playing on her rehabilitated knee behind her and the 2018 season just underway, Skylar has one thing on her mind. "Our team is just trying to win a championship."