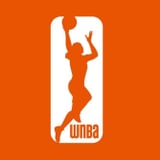 When you follow your heart, anything is possible, so we've partnered with the
WNBA
to show you the unpredictable.
On the basketball court, 6'6" Sylvia Fowles dominates. Her athletic power and impressive stats helped her become one of the WNBA's most valuable players. Off the court, though, she's unassuming. Sylvia's interests include knitting and drawing, and when she retires, she wants to be a mortician. If you thought you could judge Sylvia from her physical play, think again.
The youngest of five, the WNBA star grew up playing basketball against her three older brothers. They toughened her up and pushed her to be the best. "I think I was always eager to learn because I always wanted to impress," Sylvia says. "Anything they threw at me, I was like, I got this, I can do this." That attitude got Sylvia three Olympic gold medals, two WBNA Championships with the Minnesota Lynx, and last year's top individual prize as MVP. During her emotional MVP acceptance speech, Sylvia admitted: "It's a proud moment. All your hard work over the last 10 years has finally paid off."
Sylvia's determination also keeps her focused on the future. Today, at 32 years old, Sylvia is already preparing for her next career — hopefully as a mortician. When she's not balling, she's taking online classes for a degree in mortuary science in New York. Inspired by a negative experience with her grandmother's death during her childhood, Sylvia hopes to work on hair, makeup, and dress for the deceased. "My aim is to help the family get an accurate look at the individual for one last time," she says.
While it might not be everyone's idea of a dream job, Sylvia is motivated to do funeral work out of a desire to help people. She wants to help grieving family and friends process the death of loved ones. And she finds peace in the cool, quiet spaces of a mortuary. "It is relaxing for me," she told the New York Times. "A lot of people find it weird, but that's another place where I get my happy time. Any time I can be alone to not think about the sports world, that's very important time. That's when I grow a lot, to think about myself and others." Sylvia says in both basketball and funeral work, you have to bring your A-game. But one is fast pace, while the other gives you a chance to slow down: "In basketball, you have to be two steps ahead of your opponent. But as a mortician it's about going at your own pace and making things right."
Here's another thing you might not expect from one of basketball's toughest centers: she enjoys knitting. While she didn't start playing organized basketball until eighth grade, Sylvia has been knitting since she was 6. Today, it's another way to get a break from blocking shots or battling for rebounds on the court. "She has so much depth to her that a lot of people don't know," Bob Starkey, who helped coach Sylvia at LSU, told ESPN. "She is an excellent artist, very creative. She's very generous and gives back to her community. She has such a big heart, and never forgets anybody. Sylvia is just a very special individual."
In basketball and life, Sylvia strives for constant improvement. "Yeah, I'm getting older," she says, "so how can I play smarter?" We can't wait to find out.