Workouts For Introverts
If You Don't Like Being Around People, These Are the Workouts For You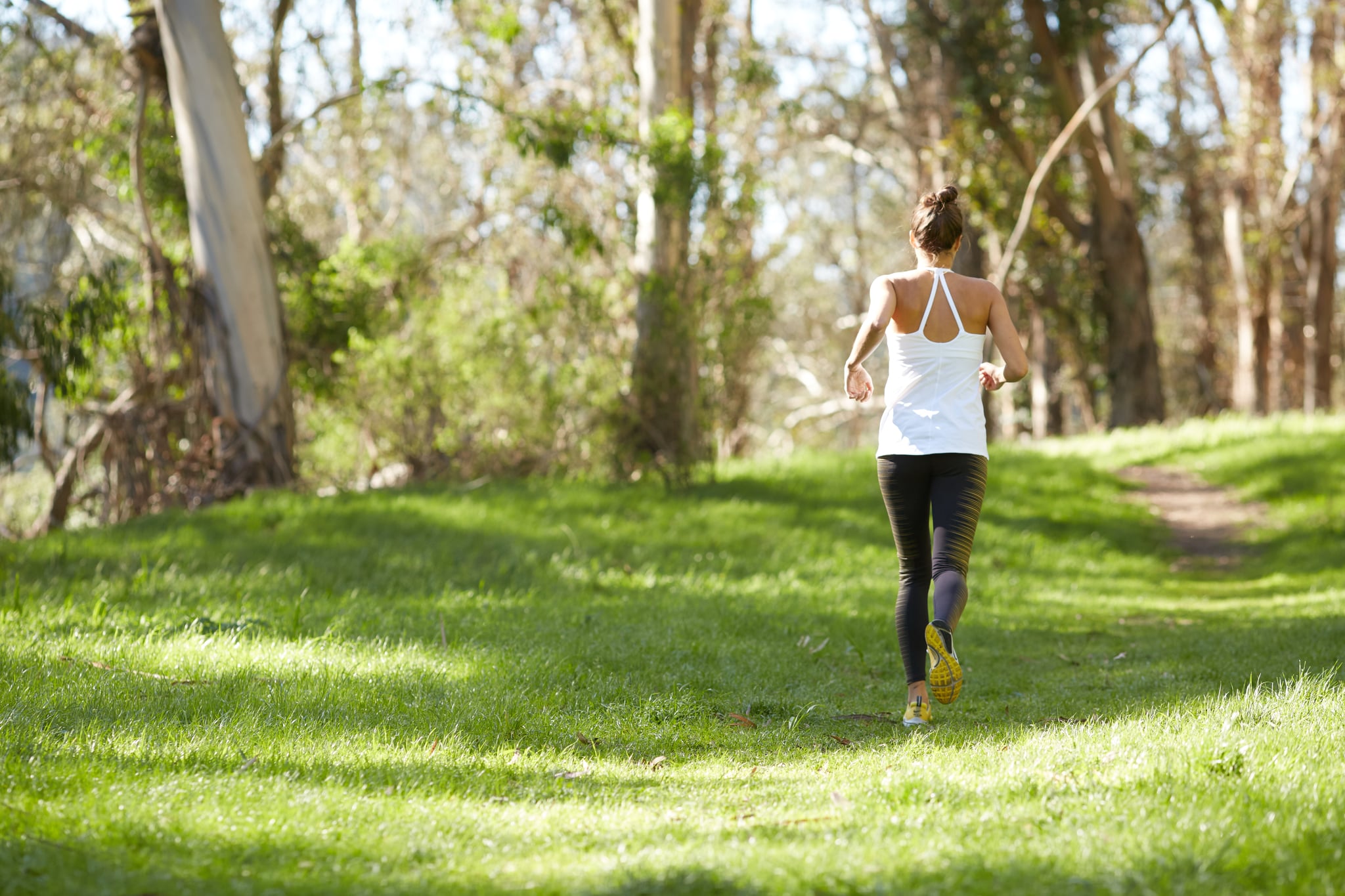 There's been a huge boom around social fitness lately, particularly around boutique studio classes. For some people, that's amazing! The opportunity to connect with your community and make new friends through fitness is exciting. Yet for others, it's the opposite: it can be an introvert's worst nightmare.
Crowded spaces, loud shouting, the sweat and stench of many, many unfamiliar bodies — all ranking very high on the list of introvert problems, no? You're not antisocial, but small talk with excited strangers at barre or SoulCycle sounds like your living hell and also keeps you from living your best life.
Below are some ideas to get the wheels turning in your very introspective brain: exercises and tips that will help you get in great shape and feel amazing (hello, endorphins!) without draining you mentally or emotionally.
Running. Running is an independent journey and the epitome of a solo sport. Make a great running playlist, listen to a podcast, or download an awesome audiobook. That's right, we just said audiobook. It's like your favorite at-home activity, but you're burning calories and making your heart stronger and sweating and, oh my God, you just actually exercised!
At-home videos. Get a great workout without ever leaving the house or changing out of your pajamas. Dream come true, right? At-home workout videos give you the opportunity to choose whatever style you want to try, from the comfort of your own home. Want to experience Zumba? Perhaps you've always wanted to be a yogi? What about hip-hop dance or a bootcamp-style workout? The world (of fitness) is your oyster. This also counts for PDF at-home programs, like BBG.
Swimming. Nothing but serenity when you're in the water. This solo workout is a fabulous low-impact exercise that strengthens, leans, and burns crazy calories.
Personal training. So while it might be a tad socially awkward at first, if you pick a great trainer who meshes with your personality, this form of exercise can be incredibly rewarding. You'll get to know each other, and your trainer will understand when you don't really want to talk and you just want to get a good sweat in.
Cycling. The open road is yours for the taking when you're on a bike, and the best part is that you get to be completely on your own. Like swimming, cycling is low impact and gives you a great cardiovascular exercise while you build endurance and boost your mood.
"The headphones workout." While this isn't a foolproof technique, it can be pretty darn good. Wearing headphones is a gym code — like an ancient rune of sorts, that says, "please don't talk to me or even make eye contact k great thanks." Let your headphones do the talking for you while you crush some cardio circuits or hit the weight racks.
The buddy system. If you do want to try group classes, don't go it alone. It'll be easier when you have a friend as your first line of defense, and class will feel more like a private session for the two of you. Fellow POPSUGAR Editor and introvert Hilary White suggests if you don't have a buddy to use her tactic of keeping a book in your gym bag and reading said book before class — no one will bother you with your nose in a book!
Image Source: POPSUGAR Photography / Ericka McConnell