Aaron Rodgers Plans a Darkness Retreat to Decide Retirement
Is Aaron Rodgers's 4-Day "Darkness Retreat" Great For Mental Health or a Nightmare?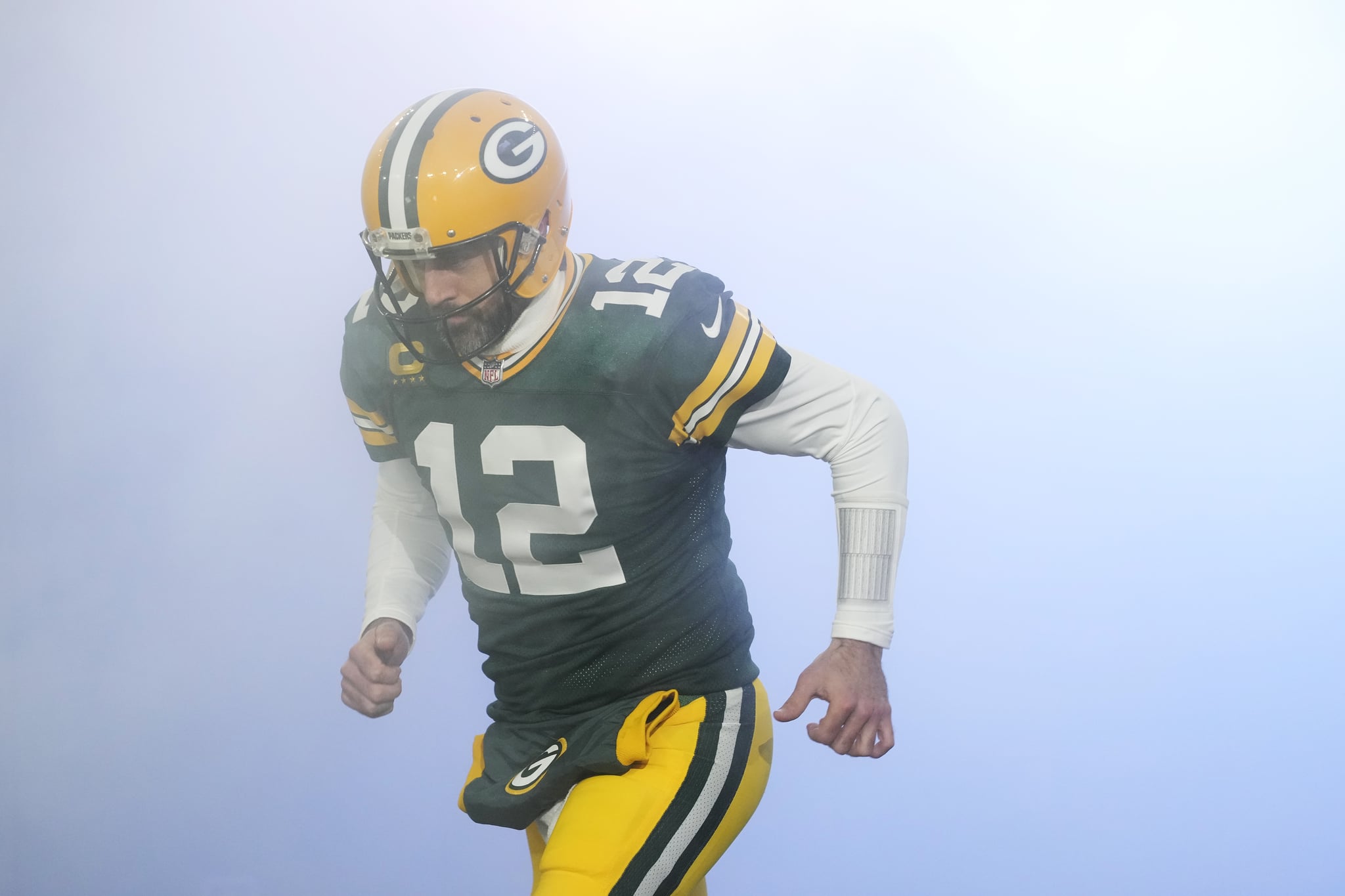 Image Source: Getty Images / Patrick McDermott / Contributor
For professional athletes whose identities revolve around their sport, retiring seems to be a pretty difficult decision. Between Tom Brady announcing his retirement in February 2022 — and then going on to play for one more year with the Tampa Bay Buccaneers — and Serena Williams's retirement from tennis — followed by teases that maybe she isn't quite done — retiring from professional athletics in the public eye seems to be fraught with a lot of pressure and, in some cases, regret.
The decision seems to be worrying Green Bay Packers quarterback Aaron Rodgers so much that he's going on a seemingly intense four-day "darkness retreat" after the upcoming Super Bowl to help make his decision. In a Feb. 7 appearance on "The Pat McAfee Show," Rodgers shared that he hopes this experience of total isolation will help him reach a "final, final decision" about what's next for his football career.
"It's an opportunity to do a little self-reflection in some isolation and after that, I feel like I'll be a lot closer to that final, final decision," Rodgers said. "I've had a number of friends who've done it and they had profound experiences."
This "darkness retreat" entails being in pitch black 24/7 for four days and nights. It's a version of sensory deprivation that Rodgers says will simulate the drug DMT and could even result in hallucinations. "They'll drop food and drink through a slot and there is a bathroom," he added. He said he won't be locked in, either, and has the ability to leave if he wants, but he seems optimistic about how the isolation will help him come to a conclusion about his next career move. The 18-season NFL veteran has also won several pro golf trophies in the last few years, including the AT&T Pebble Beach Pro-Am this past weekend.
"I'm still in the art of contemplation about my future.. after my isolation retreat I'll be ready to make a decision" ~ @AaronRodgers12#PMSinAZ pic.twitter.com/21uLlRDlQr

— Pat McAfee (@PatMcAfeeShow) February 7, 2023
"I think it's going to be important to get through this week and then to take my isolation retreat and just to be able to contemplate all things my future and then make a decision I feel like is best for me moving forward and the highest interest of my happiness," he said.
Packers fans have had a lot to say about Rodgers's decision. Some are mocking him: "This sounds like prison no? Going to the hole 💀😂😂," one Twitter user wrote. Others are defending his choice: "People like to talk about how important mental health is but make fun of Aaron Rodgers for taking care of his," another fan said.
This isn't the first time the 39-year-old has played around with a perspective-changing experience. In his interview with McAfee, Rodgers talked about his previous experience taking ayahuasca during the offseason and how that led him to win back-to-back MVP titles.
Darkness retreats or "darkness therapy" (the practice of going into complete darkness for extended periods of time) don't appear to be studied clinically. However, companies that organize or offer darkness-therapy experiences back up Rodgers's claims that light deprivation can produce dramatic effects.
"Altered states of consciousness can naturally begin to arise as early as the 3rd day of the retreat and continue to intensify as the retreat progresses," according to Sky Cave Retreats, a darkness-therapy venue in Ashland, OR. "This is due to different neurochemical reactions that occur from various glands and hormones being both suppressed and/or stimulated from the light deprivation. This can result in heightened sensory sensitivities, visions, lucid dreaming and many other profound & insightful experiences."
In fact, in the 1960s, French adventurer and scientist Michel Siffre retreated into a cave for several weeks, living without any natural light and without knowing what time it was, says Eric A. Zillmer, PsyD, director of the Global Sport Leadership Solutions Lab, the Carl R. Pacifico Professor of Neuropsychology, and a licensed clinical psychologist at Drexel University in Philadelphia. It was such an interesting experience that Siffre repeated it several years later.
"It is possible that a hall-of-fame-caliber athlete like Aaron Rodgers would want to be deprived of any stimulus, given what pro athletes go through these days, in terms of social media, interview requests, and other responsibilities," Dr. Zillmer says. "The idea of withdrawing for several days would be similar to entering a prolonged meditation experience. It forces one to stay in the here and now, which can be a pleasant experience and could possibly lead to self-reflection and spiritual growth."
That said, a days-long darkness retreat isn't without risks. "For example, it is a well-known fact that being outside and in the presence of the sun orients our biological clock," Dr. Zillmer says. In addition, the stark difference between "regular" life and the retreat could be incredibly jarring. "Our brains are used to managing an incredible amount of information, and in the absence of that, it may feel like one is in a dreamlike sleep but awake, which could lead to having peculiar sensations and perceptions," he continues.
The most important thing is that he's voluntarily seeking this experience, Dr. Zillmer says, and using it to focus "on the well-being and mental health of his athletic career, I think, is an interesting idea."
Amy Saltzman, MD, author of "A Still Quiet Place For Athletes: Mindfulness Skills For Achieving Peak Performance and Finding Flow in Sports and in Life," also sees the potential benefit — and risk. "There are definite benefits to shutting out the noise of the world — social media, coaches, agents, family, friends — and creating time and space to hear your own internal wisdom," she says. However, "a three-day darkness retreat poses a risk of encountering one's internal darkness. Just as it's not wise for a new runner to begin with a marathon, it is also not wise to begin one's retreat practice with such an intensive retreat. Both undertakings require proper preparation and support."
It's unclear whether this will help Rodgers sort out what to do with his football career — but we'll be waiting eagerly to hear the results. And if he changes his mind about retiring, well, he wouldn't be the first.