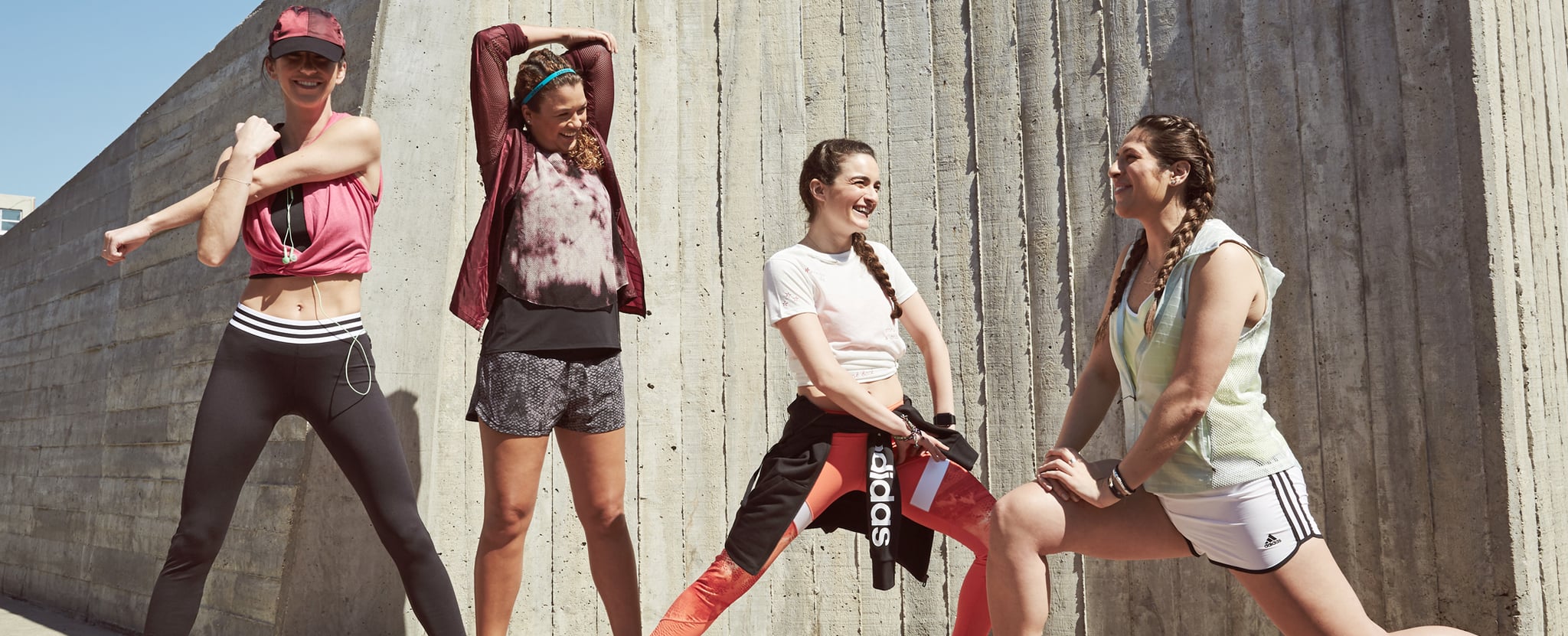 Image Source: POPSUGAR Photography / Felix Wong
Want to make running fun again?
adidas Running
helps us share the story of a running group that helped four co-workers do just that.
Here's the thing about running: it might take extra motivation to get out there, but once you do it, you rarely regret it. POPSUGAR staffer Olivia Galano knew that when she decided to start a weekly running group with her co-workers. She hoped it would hold them all accountable for getting more exercise, but soon the whole group realized it came with an added benefit — a sense of community.
Image Source: POPSUGAR Photography / Felix Wong
Olivia recruited three co-workers from POPSUGAR's New York City office to join her group, meeting every Tuesday to run at 6 p.m. Aside from the miles they've logged, they've covered a lot of ground in the city, including the East River, the West Side Highway, and Central Park. While all versatile athletes, some members of the group were more enthusiastic than others at first. "I was a bit reluctant at first because I had not been running much for a while," admits Emily Erardy. Emily describes herself as more of a Spin and cardio class kind of woman, so she needed the encouragement to get back outside and running. Her trust in Olivia, and the prospect of getting to know her colleague better, gave her the push she needed.
Co-workers Jodi Sherman and Ali Bond rounded out the group of four. Ali cites convenience as her motivation for joining her co-workers. She liked that they would meet on a regular schedule and right after work, eliminating the lag time between the end of the work day and the start of a gym class. The accountability of having her co-workers and running crew sitting right by her made Ali's decision that much easier. Jodi, on the other hand, didn't need much convincing: "I was excited to join because I love running and being active. Doing it with friends and co-workers makes it that much more fun."
Finding a Secret Weapon — the Shoes
One thing all of the women had in common? Their love for their adidas UltraBOOST X running shoes, the unofficial uniform and secret weapon for the newly formed exercise crew. Emily had been coveting the women's-only shoe for a while, so the running group gave her the perfect opportunity to take them for a test drive. "I have always wanted to try these shoes, mainly because of how lightweight I heard they were, and they definitely did not disappoint." Emily says wearing the UltraBOOST X was like running on clouds, yet her feet always felt secure. She went for a pair that had some color as a way to mix up her typical all-black wardrobe and has already started wearing them with jeans and dresses.
"They fit like a sock that has a foam cloud underneath."
Image Source: POPSUGAR Photography / Felix Wong
Olivia liked the high-tech aspects of the shoes, which come with boost technology and an optimized arch. Unlike other running shoes, the midfoot of the UltraBOOST X is not attached to the midsole, creating a floating arch that responds to how your feet move. "They fit like a sock that has a foam cloud underneath," Olivia shared. "They are mesh and airy, allowing your feet to breathe, which always helps to keep your body temperature cool on long runs." Ali was also all about the performance: "The extra cushioning was key for running on pavement throughout the city."
Becoming Greater, Every Run
In meeting for runs once a week, these four co-workers found themselves becoming stronger on every run. Here's how Jodi describes it: "After joining the running group, I noticed I had more stamina for long runs and my endurance improved with each one." As they add new and longer routes each week, Jodi is able to increase her speed. "It is challenging, but well worth it." Emily agrees that her teammates enable her to run faster each week. "When you run with friends, it's much easier to stay motivated and actually commit to something."
It wasn't long before the co-workers found themselves running as many as seven miles per run. "I didn't even notice that time was passing as I was enjoying spending time with the group," Jodi says. The experience has inspired her to run more on her own and set goals to achieve personal records.
Emily, who typically works out in a gym, was surprised by how much she enjoyed running thanks to the group. "Running outside is so much better than on a treadmill alone." It also gives her a chance to clear her head after of a busy work day and end on a high note: "It is hard to enjoy the day sometimes when work gets so crazy, so I really appreciate this time with the girls."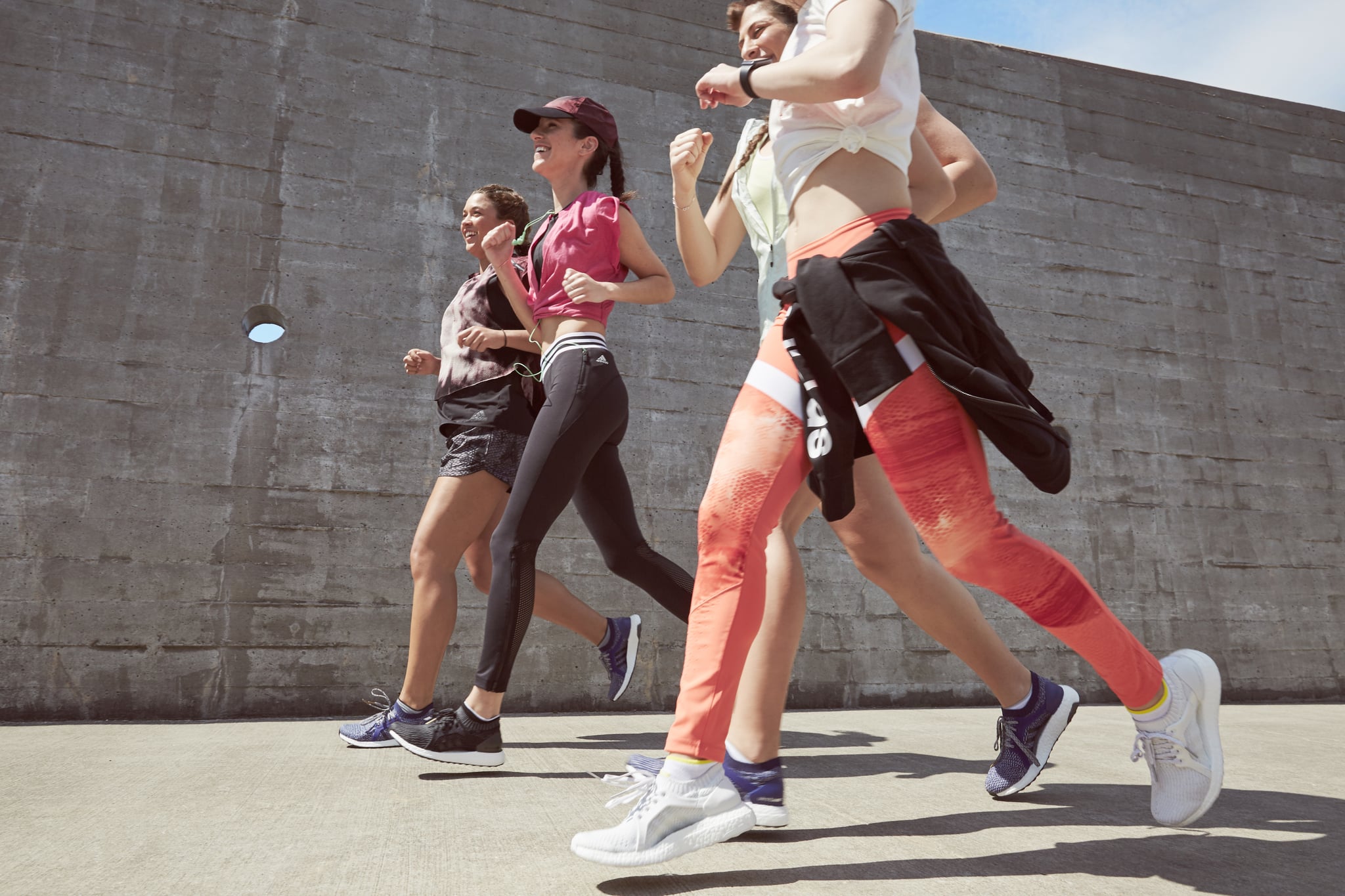 Image Source: POPSUGAR Photography / Felix Wong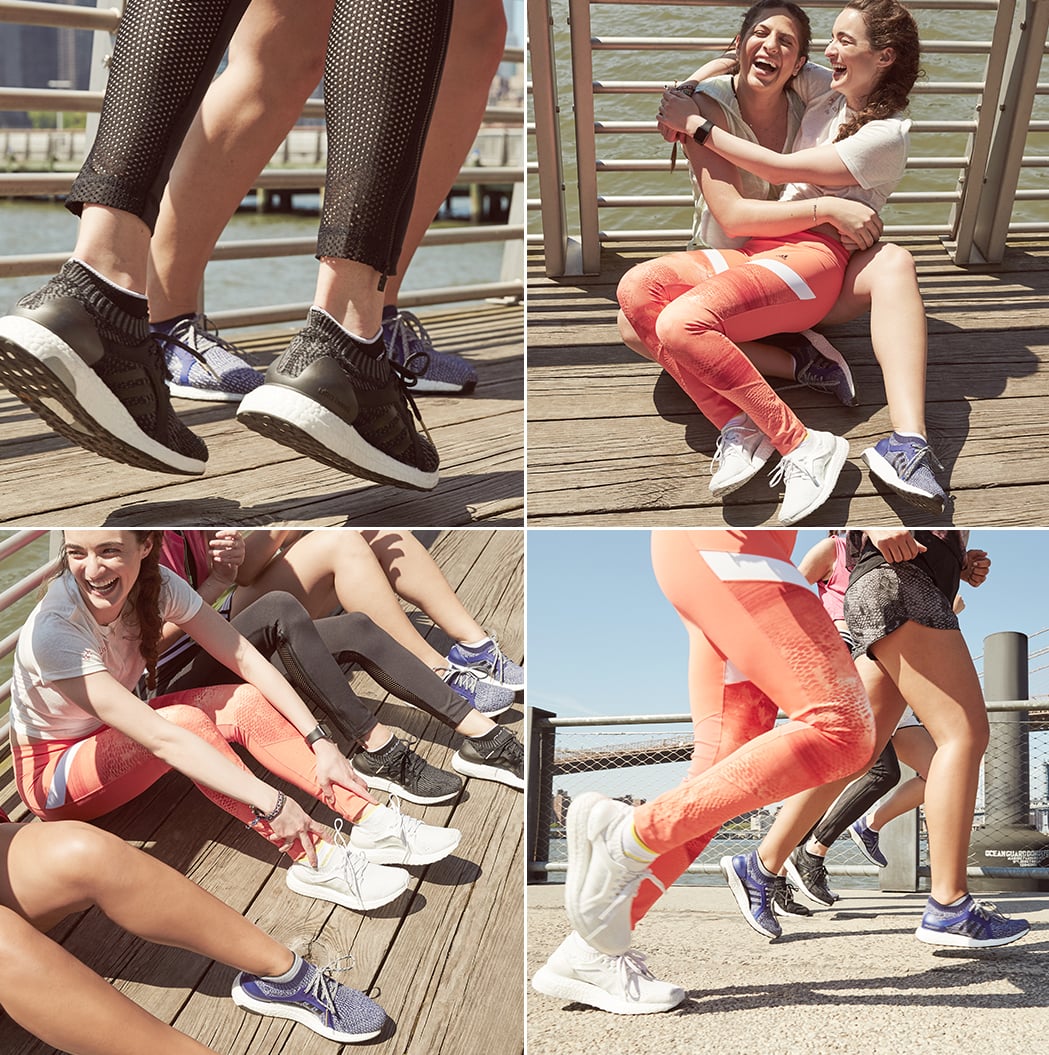 Image Source: POPSUGAR Photography / Felix Wong
"After joining the running group, I noticed I had more stamina for long runs and my endurance improved with each one."
Science backs up the benefits of running. It can prevent disease, help your immune system, boost your mood, and even improve your memory. A routine that helps you commit to running will have a lasting positive impact on your health. Olivia, who founded the group, is grateful that it helped her rediscover the perks of running by reigniting her passion for it. "Running can be very redundant and dull," she admits. "But when I was running with our group, I was excited." That excitement keeps her dedicated to getting better each time.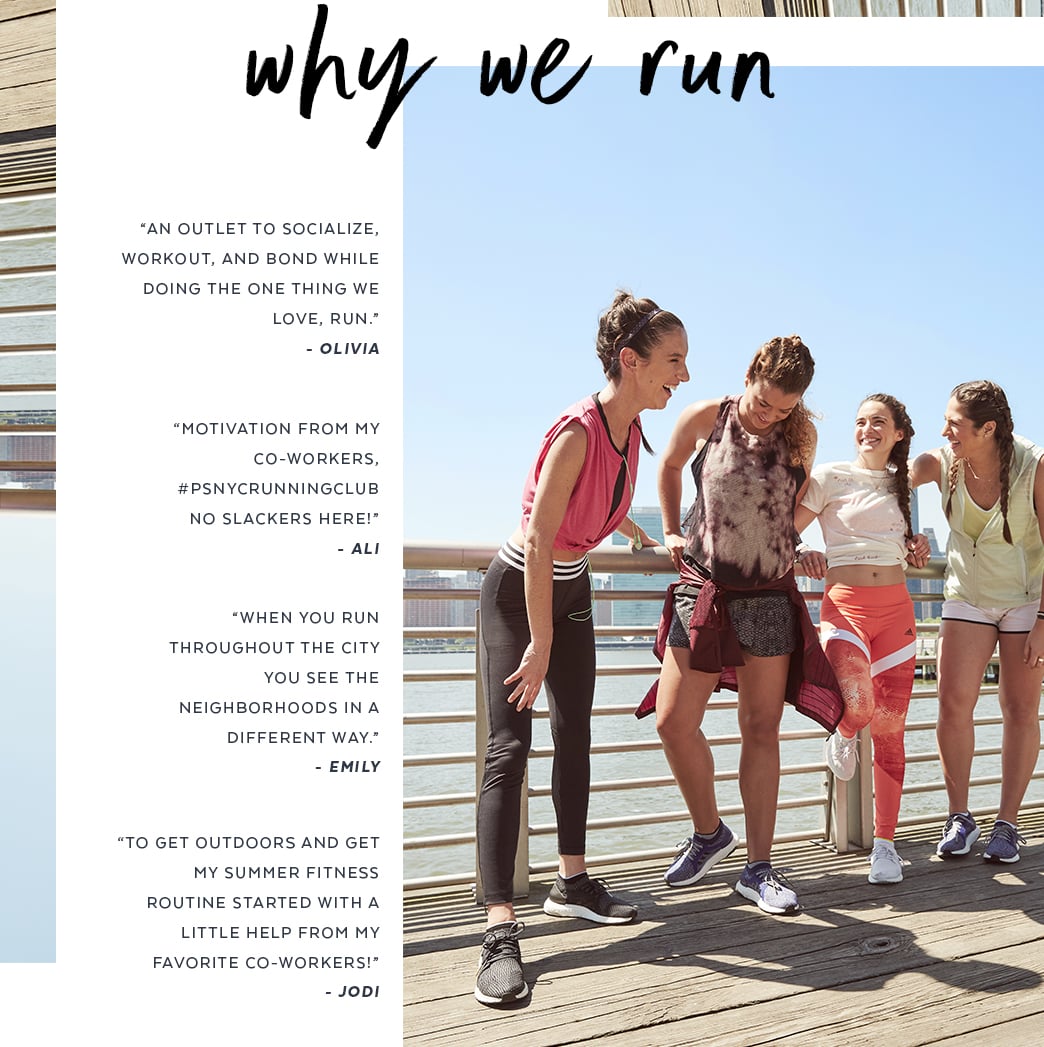 Image Source: POPSUGAR Photography / Felix Wong
Thanks to the running group, these women built a bond they hope will last. Emily had just joined the company a few months before the group got started and found it to be the perfect way to get to know her colleagues. "After the first run, we were immediately connected and are now very close. When running, you see the city differently, and it also allowed me to see my co-workers differently, outside of the office." Olivia says that she discovered how running and talking is a great way to get to know people. "It made us realize how much we had in common," she explains. Ali is also thankful she gets to see her co-workers in a new way. "It's great to build relationships outside of work and it makes working together so much easier."
So often, team bonding involves happy hours or dinners out. Instead, this running group offers these POPSUGAR staffers a healthier way to get to know each other. It also gives them something special to get excited about every week. "When I am in the office, I am very focused on my work, so being a part of this running group gave me something to look forward to after work," says Jodi. She loved the chance to build a sense of community and says, "I am excited to continue running with these women while building strong friendships."
Feeling inspired to start running? Shop UltraBOOST X at
adidas.com
then share a picture of yourself, telling us why you run. Don't forget to use
#UltraBOOSTX
for a chance to be featured in an adidas photo gallery.