25+ Things to Make For Dinner If You Have a Box of Banza Pasta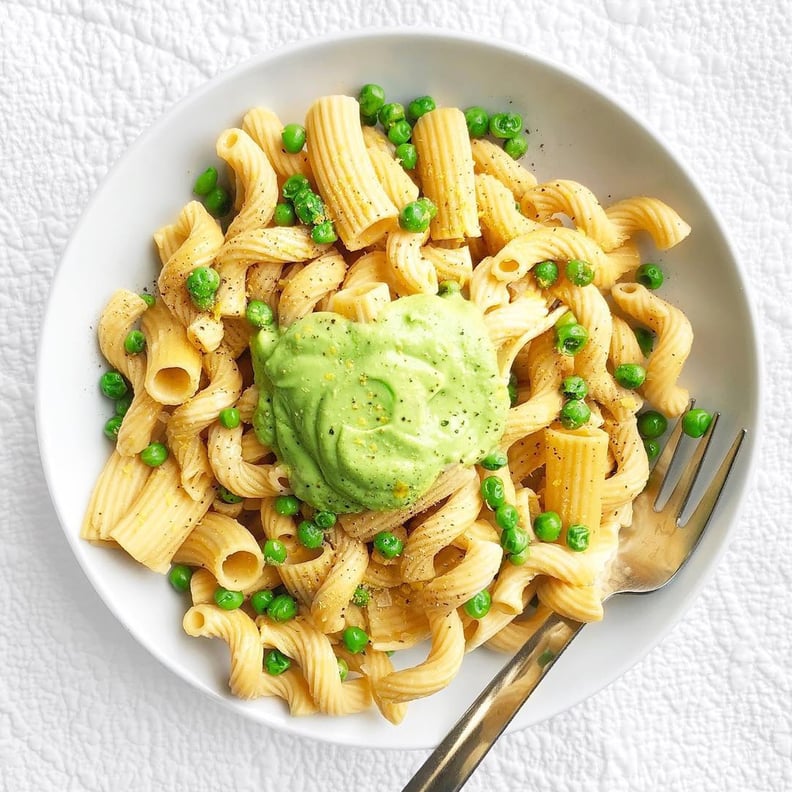 I usually like chickpeas in my pasta, not as my pasta. But I realize I can't eat carb-heavy meals every day of my life, so I tried Banza, the gluten-free vegan pasta that happens to be 90 percent chickpeas. After deeming it "pasta-lover-approved," it's since become a pantry staple of mine, and I love trying different meals with different shapes (Banza comes in shells, penne, rotini, rigatoni, linguine, and more). When you start with a pasta that has 25 grams of protein per serving — yes, for real! — then making a filling dinner is even easier.
You can use the chickpea pasta just as you would any other pasta dish, whether that's vegan mac and cheese or a chilled pasta salad with pesto and mozzarella. Do note, however, that because of the consistency, Banza's cooking time will affect the texture. Be careful not to boil it longer than the box's recommendation, and for a more al dente finish, taste it after about seven minutes. If you're thinking about adding a box or two to your shopping cart the next time you spot it at Target or Whole Foods, do it, and then peruse the following recipe ideas for inspiration. My next pasta plan of attack: that creamy avocado-lemon sauce.
Try a Chilled Italian Pasta Salad
For warm-weather potlucks or an easy lunch you can pack for work, try Banza shells tossed with raw veggies, fresh mozzarella, and balsamic dressing. Chill it in the fridge so all the flavors can meld together even more.
Add Shredded Chicken and Peas
Mix Banza shells with shredded chicken (you can use rotisserie for an even quicker meal), fresh or frozen peas, olive oil, garlic, and basil.
Liven Things Up With a Homemade Pesto
You can make a quick homemade pesto out of lots of different things, not just basil, pine nuts, and Parmesan. This one has basil, arugula, cashews, lemon, olive oil, salt, and pepper, and it adds a vibrant hue to any pasta.
Sauté Shrimp and Garlic While Boiling the Pasta
Combining shrimp, garlic, and parsley is always a good idea; try it with Banza penne for an elegant meal.
Make a Creamy (Vegan!) Cashew Alfredo
Whether you're vegan or looking for a lighter Alfredo option, a cashew-based sauce is the way to go. There are a lot of cashew Alfredo recipes out there, but this delicious-looking one is pretty easy. (The key is soaking the cashews in hot water so they soften up.)
Go the Mac-and-Cheese Route
Mac and cheese made with Banza sneaks in protein. To copy the pictured recipe, add pumpkin to your base and top it with a crunchy almond "Parmesan" crust.
Meal Prep With ALL the Veggies
A box of Banza can last you three or four meals if you bulk it up with extras. Try meal prepping it for the week with zucchini, red onion, tomatoes, mushrooms, yellow lentils, carrots, kale, and your favorite tomato sauce.
Add a Big Dollop of Avocado Sauce
When you have a ripe avocado that's begging to be used in something fabulous, make pasta with an easy avocado-lemon sauce.
Use Store-Bought Pesto in a Pinch
Crumble Goat Cheese on Top
Use whatever veggies you have, add meat for extra protein if you want, and top it off with crumbled goat cheese.
Use Chickpea Pasta For Chrissy Teigen's Casserole
Try a Different Take on Pad Thai
If you're craving the flavors of pad thai, try using Banza's spaghetti instead of rice noodles for extra fiber and protein.
Save It For Date Night
Cooking for two? Try a box of penne with sweet potatoes, broccoli, and spicy peanut sauce.
When You Want Taco Salad and Mac 'n Cheese . . .
Make both! Load it all up in a bowl: shells, ground beef, pico de gallo, lime, tortilla chips, and vegan or regular queso.
Roast Tomatoes in the Oven For More Oomph
Your cherry tomatoes will burst with juice (in a good way) if you roast them in the oven at 350°F on parchment paper for about 15 minutes.
Spice Things Up With a Red-Pepper Sauce
For a quick and hearty meat sauce, try ground beef with Rao's arrabbiata sauce (pictured), which has a kick from plenty of crushed red pepper.
Try a Healthier Take on Carbonara
For some weeknight comfort food, make Banza penne with sun-dried tomatoes, peas, turkey bacon, and Parmesan.
Go For a Garlicky Cavatappi
Spiral-shaped cavatappi pasta goes great with a simple lemon-garlic sauce and blistered tomatoes.
Make a Colorful Pasta Salad
The sky's the limit when it comes to pasta salads. Pair the shells with pesto, cherry tomatoes, arugula, basil, and feta for a light and fresh dinner.
Try a Curry-Inspired Spin
Pair chickpea pasta with a simmered sauce of coconut milk, cornstarch, miso, red curry paste, and spinach.
Tomato and Basil Is Always a Good Idea
The Greener, the Better
Mix your favorite Banza pasta with an Italy-inspired combination of green beans, potatoes, fresh basil, and Pecorino Romano.
Make Your Own Shells and Cheese
Ditch the boxed stuff and try Banza shells with your own cheese sauce. This version includes roasted garlic, Parmesan, cremini mushrooms, and peas.
Mix In Your Favorite Tuna
This Banza pasta salad idea calls for tuna, mayo, peas, carrots, and plenty of salt and pepper.
Use Soy Milk For a Creamy Tomato Sauce
Start with onions and garlic, then add a cup of soy milk and half a jar of tomato sauce. Frozen peas add some color, and Parmesan ties it all together.
Serve a Kid-Approved Mac . . . For Yourself
Sometimes you just want a bowl of elbows and cheese. Try Banza elbows mixed with sharp cheddar cheese, milk, garlic powder, and salt.
If You Can't Choose Between Red or White Sauce . . .
Herbs Are Your Friend
A delicious combo of pasta toppings is spinach, oregano, basil, paprika, garlic powder, salt, pepper, and avocado oil.