Bearaby's Cotton Napper Knitted Weighted Blanket​ Review
Here's How Bearaby's Cotton Napper Knitted Weighted Blanket Kept Me Calm Under Its Pressure
As POPSUGAR editors, we independently select and write about stuff we love and think you'll like too. If you buy a product we have recommended, we may receive affiliate commission, which in turn supports our work.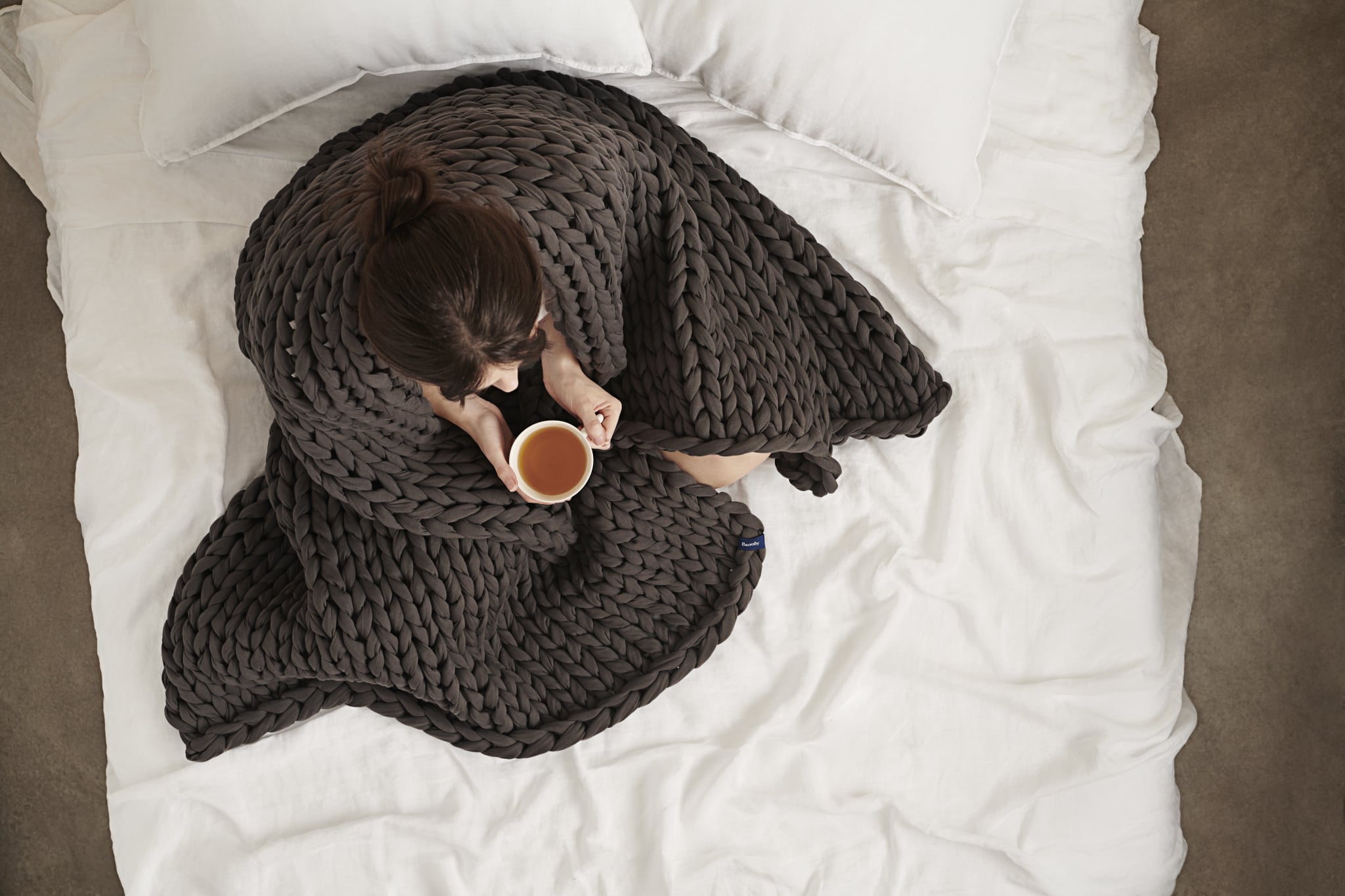 Falling and staying asleep has always been a problem for me. The average adult should be sleeping for seven or more hours every night, according to the CDC. My nightly average is five-and-a-half hours. Most of the time, I sleep for three hours, wake up around 3 a.m., stay up between five minutes to an hour, then sleep for another two-and-a-half hours if I can.
In my continuous journey to successfully sleep through the night, I was eager to try Bearaby's Cotton Napper Knitted Weighted Blanket ($249-$279) when I got the opportunity to test it out. A weighted blanket has the potential to regulate cortisol (stress hormone) levels, which creates a positive change in a person's sleeping habits. Ahead, find out about how my quality of sleep has shifted over the past month using Bearaby's Cotton Napper Knitted Weighted Blanket.
Bearaby Weighted Blanket Recommendations
Based off of what Bearaby's Weighted Blanket Guide recommends, I chose to try out the 25-pound weighted blanket, since I weigh over 300 pounds.
| Your Weight | Recommended Bearaby Blanket Weight |
| --- | --- |
| Around 150 pounds | 15 pounds |
| Around 200 pounds | 20 pounds |
| More than 200 pounds | 25 pounds |
Bearaby Weighted Blanket First Impression
On night one, I forgot what 25 pounds feels like. Engaging my core, I carried the box into my room and plopped it on my bed. After unfolding the weighted blanket, I slid under just to make sure the I was covered from the shoulders down. I'm 6'2", and the weighted blanket is 48 inches wide by 72 inches long and about 1.5 inches thick — the thickness is not mentioned on the Bearaby site. The cotton napper definitely covered me from the shoulders down.
Testing the cotton napper on the first night, as a hot sleeper, I was glad that the knitted weighted blanket didn't have me sweating in my PJs. The feeling of lying down underneath the 25-pound blanket felt like I was at the spa about to get a massage. Calm, grounded, and giddy are the words I'd use to describe my initial feeling.
1 Month Sleeping Under a Bearaby Weighted Blanket
On the first night, I did sleep through the night, all seven hours, but after the first week, my spotty sleeping patterns reappeared. Now, a month in, here are a few ways I've optimized my sleeping experience with Bearaby's Cotton Napper.
Stress Plays a Part: On nights where I feel less stressed, my quality of sleep is deep and uninterrupted.
The Order of Bedding Layers Matters: At first, I slept with the weighted blanket on top of all my bedding. My favorite configuration of bedding currently is fitted sheet, sheet, and weighted blanket, topped with my large comforter.
Sleeping on My Back Felt Best: For me, when the weighted blanket is over me when I lie down on my back, I find that my quality of sleep is better than if I fall asleep on my side.
Over the past month, I'd say that this blanket has improved my sleep for the better, and now I refuse to sleep without it. Even when I get warm, having it cover me from the waist down (at least) is still so soothing. If you'd like to try a Cotton Napper weighted blanket, check out Bearaby's website here.
Image Source: Courtesy of Bearaby