Adidas Has Officially Cemented Itself as the Champion of Sports Bras — Find Your Perfect Fit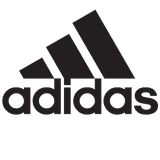 More than 90 percent of women reportedly wear the wrong bra size, and nearly half of the schoolgirls in an adidas survey said their breasts affect their participation in sports. It's stats like these that inspired adidas to launch an extensive new sports-bra collection — one that's completely changed the sports-bra landscape as we know it. After all, from yoga to hiking to HIIT, every workout requires a different kind of bra. And if any brand knows that, it's this one.
The innovative collection was designed with science in mind and developed along with the leading breast biomechanics research institute at the University of Portsmouth to better support the specific needs of active women. As a result, these bras cater to more diverse bodies and workouts than ever before. The goal is for women of all shapes and sizes to be able to freely participate and enjoy sports without restraint. In a nutshell, these bras are all about adequate support, comfort, and fit — and it helps that they're super stylish, too.
Using the latest material and design technologies, the line features everyday bras made for lounging and gentle movement; studio bras for yoga, Pilates, and other low- to mid-intensity activity; training bras for enhanced support during HIIT classes and more intense sport or training; and run bras that offer the highest level of breast support in the collection. Check out our favorites ahead, and prepare to feel 100 percent supported.