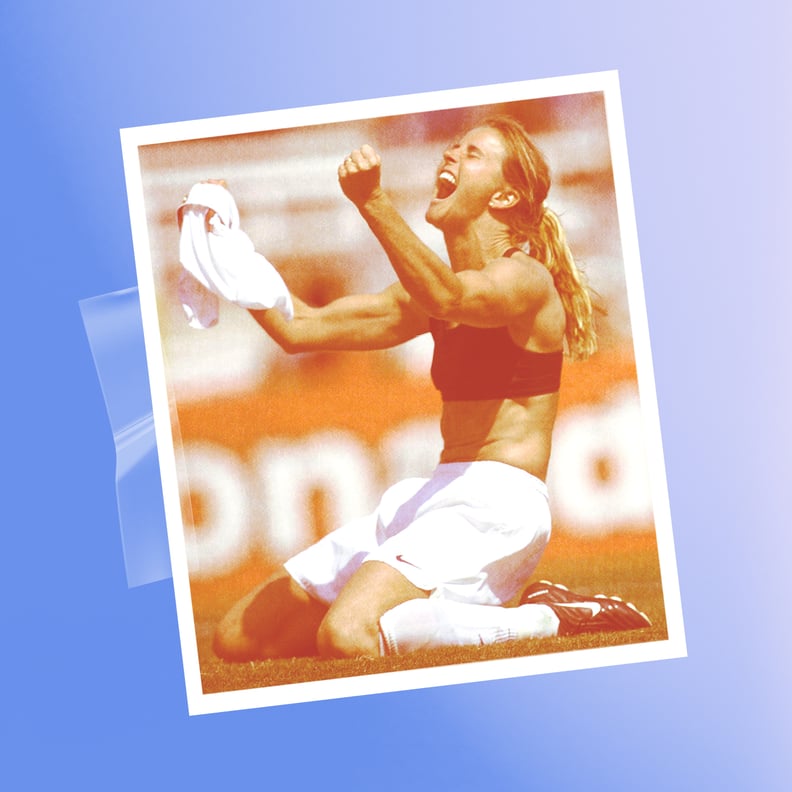 Image source: Getty | Roberto Schmidt
Photo Illustration: Michelle Alfonso
Image source: Getty | Roberto Schmidt
Photo Illustration: Michelle Alfonso
It's been 24 years since Brandi Chastain's iconic 1999 World Cup celebration — the one where she famously tore off her jersey and slid to her knees, fists clutched in victory — was captured and plastered on the cover of "Sports Illustrated." That was the moment after she scored the game-winning penalty shot in the tournament's final match against China, clinching the USWNT's second World Cup trophy. Dubbed the "sports bra seen round the world," it was as close to "viral" as things got in the '90s.
Chastain had no idea her celebration would become such an iconic part of sports history. "And to be honest with you, it's remarkable today the interactions I still have because of it," she tells POPSUGAR.
"Women are doing unprecedented things in spaces that they always felt that they belonged in, but now they're being seen."
The image was credited with showing women's sports in a new light, cementing the athletes as inspirations in their own right versus just placeholders second-tier to the men's team.
Still, women's sports continued to face prejudice and obstacles over the next two decades. Athletes have had to fight hard for equal pay, media coverage, representation, and resources. And in more recent years, they've faced remarkable challenges off the field, risking their livelihoods to call out systemic abuse in the sports industry, fight for mental health support, and stand up for fair treatment.
But as we head into the 2023 FIFA World Cup, which kicked off on July 20 in Australia and New Zealand, it seems like things are finally poised to change — and nearly a quarter of a decade later, fans are returning to Chastain's triumphant slide as a calling card for the magic of women's sports.
"It blows my mind to think 24 years have passed, but, you know, the message is still the same," she says. "Women are giving, they're leaders, they're intelligent, they're impactful, they're strong, they're courageous, they're brave, they do great things. Women are doing unprecedented things in spaces that they always felt that they belonged in, but now they're being seen."
POPSUGAR talked with Chastain about the photo, the explosive growth of women's sports, and what she's most excited about at the biggest-yet World Cup tournament.
The Photo That Changed Everything
Every year, in honor of Chastain's birthday — which just happens to be July 21, the day after the Women's World Cup begins and the same day as the USWNT's first match — Twitter tends to recirculate the famous shot. This year, however, it made the rounds on July 10, exactly the 24th anniversary of her winning goal, surely in part because of the building excitement for the upcoming tournament.
Long-time soccer fans took to social media to reflect on how it changed their perception of women athletes, while some younger fans are seeing it for the very first time. Her iconic celebration even plays a central role in Frito-Lay's new ad, released just ahead of the women's World Cup, where the company has signed on as the Official USA Snack and North American tournament supporter.
Chastain says she thinks it was the "organic nature" and "genuine spontaneity" that has given the photo such lasting power. For me, though, it's the joy. It was something we hadn't exactly seen at that point in time — a woman athlete celebrating a win of magnitude, during a game that garnered more attention than ever before, and ripping off her jersey much the way a male athlete would, as an act of triumph.
"I think we got to stop and take kind of a pause and say, what did we just see? It was big stage, 90,000 people, millions of people watching, seeing something for the first time on that stage, I think gave credibility, to the fact that we enjoyed that. We wanna see that again," she says. And "that" is the glory of women succeeding in sports.
On Women's Sports Finally Getting Its Flowers
The USWNT is so dominant that Women's World Cup years tend to be accompanied by increased buzz around women's sports. But this year, the energy is even more palpable, and after being told for so long that this side of the business was less profitable, less exciting, or less skilled (and that's a direct quote), it feels good to see women athletes getting the respect they deserve.
"I honestly think it speaks to where we are, that women have been in sports as kind of this untapped well of potential and greatness, and now all of a sudden someone has drilled down and it's exploding," Chastain says.
This is the biggest Women's World Cup on record, with 32 teams for the first time instead of 24, finally putting in on-par size-wise with the men's tournament. "The exponential numerical growth just makes my eyes wanna pop outta my head," Chastain says. Think of how many players from around the globe will now get to say they are a World Cup player, she says. "We really have come leaps and bounds."
To outsiders or fans, it may feel like the change around women's sports is happening in a matter of months. But "it's been, for me, five decades in the making," Chastain says. "I've been participating in sports ever since I could remember, and I always believed that it belonged to me. And luckily, I grew up in an environment that supported me but not all girls get to have that . . . The fact is that we have gained strides and we have made an impact."
Part of this shift undoubtedly includes the historic equal pay agreement that the USWNT reached with US Soccer last year. But the US is the first in the world to do so, and change among national federations is just part of what's needed to adequately fund women's athletics. From 2011 to 2013, it was estimated that women athletes received less than 1 percent of all sponsorship deals, according to Women In Sport. And though 2022 saw a historic 20 percent increase in sponsorship deals year over year, we're still far from equity. And that's where sponsors like Frito-Lay come in.
For Chastain, the new commercial and the company's role as a sponsor in the women's tournament holds real significance. (Though she's also really excited her virtual character gets to score the winning goal with a bicycle kick.) The video features a mom and daughter talking sports, with miniature animated versions of current women's soccer stars and past icons enacting a fake game on their coffee table.
With it, "we're celebrating fandom, we're celebrating the World Cup, and we're celebrating that women and girls love to talk sports, too," Chastain says. Other players in the video include Mia Hamm, Carli Lloyd, Abby Wambach, Brandi Chastain, Briana Scurry, Marta Vieira da Silva, Christine Sinclair, Julie Ertz, Mallory Swanson, and Crystal Dunn, all of whom Chastain describes as "great role models and mentors," in addition to all the players who are taking the field this summer.
"In all seriousness about it, the fact that Frito-Lay is the official USA snack of the FIFA World Cup, to me, speaks volumes about where women's sports has come," Chastain says.
Looking to the World Cup, and Beyond
Chastain is one of the former players bringing the Bay Area its first National Women's Soccer League team (called Bay Football Club), so she'll be doing a bit of scouting during the tournament — in addition to cheering on the USWNT, of course.
Though the US women's team has been historically dominant, holding more World Cup trophies than another other country, there's starting to be more parity of teams, Chastain says. This might sound like a bad thing for the US, but it's a great thing for women's soccer, as increased competition can only elevate the sport.
And if you can believe it, from where Chastain's standing, the grass is only getting greener. The athletes who will take the field this summer will keep inspiring future generations, paying forward the inspiration they got from seeing Chastain celebrate her win all those years ago. "These are young women who will be continuing to engage with this younger population," Chastain says, "to remind them that this space belongs to them."