Eargasm High Fidelity Earplugs Review
I Never Go to a Concert Without These $38 Earplugs
As POPSUGAR editors, we independently select and write about stuff we love and think you'll like too. If you buy a product we have recommended, we may receive affiliate commission, which in turn supports our work.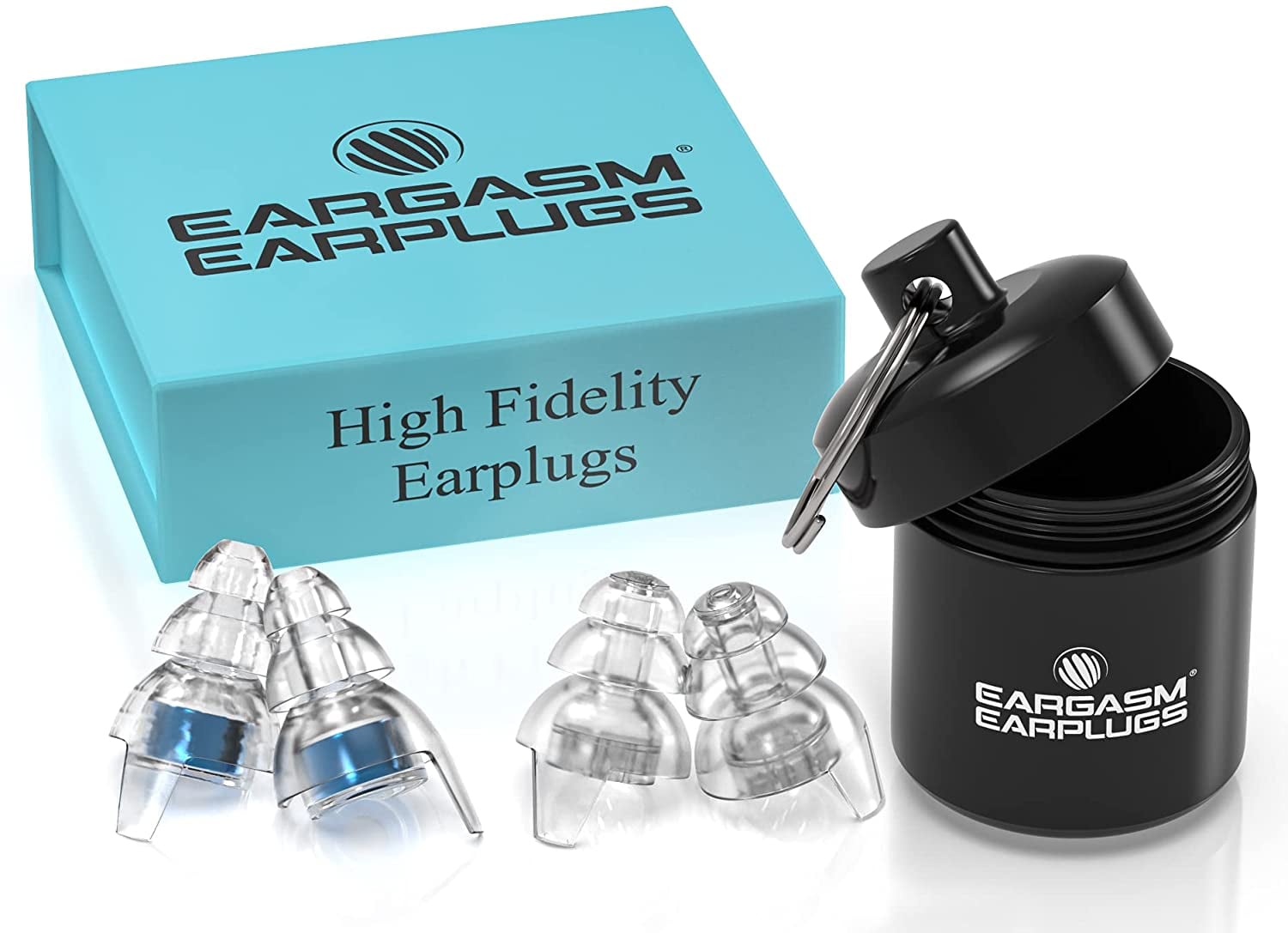 I was never a big fan of earplugs until my sister, a veteran of many concerts and raves, told me I needed to buy a pair of Eargasm High Fidelity Earplugs ($38) before a music festival. "They're expensive, but trust me, they're worth it," was the gist of the conversation. It was my first festival in years and I wasn't about to argue with an expert, so off to Amazon I went. Three years later, these earplugs have become one of my night-out essentials when I'm going to a club, concert, or even a loud bar. I walk in, pop them on, and enjoy a night (and following day) free of ringing ears and earaches.
As someone who now has multiple pairs of Eargasm earplugs (one for home, one for travel!), allow me to explain why they're worth the price. For one thing, these earplugs are designed to lower sound volume, not muffle it completely, which makes them ideal for concerts and festivals as well as many other situations, like loud workplaces. They're meant to "filter, rather than block out, sound to a manageable level," Eargasm says on its website; you want to hear what's going on, just not as loud as it really is. The High-Fidelity Earplugs, the brand's most popular product, have a Noise Reduction Rating of 16 decibels (dB) on an Environmental Protection Agency (EPA) scale that goes up to about 30 dB. This qualifies as a "low" rating per EPA standards, but Eargasm says that depending on sound frequency and earplug fit, "users can reduce noise by up to 21 decibels," qualifying for a mid-NRR rating.
For context, the Centers For Disease Control and Prevention says that noise above 70 dB for a prolonged period of time can start to damage hearing, while "noise above 120 dB can cause immediate harm to your ears." The CDC estimates that "loud entertainment venues," including clubs, bars, and concerts, can reach levels of 105–110 dB. "The louder the sound, the shorter the amount of time it takes for hearing loss to occur," the CDC explains. "The longer the exposure, the greater the risk for hearing loss," especially when hearing protection isn't used — so if you go to concerts every weekend, it's not a bad idea to invest in a pair of earplugs.
One thing you might be wondering is how Eargasm earplugs are any different from the classic, puffy, foam plugs you often see. Aesthetically, it's pretty easy to see: Eargasm earplugs are smaller and less noticeable when you wear them due to the clear silicone and the fact that they sit further inside your ears. They're also more comfortable; they're made of "hypoallergenic soft silicone" and are designed to be worn for hours at a time. (If you're concerned about size, know that they have a pair of earplugs designed for smaller ears, too.) There's also a major difference in the quality of sound that you hear while wearing these. "Foam earplugs muffle and distort noise while Eargasm Earplugs maintain the full spectrum of sound for the user," Eargasm explains. While foam earplugs might be better in situations where you want complete silence (sleeping in a loud environment, for example), Eargasm earplugs are a great choice when you want to hear what's going on around you.
I can hear music when I'm wearing Eargasm earplugs, for example, but I can also hear my friends talking. I've never had to pop my earplugs out to hold a conversation with someone in a loud club, and even with my hair pulled back, you'd have to look closely to spot the clear plastic plugs in my ears. They even come with a little metal carrying case that fits easily in my pocket, purse, or fanny pack (necessary at a music festival) so they don't float around and get lost when I'm out. The carrying case also has a clip so you can attach it to keys.
I've been to plenty of concerts and loud nightclubs without earplugs, and endured hours of ringing ears afterward. I noticed an immediate difference once I started using Eargasm earplugs — much less, if any, ringing or muffled hearing, even after long indoor EDM concerts. In fact, I distinctly remember coming home from that first festival, looking at my sister in shock when I popped them out, saying, "They really do work!"
Now, Eargasm High-Fidelity Earplugs are just another must-have item that I throw into my bag before a night out. Phone, keys, ID, credit card? Check. Little Eargasm earplug container? Also check. Your ears will thank you for picking up a pair of these.