Olympic cyclist Elinor Barker would've been in Tokyo right now to compete at the 2020 Summer Olympics. Instead, she's in lockdown, and she's passing the time like the majority of people here in the UK: baking treats, enjoying lazy breakfasts in the sun, watching a few episodes of Tiger King, and going for a cycle as part of her government-approved daily exercise. The difference between her and many of us? That bike ride lasts a grueling five hours and is in addition to rigorous cross-training, as Barker must continue to train for next year's rescheduled Olympic Games.
At the 2016 Olympics in Rio, the Welsh athlete won gold in team pursuit as part of the British Cycling team, and was awarded an MBE in the 2017 New Year Honours list. For the past four years, she's had her eye on spending the summer in Japan and returning home with a few more medals in her luggage. The coronavirus pandemic upended those plans, but Barker is no stranger to a few speed bumps, proverbial or otherwise.
At 25, she's already cleaned up at the Olympics, UCI World Championships, and Commonwealth Games, all while making sure to take care of her mental and physical health — following an endometriosis diagnosis after a five-year struggle with the disease. As she prepares for a postponed Olympic Games from her home in Manchester, we caught up with her over Zoom to talk about medals, mindset, wheelie bins, and JAY-Z:
On Missing the Olympics and Preparing For Next Year
"The plan for this summer was going to the Tokyo Olympics. I didn't think I'd be at home baking rhubarb crumbles and binge-watching Money Heist. Postponing the games has been a lot to get my head around, because it's the big goal I've been working toward for the past four years, but I'm starting to get there. It looks like the Olympics will happen in the middle of the cycling season now, so it's going to be the weirdest preparation. At least all track cyclists are going to be in the same strange boat."
"I'm trying to train as normally as possible without disrespecting the rules or anyone else, but it can be tricky. About a week before lockdown, the British Cycling organization shipped parts of the gym to my house. I've got a bar and some weights, but I don't have a squat rack. I'm using wheelie bins at the moment, so I've had a lot of rubbish spilled over my garden. I've also attached an FKPro to my bike shed, which can probably take three or four more gos before it falls apart."
On Getting in the Zone
"I tend to listen to a very generic workout playlist because I don't want my favorite songs to stop having an impact on me. I have one playlist I only use if I've got a very serious session to hit. The song I always listen to before a race is 'Monster' by Kanye West, Nicki Minaj, and JAY-Z. I love it. It always makes me laugh thinking about how on the outside, I'm smiling and being friendly, but in my head, I'm saying all of these horrible things really quickly."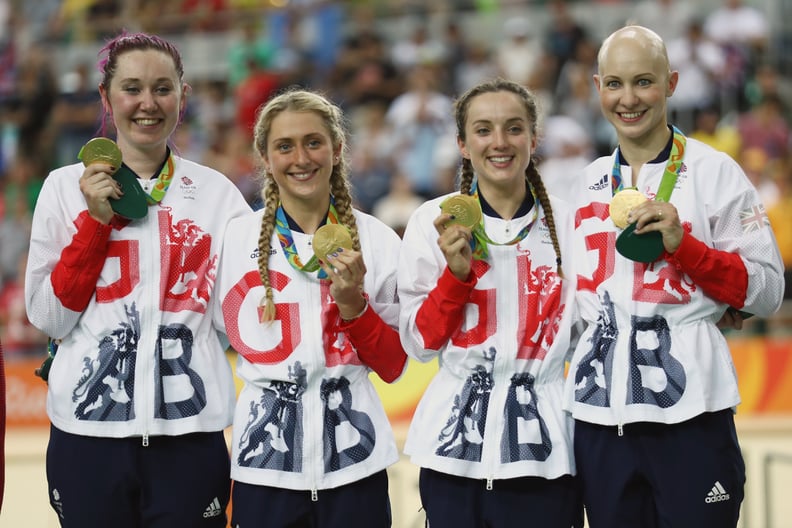 On Winning Her First Olympic Gold Medal
"I've forgotten a lot more about the 2016 Olympics than I thought I would. The thing that sticks out for me is the food being really bad. I wasn't sure what was safe to eat, which sounds dramatic, but when it's the biggest race of your life, you don't want to ruin it. I ended up living on porridge pots and Nutella tubs. Qualifying was unbelievably nerve-racking, but the day of the final was the least nervous I'd ever felt. I remember thinking 'I'm already an Olympian, something I wasn't before. Now I'm in the final, I've definitely got a medal, so how can I possibly be a failure?'"
On the Persistence of Sexism (and Stereotyping) in Cycling
"A few years ago, female cycling was introduced to the Six Day Series. The men's racing is a show, but for women, it's used as a qualifier for the World Championships and Olympics. The soundtrack included 'Man! I Feel Like A Woman' and anything with the word 'girl' in it. It was gimmicky and really frustrating because the men had amazing rock or dance music that added to the race. It made women's racing look like a tick box rather than the racing spectacle it is."
"A lot of people think it's acceptable to comment on my body. I was at the airport once, and a man came up to me and said, 'Of course you're a cyclist with legs like that.' In the same journey, someone else asked 'How do you peddle your bike that fast with legs that small?' People often think they're giving a compliment when they say I'm too big or too small, but it's irrelevant. If I commented on someone's beer belly, that would be seen as rude, when it's exactly the same thing."
On Taking Care of Her Mental Health
"A few years ago, a couple of people around me were experiencing mental health issues. I don't think I realized how much it was affecting me because I saw it as their issue, not mine. I had quite a tough year and decided I wanted to quit cycling because it was putting stress on top of stress. For whatever reason, I carried on, and a couple of months later, I won the World Championships. It made me realize I could be a good cyclist and still have bad days. I'm still learning, but I try to remember it's just as much about believing you can do something as actually being able to do it."
On Living With Endometriosis
"Trying to get an endometriosis diagnosis was extremely difficult. I kept being told by male doctors that the amount of pain I was in was normal, and it was a fact of life I was going to have to get used to. I wasn't sleeping and was living off takeaways, which wasn't sustainable. It took five years, but I was finally referred to a female specialist who diagnosed me. It was a total game changer. I'm going to need a few more surgeries because it's not a one-time fix, but I'm just going to treat it like getting a haircut."
On Staying Safe on the Road
"Drivers are being more patient at the moment because we're all trying to look after the NHS and don't want anyone to be in hospital unnecessarily. It would be nice if it was always like that, but people like to take out their frustrations on the roads. There are times when drivers stop seeing me as a person and [start seeing me] as an obstacle — 99 percent of people are fine, but when you're training on the road 18 hours a week, that one percent is about 100 people who don't value your life, which can make the road feel really dangerous."