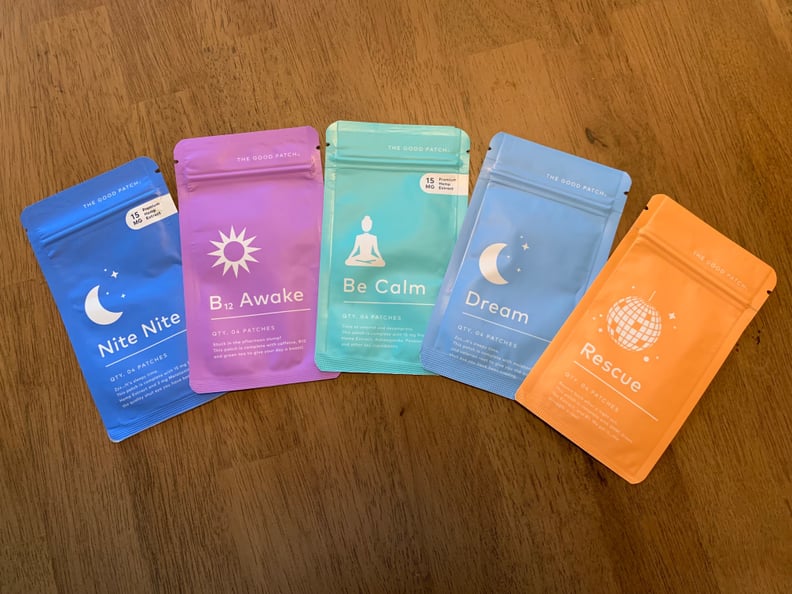 POPSUGAR Photography | James Puleo
POPSUGAR Photography | James Puleo
As POPSUGAR editors, we independently select and write about stuff we love and think you'll like too. If you buy a product we have recommended, we may receive affiliate commission, which in turn supports our work.
I'm a firm advocate for all things CBD (sometimes THC) — anything within reason that keeps us calm two years into a pandemic. With that said, I had my doubts about a wearable wellness patch that could deliver the same benefits as my occasional CBD dose, particularly for a purported 8 to 12 hours.
I was intially attracted to The Good Patch because its patches are dermatologist-tested and approved — a definite concern for me, since I have uber-sensitive skin that can flare up with overexposure to too much wind or sun. Moreover, to my great joy, the patches are gluten free, paraben free, latex free, cruelty free, and vegan. My stomach is always quite sensitive to foreign substances, so having these benefits delivered through my skin felt like a wonderful new option.
The Good Patch also has patches that address common ailments, such as stress or sleeplessness, but I appreciate that they don't offer too many choices (which would stress me out by itself). They give you the option of building your own bundle based on your lifestyle; you can also save 15 percent on a subscription that allows you to switch out patches at any time. The patches were sent to me, but I was excited to know that I could also pick them up at my local Target, Ulta, or Anthropologie.
I tested out The Good Patch's starter set ($45, originally $72), which has two plant-based and three hemp-based patches. The first patch I used was Be Calm, which was appropriate, since I was having family over for a visit — I adore them, but it does bring stress to my day. I applied the patch to my wrist first thing post workout/shower, as indicated. The minute I put it on my wrist, I realized that it would be difficult to keep dry, since I wash my hands almost constantly now due to COVID. I decided to discard it and try putting a patch on the back of my shoulder, since the insert suggests that as an option. When I removed the patch from my wrist, it came off like an extremely sticky Band-Aid and left the area red (it quickly dissipated). Still, each packet comes with four patches, so there are more than enough to try until you figure out what works best for you.
I instantly felt a sense of calm come over me after I applied the patch, which I can only assume was the placebo effect. However, I did feel that my morning was easier and that getting ready for my guests wasn't as daunting. I also didn't feel the patch on my body at all and totally forgot it was on — I was reminded only by my 8-hour timer, at which point I pulled the patch off. (It did hold tight to my skin and stung a bit coming off.) Overall, I felt like my day was a bit more calm, which I attribute to the patch.
That night, I gifted my husband a Nite Nite patch, since he has issues sleeping. He was surprised when he actually fell asleep in our toddler's room while putting her to bed, which never happens. He said he fell asleep quite easily after that and slept soundly the whole night through. I myself wore the Dream patch — while it did put me out quickly, I woke up in the middle of the night (which has become a habit since I became a new mom) and felt a little nauseated and headachy. I removed the patch at that point (it came off my wrist easily after being on for several hours) and felt OK. I admittedly don't always react well to anything that depresses my nervous system too much, so that's something to keep in mind when I choose patches going forward.
The B12 Awake patch actually came in handy when I had to power through a very busy Monday after working the entire weekend. Once it was applied, I felt more energized, but not in a frantic way — it gave me a calm sort of energy that made me feel very balanced.
As the mom of a toddler, I don't get out a ton, but I did have one evening recently where I was up quite late with my little one, who was dealing with a stomach virus. The Rescue patch came in handy there, providing the remedy I needed to get through the following day.
I stand corrected in assuming that something like The Good Patch wouldn't have the same effect as a pill or drink in easing my ailments. I'm quite impressed with the effects (whether or not they're helpful), and I'm excited to add patches to my overall wellness routine.