12 Healthy Mediterranean Recipes You Need to Try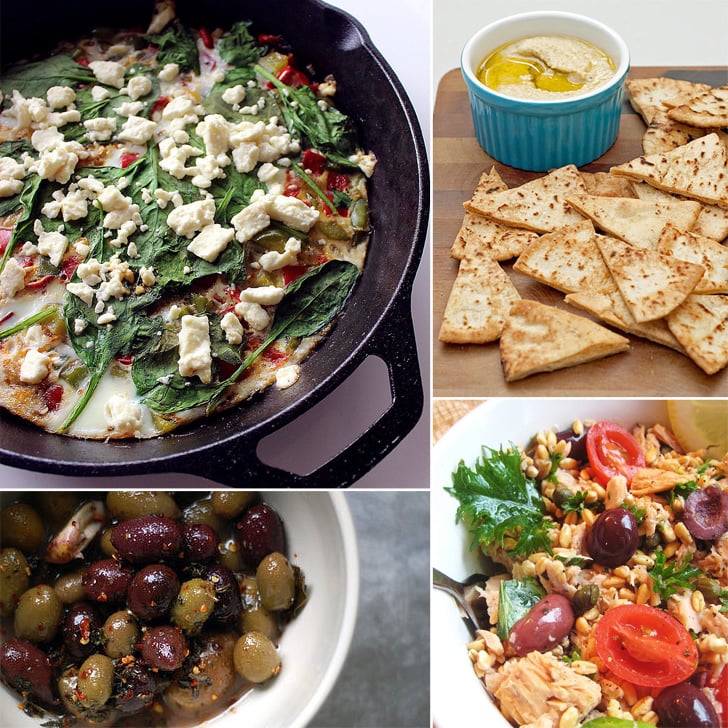 We love the healthy things the Mediterranean diet stands for: lean protein, good fats, and plenty of produce! Once you've got these Mediterranean diet staples ready to go in your fridge, get inspired in the kitchen with these delicious recipes that can support your healthy goals. Sources: Lizzie Fuhr, Nicole Perry, Camilla Salem, My Fare Foodie
01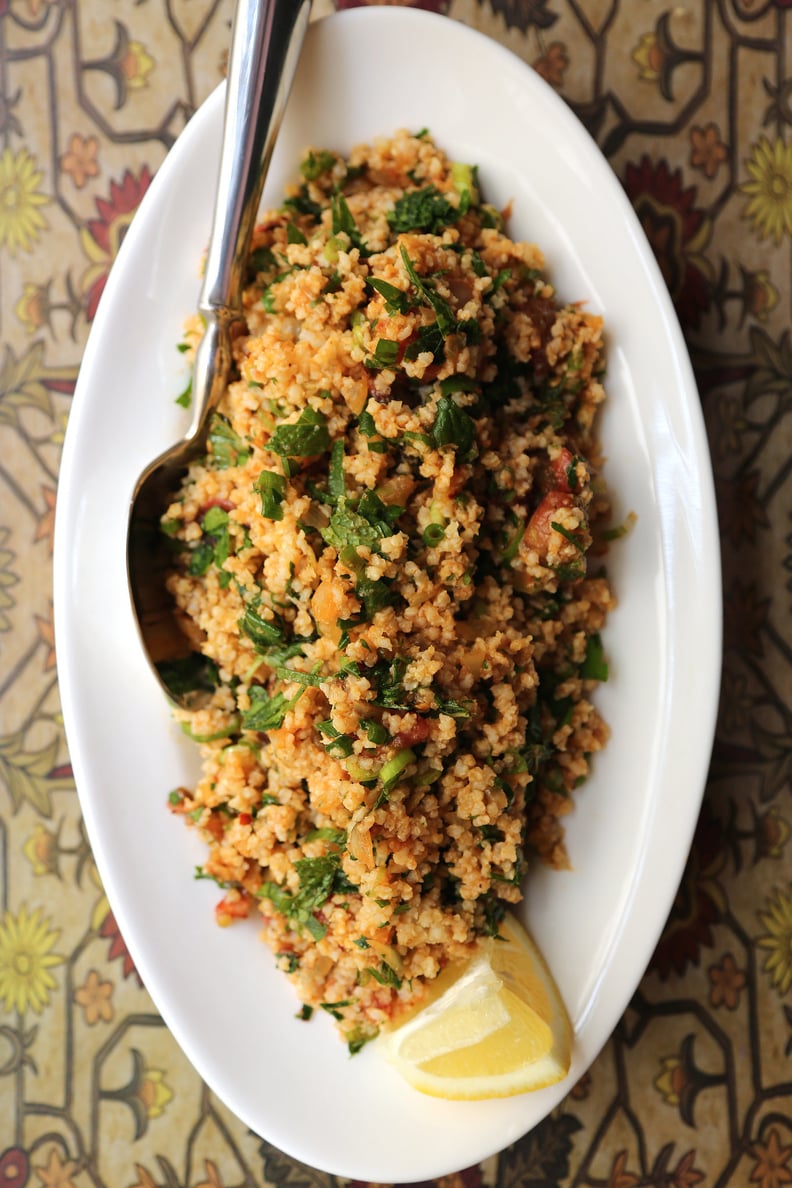 Quinoa Tabbouleh Salad
Whether you're looking for a protein boost or have gone gluten-free, you'll love this quinoa tabbouleh salad — a twist on the classic that calls for the pseudograin quinoa instead of bulgur. Photo: Anna Monette Roberts
02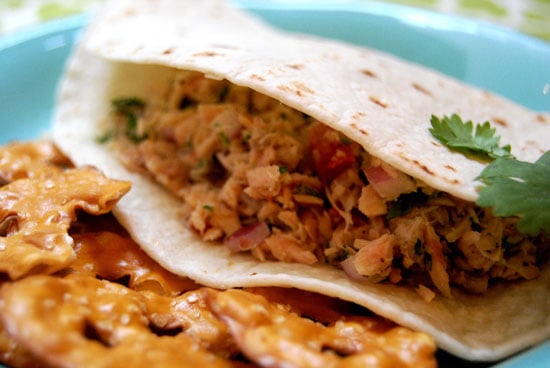 Lemon Tuna Salad
Substituting lemon and olive oil for mayonnaise makes for a lighter, brighter tuna salad that's perfectly in line with the Mediterranean diet. Tuck yours into a pita or serve it on top of a bed of fresh greens. Photo: Michele Bell
03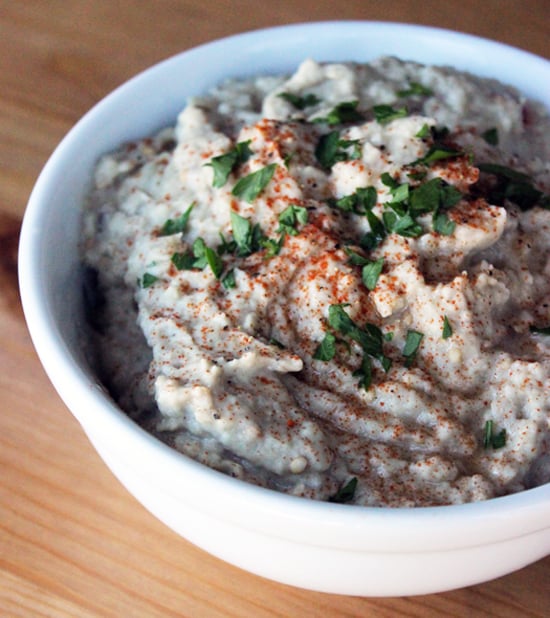 Babaganoush
Mix up your hummus habit with a bowl of smoky and satisfying babaganoush, a traditional Middle Eastern eggplant dip. High in iron, potassium, B vitamins, and manganese, this delicious recipe would be a welcome addition to any healthy spread. Serve it alongside fresh veggies or baked pita chips. Photo: Lizzie Fuhr
04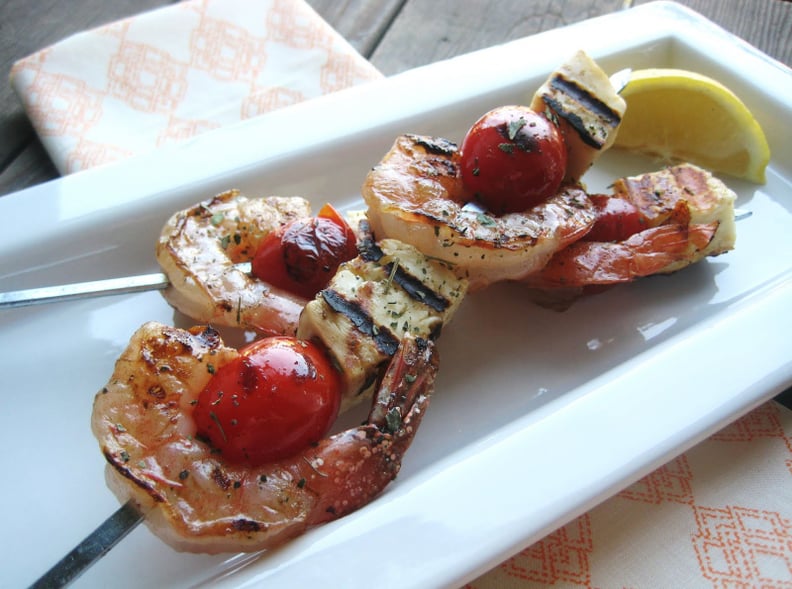 Greek Shrimp, Tomato, and Halloumi Skewers
It doesn't get more Greek than this shrimp skewer recipe. The natural flavors of the Halloumi cheese, tomato, and shrimp speak for themselves with fresh lemon juice, olive oil, and just a hint of salt and pepper. Source: My Fare Foodie
05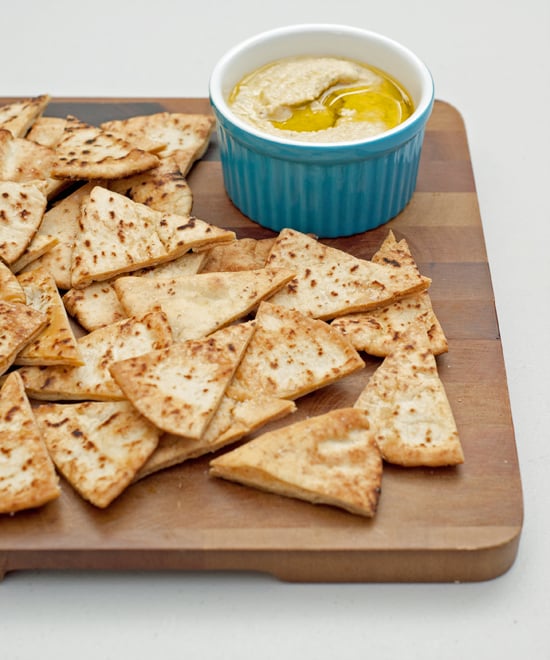 Homemade Pita Chips
Skip the store-bought stuff, and make your own pita chips at home. Once you try this method from POPSUGAR Food, you'll never go back to the old oh-so-salty standard. Photo: Nicole Perry
06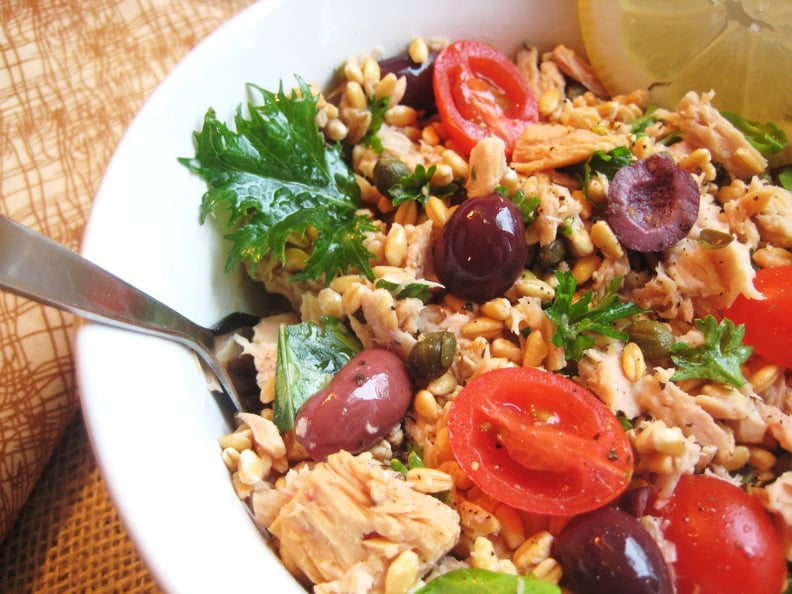 Tuna and Farro Salad
Who knew a recipe so simple and uncomplicated could be so delicious? This simple tuna and farro salad offers omega-3-rich fish, a staple of the Mediterranean diet. If you're not too keen on cooking fish in your kitchen but are still looking for its healthy benefits, this is the recipe for you. Source: My Fare Foodie
07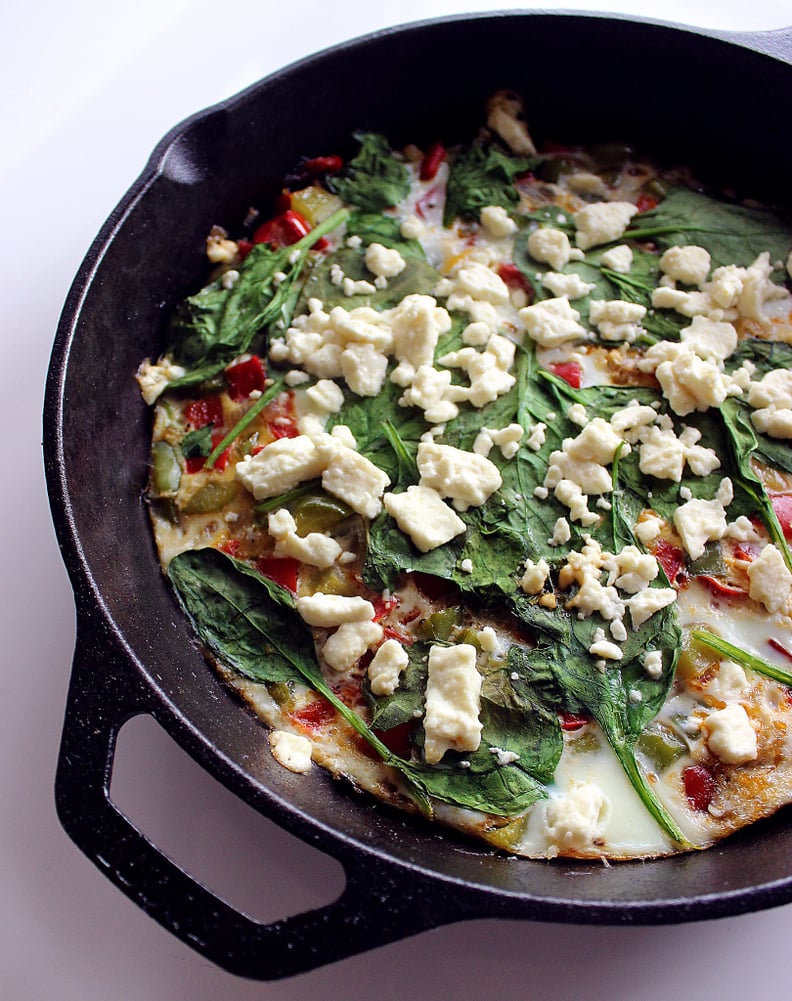 Egg White Frittata
Classic Mediterranean ingredients like peppers, onion, and spinach bring texture, flavor, and nutrition to the dish, while egg whites and feta provide over 20 grams of protein to this low-calorie frittata that actress Lea Michele loves! Photo: Lizzie Fuhr
08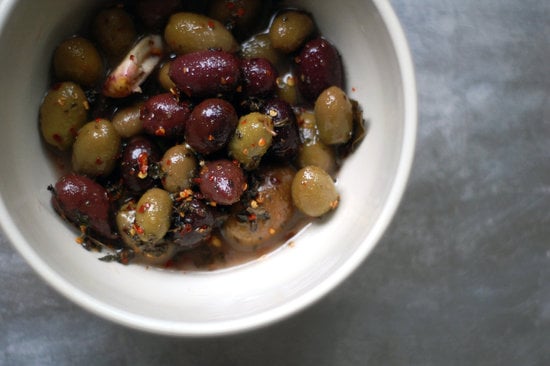 Spicy Marinated Olives
POPSUGAR Food has done this classic olive appetizer one better by adding metabolism-boosting chili flakes to the mix! Feel free to make these spicy olives in advance, because they will be that much better once all the flavors have ample time to meld. Photo: Camilla Salem
09
Bob Harper's Easy Roasted Fish
Trainer Bob Harper is a huge fan of fish. Watch this video to learn his simple technique for cooking fish that keeps the calories down but the flavor profile high.
10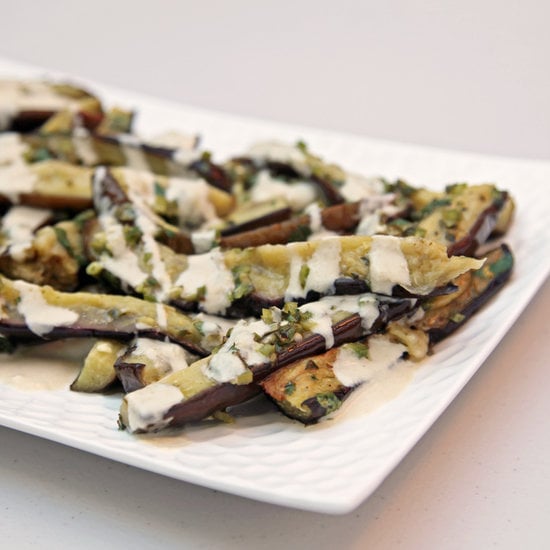 Marinated Eggplant With Tahini and Oregano
Make the most of eggplant season while it's still upon us. This marinated eggplant side from POPSUGAR Food brings a ton of Mediterranean staples to the table: veggies, olive oil, lemon juice, and more! Photo: Nicole Perry
11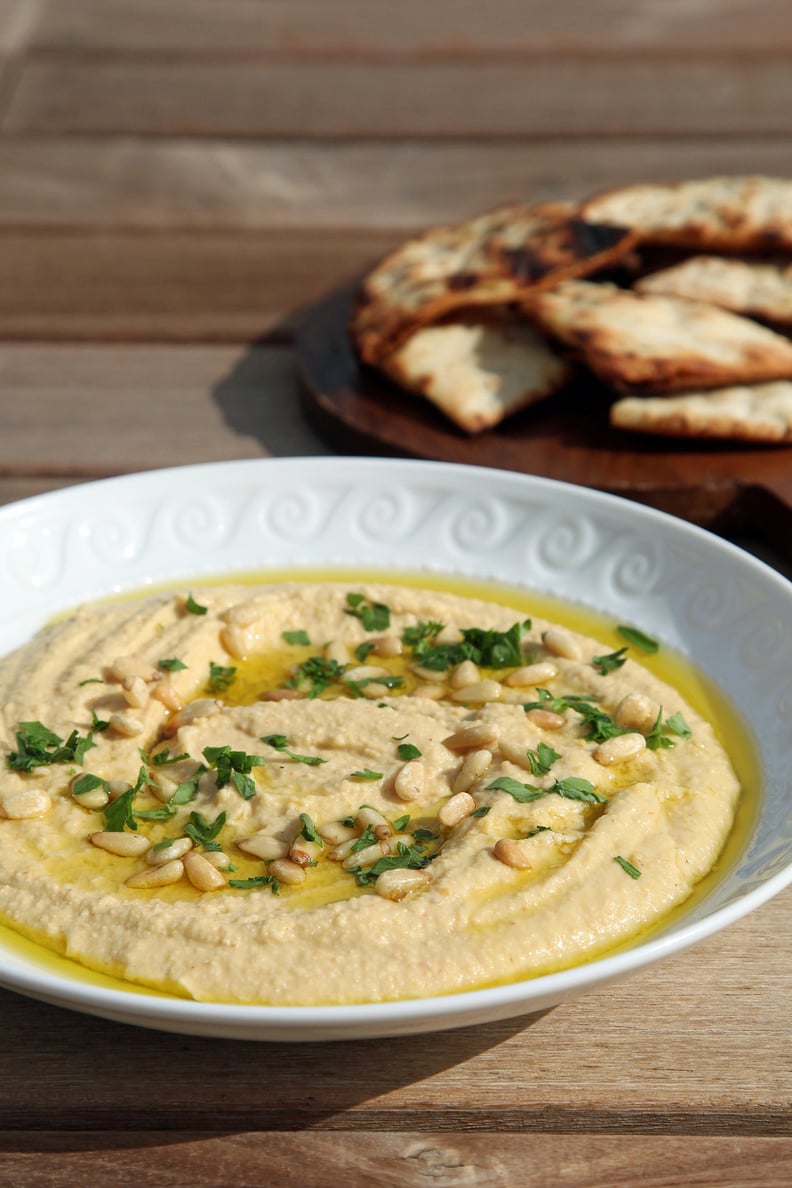 Classic Hummus
The garlicky and lemony flavor of classic hummus goes well with just about every Mediterranean dish. We dollop this protein-rich stuff all the time when it comes to snacking, and alongside a good squeeze of lemon, it stands in perfectly for salad dressing.
If you're ready to revamp the regular blend, try these 15 twists on the classic. Photo: Nicole Perry
12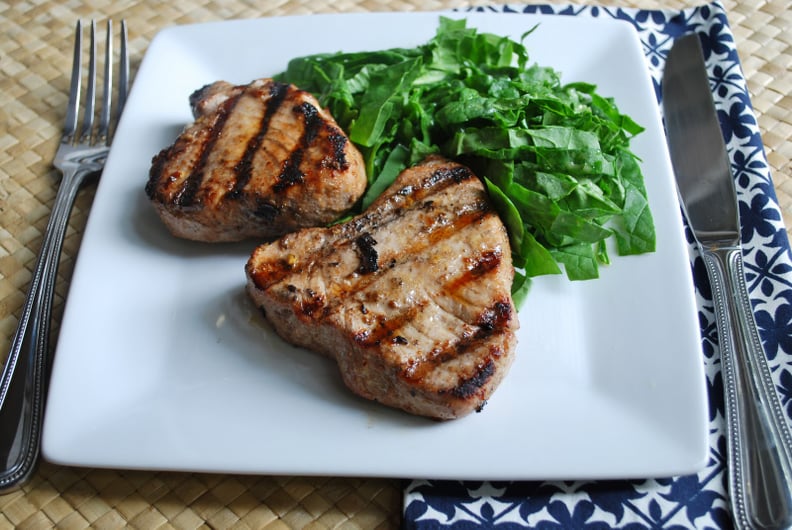 Pomegranate Tuna Steaks