Fast, Easy, Healthy Recipe For Quinoa Tabbouleh
A New Way to Eat Quinoa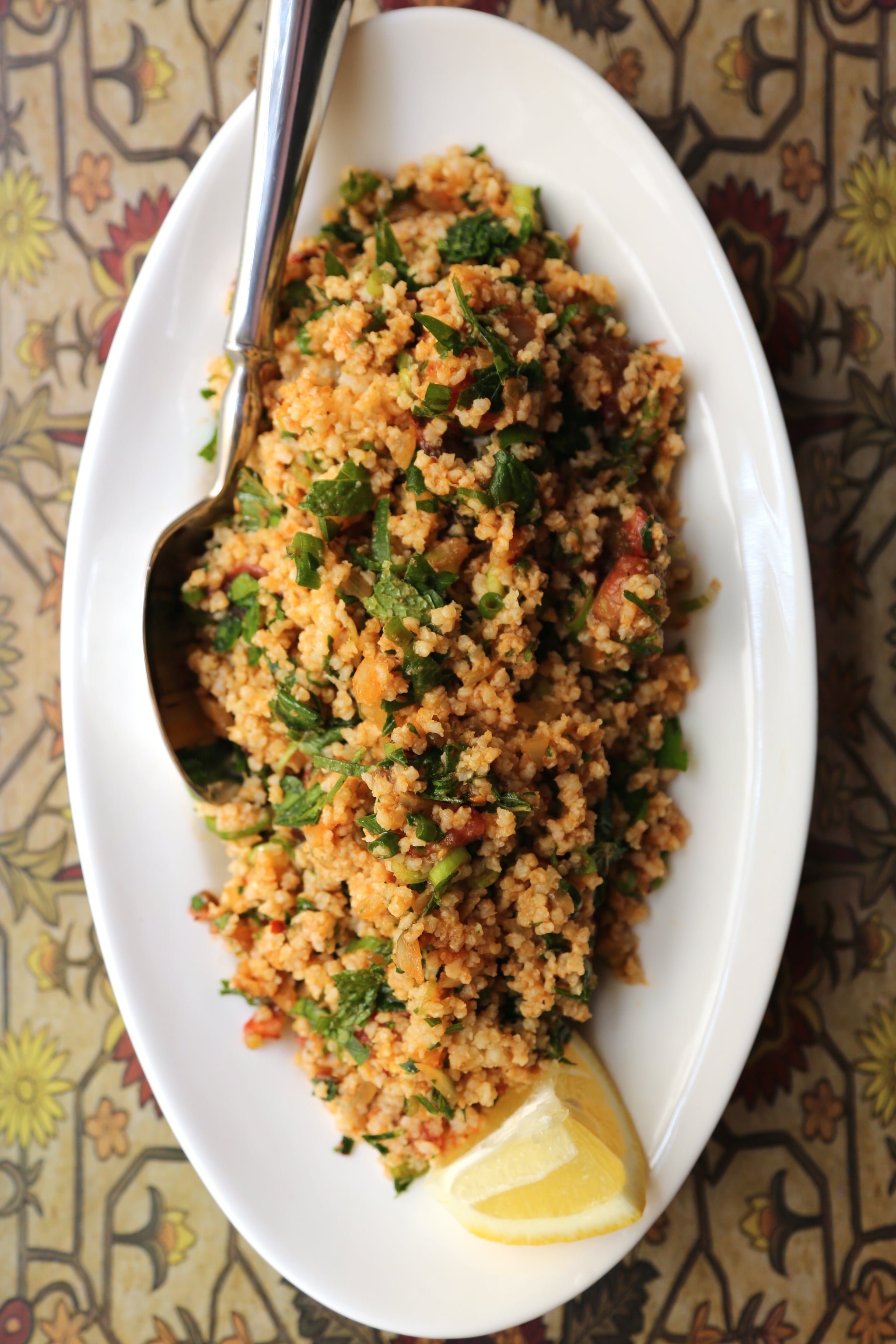 Whether you're looking for a protein boost, have gone gluten-free, or just can't get enough quinoa, the Peruvian psuedograin can be used in place of bulgur wheat in tabbouleh, a common Middle Eastern parsley salad. The trick is rinsing then roasting the quinoa, so it puffs up and tastes as fluffy as cooked bulgur wheat.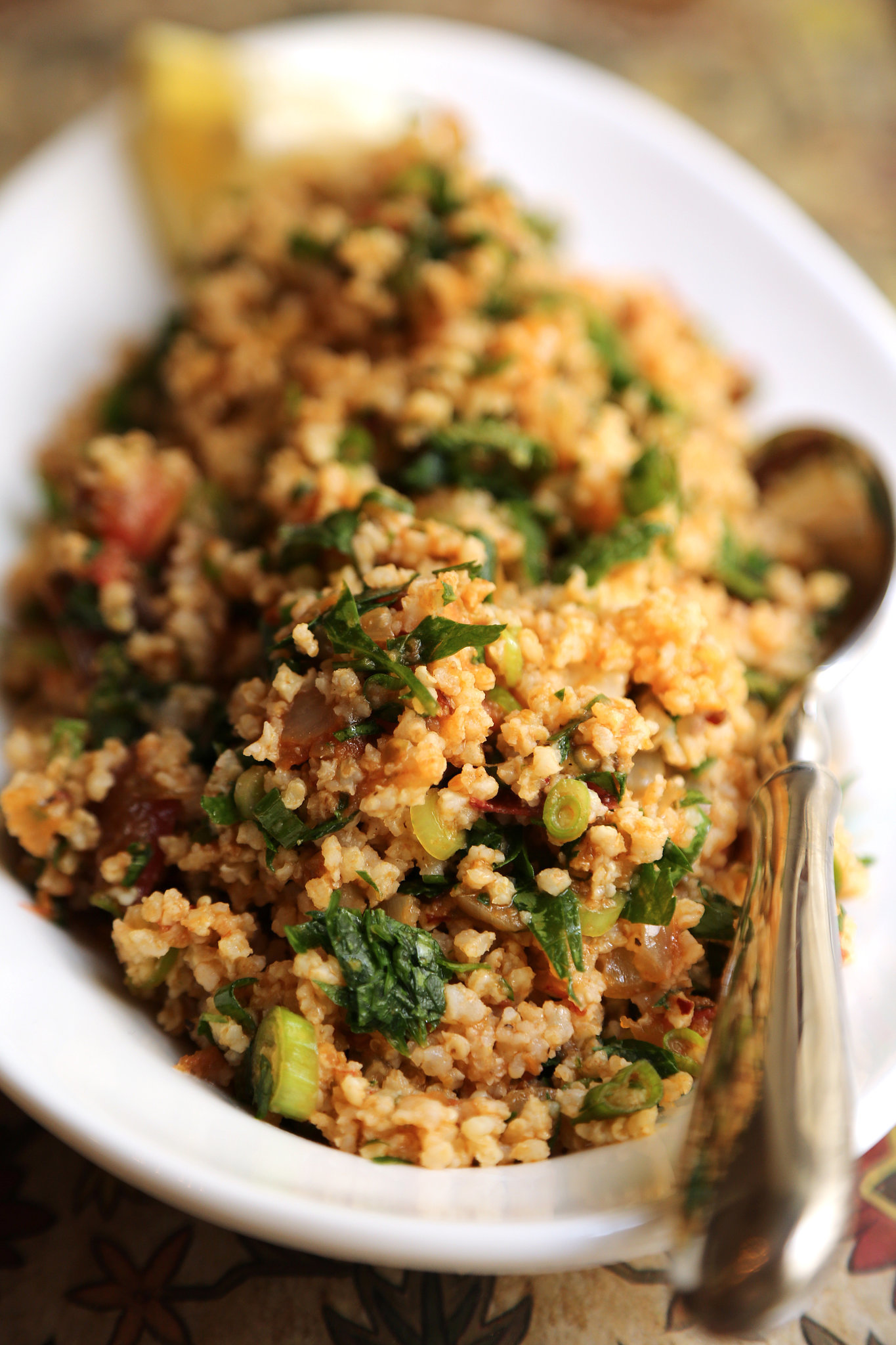 This particular recipe hails from Brendan Brazier's cookbook, Thrive Energy ($23). Though it's a tad more involved than the traditional tabbouleh, the recipe packs a powerhouse of flavor. Spicy red pepper flakes, tart pomegranate molasses, and cooling mint separates this dish from the rest. Though the recipe is intended to eat cold or at room temperature, leftovers also taste wonderful heated up.
Notes
Look for Mediterranean red pepper paste in Middle Eastern supermarkets or in the foreign food aisle at the grocery store.

If you cannot find Mediterranean red pepper paste, simply leave out or substitute with harissa, a spicy sauce made with roasted red peppers and serrano peppers.

If you do not have coconut and grapeseed oil, substitute with extra-virgin olive oil.

This recipe is very spicy and oniony. (For a milder, more traditional take on tabbouleh, leave out the onion-spiced tomato paste mixture entirely. Make the quinoa and stir in the fresh herbs, lemon juice, pomegranate molasses, etc. and sprinkle in the green onion to taste.
Ingredients
1/4 cup virgin coconut oil
1 cup quinoa (any color), rinsed and drained
2 cups water
1 large sweet onion, finely chopped
2 tablespoons ground cumin
1 tablespoon ground coriander
1 tablespoon red pepper flakes
1 tablespoon tomato paste
1 tablespoon Mediterranean red pepper paste
2 medium tomatoes, seeded and diced
6 green onions, finely chopped
5 or 6 mint sprigs, leaves only
1 1/2 cups fresh Italian parsley, leaves only, chopped
2 tablespoons lemon juice, freshly squeezed
1 tablespoon pomegranate molasses
1 tablespoon grapeseed oil
Sea salt and black pepper, freshly ground, to taste
Lemon wedge, for garnish
Directions
Heat a medium saucepan over medium-high heat and drizzle the bottom with 2 tablespoons virgin coconut oil. Add the quinoa; toast, stirring frequently, for 1 to 2 minutes or until dry. Add the water and bring to a boil. Reduce heat to the lowest setting, cover, and cook for 15 minutes or until water has evaporated. Remove from heat and let the quinoa sit, covered, for 5 minutes. Fluff with a fork, and transfer to a large bowl, and let cool completely.
Meanwhile, heat another medium saucepan over medium-high heat. Add the remaining coconut oil and the onions. Cook, stirring frequently, until the onions are translucent, 3 to 4 minutes. Add the cumin, coriander, red pepper flakes, tomato paste, and red pepper paste. Cook, stirring, for another 3 to 4 minutes. Let cool completely.
Add the onion mixture to the quinoa and toss gently until fully incorporated. Add the tomatoes, green onions, mint, parsley, lemon juice, pomegranate molasses, and grapeseed oil. Toss gently. Season with salt and pepper to taste, and garnish with lemon wedge.
Information
Category

Side Dishes, Greens

Cuisine

Mediterranean/Middle Eastern

Yield

4-6 servings
Image Source: POPSUGAR Photography / Anna Monette Roberts