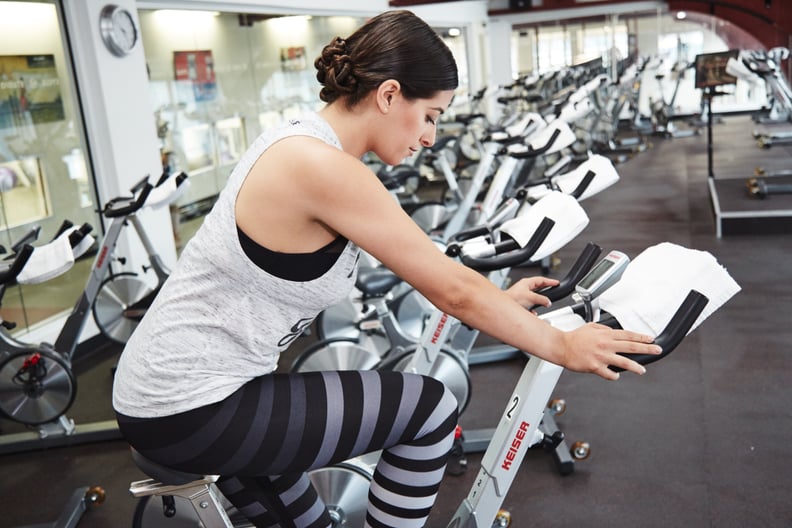 POPSUGAR Photography | Benjamin Stone
POPSUGAR Photography | Benjamin Stone
We love indoor cycling. From boutique studios like Wheel House and SoulCycle to interval classes at the gym, indoor cycling is a great way to get a burst of cardio and, if done properly, can also give your booty a little boost.
Avery Johnson, one of my favorite instructors from Wheel House in San Francisco, had some tips to use on your next ride to start shaping up your bum.
Adjust your bike. Avery suggests arriving 10 minutes early in order to properly adjust your bike, especially if you're new to cycling. You can't give your butt a proper workout if you're not set up properly! "Proper alignment will maximize your ride and prevent injury. Don't be afraid to ask the instructor to help you with set-up."
Have the right form. "When you're out of the saddle, be sure to keep your core tight and your hips back," said Avery. "This stance protects your spine while giving your rear the lift you came for." Avery said to keep in mind that a little bit of light tapping (of the booty) on the seat during jogs or runs is totally OK.
Squeeze! Avery reminded us to "squeeze those cheeks during jumps and any other time you pop up out of the saddle during class." This will help to activate your glutes and also helps with your form.
Use resistance. This is crucial. "Don't be afraid of resistance," she said. "Crank it up for seated and standing climbs to really use those glutes."
Focus on the climb. Avery said that when you combine all of the above — proper form, squeezing, and resistance — the climbs, rather than the sprints, are the most crucial for booty sculpting. "When doing a heavy standing climb, once again, keep those hips back and squeeze your glutes. Concentrate on using those muscles to power you up your mountain!" And the results will come, she told us. "This [form] will give your booty a nice workout while preventing you from dumping into your hips, which can cause tightness and injury."
Don't skip the cooldown. The cooldown is essential to building muscle recovery — and it's good for your brain! "Instead of being tempted to peace out after the final sprint, give yourself a few minutes to cool down with the rest of the class. This allows your muscles time to stretch out and recover."
Train off the bike, too. "Don't forget, your time out of the saddle counts," Avery told us. "Squats, lunges, and weight-training classes will help further define and shape that booty." And those exercises will make you stronger so you can get an even better cycling workout!
Avery has a superfun indoor cycling playlist to get that booty into shape, and she encourages all of us to "get out there and shake it!"