Mocktails to Celebrate Fitness Milestones
These Better-For-You Mocktails Will Help You Celebrate Those Everyday Fitness Milestones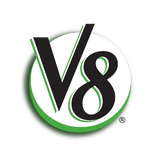 We partnered with
V8®
to help you celebrate all your feel-good milestones, no matter how big or small.
Fitness is more than just a thing you do to get muscles or lose weight — it's a method for feeling good. It's a way to boost your mental health, physical health, and long-term health, and it doesn't have to be daunting. Fitness can come in so many different forms, from a high-intensity circuit to stretching between work meetings. And those little accomplishments deserve a pat on the back!
So to help you make every milestone — big and small — a little more special, we tapped cocktail master and owner of beverage consulting firm Spirit & Spoon, Karl Steuk to put together five craft mocktails to help you reward yourself for a job well done. Keep scrolling for a few fitness moments throughout the day that deserve some recognition.
Whether you have a pup to take along the ride or not, a walk shouldn't be something you scoff at. Between meetings or after work, take a leisurely stroll around your neighborhood, then come home and mix up this vibrant mocktail.
Ingredients:
Method:
Add all ingredients into Collins glass. Add crushed or regular ice and give it a gentle stir. Garnish with a lemon slice.
Give yourself a high-five — you made working out a priority this week! No matter what you did to move your body, you made a little step toward a larger goal of feeling good. Cheers to you with this yummy, berry-filled drink.
Ingredients:
1/2 oz. lemon juice or a healthy squeeze
Splash of soda water
Method:
Add all ingredients into collins glass with ice. Gentle stir and garnish with a lemon wedge.
On those nice spring or fall days when the weather is too good to pass by, take your commute to the open air by walking, biking, scooter-ing, or even skating to your destination. Your endorphins will be at an all-time high — as will your taste buds when you treat yourself with this creamy concoction.
Ingredients:
Method:
Add ingredients into rocks glass, add ice, and stir. Garnish with a strawberry and a salted rim.
If you're one of those people who sits in front of a computer all day or is constantly scrolling on your phone, you know how important it is to take those moments to stretch your back, neck, and legs during the day. Whip yourself up this herbaceous drink if your muscles are thanking you for your attention.
Ingredients:
2 oz. coconut milk
Squeeze of lemon
Method:
Add all ingredients into Collins glass and give it a gentle stir. Garnish with a sprig of rosemary (or fresh herb).
Recovery is just as important as the workout itself, so if you got out that foam roller this week, good on ya! Reward the relaxation with this tangy, energy-boosting mocktail to keep you on your toes.
Ingredients:
Method:
Add the V8 +Energy® Black Cherry and lemon into collins glass with ice. Top with soda water and stir. Garnish with mint.
Discover the V8® Products You Need to Craft These Delicious Drinks
Credits: Illustrator: Jordan Kay; Visual Designer: Mia Coleman