Naomi Watts on Menopause Stigma
Naomi Watts Wants to Talk About Menopause: "We're Not Going to Remain Silent"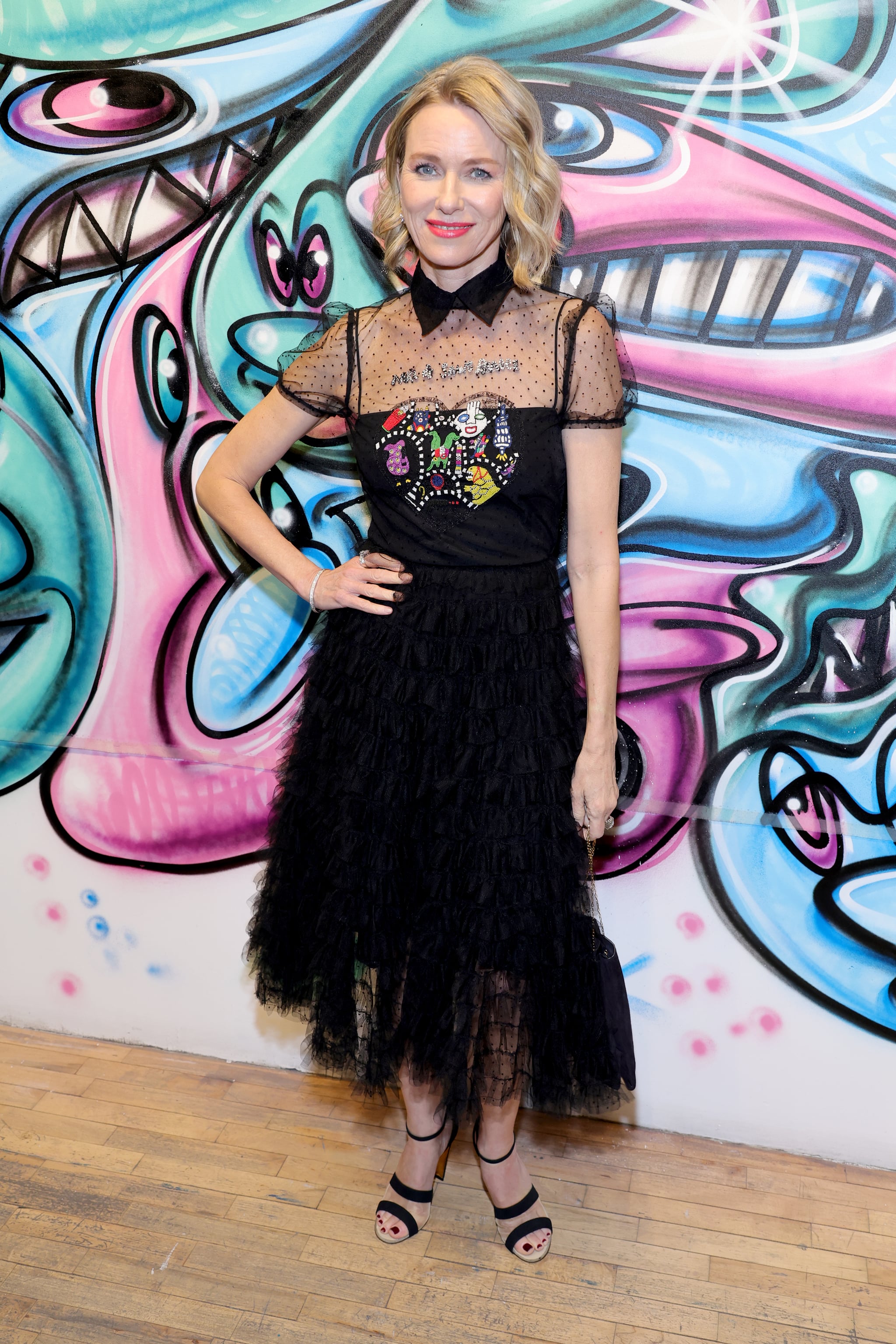 Image Source: Getty / Theo Wargo
Naomi Watts is tired of the silence. In an Oct. 18 interview with InStyle, Watts spoke out about her isolating experience with perimenopause, her difficult journey to pregnancy later in life, and the messaging behind her new brand, "Stripes." On a personal level, she says her passion to end the stigma surrounding menopause ignited after she started developing symptoms of perimenopause at the age of 36. With the exception of a helpful makeup artist, Watts found herself struggling to navigate these new and uncomfortable changes, along with a whole host of unfamiliar symptoms that no one seemed to talk about. She didn't fully realize what was happening to her body until she and her then-partner, Liev Schreiber, went to get a blood panel done in an effort to conceive a child.
"I knew that there are changes to the body around the age of 35, but I didn't know that it was a really late time to start thinking about getting pregnant," Watts explained. With the help of her doctor, she did eventually get pregnant, giving birth to her now 15-year-old, Sasha, and soon after, she got pregnant a second time, but this made her perimenopause symptoms intensify. "I just knew it was not a good thing to be walking through the same kind of loneliness and secrecy and shame again," Watts said. "I did test the waters with friends out there by cracking jokes about menopause, and they weren't really met with open ears and empathy. It was just like, let's move on to the next subject."
Growing increasingly frustrated with the lack of discussion surrounding this very real and natural experience she was facing, Watts finally decided to take matters into her own hands, partnering with biotech company Amyris to create 11 products that use an emollient called ectoine to address all kinds of perimenopausal and menopausal symptoms. "We included hair and body stuff, and then the vaginal products because that's also an area that suffers," Watts said. "One thing people say about menopause is that the libido lessens, and of course it does a little bit because our hormones are not driving our moods anymore. But it doesn't mean we stop thinking about sex or we stop wanting sex; we still have desire. You just have to get a little more organized and put a little more effort into it."
Now, Watts is dedicated to creating a future in which people do not have to endure the pain of menopause alone. As she noted in her interview, hers may be one of the first generations to go through menopause with true internet savvy, and she hopes to use this to her advantage. "There's never really been a platform for [this]," she said. "It feels like an intergenerational thing that we're doing because we're now realizing what our mothers and grandmothers went through in silence, alone. And we're saying we're not going to remain silent through our suffering."
"We're now realizing what our mothers and grandmothers went through in silence, alone. And we're saying we're not going to remain silent through our suffering."
The actor has previously spoken out on Instagram about her experience with menopause and its surrounding stigma, saying that when it officially started, it "felt like a head-on collision with a Mack truck." While Watts had every intention of potentially creating a family, she felt like she had no one to turn to and quickly discovered an alarming lack of resources — even from her doctors. "How could I figure this out when no one was talking?" she wrote.
No one really knew how to talk about something as taboo as menopause, Watts said. "My mentors and mum didn't seem up for discussing it, I didn't know how to ask for help and they didn't know how to provide.... even doctors had little to say," she wrote. "It's oddly like an unwritten code of silence: women should suck it up and cope, because that's how generations [past] have done it."
Celebrities such as Elizabeth Banks, Julianne Moore, and Octavia Spencer all voiced their support in Watts's comments section, but that's hopefully just the start when it comes to destigmatizing topics surrounding women's health.