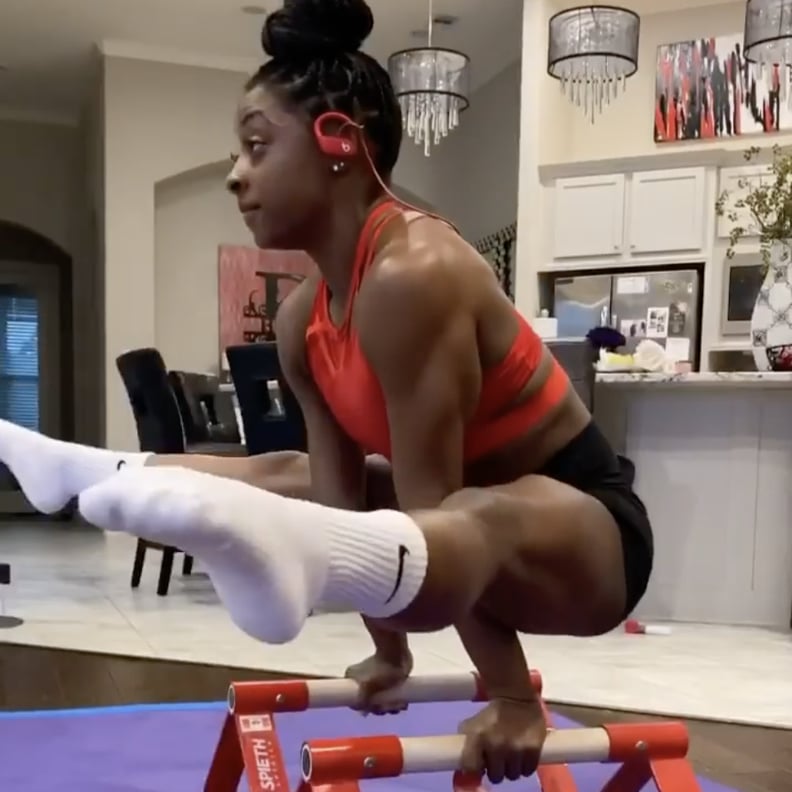 When I'm slogging through my latest home workout — hitting my legs on the coffee table, sending apologies to my downstairs neighbors, praying my resistance bands don't snap — it helps me to remember that all of us are in the same boat. Not even Olympians have been spared the struggle of taking gym (or track, or pool) workouts back home. Judging by the workouts and moves they've been sharing on social media, these top-notch athletes are getting just as creative as the rest of us, whether they're slapping beach volleyballs against plywood boards or practicing freestyle flip turns on dry land.
Ahead, check out 16 Olympians who are making home workouts their newest gold medal-winning event. Their resourcefulness and motivation might be the push you need to get your workout in for the day, or maybe just get you even more excited to watch sports again, whenever they return. (The Olympics are set for 2021!) Either way, we're taking notes from these professionals when it comes to staying driven, getting creative, and working up a sweat from our living rooms.
02
Shawn Johnson
Gymnast Shawn Johnson proved she still has Olympian-level strength when she took on the challenge of squatting her dog. "We'll stop at five . . . he's big!"
04
Simone Manuel
Swimmer Simone Manuel took her flip turn out of the pool and into her at-home gym, and we can practically feel the core burn from here.
05
Manuel enjoying that hard-earned "post-workout glow."
06
Michael Phelps
Michael Phelps shared bodyweight moves you can do every day for cardio and mobility. Yes, there are burpees involved.
08
Serena Williams
Who could possibly keep up with Serena Williams on the court? Serena Williams, of course. The four-time Olympic gold medalist has also been sharing her at-home stretching and yoga routines.
09
Kelley O'Hara
USWNT defender (and recent World Cup winner) Kelley O'Hara juggled a tennis ball to work on her coordination and balance.
10
Cat Osterman
Softball pitcher Cat Osterman shared her full at-home workout, which included sets of air squats, lunges, step-ups, and vertical jumps.
11
Caeleb Dressel
Swimmer Caeleb Dressel, who won two gold medals at the Rio Olympics, took on this challenging core exercise to work on strength and stability.
13
Mallory Pugh
Soccer player Mallory Pugh, who played on the USWNT in Rio, shared a full-body workout to light up your core, legs, and arms.
14
Alexi Pappas
Greek-American runner and Rio 2016 Olympian Alexi Pappas has been filling our feeds with exercises that train the fundamentals of running, like this hip-opening skip stretch.
15
April Ross
We think beach volleyball player April Ross is onto something with backyard version of a training ground, complete with a kiddie pool, cooler, plywood backstop, and a cool glass of Gatorade in hand.
16
Ryan Murphy
"Turns out pushing my car up this hill is harder than we thought," admitted Olympic swimmer Ryan Murphy. (We'll take his word for it . . .)