Alpine skiing is the bread and butter of the Winter Olympics. For those who aren't familiar with the winter sport, it consists of six events: downhill, slalom, giant slalom, super-G, combined, and mixed team parallel slalom. According to the official Olympic website, alpine skiing — which at the time was only the combined event — made its Olympic debut at the 1936 Winter Games, and it wasn't until 1988 that it became a five-discipline sport. At the 2018 Winter Olympics in Pyeongchang, the sport saw its first ever mixed-team relay, bringing the total events to six.
In alpine skiing, the number of runs athletes complete, the course layout, and the competition structure are all determined by whether an event is considered a "speed" or a "technical" discipline. In speed events (downhill and super-G), athletes have one chance to ski down the slope as fast as possible. Slalom and giant slalom, which fall into the technical category, require Olympic skiers to glide down the mountain twice while navigating gates and sharp turns. Curious to know more about each of the events? Keep reading for a complete breakdown.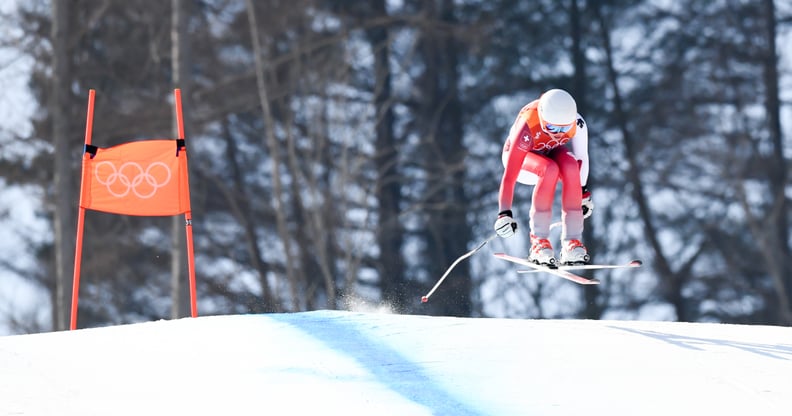 What Is Downhill in Skiing?
Downhill is one of the marquee events of alpine skiing, and it's where skiers clock the fastest times, reaching speeds of about 80 to 100 mph. In this discipline, athletes race downhill while maneuvering gates, risers (or small hills), and the course's terrain. Risers can help increase an athlete's speed. However, jumps can also go terribly wrong if a skier falls out of their tucked position and loses their balance. Unlike in other alpine skiing events, athletes are allowed trial runs before their official start.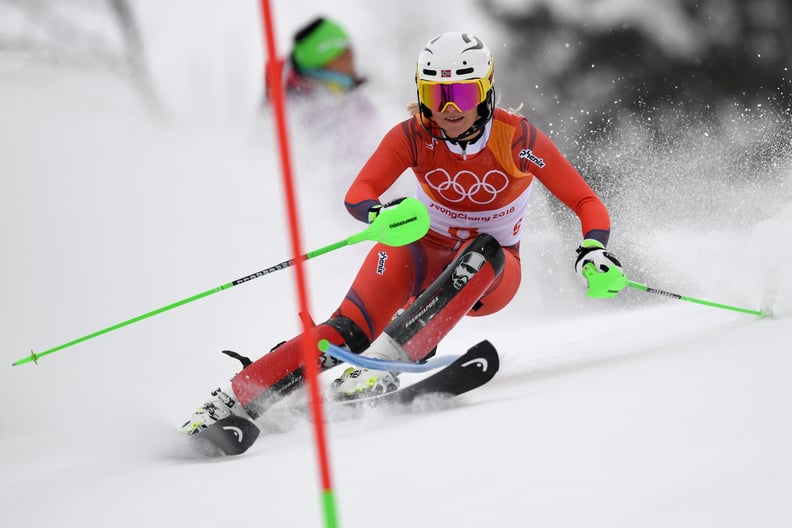 What Is Slalom in Skiing?
For slalom skiers, it's all about technicality. The course, which is the shortest in alpine skiing, requires athletes to weave in and out of closely placed gates while also executing high-speed turns and swift changes in direction. It's common for slalom skiers to reach speeds of up to 43 mph during competition. The event has a unique structure, where athletes compete in two rounds on the same day but on different courses. The winner is determined by whoever has the fastest cumulative time.
What Is Giant Slalom in Skiing?
While giant slalom follows the same competition structure as slalom, its course is more spaced out, which means fewer, wider, and smoother turns. Olympic skiers can break 50 mph while flying through a giant slalom course, making it the fastest of the three technical events in alpine skiing.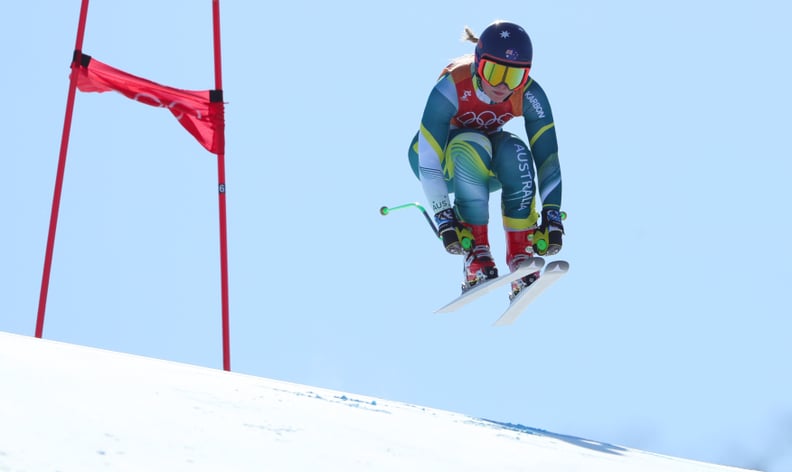 What Is Super-G in Skiing?
Take the momentum of downhill, pair it with the quick changes of direction in giant slalom, and you've got super giant slalom, commonly referred to as super-G. In this speed discipline, the course isn't as steep as the downhill, but the gates are closer together. Skiers only get one shot to ski the fastest time possible, and — yikes! — they're not allowed a warm-up. Instead of a practice run, athletes and their coaches get 90 minutes to analyze the course and mentally prepare for the race.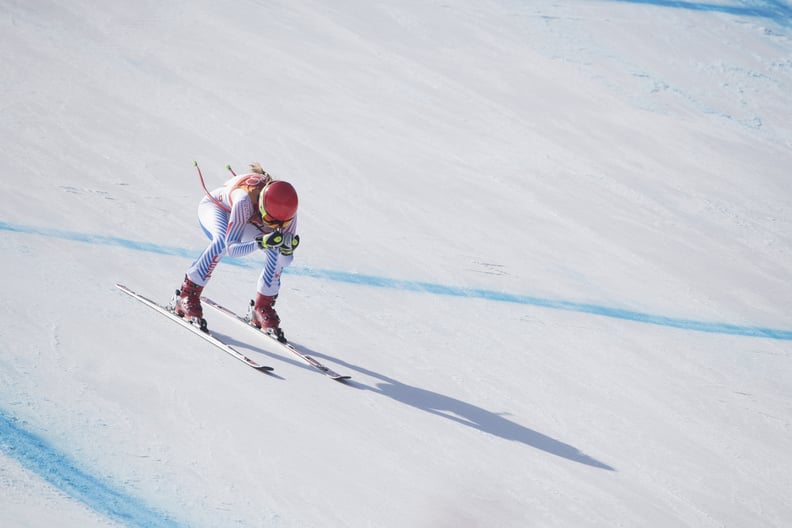 What Is Combined in Skiing?
Only competed on the Olympic stage, the combined attracts the crème de la crème of alpine skiers. The single-day event is compromised of two different disciplines — one that focuses on speed and another that challenges technicality. These are typically downhill and slalom, although downhill can be replaced with super-G. Each skier gets one run on both courses, and at the very end, the man and woman with the fastest combined times are awarded gold.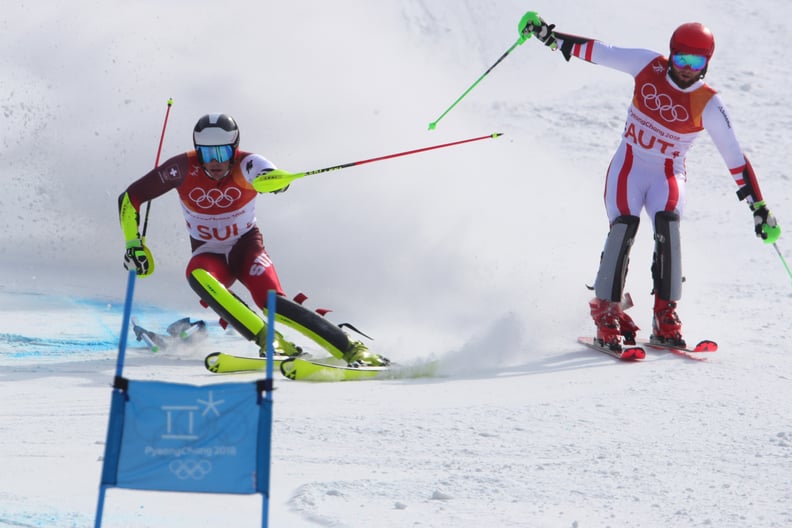 What Is Mixed Team Parallel Slalom in Skiing?
Since its Olympic debut in 2018, mixed team parallel slalom gas become a favorite among fans — because who doesn't love a relay? For this event, each country enters one team consisting of two men and two women. From there, teams race each other in groups of two on identical courses situated on the same slope. The fastest athlete in each duel earns a point for their team, and the team with the most points advances to the next round. If there's a tie, the winner is determined by the team with the fastest cumulative time.