Meet Shayna Texter, the Motorcycle Phenom Beating the Boys
Meet the Motorcycle Racer Who's Beating the Guys and Aiming For a World Championship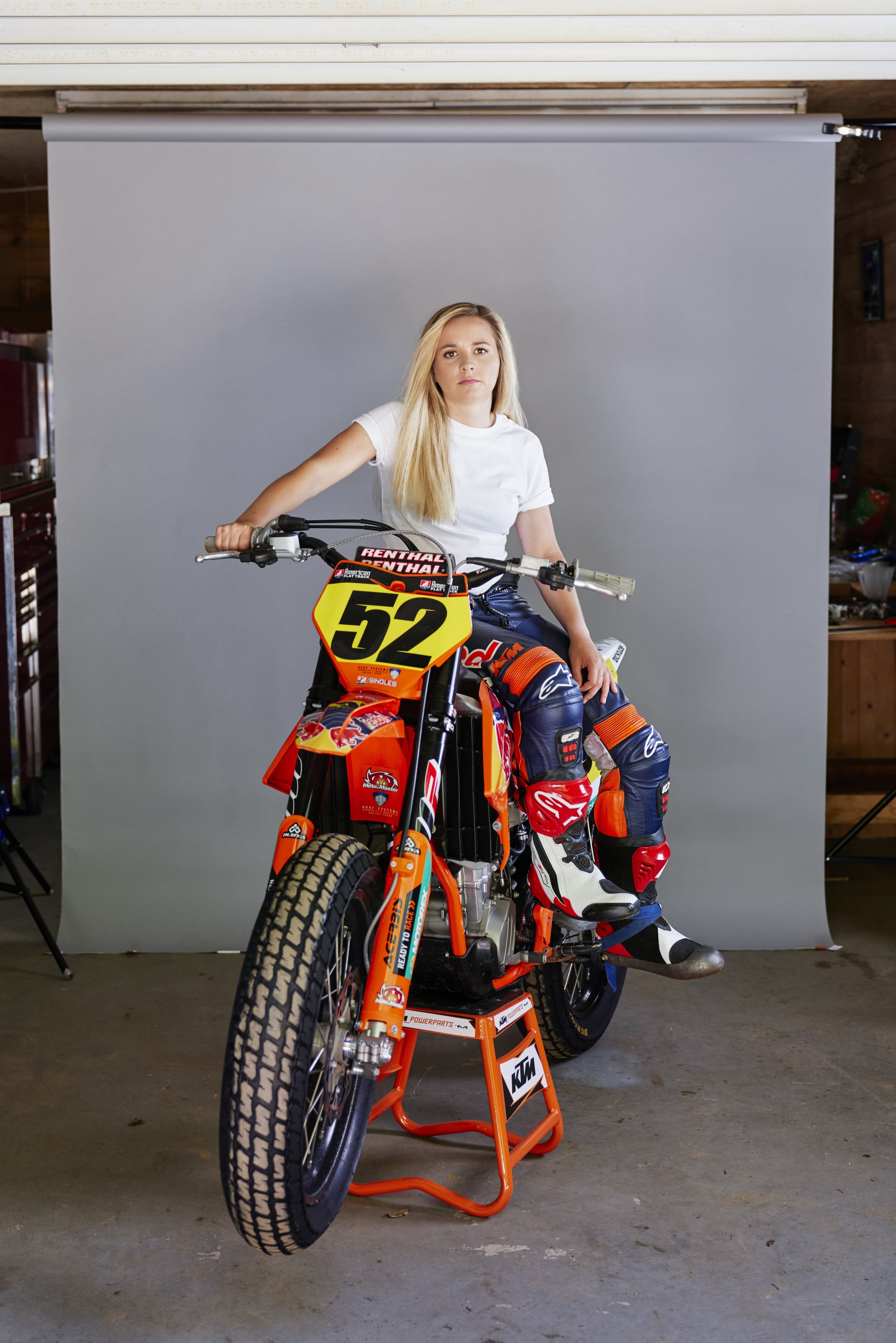 Racing is in Shayna Texter's blood. Her grandfather raced sprint cars; her father raced motorcycles. Her family owned a Harley-Davidson dealership. Shayna was on the back of a motorbike at age 3. With that pedigree, it's tempting to think that becoming who she is today — the only woman on the American Flat Track (AFT) tour, the winningest rider in her class — was inevitable. The truth is that she's fought tooth and nail for her career and her success.
AFT is easy to understand: motorcycles power around an oval track that ranges from a quarter-mile to a mile around. The bikes hit speeds up to 140 miles per hour on the straightaways and are equipped with only a single set of rear brakes. Sliding into turns, mere inches from each other and sometimes making contact, racers crash frequently, and injuries can be horrific.
This is the sport that Shayna Texter was born into, although it didn't, at first, seem to be her destiny. Shayna's dad, Randy, was a professional AFT racer, and his career meant that hers took something of a backseat. "I focused more on being a normal kid," she told POPSUGAR. She went to school, played soccer, and raced on the side.
Shayna started racing professionally at age 16. It was a rough start. She just couldn't get that first win under her belt; she questioned her decision to go pro. Then, two years later, Randy passed away. Beyond the emotional toll, his death left Shayna's career in turmoil, as the family sold off property — including the vans that she used to get to races and a stake in the Harley dealership — to cover some of his debt. "I pretty much went from having all the tools, everything I needed to be a professional flat track racer, to having nothing," Shayna said.
Her determination to keep racing, even without the resources, even without the results, came from Randy. "I went through a lot with my dad, and saw a lot of obstacles that he overcame," she said. "It gave me that determination to continue pushing, to try and be somebody in the sport." Shayna's goals were clear. She didn't just want to be the first woman to win an AFT race; she wanted to grow the sport, to push it forward, to inspire a new generation. "I wanted to make a difference," she said.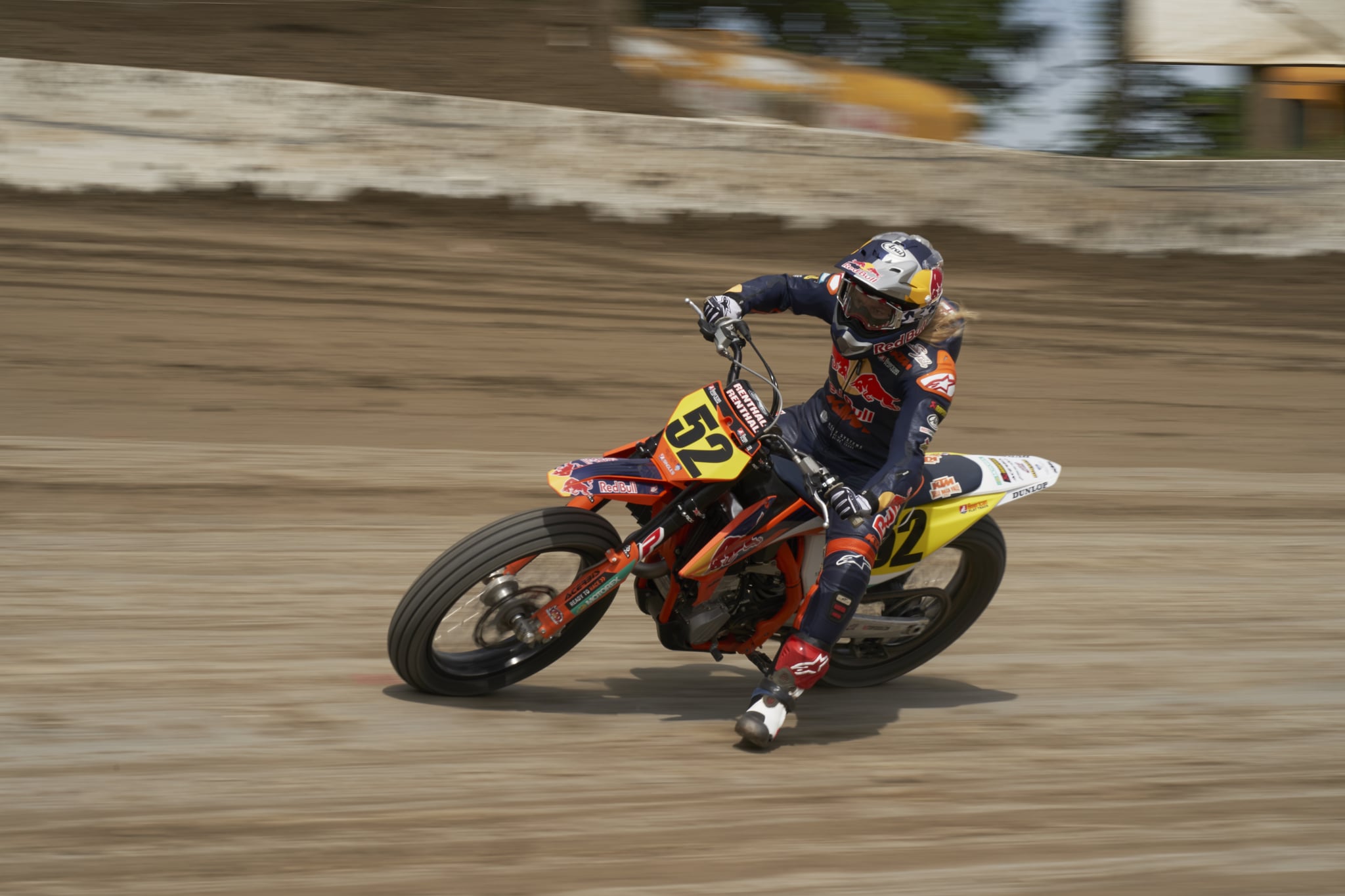 Three years into her professional career, Shayna won her first race. It was a "crazy experience" that started with a text from her older brother that read, "I think you're going to win today," and ended with her outracing her future boyfriend, Briar Bauman, to become the first woman to win an American Flat Track race. "It was huge," Shayna said.
Since that first victory in 2011, Shayna has racked up more wins than any other active racer in the AFT Singles class. That's an incredible accomplishment, but it's not what she's really hungry for. "I want to become the first female to win an American Flat Track championship," Shayna told POPSUGAR. "To stamp myself into the sport, at the end of the day, I want to become a champion."
Her quest to do so has helped to bring exposure to a sport that was desperate for it. Flat track is now a part of the X Games lineup, and races throughout the season are broadcast by NBCSN. Shayna herself is at a level of popularity all her own. When she's introduced at the start of a race, the crowd roars. She's signed with Red Bull, who produced a 15-minute documentary on her career that's racked up nearly 3 million views on YouTube.
As the only female on the track, Shayna's used her platform, as much as possible, to further not only her own career but the sport that has given her so much. She wants to see more fans getting interested, more young people trying it out. And more than anything, she said, "I would love to see more women on the track and just more women involved" in the motorcycle scene. That shift is already starting to happen. Shayna already sees more women in the stands, coming out to watch her races. "They see that I'm doing it, and believe that they're also capable."
The support that Shayna gets as the only woman on the track, as the winningest rider in her class, fuels her. The exposure pushes her sport forward. At the same time, "I've always said I wanted to be considered a motorcycle racer first and a female second," Shayna said. "When I have my helmet on, I'm just a competitor to the guys, and they're just competitors to me. At the end of the day, we're all racers."
Image Source: Laura Barisonzi / Red Bulletin