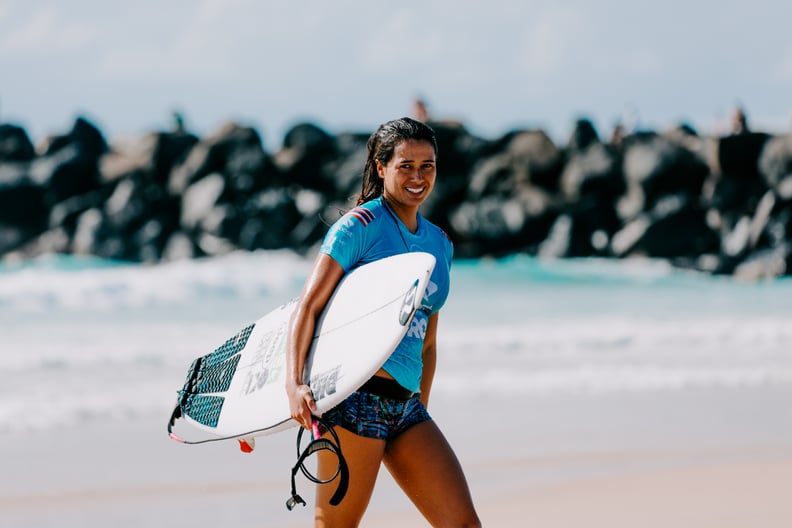 © WSL | Miers
© WSL | Miers
Pro surfer Malia Manuel wrapped up her 2019 on a high note. After a roller-coaster season that saw her rising as high as No. 2 in the global rankings, only to be brought back to earth by a knee injury, Malia managed to hold on to her position as one of the top 10 surfers in the world. That was a crucial accomplishment, securing her a spot on the top-tier Championship Tour for next season.
"I'm really happy," Malia told POPSUGAR before the Lululemon Maui Pro in November, the final contest of the year. Still sporting a small knee brace, Malia was healthy enough to paddle out at Honolua Bay, Maui, the cliff-side surf spot that's a short 30-minute flight from her home on Kauai.
Malia has been surfing her whole life; it runs in her blood. "My parents met surfing," she explained. "My dad's from Kauai, and my mom flew over for her 21st birthday and never left. She met him on the water." Malia grew up taking surf trips with her parents and competing in weekend competitions for fun. The turning point came in 2008 when, at age 14, Malia scored a wild card bid to the US Open of Surfing and ended up winning the whole thing. She still holds the record as the youngest surfer (of any gender) to win that contest.
Now entering her ninth year on tour, Malia said she's witnessed a "metamorphosis" in women's surfing. Women now surf an equal number of contests as the men do and, as of this year, receive equal prize money for their wins. Buoyed by that support and competing against the talented surfers in her generation, like Lakey Peterson, Stephanie Gilmore, and current world champion Carissa Moore, "really motivated me to continue to get better at my craft," Malia said.
Malia Manuel's Training Routine
Malia's fitness regimen reflects the hard work she puts in to consistently improve, but also the balance she maintains to stay healthy mentally and physically. In addition to surfing, Malia says she does weight training three times a week, mixed with Pilates and sculpting yoga sessions, plus beach runs for cardio. "I love going to Yoga Sculpt and then doing a little beach run and swim," she told POPSUGAR. When she's on tour or traveling, Malia will do a Tracy Anderson workout video here and there for a quick, convenient sweat session. "It's so easy to do just in my little space, on my yoga mat or in an apartment," she explained.
When she's at home on Kauai, though, Malia likes to start her day with a hot yoga class followed by a surfing session. Her yoga studio uses infrared heat, which is said to ease sore muscles and promote healing. Side-opening stretches and poses are Malia's favorites because as a surfer, she explained, she's constantly crouching and twisting her body. "I like to open my shoulders and get some length in my sides," she said.
The calm, thought-free mental state she enters when surfing a wave is actually reminiscent of yoga, Malia said. "If you're in a yoga practice, and you're just flowing, and you're not thinking . . . that's what it feels like to be in a barrel or on a wave." Those moments of peace and accomplishment, whether it's nailing a yoga pose or surfing a wave, "are what keep you coming back."
What makes surfing so fun, Malia added, is that it's always changing; every wave asks something new of you, and you can never fully master the sport. "There's always something to grow and be better at in life and in your sport," Malia said. "Just like yoga, it's always a practice."