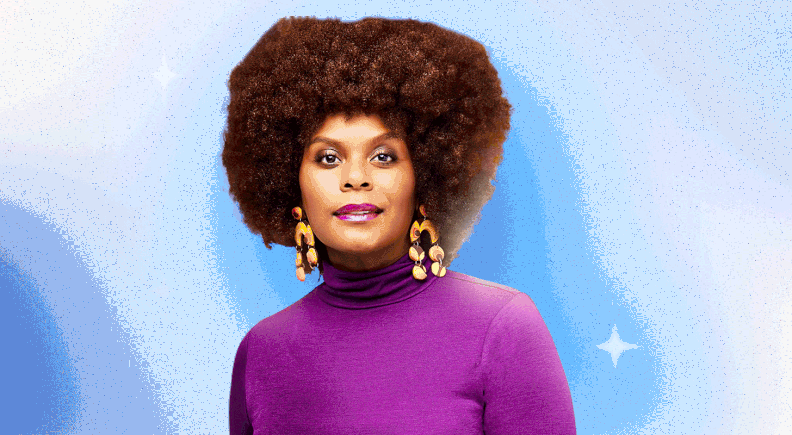 Courtesy of Calm
Courtesy of Calm
Every editorial product is independently selected by our editors. If you buy something through our links, we may earn commission.
POPSUGAR's How Does She Sleep at Night takes a peek under the covers of admirable women's wind-down routines to reveal their nightstand staples, sleep schedules, and dream lives.
Tabitha Brown is a bright spot in the daily Instagram and TikTok feeds of her many millions of followers, where they can find her doling out vegan treats and life advice in equal measure. Now, Brown is joining famous folks like Matthew McConaughey and Kelly Rowland with her very own Sleep Story on the Calm app ($69 for an annual subscription). "Slowing Down With Tabitha Brown," which launched this week, is the kind of tale you're actually supposed to drift off to. In it, Brown reflects on her love of food, friendship, and connection, all in her signature, soothing voice.
Her partnership with Calm was a natural fit, Brown told POPSUGAR. As a mother of three (her youngest is 9-year-old son Quest) with a social media empire to tend to, Brown says sleep never goes by the wayside in her household. "I have a lot on my plate, and I have to make sure I rest, because if I don't, I'm showing up empty," she said. "I gotta show up full for myself first."
So how does Brown prioritize rest, wind down, and get cozy when it's time to close the kitchen and log off social media at night? Read on to find out:
Stretchy, Silky PJs FTW
"I'm so obsessed with Öfuurë," Brown says of her current favorite brand of PJs, which come in African-inspired prints. "They are almost like a satin feel, but it's not real satin. Because they stretch. You can pull it and it snaps back, but it looks flowy." Her current pick is the Niko Pajamas Trouser Set ($85), which you may have seen her rocking on Instagram recently.
Nap Goals
On the occasions when Brown can't clock her standard six to eight hours of sleep, she prides herself on her napping talents. And she's devised a unique daytime sleeping style you're going to want to test for yourself. "Laying across the bed is the best nap," she insisted. "It's something about laying across the bed, instead of laying regular. It's nap position, and I feel like I'm in kindergarten again, laying on the mat on the floor. My husband does it now, because I told him. I was like, 'When you nap laying across the bed, it's a different feeling,' so that's the only way he naps now."
Keeping Skin-Care Simple
Brown keeps her self-care and beauty regimen low-key before bed. But she does exfoliate every night, no matter what skin-care naysayers might have to say about her habit. "I use a seaweed exfoliator from The Body Shop ($18). I do that at night, and then I have me a glass of red wine. It just sets the mood."
Quality Time With Her Friend "Sarah"
Speaking of that glass of wine . . . "I'm real big on reds," Brown said. "I know people are like 'It's Syrah', but I call her Sarah, because she's my friend." Once Brown's vino is in hand, she's scrolling pictures of home decor on her phone. "It's just calming. I just be looking at how people decorated. Looking at outdoor [spaces], how they do their patios. Doesn't require any thinking." And if a late-night snack is in order, Brown is partial to The Safe + Fair Food Company's sea salt-seasoned popcorn ($5).
Vegan Bedding
As a vegan, Brown knows it can be tough to find cozy, comfortable, and high-quality bedding that doesn't include down feathers. "I'm really into quilts now," Brown said. "I love a sea mist color, so I have a very soft, sea mist [quilt]. I don't know what they mix in this quilt to make it so soft. It's from Sleep Number ($120-$140 for similar coverlets)." Brown is also a devotee of her Sleep Number mattress and knows exactly how to calibrate it. "My mattress is everything to me. OK? My number is between 35 and 40 to get a good night of sleep."