Hilary Knight on the Fight For a Women's Pro Hockey League
After an Electrifying Olympics, Why Women's Hockey Stars Are Still Fighting For a Place to Play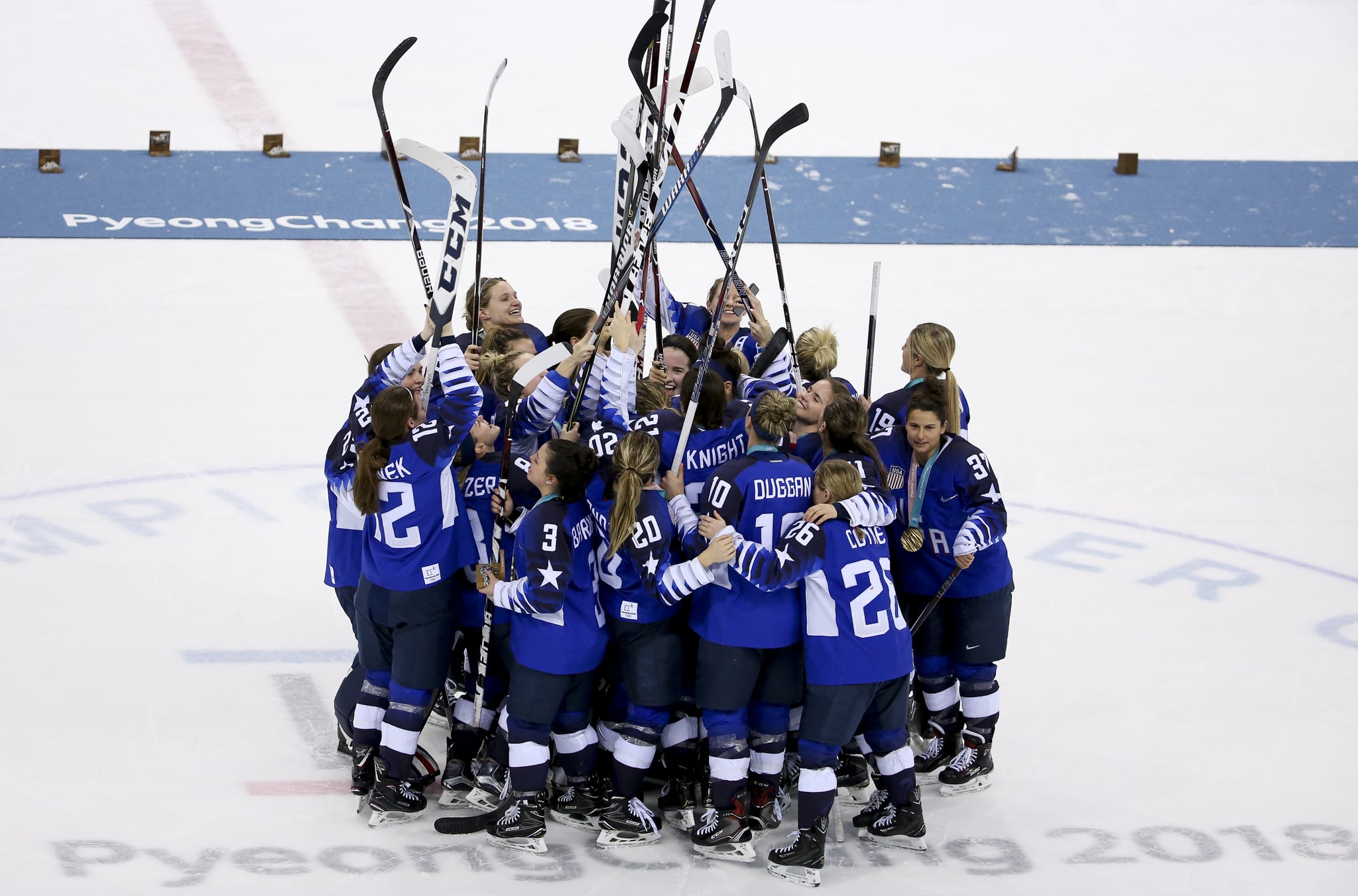 For the US women's hockey team, the 2018 Olympics had what forward Hilary Knight called "a storybook ending." Team USA met Canada in the finals, as they have in all but one Olympic Games since the sport debuted in 1998. That was also the only time the US had won gold. Since that '98 meeting, no team had won but Canada. The US had settled for silver three times and bronze once.
In 2018, that changed. The US were up 1-0 after Hilary scored on a skillful deflection. Canada scored two unanswered goals to take the lead. The US tied it with six minutes left in the game. Overtime went on to an electrifying shoot-out, and with one final save from 20-year-old goalkeeper Maddie Rooney, the US women reclaimed the title that had eluded them for 20 years.
"That win was magical," Hilary told POPSUGAR. "If I could capture that moment and put it in a bottle and open it up here and now . . . I wish I could." It wasn't just that they had won Olympic gold after a 20-year drought, or that they'd done it after losing to Canada just a week prior in the prelims. "We knew what a gold medal could do for the country. We knew what it could do for the sport," Hilary explained. "One of our key mantras was, 'we're a part of something bigger than ourselves.'"
The team's run captivated the nation. But even as the US dazzled on sport's biggest stage, the state of women's professional hockey in North America — the leagues featuring top-notch American and Canadian players alike — was in disarray.
"To be clear, there's no place for women to play professionally that's a stable, viable league," Hilary said.
The Struggle For Livable Salaries
Prior to March 2019, there had been two women's leagues in North America: the Canadian Women's Hockey League (CWHL) and, in the US, the National Women's Hockey League (NWHL). Founded in 2007, it took until 2017 for the CWHL to gather enough funds to provide stipends for its players, which ranged from $2,000 to $10,000. NWHL salaries started at $10,000 and went up to $26,000 during its inaugural 2015 season but were slashed almost in half by 2016. In the 2017-2018 season, pay had dropped to $5,000 to $7,000. Players don't receive medical insurance.
National team players like Hilary are cushioned somewhat; they have a consistent team to play on, more resources, and in some cases, the name recognition to secure endorsement and sponsorship deals. For others, the reality is much different. "It's difficult, to be honest," Hilary said. "I think of all my other teammates who have to work a second or third job, just to be able to play professionally, and how they would love to wake up and do what we're doing at the professional level." The lack of funding and of resources, "that's what's really turning the sport back."
This past March, the CWHL folded. North America, home to the only two countries to ever win the Olympics in women's hockey, now had just five financially struggling NWHL teams.
Creating a League of Their Own
It was a hit to women's hockey and the elite players who'd taken part in the league, but Hilary said that in retrospect, "I think it was a necessary step to sort of galvanize us, make us really take a strong look at the future and what the vision of women's professional hockey looks like." Fed up with waiting for a financially viable league to materialize, the players took matters into their own hands and formed the PWHPA: the Professional Women's Hockey Players Association, an organization dedicated to achieving a single, viable professional women's ice hockey league in North America "that showcases the greatest product of women's professional ice hockey in the world."
As a part of that, the 200+ players who joined the association — including Hilary and fellow Olympians like Kendall Coyne Schofield and Canadian Marie-Philip Poulin — pledged to sit out the upcoming hockey season as they fought to secure the resources that a truly professional league demanded. Instead, they would organize and play in a multicity showcase they named the Dream Gap Tour. The goal was not only to drum up support for the association and give players a place to play but also to increase the sport's visibility, especially for young girls looking for role models in elite sports.
"I think I didn't necessarily realize there was women's hockey until the '98 Olympic games and the pre-tours," Hilary said. She still wears the number of her role model, Cammi Granato, the captain of that '98 team. Hilary watched the NHL, but "that was my first touchpoint in seeing women's hockey at such an elite level." That was truly the only outlet for the sport, to the point of her grandmother voicing concerns to Hilary's mom about those Olympic dreams. "She was like, 'You know, Cynthia, girls don't play hockey.' And my mom just looked at her and said, 'Mom, get with the times. If she wants to play hockey, she's going to play hockey.'"
Many of the women who would become champions, American and Canadian alike, "challenged these stereotypes of what women should do or what women should be doing," Hilary said. "I think a lot of us in this generation grew up playing boys' hockey and overcame our fair share of battles and obstacles." Now, they're using the momentum from their own Olympic victory to continue the fight, creating a sustainable league for themselves but also for the new generation they're looking to inspire. The hope, Hilary said, is that a young girl watching the Olympics in 2018 and dreaming of her own gold medal won't have to overcome as many barriers, or fight for as much recognition, to fulfill her dreams.
They'll start on September 21, when the tour makes its first stop in Toronto for the Unifor Women's Hockey Showcase, two days of games pitting some of the best American and Canadian players (including Hilary) against each other in head-to-head matchups, with Budweiser-sponsored live streaming on the PWHPA website. Future stops are also scheduled for Hudson, NH, and Chicago in October.
It seemed like the US team dogpiling at the end of that electric Olympic final could accomplish anything, yet the year since the victory hasn't been smooth sailing. "It's a tough world," Hilary said simply. "It's a tough sport." But the setbacks have culminated in the drive, pushed by the players themselves, for a viable, sustainable league on their own terms and the opportunity to show the world what they're capable of at the same time. "We've spent years building upon the shoulders of phenomenal, amazing female athletes that have come before us," Hilary said. "Now it's our turn to really take the reins and continue to push the sport to the next level," planting the seeds for all the young girls who are coming up next.
Image Source: Getty / Jean Catuffe / Contributor